Styles in Long Evening Party Dresses
Image Planning Autumn 2006/Winter 2007
Event dressing is just like any other, the golden rule is: keep your clothing appropriate. This rule is just as important for more informal office dos as for formal events. The key word is 'appropriate' rather than 'inappropriate.'
With careful planning ahead, you can be the belle of the ball. Begin by deciding on your hairstyle for the event. This may take some weeks to sort out, especially if you need to change hairstyles and learn to manage the new shape. Follow this advice with some magazine or internet research on fashion trends and styling before going shopping for your party dress.
As you can see strapless styles are one of the prettiest of the current looks. With advance planning, you can look as elegant as Ziya Zhang did in this image courtesy of © HFPA and 63rd Golden Globe Awards®.
Certainly for any black tie affair, a full evening dress is the best option unless the invitation hints that women may wear a cocktail dress. A special event needs a more special gown. This page is dedicated to showing you some formal gown examples. See the how to shop tips on the next page for preparing to buy an appropriate dress for office dos.
If you are an ordinary working girl with not much time to do your shopping - then my advice is hit the high street of your nearest major city. If you are Mrs Fat-Wallet I am confident you already know where to get the best ball gown buy for you!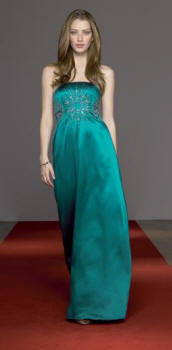 If you are on a budget and seeking a full length prom style evening gown, then in UK, head for Debenhams, Monsoon, any House of Fraser, Fenwick or John Lewis. If you don't have a big store near you, then try instead ringing your nearest bridal store, which often stocks evening dresses and maybe even hires out party prom dresses.
Budget at these stores doesn't mean inexpensive, price is all relative dependant on your pocket. At Monsoon you might pay around £150 to £200 for an evening dress, which will make you look stunning. If you are wealthy this seems like nothing, but if you are Miss Average this will be a figure that should enable you to find a very acceptable gown.
This lovely 'Bridgit' dress on the left, is not in the stores yet as this formal gown is aimed at the autumn party season. It's from Monsoon's Autumn/Winter 2006 range for women and is in teal at £160. This evening dress certainly deserves to be photographed on a red carpet!
Monsoon UK are part of the Arcadia group. They also do an excellent special occasion and bridal range. For autumn Monsoon, like Debenhams, will have plenty of black evening party dress styles to make a considered selection. You can also browse Monsoon online, their price point for evening gowns is about £150 to £200.
Monsoon also has a limited personal shopping service spread across the UK. Style advisors are available by pre-arranged telephone appointments at these branches:-

Kingston Clarence Street,
Glasgow Bunchanan Street,
Milton Keynes Midsummer Arcade and
Manchester Arndale the new flagship store since April 2006.
Style advisors at these particular stores can deal with all wedding and special occasion needs. They can also help you update your wardrobe with an element of a private consultation in a reserved personal shopping room.
You are reading an original fashion trends article written by Pauline Weston Thomas© at www.fashion-era.com ©
‡‡
Next has several dresses suitable for formal events and the clothes can be ordered online or at NEXT in-store nationwide. Even better, NEXT have a wide range of sizes.
A little cover-up from the NEXT DIRECTORY just like this feather shrug might be just the job to keep the chill off when dashing from car to foyer. They have similar shrugs available in several colours including purple a hot choice for colour this autumn.
NEXT DIRECTORY UK Item : Feather Shrug (123-968-X38), With satin bow ties. 100% feather. Lining 100% polyester. Page No.316, £22.99.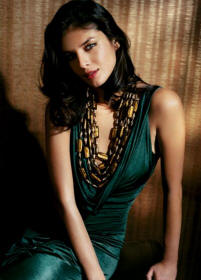 This season the gemstone colours have been revived, as a result there are several teal and green tone long dresses in stores. You can see more jewel colours in short evening party dresses.
Teal green has been used to great effect in this lovely slinky jersey evening dress from Principles.
Teamed with an impressive necklace, the dress is not too revealing at the slinky jersey fabric draped neckline. As a dress it is well designed with the bodice not being too exposed in relation to the possible leg on show, dependant on how you pose. There is just a fine line between revealing too many body parts and vulgarity. The art is being subtle when just a hint of what lies beneath stays tasteful and alluring.
The split skirt is a real Liz Hurley touch. How much leg you reveal is up to you - you can be subtle or sultry, but this gal looks wonderful wearing this Principles evening dress!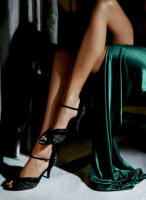 If you have terrific legs like this model and choose to display them, then this is a knock-'em-dead, sophisticated womanly dress for a big birthday such as a 40th birthday party. Make your friends green with envy. This Principles teal dress above is a real sensation and will be in the shops for autumn. At £75 it's a stunning snip. The elegant 'Joyful' shoes are also by Principles at £55.
I really like Principles for stylish clothes that seem to suit so many British figure types. Principles clothes are bang on-trend in colours and styles.
Principles is one of the retailers who did folkloric looks exceptionally well over the past 12 months, producing pretty forward looking skirts. You may wish to know they also do an attractive petite range. Find Principles both on the high street and as in-store concessions.
...(v4r)
Check out their online website which has several other dresses very suitable for evening functions in both their Midnight and the Bauhaus ranges. Principles do of course have a whole range of everyday clothing lines and all at affordable prices.
You will find many Phase Eight concessions in branches of House of Fraser and John Lewis as well as stand alone shops within major cities. I find Phase Eight clothes especially good for women of average UK height of 5' 4" (moi).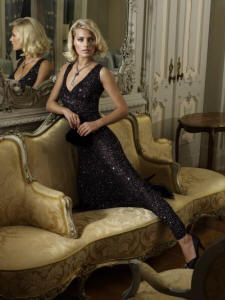 To the left this striking long glittering black evening dress is by Phase Eight. It has a fashionable V neckline which was also a style element featured in detail on the short party dress page. With such classic looks it should be a wardrobe party staple for several years.
Maybe you can afford a higher spend, if so, then try a designer label stockist and take a trip to Selfridges, Harvey Nichols or Browns. An alternative would be to consider hiring a dress or buying new accessories to lift an existing basic dress.
If you are older you may look better with just an illusion of bare flesh. That means a little shrug feather or fur jacket or capelet. Maybe a velvet or silk jacket, lace bolero, silky cover up or sheer layers over bare arms would enable you to buy a skimpier dress with the two items making an edgier outfit.
If a bare dress is just not you, an alternative is to go sophisticated and find a garment with long sleeves in wonderful fabrics of silk, satin and brocade. Dress coats fit the bill here.
For the mature woman, however slim you are, the older your skin becomes the harder it is to wear a strapless number successfully unless there is at least some sheer or opaque cover up for the bare limbs. It is much easier to wear a cover up, toning jacket or coatee and be in the position of being able to remove it as you wish, than to arrive as the only bare shouldered woman in the room. You may think you look fine in that bare number when you look in the mirror, but not when you stand next to a 20 year old with shoe string straps!
But if you are the sort of woman that likes to make a statement entrance, whilst maintaining elegance and dignity you could opt for a gown ensemble like this fabulous coat and dress shown below. Imagine making a sweeping grand entrance in this Vera Mont black taffeta coat and dress.
You are reading an original fashion trends article written by Pauline Weston Thomas© at www.fashion-era.com ©
If you are looking for something special consider an item from the Vera Mont Collection. Vera Mont is part of the Betty Barclay Group and makes elegant clothes suitable for formal gown occasions. You will find them in some of the better boutiques and specialist occasion wear sections of top stores.
This fabulous black taffeta evening coat right has a detachable train made of a sea of frayed ribbons. The matching evening dress beneath also has a small train. This is truly a red carpet outfit for a very special occasion.
The Vera Mont press report for autumn 2006 states:- 'Femininity is the theme of the new autumn/winter collection from Vera Mont, the evening and occasion wear fashion specialist. Vera Mont skilfully showcases luxurious details from the time of Marie Antoinette, the 50s and 60s, as well as oriental elements in fine materials to create a stimulating and sensual look...'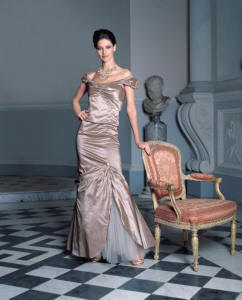 The Vera Mont name is perfect for all special occasions and uses high-quality fabrics such as taffeta, fine silk, organza, airy chiffon, silk satin and lace this coming winter.
Elements from romantic times receive a modern interpretation in the Vera Mont collection.
This beautiful taffeta outfit left is in a rich Champagne brown. It has an extra long skirt and off-the-shoulder bodice and an ample tulle petticoat making it a great glamour gown. It does take one back to the era of the Edwardians making for a picture perfect dress.
The ruffles, frills and ample details of crushed taffeta dresses bring back memories of the Fin de Siècle. The Vera Mont collection of formal gowns really is quite special and you can see another Vera Mont jacket evening outfit in cerise on the Lady in Red page.
‡
Vogue and Simplicity Pattern Ball Dress Review
If you have the skills or know someone who can make up your ideas or a pattern to your satisfaction, then it takes a lot to beat an outfit made especially for you. If you are looking for something dynamic, yet elegant for an occasion and in the manner of the Vera Mont coat above, consider using one of the suggested patterns here from Vogue or Simplicity Patterns.
Vogue Pattern 8115 - The aqua strapless evening dress right also reminds me of the Monsoon teal coloured long length Bridgit dress at the top of this page. Any other slim line or A-line dresses could look good under the coat.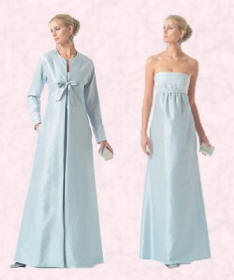 Vogue Patterns 8115 and V2714 below both offer a great deal of potential for those with the ability to visualise them made up in a fashionable damask brocade or other deluxe fabric.
Vogue 8115 right would also look striking made up as a black silk coat with a jewel colour or pastel dress beneath it. Other fabric choices include peau de soie, shantung, taffeta and novelty beaded sheers.
I think Vogue Pattern 8115 could look terrific in velvet. The sleeve of the aqua coat appears to be cut as a slim line dolman sleeve, an easy to construct sleeve for the average sewer. Making a toile or half toile first might eliminate most fitting problems before work on any velvet begins. See my how to hints and tips for sewing and pressing velvet.
Finally these two designer dressmaking patterns show how evening or ball gowns are gaining volume just like daywear. The opulent design of this black evening coat Vogue Pattern (Number V2714) is by Oscar de la Renta for Vogue Patterns. It shows where sleeve styles and evening wear may well be going volume wise toward the end of the noughties decade. Any dressmaker worth her salt could add a slimmer sleeve if preferred.
V2714 would also be perfect as a coat worn over fuller 50s styles such as the pretty full skirted formal ball dress above right, from Simplicity Patterns. This sea green dress pattern was designed by Jessica McClintock for Simplicity Patterns.
Simplicity Jessica McClintock ball dress pattern is number 4686 and is available in Misses and Miss Petite sizes 4 to 20. It can also be made up as a ballerina length gown and has an alternative halter neck strap finish plus a pattern for a useful evening wrap stole.
All the evening dress patterns are quite elegant and just the job for a special black tie event in winter. With drama and understated looks being the new future of evening wear rather than the raunchy looks of recent years this is the kind of statement you need to be thinking of making.
You are reading an original fashion trends article written by Pauline Weston Thomas© at www.fashion-era.com ©
Pattern garment images courtesy of Vogue Patterns and Simplicity Patterns. Other images courtesy of Monsoon, Vera Mont, Principles, Phase Eight and House of Fraser. Ziya Zhang image courtesy of © HFPA and 63rd Golden Globe Awards®. Header image courtesy of Monsoon.
-------v6-------
(Page Date 22 August 2006)
If you like this page then please share it with your friends
---
For more information on ladies and teens fashion trends go to:-
Archived Sections
Custom Search
About Fashion-Era.com
Fashion-Era.com looks at women's costume and fashion history and analyses the mood of an era. Changes in technology, leisure, work, cultural and moral values. Homelife and politics also contribute to lifestyle trends, which in turn influence the clothes we wear. These are the changes that make any era of society special in relation to the study of the costume of a period.

Fashion-Era.com can take no responsibility for any information on the site which may cause you error, loss or costs incurred from use of the information and links either directly or indirectly. This site is owned, designed, written and developed by author: Pauline Thomas and Guy Thomas. This site is designed to be viewed in 1024 X 768 or higher.
ALL RIGHTS RESERVED. Fashion-era.com reserves the right to add or delete information, graphics and links. Copyright © 2001-2014 on all content, text and images in Fashion-era.com. Images and text in this website may not be used on other websites.
Before you write to me for costume/fashion help or information please, please consult the extensive sitemap which lists all our pages. If you still cannot find the answer after searching the site, then before you email me, please consider if you are prepared to make a donation to the website.
Donations
Reader's donations help this site flourish, in particular donations encourage me to write more articles on fashion history as well as current trends. PayPal allows anyone with a credit card to donate easily and securely. You may donate any sum you feel appropriate.