Major New Fashion Looks for Autumn 2006 Winter 2007
Female Fashion Trends 2006/7
N.B. Latest Fashion Trends for Winter 2012
For Autumn Winter 2006, the key fashion trends hinge on designers moving away from the ultra feminine looks of recent seasons. Their autumn 2006 range incorporates the C21st layered look, where different textures and a more sombre palette play against each other. This is combined with interesting manipulation of shapes. The new volume is dramatic, often shocking in its surprise. But most importantly is does feel new, modern and forward looking however revived or archive raided.
A key element is layering using fine tops and hosiery. Thicker leg wear such as leggings and fashion accessory opaque or textured tights are very strong for fall/winter 2006 layered looks.
Fashion History Note - Costume history suggests that with time such seemingly minor changes to a silhouette creates the defining look of a fashion era moment. I feel the persistent play with sleeve volume this year, is setting a silhouette style that may eventually be deemed as capturing the essence of the late noughties. As the decade progresses it is clear now that the early noughties were strongly marked by eclectic ethnic influences. These traits moved through to culminate in the mass Boho gypsy look of 2005 along with a fling with feminised military tom boy versus raunchy vamp looks.
Boho has slowly, but surely moved on into a ready acceptance of self styled easy layered looks, with designers encouraging us to stay layered. The easiest way to wear more volume has been with a big bag. Now by mid noughties, I note how more volume in garments has slowly grown more accepted by those who are early adopters. Reworked styles with cocoon volume and easy wear Balenciaga influenced larger sleeves have a fresh futuristic feel.
I have no doubt that VOLUMISED SHAPE will soon be as important as embellishment has been and in retrospect, and thus will be the main fashion silhouettes of the later noughties (2005-2009).
You are reading an original fashion trends article written by Pauline Weston Thomas© at www.fashion-era.com ©
‡‡
Not all new fashion looks take off. The public is fickle and only a few key trends ever truly win through. There are many directions the autumn 2006 range can follow and these are listed here. Some were discussed in depth as upcoming trends in Spring/Summer 2006 and Fall/Winter 2005/6 Trends. These ideas often take time to establish and are now flowing into this autumn. There really is something for everyone, so check out these new fashion looks too - Sixties, Baby-Doll, Skinny Looks, The Cropped Jacket, Gothic Moods, Rock Chick Glam, Costume Drama, The Trench Mac, Maxi Skirts, Body Conscious Dresses, Black & White, Red, Purples, Animal Prints, Electric Eighties, Big Bags, Studs, Hats & Gloves Revival. Some have been gaining ground for a while, but are very strong this fall.
Fashion Trends 2006/7
Think blown up proportion on various garment parts, but not all themed together.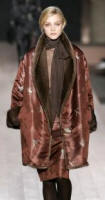 After a shaky start, the new volume look has become more accepted and gives a spanking new present-day modern ambience to fashions. For autumn the buzz phrase is cocoon volume. Trapeze and swing jackets are fun and these looks have all been done especially well at the retailer Zara.
With time we have been getting used to the idea of more volume. We began to learn how to wear it well in spring wardrobe tips. There are more suggestions in Autumn 2006/7 wardrobe tips.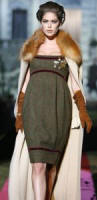 In the real world women have been wearing volume in the past summer as empire line dresses, oversized 80's T-Shirts, flowing Kaftan tops or cropped swing back easy jackets balanced with slim cropped trousers.
A-line swing trapeze volume is a fall staple.
These images courtesy of IFTF. All thumbnails above enlarge.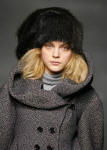 Autumn 2006 will give fresh opportunities to those previously wary of volume. Apart from cocoon volume as seen here, two of the easiest ways to add volume are with the fuller sleeve and the picture collar.
These big wide set collars give non fattening volume and draw attention to the face without over bulking the body. More dramatic types whether plus size or a sylph like can wear this look with ease. Success at wearing dramatic collars is dependant on attitude rather than girth. Walk tall and importantly.
The big collar can almost be regarded as a fashion accessory it makes such a strong fashion design statement.
§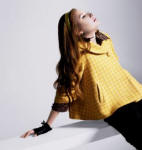 The fuller balloon sleeve and the shorter fuller bell sleeve in all its forms is new to a generation. This new fashion look is refreshing when teamed with a fitted hip and waist defining garment.
Manufacturers are coming to terms with volume. Some have reined in fullness on the top of dresses to balance the increase volume in skirts or wider pants. Or they are combining fuller sleeves with swing backs on little jackets intended to be paired with narrower jeans or trousers. Image courtesy of Miss Selfridge
You are reading an original fashion trends article written by Pauline Weston Thomas© at www.fashion-era.com ©
Skirt Volume


Skirts are either body hugging or getting fuller and often paired with strapless fitted tops or bustier bodices. Straight across strapless bodice bandeaus are frequently fur trimmed and so are hemlines. As well as fur hemlines there are garments with contrast deep hem bands of velvet or patterned velvets. You can see examples of this on the couture fur page. Skirts are getting ruffled, getting longer as well as shorter.
Images courtesy of IFTF and Miss Selfridge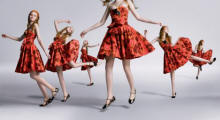 Team some of the fuller shorter skirts with ballerina flats. Be doubly fashionable and choose the dress in red.
Try the puffball hemline if you are on the tall side.
The dress has come back with a vengeance. Empire line dresses, empire bra dresses, easy jersey knit longer sleeve dresses, waistline enhancing frocks, or simple waistline skimming sixties style shifts and dropped waist shifts are all part of the dress line up. This dress from Wallis is pure sixties retro and hot on trend.
‡
Baby doll empire line looks are a great way to wear volume if they don't make you look to baby like. The column from bustline to knee makes for a comforting silhouette which provide the style suits you is very comfortable to wear. The Empire line dress and the Empire bra dress is a strong fashion style for Autumn 2006. Calvin Klein showed variants of empire bra dresses.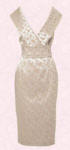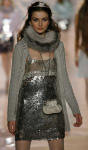 Stella McCartney concentrated on empire line dresses and look out for preppy plaids made in short trapeze dresses.
Rising hemlines are made possible for a wider range of age groups as tights make wearing shorter dresses easy to adopt and acceptable as modesty is retained. For more girly looks it will be so easy for those young enough to carry it off, to simply abandon the security that a layer of hosiery can offer orange peel skin.
Images courtesy of IFTF and dress images courtesy of Wallis
Layering is reaching a peak and is especially easy to accomplish with tights in block colours or texture as part of the look. This fashion accessory is a low cost update. Sometimes pantyhose is overlaid with knee high to ankle leg warmers or knee ribbed socks. Boots, knee socks, and slouched boots are all fall alternatives to nude tights which if worn are best super sheer. Michael Kors paired black tights even with flimsy dresses as well as with black and white plaid shift dresses and 70s maxi skirt styles.
Solid coloured hosiery Wolford top range tights or leggings are perfect for fall. Leggings enable girls and women with less than perfect pins to wear shorts and minis skirts and dresses with success.
Super sheer tights that give a bare no tights look of radiant legs are also acceptable. Your average pair of natural looking tights can look ageing, but the latest sheer or shiny glossy tights have the edge over standard dull mesh tights.
Image courtesy of IFTF
An easy way to get the layered look is to wear several tops which are quite fine such as semi sheer or chiffon materials against more textured layers like lace or cable knits or down parkas.
You are reading an original fashion trends article written by Pauline Weston Thomas© at www.fashion-era.com ©
Layering Belts & Hats Hemlines

First it was Moroccan Boho belts, then last season saw double waspie belts and this season the fall fashion accessory of choice - deep triple belts. Image courtesy of IFTF
Belts add a layer, as does a string of beads or extra jewellery, perhaps a gold necklace, a torque or chains.
Hats are an up and coming fashion accessories trend especially visor styles. Look out for Oliver Twist schoolboy caps and packable hats.
Big knitted rib beanie brimmed hats gain a new importance as this is a Marc Jacobs design very easy for fashion accessory manufacturers to copy and mass market.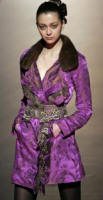 Luxe - Think of imperial formal courts and choose elements from the designer leads with rich luscious extravagant fabrics and lavish surface stitching and 3D gold ornament embellishment.
This new fashion look takes in several themes including Napoleonic and costume drama styling and the continuance of modern, but smart ladylike looks.
Red and purple are the richest of colours when made up in brocades.
See my red, purple and earthen gold mood boards here.
Image courtesy of IFTF
Hot on the heels of opulent looks is fur. Luxurious fur, both fake and real continues to have a following. It is used in new ways to create whole garments from shrugs to capes to the skirts of coats. Fur trim details are very important. Smartly tailored and volume coats are highlighted with fur collars and cuffs. Trims abound with fur trimmed cuffs to gloves and bags with knitted strips of fur.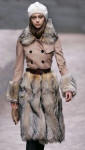 There are abundant fur trim on jackets and mixed use of furs. Burberry trench coats have fur trims to include collars, cuffs or hems and sometimes part of a whole skirt of the trench coat in fur. A more likely mass interpretation of fur trim though is on collars and cuffs and also on hemlines. Many designers used deep bands of fur hems on dresses and on skirts.
De la Renta showed snug cropped Shearling jackets with huge bertha collars.
Some designers are using more and more fur whilst others are dropping it. Polo Ralph Lauren said in June 2006 that it will stop using fur right across its product range they will however still use Shearling leather deer and goat skins. Fur is also the material of many fashion accessories.
...(v4r)
It is fair to say that whilst many people will wear trims made of real fur many high street items will feature faux fur. Fake fur is now of a high standard of believability and if your ethos is to avoid wearing fur then you have plenty of choice to choose fake.
Image courtesy of IFTF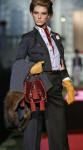 Masculine tailoring and a lean suit with lean narrower trousers could be one take on new fashion. Take two could be wide trousers and a slim line jacket. This takes adoption of menswear to new heights.
Topshop have really got the mannish look off very well.
Fashion designer Paul Smith chose to show items of male manner borrowed from the boyfriend when he found females often selected male garb they so coveted his brand items.
Images courtesy of IFTF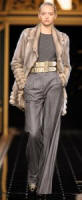 Grey is used in all its subtle nuances as a monochromatic colour scheme. Gradual tone changes meant designers played with every tone and shade of hue from deepest charcoal to steely blue to metallic to ice grey white.
Neat understated shapes in steel greys were a mainstay at Bottega Veneta. Max Mara as ever displayed understated good taste and also persisted with a very muted fall fashion palette of greys, charcoals and black. This look is closely aligned to that of stealth wealth and understated sharp and smart suits.
Easily update any look with grey touches by the addition of metallic silver toned or trimmed fashion accessories or flattering adaptable soft grey sheer tights. Or opt for lacy or thicker ribbed charcoal tights as you layer your looks this fall. This look easily works well for those tied to the city.
See my grey mood board here.
Images courtesy of IFTF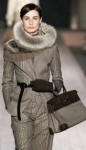 Stealth wealth is the 21st century look of class with understated sharp and smart suits and dresses with touches of tailoring.
For those who loathe urban looks this is your chance to have revenge. Uptown girls will quickly adopt this class act where understated, but expensive day clothes combined with great, yet natural looking personal grooming recreates a polished appearance. These clothes have couture like elements with flourishes that say glamour. Grey along with golden camel are colours that are understated and expensive looking.
Finishing touches like picture or funnel collars and a great piece of costume or estate neck jewellery or fur trim all frame the face. A choice fashion accessory such as an elbow length leather glove or gauntlet gloves that close the gap of a roomy three quarter sleeve become 'must haves'. Likewise bracelets and cuffs decorate an area that can look bare.
These elements are for those who want their clothes to give the sartorial message of understated panache - a class act with no hint of bling.
Images courtesy of IFTF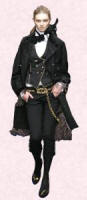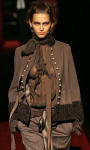 Military fashion has had designers working through every uniform era in the archives. This year Dolce and Gabbana highlighted Napoleonic styled jackets and coats with high stand collars. Ralph Lauren continues to design gold bordered military influenced garments and so does the high street. Great coats are a staple of deep winter fashion and buttons reinforce the military look whether small or large.
Whatever fashionistas say this look refuses to bow out gracefully as it keeps morphing into a new variation.
Sophie Dahl and Jade Jagger have both been seen wearing Napoleonic style dark jacket coats by Ralph Lauren. These jackets are heavily embellished with gold ornamentation outlining the garment borders. They are so embellished they are like fabric inset with gold jewellery. Teamed with jeans they add glamour and cover up a skimpier top. Images courtesy of IFTF
You are reading an original fashion trends article written by Pauline Weston Thomas© at www.fashion-era.com ©
...(v4r)
Street style never goes away. Practical and always adaptable to the street and the daily fight of battling busy cities as people move like ants getting from A to B. Grey and all the soft sombre powdered shades of fashion colours for autumn winter 2006/7 come into their own for this look.
Expect the usual, but updated urban warrior styling of hooded jackets and knits often fur trimmed, luxury quilted parkas and feather weight down jackets. These down jackets are likely to be hot sellers as they combine practical functional elements with urban good looks.
Images courtesy of IFTF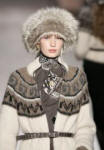 Aran patterns, cables, bobbles, Fair Isle yokes, mini shrugs and elongated cardigans in luxury yarns are functional and comfort clothes that go anywhere.
Cables and Austrian style knitwear are mixed with fabrics and furs and migrate across the accessory range through hats to bags.
Images courtesy of IFTF
Plaids are strongly bold in larger than usual scale in black and white or charcoal/cream/grey mixes.
Tweed is still there as a fashion fabric, but now receding into country traditional plaids made up in new more modern colourways such as purple one of the main strong colours for autumn 2006/7.
Frayed tweed edge trims are now quite passé. The new tweed checks are worn with wider collars, fuller sleeves, fur or velvet cuffed sleeves or layered. Dependant on the colour choice of the plaid, the look can be as good in the city as the country. Tweeds are often used for ladies hats.
And other new fashion looks and directions include the love of Black & White combinations, the use of red and purples. There are also Skinny Looks, Gothic Moods, Rock Chick Glam, Body Conscious Dresses, Electric Eighties, Big Bags, Studs on everything and a Hat & Glove Revival.
And let's not forget those Harajuku Girls.
Tokyo influence from the Harajuku district means a lot of layering, an untidy look that's young and distinctive. Gwen Stefani's Harajuku Girls and her accessory brand Harajuku Lovers with items such wallets, totes and iPod cases ranging from $20 to 100 are a big hit with the younger generation who love these fresh self styled kooky looks.
Vies on these new fashion looks can also be found at source in Fruits magazine. Harajuku Girls are loved by many young people - they often tell us how much they like this look on our forum. A little retail therapy at Benetton might help you mix up this look yourself.
Hats, hoods and gloves are all vital fashion accessories for fall.
Handbags of new importance are the clutch a real 80's fashion accessory staple for the smart woman of her time. The leather of choice this autumn is the exotic leather. Exotic leather will include, reptilian skins from crocodile to python to ostrich and of course from real to all those faux impressed patterns of the same. Over many of these a metallic sheen or patent effect will cast another burnished glow. Bags like some of those by Prada, are in the softest leather and have shirred festoon blind effects.
Coloured bags continue to flourish as they bring a bite of interesting colour to some the grey and monochrome fashion colour schemes. Colours add even more vitality to exotic leathers. Animal prints are favourites materials for all accessories.
You can read more about jewellery on the jewellery page, and ladies shoes on the shoes page. There are also several pages about bags of 2006 in the summer section.
Read full fashion colour report 2006/7 here. See Autumn 2006/7 colour mood boards.
The main new fall fashion colour combo colours this season are greys, charcoals, earthen browns, ochre and rust tones, red, burgundy, purple, plum, deep blue, khaki olive, black and white. BUT you can read more about these colours and about fabrics on the Autumn 2006/7 colour page and see the colour moodboard page I made for fashion-era.
See my red, purple and earthen gold mood boards here.
You are reading an original fashion trends article written by Pauline Weston Thomas© at www.fashion-era.com ©Copyright of fur images courtesy of IFTF. Special thanks to David of http://www.prshots.com/ one of the best sources of PR material.
-------v6-------
(Page Date 11 July 2006)
If you like this page then please share it with your friends
---
For more information on ladies and teens fashion trends go to:-
Archived Sections
Custom Search
About Fashion-Era.com
Fashion-Era.com looks at women's costume and fashion history and analyses the mood of an era. Changes in technology, leisure, work, cultural and moral values. Homelife and politics also contribute to lifestyle trends, which in turn influence the clothes we wear. These are the changes that make any era of society special in relation to the study of the costume of a period.

Fashion-Era.com can take no responsibility for any information on the site which may cause you error, loss or costs incurred from use of the information and links either directly or indirectly. This site is owned, designed, written and developed by author: Pauline Thomas and Guy Thomas. This site is designed to be viewed in 1024 X 768 or higher.
ALL RIGHTS RESERVED. Fashion-era.com reserves the right to add or delete information, graphics and links. Copyright © 2001-2014 on all content, text and images in Fashion-era.com. Images and text in this website may not be used on other websites.
Before you write to me for costume/fashion help or information please, please consult the extensive sitemap which lists all our pages. If you still cannot find the answer after searching the site, then before you email me, please consider if you are prepared to make a donation to the website.
Donations
Reader's donations help this site flourish, in particular donations encourage me to write more articles on fashion history as well as current trends. PayPal allows anyone with a credit card to donate easily and securely. You may donate any sum you feel appropriate.