Consumer Mood - Autumn Winter 2006/7
Fall Fashion 'Must Haves'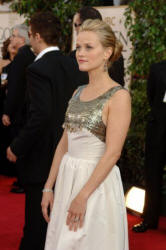 Consumer mood is ever fastening on the new. Autumn Winter 2006/7 will be no different than earlier seasons. People not only want luxury they want something novel and different not just the latest new fashion fad and trend. Some of this is driven by worship perfection and emulation of celebrity lifestyle. On my fashion forum ordinary girls tell of how they want the very hat as worn by that very star, or the look alike dress worn by another for their prom.
What the feted 'A' celebrity 'has' becomes a 'must-have' or 'want it.' This can be anything from a dress 'just like that', an accessory, an expensive beauty cream or treatment, to the type of exclusive holiday or home and style of furnishings the said star enjoys.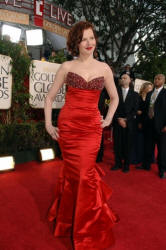 Just as influential are the WAGS. As soon as WAGS (sporting, footballer and 'D' list celebrity wives and girlfriends) have adopted a fashion item, that fashion item can plummet in terms of cachet and do harm to a brand.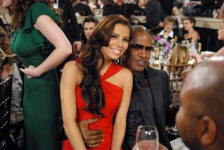 The line between an 'A' list celebrity doing good for a brand and a more notorious WAG celebrity doing harm to a brand is indeed a fine one. (These three images are courtesy of © HFPA and 63rd Golden Globe Awards®)
Geena Davies (left), Reese Witherspoon above and Eva Longoria (right) seen here attending the Golden Globe Awards, are all fashion influencing film stars of today. Within minutes of being taken, such images fly around the world. What they and other famous women including politicians like Condoleezza Rice wear, how they wear their hairstyle and how they exercise and keep looking good becomes a template for those wanting modern glamour.
In the light of 'must-haves' and 'want it now' the importance of such events can no longer be underestimated in terms of designer cachet and sought after goods. Consumers think - 'I'll be glamorous like them if I have that too - I want it now'. This contributes to fashion racing which is now speeding too fast making a fad seem old even before it has really arrived in the shops. Inevitably this will lead at some point for some to investment classic dressing as those people decide to opt out of fashion racing. You are reading an original fashion trends article written by Pauline Weston Thomas© at www.fashion-era.com ©
‡‡
For the alpha shopper, shops, online stores and companies are migrating to upscale looks that speak impeccable taste and are referring to it as stealth wealth. Stealth wealth with minimal logos is the 21st century look of faultless taste and class and is a new fashion trend for Autumn Winter 2006/7. Put simply this is a form of classic dressing, but with modern cutting. The effect of the Rap Bling look is going down as subtle stealth wealth creeps upon us.
Understated stealth wealth will be the strongest look in 18 months time and also fits in with a new mood for demi-couture purchases.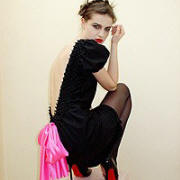 According to Harvey Nichols, 'the democratisation of luxury brands and their accessibility to a global market, means consumers are seeking out alternatives. Fashion savvy shoppers are looking for the new much needed injection of individuality into their wardrobes. At first they raided vintage clothing shops, but now they are discovering a new breed of designers - the demi couturiers.'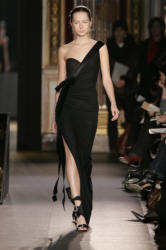 Harvey Nichols also note that, 'Lanvin, David Szeto, Martin Grant and Nina Ricci are four of the new wave of designers using age-old skills and couture techniques with modern fabrics.' This low back dress above was designed by David Szeto one the designers Harvey Nichols now stocks.

Harvey Nichols launched its Demi Couture Boutique in September 2005. The Demi Couture Boutique is an area in women's international dedicated to the above designers and others including: Francisco Rosas, Giambattista Valli and Kaufman Franco. The long black gown on the right is by Giambattista Valli. Both these dresses are demi-couture and have been in the Harvey Nichols demi couture range at some time in the past year.
Another designer of note is Behnaz Sarafpour and this understated yet beautiful white dress shown to the right is one of her designs.
According to Harvey Nichols '...the Americans are mad for her. Open any glossy, uptown mag and her clothes are everywhere. It's almost a surprise they've not been available until now....'
You are reading an original fashion trends article written by Pauline Weston Thomas© at www.fashion-era.com ©
...(v4r)
Online shopping is breaking new barriers with consumers as it reaches a record high for women who browse. Good broadband connections speed this experience up no end.
As I type this webpage I am using a broadband connection of 100Mbps, an inconceivable speed compared to my first use of the web in the early 1990s when we watched images slowly crawl down a page, willing the page to complete over several minutes. It is broadband connections such as this, that are making shopping online a more successful operation for the majority of consumers compared to just a few years ago. As more and more 'potential' customers upgrade their internet connection the rapidity of interaction with shopping websites becomes a smoother, more enjoyable and repeat experience. As broadband gets faster each year so shopping online will become an even easier experience.
This is important for online sellers, as it is the woman who often dictates consumer mood, as she is the decision maker for purchasing household textiles and family apparel.
Despite 'wanting' goods, shoppers saturated with imagery everywhere they turn, are becoming choosier, fussier consumers. Now, if it's not an easy come, easy go low cost throw away item, they are frequently super selective, often knowing more about a well researched product than the seller. Internet consumer review sites, forums, blogs and infomercial blogs are everywhere. Consumers are using them to grasp the news of latest products, compare and comment on their perception of the desirability or worth of an item.
On my fashion forum members ask of other members in other countries is this item/style 'in' or 'out' of fashion. They are so aware of fashion racing they can't bear the thought of having missed its demise. They seek reassurance that a costly item is still safe to wear just a couple of months after its purchase.
There is desire to become an early adopter. They know the cachet of the object will fade and be lost as it rapidly becomes obsolescent in terms of status, or added value as it is superseded by the next best thing. It therefore effectively becomes worthless before its life is spent as it gains mass approval. It no longer marks an individual out as any different or more superior than another. A consumer commonly desires a product to satisfy many needs. This may vary from eco values to one-upmanship, to a sense of self esteem engendered by possession and investment purchasing. Often now it involves going for a product sooner rather than later.
Early ownership does do this when the consumer is an early adopter, but that superiority is soon lost as items quickly become mass inclusive. Fashion racing is all part of this C21st chase many find themselves compelled to join. You are reading an original fashion trends article written by Pauline Weston Thomas© at www.fashion-era.com ©
High end looks that early adopters originally followed have trickled down to the masses. Women like brand names, the real thing rather than a look alike product. They don't want spectacle that look like Gucci spectacles they want real Gucci spectacles.
In early 2006 top social status brands according to the Luxury Institute were:-
Giorgio Armani
Hermès
Versace
Prada
Ferragamo
Burberry
Chanel
Fendi
Yet the top brand only had brand awareness for one fifth of the adults surveyed.
Images courtesy of IFTF
‡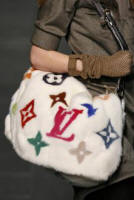 Early style adopters know all about High End Looks and designer brands. Whilst the above are the top names at the time of writing, by this time next year some other brand like Louis Vuitton may have won a slot whilst another brand may have slipped.

Consumers who are early adopters are known as 'want it now' and 'must haves'.
Saks for example are focusing on the Autumn Winter 2006/7 theme of WANT IT Now and MUST HAVES in new fashion trends. All the items are of course from Saks. Key trends for autumn winter 2006/7 cover various price points across the range of goods they sell.
They hope for good results from Marc Jacobs and Chloe satchel bags, Stuart Weitzman and Dior flat boots as well as coats with fur trims. Their long leather glove promotion is sure to be a winner across all price points as these are becoming a necessity with shorter coat and jacket sleeves.
Brands and stores take every opportunity to capitalise on an anniversary.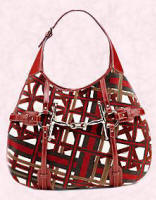 The House of Burberry is 150 years old and has an ad campaign highlighting their top items. At least it has a decent anniversary number.
This year sees the rather odd numbered 85th anniversary celebration of the Gucci House. Gucci was founded in 1881 and so is now 85 years old. Gucci's Frida Gianni reworked the Hobo bag at Gucci to commemorate this 85th anniversary.
Didn't we just once stick to jubilees of 25 years, 50, 75 and 100 before?
However every opportunity for these design houses becomes a marketing event and a chance to push another must have product. On the other hand lots of people really do 'want it' and 'must have it' when it comes to these brands with global cachet.
Now if the anniversary is one ploy to get you to desire a must have item, then a revived marketing ploy back in fashion is that of licensing. In 2006 we find that licensing is coming back as a trend with designers.
Currently in the fashion world, licensing is no longer a dirty word. As a sales marketing method it was out of bounds for many years, a definite no-no. Now it's in favour again, and designers can hear those cash till ringing, although some of us have never gotten over the Pierre Cardin effect!
Consumers over 50 in USA for example control half the purchasing power with $25 billion being spent on clothing. These over 50s unlike many younger women have more free time and they want to shop in environments that are not blasting over loud repetitive music their teenager children or grandchildren might play.
Little wonder then that online shopping has a captive audience. High streets in UK in particular need to address environments considered unfriendly to older consumers. That includes moderating their sound systems to make the music more realistically appealing to the actual consumer profile, rather than pandering to a profile that does not actually spend cash in their store. They would do well to consider creating better, higher lighting levels and providing occasional seating for all those bad backs and podiatry problems older shoppers suffer. Such thoughts will be appreciated and lure shoppers into stores that grey power considers think like them and know their needs.
Likewise packaging and instruction details need to have larger more consumer friendly print for the over 45s. Young product designers need to be aware that consumers get near sighted at 45+. Some manufacturers are alienating clients who would buy products, but are frustrated by leaflets in 10 languages. Worse, when they find their language they often discover the print is not user friendly even with reading spectacles. By the time the print is in focus, the print is too small. Only older product designers really realise this yet the often long living consumers with the most cash to spend are over 50.
You are reading an original fashion trends article written by Pauline Weston Thomas© at www.fashion-era.com ©
...(v4r)
The consumer is getting opinionated like never before. The internet gives the consumer a voice to be heard on forums and in blogs. Do remember many marketing companies use blogs as infomercials to sway you into the belief that a brand, accessory, jeans style number or perfume or electronic item is a 'must have'.
Before you know it, simply because you read it on your monitor in 2 different places you 'want it'. Arghhhhhh - then next week you read how passé it is.......say no more. The moral of the story is use your intelligence to decipher what you want because you like it for itself, not because you learn it's a 'must-have' or 'want it' that is fashion racing ahead of itself.
You are reading an original fashion trends article written by Pauline Weston Thomas© at www.fashion-era.com ©
(Page Date 11 July 2006)
All thumbnails above enlarge.
Images courtesy of IFTF
If you like this page then please share it with your friends
---
For more information on ladies and teens fashion trends go to:-
Archived Sections
Custom Search
About Fashion-Era.com
Fashion-Era.com looks at women's costume and fashion history and analyses the mood of an era. Changes in technology, leisure, work, cultural and moral values. Homelife and politics also contribute to lifestyle trends, which in turn influence the clothes we wear. These are the changes that make any era of society special in relation to the study of the costume of a period.

Fashion-Era.com can take no responsibility for any information on the site which may cause you error, loss or costs incurred from use of the information and links either directly or indirectly. This site is owned, designed, written and developed by author: Pauline Thomas and Guy Thomas. This site is designed to be viewed in 1024 X 768 or higher.
ALL RIGHTS RESERVED. Fashion-era.com reserves the right to add or delete information, graphics and links. Copyright © 2001-2014 on all content, text and images in Fashion-era.com. Images and text in this website may not be used on other websites.
Before you write to me for costume/fashion help or information please, please consult the extensive sitemap which lists all our pages. If you still cannot find the answer after searching the site, then before you email me, please consider if you are prepared to make a donation to the website.
Donations
Reader's donations help this site flourish, in particular donations encourage me to write more articles on fashion history as well as current trends. PayPal allows anyone with a credit card to donate easily and securely. You may donate any sum you feel appropriate.