Appropriate Office Party Dress
Image Planning Autumn 2006/Winter 2007
This page alerts you to the many considerations for choosing appropriate wear for an office party. I make suggestions for setting about shopping for party dresses.
It is possible that your annual office function may be a very formal, almost red carpet affair, at a plush hotel or very special venue. On the ladies short evening dress page, we saw the fashion elements of typical short party prom dress that might take you through events in the festive season. But for more formal events, the only option that would make you feel comfortable and blend in, is a long, maxi or floor length evening dress. You can see some formal long evening party dress choices on the earlier page.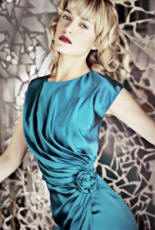 Chances are there will be a professional photographer snapping away all night. Be alert to the opportunity of making a good impression and give some thought to dressing for success. You can achieve this success with dresses stocked in the high street. In the UK, you may be amazed how worthwhile it is to look first in well known retail shops. Try Monsoon and Debenhams, who have quite a selection of long party or prom dresses. Other places to consider shopping for party wear are online prom and evening dress sites.
I have listed several UK party dress, prom dress and bridesmaid online sites at the bottom of this page. The teal blue evening Rose dress by Forever Young looks very elegant and would suit no end of functions. It is glamorous without being vulgar. Such dresses that hide more than they reveal whilst contouring the body can often be more alluring than the dress that reveals all. Not only does the model and the dress look stunning, but she would be suitably attired to meet just about anyone without making a faux pas. Those in USA will have their favourite stores and I'm interested to hear more about their prom dress departments.
You are reading an original fashion trends article written by Pauline Weston Thomas© at www.fashion-era.com ©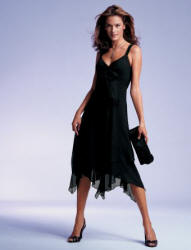 Ladies, you may well wonder what to wear for the office party held in a smart venue, or even how to dress for an after work do at the office building.
The number one rule is KEEP YOUR CLOTHING APPROPRIATE and take the opportunity to review your style in keeping with current fashion trends. (Read more about why dressing appropriately is important below.)
The number two rule is decide how prominent a role are you to play at the event. In other words, will you be a spotlight star accepting an award prize. Will you be making a speech? If the latter, you may need extra confidence when all eyes are on you. For that you will need the perfect dress or other ensemble.
You will also need to ensure any outdated hairstyle is given a revamp. Little else can give a woman more uplift than a great hairstyle and then there is the perfect bra for the dress! Triumph multiway bra below shows a possible bra to wear to solve strap slippage and show.
Other factors in choice of clothing, include time of day, weather conditions, the level of formality and of course, what others wear. To make a sensible choice, study any diktats on the invite or memo. This is one occasion where it is better to be over-dressed than under dressed as over-dressing shows respect, whereas under dressed is inclined to look slapdash and sloppy. If in doubt, the classic Little Black Dress always works.
‡‡
You want to only look GOOD - so for such events go straight to certain stores or madam boutiques that carry clothing for evening occasions. Shop early enough in the season to get a dress that hasn't been mauled by dozens of shoppers and is available in your size.
If you are seeking a full length prom style evening gown and are also on a budget, then in UK head for Debenhams, Monsoon, any House of Fraser or John Lewis in major cities. You can see evening party dresses from some of these shops on the ladies party dress page.
There are plenty of good stores in a city like London, but Fenwick, Harvey Nichols, Harrods, Liberty, Browns and Selfridges all offer extra choice. It is also worth looking in the more exclusive designer boutiques. At the stores look out for brand names such as Frank Usher which specialise in luxury evening wear in a wide range of sizes and styles.
If you have time to plan your purchase get to know the sales assistant and ask for advice. Check with them when new stock will arrive. They often have loose leaf folders of expected stock staged to arrive at 4 or 6 weekly intervals. Ask them, 'Will you have what I want in a few weeks?' They may well show you that same folder. They may even ring you when new stock comes into the store if you visit frequently enough and create a rapport with them. You are after all a customer and they are there to serve you.
This sort of service is almost always available in good Madame, Bridal and Designer shops.
Previous customers will have purchased specific evening styles and probably made sure the sales assistant knew the type of event they would be attending. So the assistant can help guide you too, knowing the typical choice customers are making for event dressing. The operative word is 'guide'. In the final decision always still trust your gut instinct about a garment.
In a high price range most shops will keep a garment for an hour or two whilst you go have a coffee, or just check out that other store before your mind settles on one dress or another.
You are reading an original fashion trends article written by Pauline Weston Thomas© at www.fashion-era.com ©
...(v4r)
When you shop wear good clothes and take along the type of heels you might like to wear to the event. Think about wearing a skirt or dress that slips on and off easily and quickly for trying on clothes. Skinny jeans will take forever to get on and off repeatedly as do boots and laced shoes. You will soon get fed up of the trying on process and go home feeling exhausted. Wear a decent bra, or a bra type you already own that will help you get a better perspective of the way the dress might look with the correct under foundations.
If you are intending to buy a pastel dress - wear a flesh toned bra for shopping. Looking for a dark or black low cut or V neck gown - well wear a black uplift bra or a convertible bra. This way the garment won't look quite as wrong as it might with that old faithful comfy bra that has stretched almost to your knees!
Triumph International have made an excellent multiway bra. It really is the bra you can wear in four different ways.
They say it has an embroidered T-back, conventional over the shoulder straps, conventional straps crossed over at back and a conventional strap facility as a halter bra.
Elements of the bra are detachable and can be replaced with conventional straps. At present it just comes in Black, Sizes: 32-38, A – DD cups and retails at £25.
£25 really is terrific value for a multiway bra and may offer better support than stick on cups if your bust has started to go south.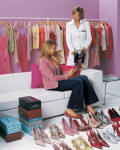 Once you are ready to shop, think about what you might like to wear and what you might hate wearing. Consider writing down a few points on a postcard of the sort of dress/colour/shape/size you are looking for. Let the assistant see it and borrow it if she has to go down to a stockroom, where she may have a few new goodies not yet on the racks.
If the store has a Personal Shopper think about booking an appointment with a Style Advisor in advance. Many stores that offer a bridal service do so only by appointment so check these services out by phone.
Debenhams for example offer a Personal Shopper service as shown left. For your nearest Debenhams's store with a Personal Shopper Service call:08445 616161.
Harvey Nichols at Birmingham also offer a complimentary Personal Shopping service to take the legwork out of shopping.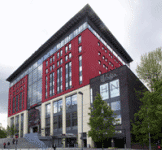 They say, 'In an intimate, self-contained suite you can sit back and relax while a dedicated team of Personal Shoppers edit a selection of clothes and accessories for you.
With their enviable knowledge and experience of the very latest fashions, our team will work to your specifications, whether you want a new working wardrobe or something extra special.'
For appointments at Harvey Nichols in Birmingham please contact their Personal Shopping Manager Baber Akhtar on 0121 616 6008.
TopShop now offers a special service which you can find out more about directly from them. The London venue recently had a waiting list of 6 months, but it's always worth making an enquiry about such services.
House of Fraser, which has major stores nationwide run a similar personal shopping service. Many stores realise that some women feel lost when faced by so much choice yet still find everything they are instantly drawn to looks a disaster. The stylists have a good idea which garments suit which body shapes. If you don't have an honest friend to shop with who will say outright in a nice way, 'the shoulders are too wide on that - you look like Tarzan' then maybe an appointment with a personal shopper or stylist is your answer. You are reading an original fashion trends article written by Pauline Weston Thomas© at www.fashion-era.com ©
‡
If you cannot face the stores or have no time to go pounding the streets consider instead ordering online. You are sure to find something which comes within the office appropriate guidelines above or WOW factors! If you need to choose a knock them dead gown for a special event like a birthday, anniversary or engagement then you will certainly find a wealth of alternative styles too.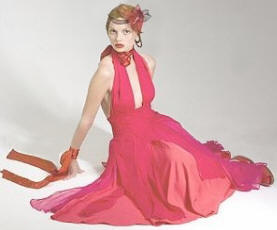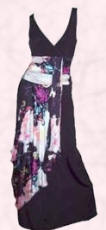 This red evening dress called Marilyn is one of the lovely dresses designed by Simone Williams. I think it would be perfect for a personal special occasion. What a fabulous red pink dress it is, capturing coral and cerise making for a true Lady in Red. This winter coming could never be a better time to buy a red evening dress.
The black and print sash/swathe designer evening dress right is by Christian Lacroix and was available as a designer end of line. Look out for designer clearance sales often held at racecourses a few times a year.
The UK now has some great online stores for prom and party evening dresses and a few are listed at the bottom of the page.
That old saying, 'Clothes maketh the man', has a lot of truth in it. In this case, the right clothes for an office party can maketh the woman and that woman will make the best impression. You simply have to succeed in achieving a good look for your office do. Do not dismiss the event with the attitude of being 'just the office party and everyone knows me'.
These days an 'office do' has a wide range of meanings. It is a phrase used in the broadest way here to indicate anything from after work drinks to an expenses paid weekend. You may get a murder mystery break at a good hotel, or paint ball experience in the woods. Inevitably such events will culminate in an evening function with an element of formality where you are expected to show good manners. For that you must have the right attire.
At anytime of the year you may be faced with a special party, prom dance, office function or after work do. If you don't have a good idea of how formal an event the occasion might be, then just ask a reliable superior 'how should we dress for this event?'.
If still in doubt, you have to play safe and opt for more a formal dress look, rather than a dressed down chic, or clubbing vamp look. The event is a chance to show that you really can scrub up well and look a million dollars. Treat the occasion as an opportunity to demonstrate that you are worthy of being a higher paid employee, should a job position arise out of the blue. Don't be a fool and miss that chance.
The essentials here are that for an office event you should dress appropriately for the occasion. Office social events and informal moments at company presentations and training events are often used to assess individuals. Employers use the situation to see how an employee interacts with all others - menial to high staff, customers and clients.
Superiors may consider the way you handle yourself and intermingle with fellow guests at such events, including evening parties, important for future assessing your promotion. Such higher positions might require interaction with potential clients, with you as the sole representative of the firm. Don't ever forget manners with serving staff either. The person who is rude to a waiter, bellboy, receptionist or cleaner may well be giving away some unpleasant personality traits that make others cringe with embarrassment.
An office event may seem like an all expenses opportunity to let your hair down for a drunken evening, but it may well tar you with a reputation for being unable to handle alcohol or deport yourself as management might expect of you when in company. Take every opportunity and turn it to your advantage rather than seeing it as a freebie event, that may have the long term result of taking you out of the employee progression ladder.
You are reading an original fashion trends article written by Pauline Weston Thomas© at www.fashion-era.com ©
...(v4r)
Don't forget it's not just the event photographer, but also fellow guests with camera phones that can transmit your image far and wide! You do not want a photo of your body falling out of a poorly selected dress, revealing unsuitable underwear, being transmitted globally on a joke site or through email ad infinitum. Senior staff are always watching your ability to comport yourself in public.
You may well think '... yeah anything goes today, I'll wear what I want...' but anything may also lose you a future promotion. Think before you dress inappropriately for the occasion. The boss might always wonder if you'd turn up dressed for clubbing when part of the presentation panel at a client's office. Chances are if you want to work in a holiday resort team though you'd get the job. But you may have higher life ambitions.
This is a list of online prom dress and gown specialists with plenty of existing fans. Bridesmaids dresses may be the link for prom style dresses.
www.formalgownsdirect.co.uk/ Bridal wear, but has prom dresses and colour matched handbags.
www.ziggis.co.uk A very good mixed selection of formal gowns, plus some some brief club wear. Nottingham based with a shop you can visit. Lots of styles.
www.steviesgowns.co.uk Has bridal gowns and also a range of red formal gowns.
Images courtesy of Debenhams, Harvey Nichols, Triumph International, John Lewis, Mohina.com and NEXT UK.
You are reading an original fashion trends article written by Pauline Weston Thomas© at www.fashion-era.com ©
Page Date 22 August 2006 - Updated July 2010.
If you like this page then please share it with your friends
---
For more information on ladies and teens fashion trends go to:-
Archived Sections
Custom Search
About Fashion-Era.com
Fashion-Era.com looks at women's costume and fashion history and analyses the mood of an era. Changes in technology, leisure, work, cultural and moral values. Homelife and politics also contribute to lifestyle trends, which in turn influence the clothes we wear. These are the changes that make any era of society special in relation to the study of the costume of a period.

Fashion-Era.com can take no responsibility for any information on the site which may cause you error, loss or costs incurred from use of the information and links either directly or indirectly. This site is owned, designed, written and developed by author: Pauline Thomas and Guy Thomas. This site is designed to be viewed in 1024 X 768 or higher.
ALL RIGHTS RESERVED. Fashion-era.com reserves the right to add or delete information, graphics and links. Copyright © 2001-2014 on all content, text and images in Fashion-era.com. Images and text in this website may not be used on other websites.
Before you write to me for costume/fashion help or information please, please consult the extensive sitemap which lists all our pages. If you still cannot find the answer after searching the site, then before you email me, please consider if you are prepared to make a donation to the website.
Donations
Reader's donations help this site flourish, in particular donations encourage me to write more articles on fashion history as well as current trends. PayPal allows anyone with a credit card to donate easily and securely. You may donate any sum you feel appropriate.