Petite Fashion for Autumn 2006 Winter 2007
Women's Fashion Trends 2006/7
Petite in fashion retail terms, usually means proportionately scaled down clothing ranges for smaller women who are 5' 3" and under. Newly set up companies like Petite Affair (below) are challenging the existing petite offerings from retailers.
The founder of the Petite Affair company, Debbie Major, is a petite woman who was previously aggravated by finding it so hard to shop for clothes that did not drown her. On her Petite Affair website, Debbie says tells of, 'a real shortage of good quality, inspiring petite clothing.' I agree with Debbie there are many shortcomings in existing ranges of petite clothing. Petite fashions often disregard the woman who is wider and fatter. Plus size women of average height are offered a much greater range of fashion clothes.
Often the most neglected petite is wide and short, but still with a small frame, that means narrow shoulders, small wrist bones and a small foot size, such women are not always accommodated by plus fashions. You can read some of my musings on petite women's fashion problems in my image planning section.
This grey suit right is from Petite Affair who are a fairly new company in UK specialising in online sales of fashionable petite women's clothes. As suits go, it has much more interest than many petite suits available from chain store retailers. It has an interesting feature collar, clever seaming to make the most of the short waist and the sleeve is very interesting.
In a normal size range, a petite woman seeing this suit would sigh in despair knowing the sleeve would be all wrong on them. More than likely the whole point of the sleeve shape would be lost, as the standard size would drown their fingernails with too much length. Here this petite sleeve has been cut to petite considerations so the elbow is where it should be on a petite woman and the lower bell of the sleeve flares at the wrist, not at the fingernails.
‡‡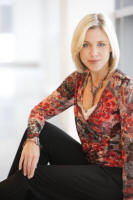 Petite Affair Autumn/Winter 2006 - Tessa Suit Jacket in herringbone tweed, sizes 6-18 £175. Tessa Suit Trousers in Herringbone Tweed (75cm) 6-18 £79.
Petite Affair are working with a number of designers, they will be focusing on suits, coats and a great range of basics like this colourful patterned wrap top left.
Quality is a high priority for them, but they also aim to offer a range of affordable clothing to suit a range of budgets. Their collection is evolving as they listen to their customers to create the perfect petite woman's wardrobe.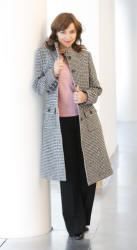 The items I've selected to show you here are quite classic, but often the classic items are the workhorses of a wardrobe.
This black and white hound's-tooth check coat is also hot on-trend, as you may have noticed from my page on checks and tartan plaids. It has been teamed with Italian wool trousers also available in 2 petite leg lengths. (See picture to the right)
Petite Affair Saskia Dog's tooth Coat 6-16 £149
Essential V Neck (Amethyst) 6-16 £35
Italian Cut Wool Trousers (69cm & 74cm) 6-14 £49.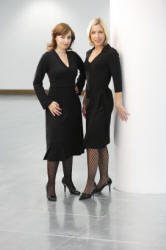 Petite Affair has other attractive items including these 2 black dresses left.
The dark haired model wears the Annette Black Dress sizes XS - XL £75, and the blonde model wears the Classic Wrap Black Dress sizes 6-16 at £49.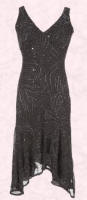 For a real occasion dress look no further than this this sequinned petite range great little black dress, perfect for the festive season and Christmas parties. Any of these little black dresses would be investment pieces for petites.
The sequinned evening dress is £110. You can also see it teamed with a bolero on the model on my ladies short party dress page.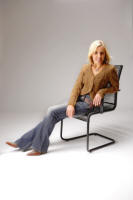 Every woman needs well fitting jeans in their basic wardrobe. Petites are no exception, they too require a great fit on jeans and casual wear.
Petite Affair Tuscan Lace Jeans (leg length 76cm) 6-16 £95 and Nutmeg Chunky Knit Cardigan S/M; M/L £75.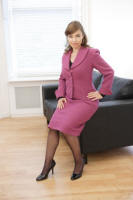 All good things come in little packages and this lovely pink suit is cleverly cut and beautifully proportioned. It makes a change from the usual work wear neutrals. If you click the thumbnail you'll see the seaming detail in the jacket.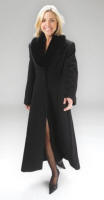 Right - Petite Affair Boston Boucle Jacket 6-16 at £115, Boston Boucle Skirt 6-16 £69
Essential V Neck (black) 6-16 £35
Petite Affair was founded in 2005 by Debbie Major and Sean Longsdale and as you can see the petite women's fashion range they carry is growing to meet consumer demand.
The Petite Affair range aims to bring petite women a wider choice of clothing covering the 'classics'. I think their prices are reasonable for specialist-cut clothes and the quality of some items like this winter coat is a classic that should see you through several winters.
Aimee full length black coat 6-16 £175. Available early/mid September.
You are reading an original fashion trends article written by Pauline Weston Thomas© at www.fashion-era.com ©
§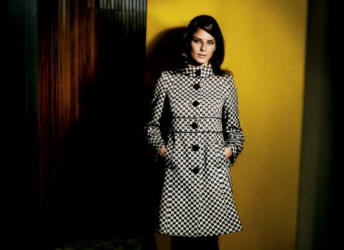 Principle Petites are one of the most attractive ranges on offer in the high street. They too offer reasonably priced petite coats.
This black & white Optical Coat by Principles Petite range £110. It's all part of the monochrome sixties fashion look so popular this autumn 2006.
You will see that whilst this is not a check fabric it does have strong connection to the dogtooth and hound's-tooth check coats on the checks and tartan plaids page.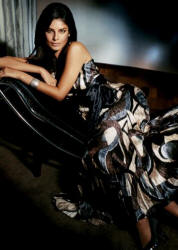 With autumn already upon us I especially like this lovely evening dress which is available in both the main range and the petite women's range at Principles and at their online website.
The Principles Petite Bahaus print dress is in 100.0% silk ranging from size 6 to 16. Product ref code is 053021181. The 3/4 length dress has a ribbon detail under bust and a seam under the bust. Priced at £89 it is hand wash. The crushed silk feature of the fabric makes such a dress perfect for travel and special occasions away from home. These 2 items are also available in the standard ranges at Principles.
These are some of the attractive petite clothes on offer in UK.
There is most certainly a need and a demand for petite fashion clothes and I discuss it further on my Petite Women's Image Planning page.
You are reading an original fashion trends article written by Pauline Weston Thomas© at www.fashion-era.com ©
Images courtesy of Petite Affair and Principles at Arcadia. Header image is courtesy of Petite Affair. Thanks to prshots.com.
(Page Date 1 September 2006)
If you like this page then please share it with your friends
---
For more information on ladies and teens fashion trends go to:-
Archived Sections
Custom Search
About Fashion-Era.com
Fashion-Era.com looks at women's costume and fashion history and analyses the mood of an era. Changes in technology, leisure, work, cultural and moral values. Homelife and politics also contribute to lifestyle trends, which in turn influence the clothes we wear. These are the changes that make any era of society special in relation to the study of the costume of a period.

Fashion-Era.com can take no responsibility for any information on the site which may cause you error, loss or costs incurred from use of the information and links either directly or indirectly. This site is owned, designed, written and developed by author: Pauline Thomas and Guy Thomas. This site is designed to be viewed in 1024 X 768 or higher.
ALL RIGHTS RESERVED. Fashion-era.com reserves the right to add or delete information, graphics and links. Copyright © 2001-2014 on all content, text and images in Fashion-era.com. Images and text in this website may not be used on other websites.
Before you write to me for costume/fashion help or information please, please consult the extensive sitemap which lists all our pages. If you still cannot find the answer after searching the site, then before you email me, please consider if you are prepared to make a donation to the website.
Donations
Reader's donations help this site flourish, in particular donations encourage me to write more articles on fashion history as well as current trends. PayPal allows anyone with a credit card to donate easily and securely. You may donate any sum you feel appropriate.