Women's Fashion Shoes, Boots and Hosiery Autumn 2006 Winter 2007
A new fashion look in footwear includes stylish cone heels. Ladies fashion shoes have wooden heels, leopard print or use reptilian look materials.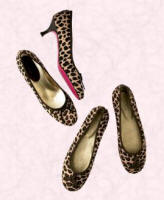 Some are flat comfy shoes like ballerina shoes. Others steal ideas from the shipyard and use rope to make both bags and footwear. Shoes are also trimmed with luxury furs.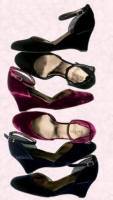 Look out for T-bar shoes, ankle strap shoes and designer boots in Lurex python skins.
These velvet wedges to the left from Boden have a real party look for them, making them perfect as an Autumn Winter ladies fashion shoe.
Images from the autumn 2006 range of ladies fashion shoes courtesy of Boden UK.

Ballerina flats with round toes in all types of materials including animal, gold, metallics and velvets are winter winners. These ladies fashion shoes on the right are a velvet range by Boden.
Animal prints abound in fashion accessories. These zebra print ballerina flats just below right are from online site www.prettyballerinas.com. They come in a range of colours including the red version.

The ballerina flats are made in several animal prints of varying scales and impressed leathers as well as golden tones. Many more gold ballerina flats are featured on the gold accessory page.

Some of the styles at pretty ballerinas are delightful. I especially like these animal print ballerina shoes with gold bows and these red rose suede ballerina shoes. In fact I might order a pair of either quite soon! They look perfect for Christmas too and what great gifts they would make, they really are so very pretty.

Maybe you prefer really high footwear. If so, the glamour of red high heeled shoes will easily liven up a plain black dress.

Or treat yourself to some Christian Louboutin shoes which have the trademark red soles.
These low cut Mary Jane red and dark red patent shoes right are from Matalan and are a bargain price. The shiny patent look is new fad gaining momentum. Look out for cone heels like those on the darker red shoes. Cone heels vary in height so there is a style for every ladies fashion shoe.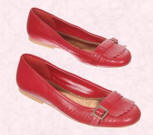 The pretty flat red tongue buckle ballerina shoes from Accessorize left, offer a modern alternative to be worn with shorter clothes, £35/€54.
You can easily imagine skipping around town wearing these easy flats and shopping until you drop. You are reading an original fashion trends article written by Pauline Weston Thomas© at www.fashion-era.com ©
‡‡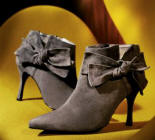 This winter my preference though is for laced up shoes or bootie shoes like these wonderful feminine ankle boots left from Principles.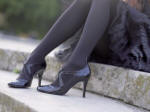 The laced up fashion shoes on the right are by River Island.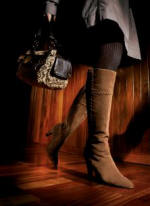 If you area traditionalist when it comes to women's fashion boots, then these heeled suede tan boots may carry you through the winter.
They will tone well with all those gold clothes you add to your wardrobe. Tan suede boots like these from Principles right, also look great with denim.
Many women's fashion boots have extra straps which have either biker or equestrian associations.
These practical and affordable styles of fashion boots below are all from Benetton. With the hottest look once again being Equestrian riding touches in boots.


These white fur fashion boots to the left are from Dolce and Gabbana and are part of their layered looks. While, the green boots on the right, are the Benetton version of these fashionable fur boots. Don't they just look warm, comfortable and fun to wear.
§
By wearing ribbed tights or dark colours like plum, bottle green, black, grey, brown, violet it's possible to show lots of leg in tights. If these are too dull for you consider figured, lace or motif tights such as these by NEXT DIRECTORY UK.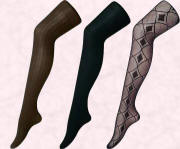 ...(v4r)
Contemporary looks this fall are easily achieved by the addition of opaque tights. Wolford are known leaders of some of the best fashion tights that will last and not look mangled easily with wear. Choose sheer pantyhose more carefully so that it is sheer rather than old lady looking. You can find a great selection of tights at wolfordboutiquelondon.com.
Even argyle pattern knee socks were given an airing at fashion shows.
No-shows are marketing man's answer to capture lost sales of tights in summer. These fashion accessories are also useful too. They consist of foot tubes or cases that cover just the toes, foot sole and heels or are simply no more than a foot band, a toe band or an ankle band. This image is courtesy of NEXT UK where you can buy these no-shows online. Briefer versions exist from other manufacturers.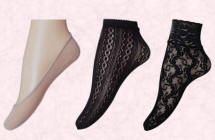 In the past we might have thought them a variation of trouser socks, but they are not true socks as they don't even totally cover the foot. The intention is that there is no show. The reason that some women still wear tights in summer, even on hot days, is to protect their feet with a fine layer between shoe and foot. Many have thought the heat discomfort worth it to not have raw rubbed feet.
These no-show items are meant to be worn with sandals and other summer footwear to prevent chafing and blisters in hot weather. No-shows are the new answer to uncomfortably hot tights. Pantyhose manufacturers are clapping their hands at the development of this new product ever since the no-show concept was created in 2001. Please don't confuse no-shows with stocking fabric trouser socks to the knee. The no-shows are a slip-on and on occasion, a little like complimentary airplane slippers you may have been given on long flights, or perhaps similar to a brief and simple tennis wrist sweat band. Note that Michael Kors will be releasing no-shows this autumn. You are reading an original fashion trends article written by Pauline Weston Thomas© at www.fashion-era.com ©
Read more about gold footwear on the gold accessory page. Read more about handbags on the accessories page. See jewellery trends on the jewellery trends page.
Images courtesy of IFTF, NEXT UK, Boden, Benetton, Principles, Accessorize, River Island and www.prettyballerinas.com
(Page Date 11 July 2006)
If you like this page then please share it with your friends
---
For more information on ladies and teens fashion trends go to:-
Archived Sections
Custom Search
About Fashion-Era.com
Fashion-Era.com looks at women's costume and fashion history and analyses the mood of an era. Changes in technology, leisure, work, cultural and moral values. Homelife and politics also contribute to lifestyle trends, which in turn influence the clothes we wear. These are the changes that make any era of society special in relation to the study of the costume of a period.

Fashion-Era.com can take no responsibility for any information on the site which may cause you error, loss or costs incurred from use of the information and links either directly or indirectly. This site is owned, designed, written and developed by author: Pauline Thomas and Guy Thomas. This site is designed to be viewed in 1024 X 768 or higher.
ALL RIGHTS RESERVED. Fashion-era.com reserves the right to add or delete information, graphics and links. Copyright © 2001-2014 on all content, text and images in Fashion-era.com. Images and text in this website may not be used on other websites.
Before you write to me for costume/fashion help or information please, please consult the extensive sitemap which lists all our pages. If you still cannot find the answer after searching the site, then before you email me, please consider if you are prepared to make a donation to the website.
Donations
Reader's donations help this site flourish, in particular donations encourage me to write more articles on fashion history as well as current trends. PayPal allows anyone with a credit card to donate easily and securely. You may donate any sum you feel appropriate.