Young Women's Evening Fashion - Clothing Trend Autumn 2006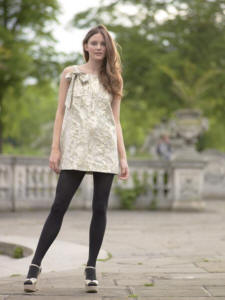 As Christmas draws nearer and festive party dressing makes the agenda, watch out for the glimmer of gold with brocade. This brocade look is in every range no matter what your age.
The golden brocade dress, to the left, is youthful especially, when teamed with the unusual, such as thick dark tights and gold platform shoes.
Left is a young women's dress by River Island, Jacquard Brocade Mini Shift Dress - bow detail at £59.99. This is a jacquard brocade dress in soft gold that is cut in a 60's shift shape and finished with a simple bow for a romantic ethereal feel.
At River Island, accessories continue to play an important fashion role and reflect the overall mood of the season. The shoe collection features metallic wedges and stacked leather court shoes. You may also consider patent cutwork shoes and round toe ankle boots with chain and animal print trims.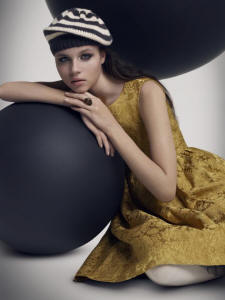 At Dorothy Perkins, young women's fashion takes its inspiration from the 1960s and 1980s with hints of C17th romanticism in a collection that ticks all the trend boxes this season. You can see that the youthful look is achieved with a beret.
For the festive season, Dorothy Perkins have subtle metallic evening wear with both vintage inspired jacquards and shimmering Lurex.
Left - Image courtesy of Dorothy Perkins - Deep Gold Brocade Dress £50/€80. Cream and brown striped beanie £8/€12.
This gold brocade dress is one of the prettiest high street brocade dresses that I have seen whilst viewing PR images this season. You can see lots more gold tone colours and styles on the gold tone accessory page.
Gold is not the only metallic on offer, there are plenty of soft silver toned clothes around, from the palest shimmering dove grey ivory, to steel magnolia. Dorothy Perkins has a whole range of grey clothes, but my favourite is this slinky, silver jersey, sixties shift dress with a silver thread running through the knit fabric. See below. You are reading an original fashion trends article written by Pauline Weston Thomas© at www.fashion-era.com ©
‡‡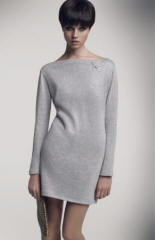 Sweater dresses are a big look this fall 2006. This simple long sleeved 60's straight knit shift, in silver grey and from Dorothy Perkins has a Lurex thread running through it. Silver Lurex mini dress £25/€40. Leopard print envelope bag £8/€12.
It is perfect for relaxed festive winter evenings and could look great showing plenty of leg just as the model does. Or, it could be teamed with leggings and worn like a tunic or gain a more kooky twist with any type of boots.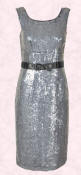 Slinky and shimmering, this straight empire line shift right from French Connection can be worn belted as show here or unbelted if you prefer. Silver fully sequinned dress from French Connection is £150. Fabulous and a classic to add the party wardrobe!
Team it with classy jewellery and a brocade or a black velvet cropped jacket, feather shrug or cape.
To make this French Connection liquid silver dress right more versatile over Christmas, you could wear it 60's style as a pinafore dress over a black polo neck cashmere or skinny rib sweater.
Use the layering technique to add warmth through a festive day like Christmas Eve. Wearing boots with the silver dress would add a different dimension. You can play the glitz up or down. Play it down with opaque or lace tights.
Make sure you have some footless leggings, so you can play dress-up at home to work out some fresh new looks for fall. Or get some three quarter leggings like these from Marks and Spencer.
Footless tights and footless leggings will have different wearing qualities so make sure you understand the difference between these when you shop. Price reflects the thickness, quality, depth of dye, laddering, comfort factors, extensibility of the fabric and wearing elasticity. Footless tights can be priced around £2- £5, footless leggings are more likely to cost £10 to £20. Check the quality of samples the shop displays. Leggings should fit like a second skin and not be prone to bagging.
These inexpensive silver shoes right are from Matalan. These fashion shoes would team well with many silver grey outfits. Metallic block heel shoe at £14.
Different shoes can make the appearance of an outfit look quite altered and present an opportunity to reflect your personality.
...(v4r)
These gold ballet flats below are from Marks and Spencer and would look good teamed with brocades too. The silver peep toe ballet flat is also very girly. You can buy any of these three shoes from the picture links.
If you would like to see more details of these shoes, there is a link to Marks and Spencer in the above pictures. You are reading an original fashion trends article written by Pauline Weston Thomas© at www.fashion-era.com ©
No female over 16 is too young to own a little black dress. Younger girls and women can opt for little black evening dresses like these mini dresses, which can be teamed with opaque tights or leggings or just show lots of leg.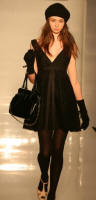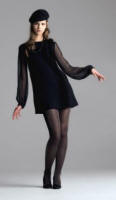 LBDs - we all need several, so start collecting now!
Choose from trapeze styles with added hemline flare or empire lines. These styles have child like baby doll elements and being shorter very much suit the young.
Always take every opportunity to wear these 'baby doll' styles when you are young, as all too soon the stage will come when you simply cannot get away with this look. Woe is me!

There are so many shoe styles on offer, from the gold platforms from River Island seen at the top of the page, to these high black ankle strap shoes from Matalan.
You will be spoilt for choice and will be able to totally indulge whatever personal style preference for footwear you have.
The black shoes from Matalan have a real vintage feel to them and would create a totally different look to that of the ballerina shoes.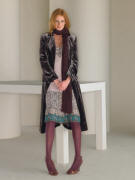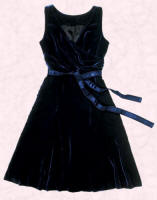 Yes, you can wear any combination of skinny jeans and trousers, but autumn occasions are just that - occasions that offer you a chance to dress up a little more than usual.
As an alternative to jeans and trousers, wear a classic velvet coat like this Matalan version on the left. As a result you will have a luxury, but low cost evening look.
Velvet offers romantic looks that can move from day to evening with ease. This rich midnight blue velvet dress from Boden would suit many girls and women. It's a real party frock.
You could give it a quirkier edge by pushing the skirt out with a visible net petticoat. Midnight blue is one of the best colours for velvet, as it retains a richness lost on pastel velvets which are horribly fattening.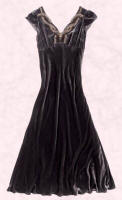 Velvet is a lush fabric that is perfect for Christmas and New year celebrations.
Brown shades are one the colours trends of autumn 2006 with earthy natural tones being important. This velvet V-neck evening dress is from John Lewis.
Learn how to care for velvet and how to press it without damaging the pile. With the proper care you can keep your velvet party dress looking in good shape for years.
If a dress is not for you, then seek out a skirt with an embellished hemline. This skirt with a folkloric decorated hem from Boden may be an option.
Boden have teamed their skirt with matching ballerina flats. In UK we see ballerina flats in every shoe shop and people skipping around town in them.
Or you may prefer more of a clubbing look that follows a trend not yet worn by everyone. Bubble skirts are just coming into mainstream fashion and you can now find them quite easily on the high street.
You are reading an original fashion trends article written by Pauline Weston Thomas© at www.fashion-era.com ©
Images all courtesy of Matalan, Oasis, New Look, House of Fraser, French Connection, Boden, John Lewis, River Island Dorothy Perkins image courtesy of Arcadia UK. Header image courtesy of River Island.
-------v6-------
(Page Date 23 August 2006)
If you like this page then please share it with your friends
---
For more information on ladies and teens fashion trends go to:-
Archived Sections
Custom Search
About Fashion-Era.com
Fashion-Era.com looks at women's costume and fashion history and analyses the mood of an era. Changes in technology, leisure, work, cultural and moral values. Homelife and politics also contribute to lifestyle trends, which in turn influence the clothes we wear. These are the changes that make any era of society special in relation to the study of the costume of a period.

Fashion-Era.com can take no responsibility for any information on the site which may cause you error, loss or costs incurred from use of the information and links either directly or indirectly. This site is owned, designed, written and developed by author: Pauline Thomas and Guy Thomas. This site is designed to be viewed in 1024 X 768 or higher.
ALL RIGHTS RESERVED. Fashion-era.com reserves the right to add or delete information, graphics and links. Copyright © 2001-2014 on all content, text and images in Fashion-era.com. Images and text in this website may not be used on other websites.
Before you write to me for costume/fashion help or information please, please consult the extensive sitemap which lists all our pages. If you still cannot find the answer after searching the site, then before you email me, please consider if you are prepared to make a donation to the website.
Donations
Reader's donations help this site flourish, in particular donations encourage me to write more articles on fashion history as well as current trends. PayPal allows anyone with a credit card to donate easily and securely. You may donate any sum you feel appropriate.