Female Fashion Trends for Autumn 2006 Winter 2007
Gold Colour Accessories for Women Autumn Winter 2006/7
Gold hasn't been so popular since James Bond and Goldfinger hit the cinema screens 40 years ago!
Gold colour and shimmering metallic gold has been featured in every autumn 2006 fashion collection.

The simplest way to add gold colour to your wardrobe is with golden jewellery or with a metallic gold tone fashion accessory. There are plenty of affordable gold fashion items around such as necklaces bangles, bags and shoes.
You may already have something in your jewellery box at home like this vintage YSL costume jewellery metallic gold cuff, shown left courtesy of Elaine Mintzer.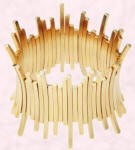 Or a modern cuff like this Calow Stretch uneven edge bracelet gold cuff from John Lewis might be just the C21st finishing touch you need.

If price is a problem, look no further than high street retailer Accessorize where later this autumn 2006, you can easily buy this simple gold tone bangle at Accessorize. Either a gold cuff or gold bangle would be good choice of golden accessory for this winter's look. The sixties feel of this gold bangle is very much in keeping with many of the modernist styles that you see in the shops.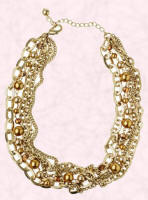 A gold tone chain necklace along the lines of this Calow piece from the John Lewis fashion jewellery range would make a useful gold accessory. It would give a lift to any dull workday. Equally this lovely necklace would adorn your evening outfit if you get invited unexpectedly for after work drinks.
So keep a jazz it all up necklace like this gold Calow & pearl multi chain necklace in your handbag and let fashion jewellery transform your image from day to evening.
At just £25 it won't break the bank and you can leave it in your bag all day without the real worry you might experience if it were expensive estate jewellery.
Boho necklaces have also maintained their popularity as a fashion accessory.
‡‡
For a luxury golden fashion look you could select this lovely shimmering Makki Collection bag called Suki from The Bag Boutique.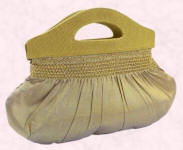 The handbag is beautifully crafted and features a band of smocking. It's a great evening bag.
The Bag Boutique is an online retail website dedicated to providing their customers with stylish, contemporary handbags from a range of UK designers.
If a whole garment in an opulent fabric seems too overpowering to you, look instead for a bag in gold brocade.
This large roomy golden brocade bag left is from sparklingaccessories.com and so is the smaller gold sequin disc evening bag below.
Or if you can afford it the Chloe Silverado like this metallic golden version below right is still going strong.
Of course the simplest way of all to become a golden lady is to add a pair of gold shoes. This autumn 2006 one of the most useful and fashionable of shoes will be the ballerina pump. Ballerina flats in all metallics including silver grey tones and animal prints are a fashion trend that is still gaining momentum.
You are reading an original fashion trends article written by Pauline Weston Thomas© at www.fashion-era.com ©
...(v4r)
You will find inexpensive gold ballet pumps in every high street shop selling shoes. What a practical, but great look. Ballerina flats along with newer styles of bootie shoes seem especially modern this fall. Team either type of footwear with fancy lace tights or leggings for the look of now.
With thicker tights or knee socks ballerinas can be used effectively to create the layered look. They will take you into autumn whilst your boots languish in the cupboard until a cooler day. What could be prettier than walking through autumnal leaves in your gold ballerinas.

But if you cannot get a pair easily consider ordering online from the website www.prettyballerinas.com which is based in Menorca. They have a very good selection of cute ballerina shoes in a variety of colours, styles and patterns.

You may like me even have your gold ballet flats already. These golden fashion ballerina shoes shown here are all images courtesy of www.prettyballerinas.com.
The pair called Audrey directly below are very attractive and doubly fashionable with their reptilian skin.

This pair of pretty gold ballerinas called Beatrice are in gold patterned leather. They are interesting in that they give the illusion of being flats, but have inner elevation.

Finally this ballerina shoe combines the current fascination for animal prints with a gold trim binding. But you can see some more of these ballerina shoes on other pages here soon.
Remember versions of gold ballet pumps will carry you into next year as they are perfect with fuller skirts. You are reading an original fashion trends article written by Pauline Weston Thomas© at www.fashion-era.com ©
‡
These spindly gold evening shoes below, won't break the bank and are standard stiletto heels that always have a place in the wardrobe. These gold shoes are from Matalan, are inexpensive at £14, cheap enough to wear for just one special evening. They cover the spectrum from true gold to copper gold. You could call them your Matalans!
However, if Manolos are your preference for gold shoes, then you will of course have an heirloom item, but also you need the funds to pay the price.
A small garment like this French Connection primrose yellow wrap cardigan at £65 may be an alternative answer to a simple gold accessory. But for a wardrobe in gold see the many gorgeous gold toned dresses, jackets and coats shown on my Gold Clothes Page.
French Connection image courtesy of John Lewis.
More fashion shoes are on the shoe and boots trend pages. See main new fashion trend looks and wardrobe tips. You can read more about fall 2006/7 handbags on the accessories page and about jewellery on the jewellery page.
My thanks to the mentioned websites for help in using their images. Header image and others courtesy of John Lewis. Ballerina shoes courtesy of www.prettyballerinas.com. Other images courtesy of The Bag Boutique, Matalan, Rotary, Accessorize, sparklingaccessories.com and Lost Horizon Vintage.
You are reading an original fashion trends article written by Pauline Weston Thomas© at www.fashion-era.com ©
-------v6-------
(Page Date 4 August 2006)
If you like this page then please share it with your friends
---
For more information on ladies and teens fashion trends go to:-
Archived Sections
Custom Search
About Fashion-Era.com
Fashion-Era.com looks at women's costume and fashion history and analyses the mood of an era. Changes in technology, leisure, work, cultural and moral values. Homelife and politics also contribute to lifestyle trends, which in turn influence the clothes we wear. These are the changes that make any era of society special in relation to the study of the costume of a period.

Fashion-Era.com can take no responsibility for any information on the site which may cause you error, loss or costs incurred from use of the information and links either directly or indirectly. This site is owned, designed, written and developed by author: Pauline Thomas and Guy Thomas. This site is designed to be viewed in 1024 X 768 or higher.
ALL RIGHTS RESERVED. Fashion-era.com reserves the right to add or delete information, graphics and links. Copyright © 2001-2014 on all content, text and images in Fashion-era.com. Images and text in this website may not be used on other websites.
Before you write to me for costume/fashion help or information please, please consult the extensive sitemap which lists all our pages. If you still cannot find the answer after searching the site, then before you email me, please consider if you are prepared to make a donation to the website.
Donations
Reader's donations help this site flourish, in particular donations encourage me to write more articles on fashion history as well as current trends. PayPal allows anyone with a credit card to donate easily and securely. You may donate any sum you feel appropriate.