Female Fashion Trends 2006/7 Winter 2006/7
Gold Colours in Women's Fashions Winter 2006/7
This winter and spring 2006/7 expect to shimmer and glimmer in golden yellow colours. Tones through lemon, melon, chartreuse to sand, honey, bright yellow, mustard, butter, corn, straw and gold abound. You will find these golden colours in every fabric among wools, wool jersey, silk jersey and satins. Sparkling opulent brocade fabrics go right across the colour range from the creamiest of honey to the most lustrous golden copper sheens.
All thumbnails below enlarge. Read full fashion colour report 2006/7 here. See Autumn 2006/7 colour mood boards. See main new fashion trend looks and wardrobe tips.
You can find every type of garment in this range of fashion colour from knitwear, coats, parkas, opulent brocade suits to full evening gowns for your golden moment. These sumptuous gold brocade looks take night time into moonlight moments. See below four models of gold colour.
Blass - Sable cuffs and circle fur wrap on a gold brocade suit. Phase Eight Autumn/Winter 2006 Gold lace brocade dress £150, Bracelet £20, Necklace £20. New Look UK - Brocade dress £30 with faux fur stole/chain £10, Necklace £7 Bracelet (set) £5 and Shoes £25. New Look UK - Brocade evening jacket £35, Grey vest £6, Taffeta skirt with bow £25, Necklace £7, Shoes £20.
‡‡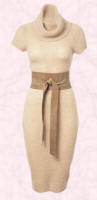 Immediately below, you can see a selection of basic honey toned items really suitable for many occasions this winter 2006/7.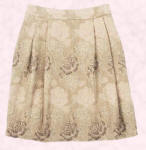 Wallis Camel mohair knit sweater dress £35 and Wallis Camel Japanese coat £80 with extra large button feature.
Jacquard Fenn Wright Manson floral brocade skirt £149.00 at John Lewis.
Images courtesy of John Lewis and Wallis.
Gold as a colour was featured in every autumn 2006/7 collection. Gold ranges from expensive looking honeyed camel and caramel tones through sunshine yellow to true mustard gold to the deepest amber tones.
If you need to keep warm these golden sand toned knits and coats are just the answer. Large fur collars, oversized buttons, checks and three quarter sleeves all give a 50s fashion feel. You are reading an original fashion trends article written by Pauline Weston Thomas© at www.fashion-era.com ©
New Look UK - Yellow dogtooth coat £70, Brooch £10, Roll neck with button sleeves £16, Shoes £20. Caramel sweater with fox collar. Caramel wool coat with jewelled buttons and fox collar. Embroidered camel hair coat with white fox collar. Images above and below courtesy of Miss Selfridge, IFTF.
More relaxed wear includes posh parkas and easy wide trousers, but in opulent fabrics.
Blumarine - Golden fox oversized collar and cuffed coat. Blugirl - Golden yellow silk parka with fox trim and melon dress. Gucci - Horizontal gold fox jacket with crocodile.
§
Evening glamour has a touch of shimmer that looks like molten liquid gold. Fabrics like gold satin and metallic sequins easily achieve this effect. They take on a fresh new look when worn with dark tights. Interesting and contrasting pantyhose or legwear is essential, to get that fashionable layered look.
Three images of gold tone satin garments courtesy of Oasis and from the Oasis Catwalk shows. Fourth image fur trimmed knit over yellow gold satin dress and black tights courtesy of IFTF .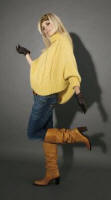 But if you don't want to have the whole look in gold brocade try smooth yet dull Melton wool velours in acid brights and citrus tones. This zesty yellow acid bright wool sixties style trapeze coat from Matalan below left or the Sisley cape on the right would be a more casual, but still very smart alternative. See full details of this Sisley outfit below.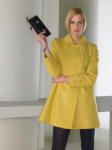 If you prefer to layer, opt for just a hint of lush golden yellow as a top or scarf.

This acid bright satin blouse that looks like liquid gold is from high street retailer Wallis. The Winter 2006/7 Chartreuse silk satin smock top is £40.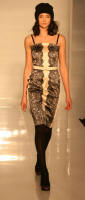 You can create another fashion look simply by layering a black lace garment or airy lace knit over it.
Dark lace over brighter lighter satins is a hot look following on from all the blush pink and black lace overlay combinations seen at catwalk shows earlier this spring. The dress left is a lovely example of black over lemon melon satin and is from an Oasis Catwalk Show 2006/7.
You can read about some gold accessories here.
You can read more about general winter 2006/7 handbags on the accessories page. Red clothes are discussed on the Lady in Red page.
You are reading an original fashion trends article written by Pauline Weston Thomas© at www.fashion-era.com ©
Wool maxi-pull with cable motif, Style n°: 1342M0738, Sizes: XS - L.
Denim trousers with yellow stitches and pockets with zip, Style n°: 4396Z6877, Sizes: 38 - 48.
Leather boots, Style n°: 8QLOS326, Sizes: 35 - 41.
Leather belt with contrasting detail, Style n°: 6CR2W6887 one size.
Leather gloves with contrasting details, Style n°: 6QI1W3043 one size.
Photo: Fabrica, F. Morandin
All thumbnails above enlarge. Images courtesy of IFTF, Matalan, John Lewis and Sisley. Also thanks to Phase Eight, New Look, Oasis and Arcadia group via prshots.com
(Page Date 04 August 2006, updated 16 Jan 2007)
-------v6-------
If you like this page then please share it with your friends
---
For more information on ladies and teens fashion trends go to:-
Archived Sections
Custom Search
About Fashion-Era.com
Fashion-Era.com looks at women's costume and fashion history and analyses the mood of an era. Changes in technology, leisure, work, cultural and moral values. Homelife and politics also contribute to lifestyle trends, which in turn influence the clothes we wear. These are the changes that make any era of society special in relation to the study of the costume of a period.

Fashion-Era.com can take no responsibility for any information on the site which may cause you error, loss or costs incurred from use of the information and links either directly or indirectly. This site is owned, designed, written and developed by author: Pauline Thomas and Guy Thomas. This site is designed to be viewed in 1024 X 768 or higher.
ALL RIGHTS RESERVED. Fashion-era.com reserves the right to add or delete information, graphics and links. Copyright © 2001-2014 on all content, text and images in Fashion-era.com. Images and text in this website may not be used on other websites.
Before you write to me for costume/fashion help or information please, please consult the extensive sitemap which lists all our pages. If you still cannot find the answer after searching the site, then before you email me, please consider if you are prepared to make a donation to the website.
Donations
Reader's donations help this site flourish, in particular donations encourage me to write more articles on fashion history as well as current trends. PayPal allows anyone with a credit card to donate easily and securely. You may donate any sum you feel appropriate.