Female Fashion Trends Autumn 2006 Winter 2007
Purple Fashion Clothes - Women's Fashions Autumn 2007
Purple is a colour full of symbolism and a long association with royalty. The colour purple denotes affluence, supremacy, dominance and magnificent opulence. It is also associated with spirituality, mystery and pacification. Tones of purple can be used as a mourning colour instead of black or white. Read about Tyrian Purple below.
Purple is one of the jewel colours of autumn 2006. You will find many shades available especially in this tone shown directly below. Purple colour can be rich and regal, dark, deep and dazzling. These designer coats in rich purple make a statement that says opulence.
These outfits below are the pastel version of purple. They are sugar almond softer tones, serene yet flirtatious. Purple looks good with most hair colourings including redheads. Softer pastel tones look especially good on blondes and those with silver hair.
Images courtesy of IFTF.
‡‡

Images left to right courtesy of NEXT, Debenhams and Matalan, also just below.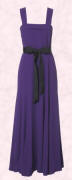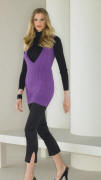 Purple in the deep shades is an excellent choice for garments because it suits most colourings. It also has a similar effect on slimming down the body as black, navy, brown and dark green all can.
Legs feature strongly in these images. Notice the similarity in style between the first two garments. Observe how sheer tights, dark tights, leggings and boots - are all used to good effect.
This dress on the right, image courtesy of Wallis, would be as slimming as black might be. Purple is a good colour for winter evenings. At £75 it is extremely reasonable for a full evening gown.
You are reading an original fashion trends article written by Pauline Weston Thomas© at www.fashion-era.com ©
See an update for trends in purple dresses for 2010 on this page.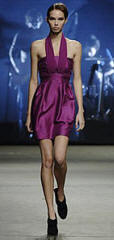 Notice how brocade, satin, lustre, shine, fur, frills and feathers are all part of the look. These materials are used extensively to make purple accessories.
This lovely Sinha-Stanic shoulder baring silk wool halter neck dress shown left from Harvey Nichols is show-stopping and sophisticated.
You might opt for this or a similar shoulder revealing dress, but you may well find yourself chilly in cooler surroundings. A small sequin cape or shrug may be the answer to keeping glam, yet staying warm.
Image left courtesy Harvey Nichols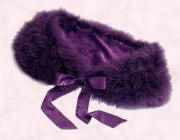 The high street shops are gearing up for the party season. Shops will have purple accessories such as this NEXT feather purple cape. 100% feather with 100% polyester lining. 129-154-X38 at £22.99
These purple Diamanté Wedding Sandals also from NEXT are ideal for dancing the night away and for partying. They have a heel height of approximately 8cm. 104-941-X38 at £24.99.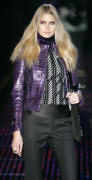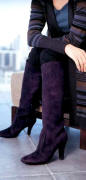 Skins such as suede, fur and reptilian style leathers are all part of the look for autumn 2006. On the right is a purple crocodile jacket with fox collar from Gucci.
Other accessories that would be very useful this fall are the purple boots from NEXT left. They are piped Microsuede Long Boots with a heel height of approximately 9cm.
Product 997-944-X38 at £39.99. Images courtesy of NEXT DIRECTORY UK.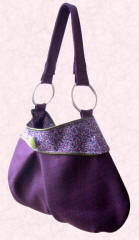 This lovely purple handbag called Lulu is from the Emma Gordon Collection at The Bag Boutique.
The Lulu handbag is handmade by the designer in aubergine wool and trimmed with lime green satin.
The detail on the handbag collar is made from purple and red floral cotton, which is also used for the lining. The bag fastens with a magnetic clasp and is priced at £42 with measurements of 34cm x 20cm and a strap drop of 20cm.

Or if you can afford it some Gucci patent leather shoes like these might cheer you up just as much.
These Gucci shoes are such a fabulous shade of purple.

But this Gucci purple lace up heeled shoe is a different, yet just as interesting tone of purple. (See right.) In fact this is the colour that purple looked much more like thousands of years ago, before the synthetic production of purple dye.

This Loden shoe at £65 from Faith is also more representative of Tyrian Purple. The colour of both these latter shoes is much closer to the warmer tone of true Tyrian purple than the colours above which is the purple of today.
§
Tyrian purple of thousands of years ago was once a much warmer puce colour with hints of crimson. Tyrian purple gets its name from the place of origin. The purple dye was made in Tyre in Phoenicia using marine secretions from the snails found in Murex shells. However the Minoans are also thought to have made a similar royal purple dye using Murex shells found on Crete, but centuries before the Phoenicians made their discovery. The dye was always a luxury product and it was as expensive as silver weight for weight then, just as saffron is more costly than gold gram for gram today. Each snail yielded a drop of liquid which took time to develop into the dye making the dye costly to procure and produce. Tyrian purple had a crimson tinge to it.
In Roman times only the upper echelons were allowed to wear purple togas and so a regal connection was born. From this early beginning it became known as the imperial dye. Tyrian purple was very rare and costly to procure from the sea. It needed specialists trained to get the snail bearing the dye. Tyrian purple was more the puce tone you might see on a Bishop's robes which today we think of as crimson like.
Purple is a mixture of red and blue. Don't confuse it with violet which is on the end of the indigo blue spectrum, making it a spectral colour. Variation in purple colour is due solely to the combination mix of red to blue rather than to wavelength as in spectral violet. In good light or as a sheer fabric violet appear more blue toned than purple. Purple may seem warmer and redder.
You are reading an original fashion trends article written by Pauline Weston Thomas© at www.fashion-era.com ©
Purple is prized as the amethyst gemstone and has been used to make gorgeous jewellery as cut stones or simple tumbled stones for centuries. Purple is a colour associated with the calendar month of February and the star sign of Pisces.
Bring out the purple colours in your outfits with purple toned jewellery.
If you cannot afford real amethyst jewellery then opt for some pretty costume jewellery such as this lovely chunky amethyst and pink crystal necklace from bohofashionjewellery/co.uk.

Purple is a main colour for this winter's fashions and you cannot go wrong with any garment or accessory in such a hot colour as purple. And of course, if you want to get ahead then get a hat like this one from John Lewis!
You are reading an original fashion trends article written by Pauline Weston Thomas© at www.fashion-era.com ©
Images courtesy of Wallis, Matalan, Debenhams, Faith, NEXT, Bag Boutique, John Lewis and IFTF. Header image courtesy of Matalan.
(Page Date 09 August 2006)
If you like this page then please share it with your friends
---
For more information on ladies and teens fashion trends go to:-
Archived Sections
Custom Search
About Fashion-Era.com
Fashion-Era.com looks at women's costume and fashion history and analyses the mood of an era. Changes in technology, leisure, work, cultural and moral values. Homelife and politics also contribute to lifestyle trends, which in turn influence the clothes we wear. These are the changes that make any era of society special in relation to the study of the costume of a period.

Fashion-Era.com can take no responsibility for any information on the site which may cause you error, loss or costs incurred from use of the information and links either directly or indirectly. This site is owned, designed, written and developed by author: Pauline Thomas and Guy Thomas. This site is designed to be viewed in 1024 X 768 or higher.
ALL RIGHTS RESERVED. Fashion-era.com reserves the right to add or delete information, graphics and links. Copyright © 2001-2014 on all content, text and images in Fashion-era.com. Images and text in this website may not be used on other websites.
Before you write to me for costume/fashion help or information please, please consult the extensive sitemap which lists all our pages. If you still cannot find the answer after searching the site, then before you email me, please consider if you are prepared to make a donation to the website.
Donations
Reader's donations help this site flourish, in particular donations encourage me to write more articles on fashion history as well as current trends. PayPal allows anyone with a credit card to donate easily and securely. You may donate any sum you feel appropriate.