A Lady in a Red - Women's Fashions Autumn 2007
Ladies Fashion Trends for Autumn 2006 and Winter 2007
If you shop on the high street this autumn you will find plenty of red dresses to get you in the mood to be a 'Lady in Red'. As we saw in the fashion colour report Autumn 2006 Winter 2007 red, along with gold, purple and grey is a very powerful colour trend for 2007.
Red is a stimulating and emotionally intense colour. You are sure to get noticed when you wear red clothes so much so that red is not for shrinking violets. It should be worn on days when you feel strong and can face the world. As a colour, red may psychologically give you the edge on days when you need extra confidence and want to seem more dynamic than you feel.
If you don't like all the grey that's around this winter and I know it does absolutely nothing for me - then opt for a red dress like those just below. A red dress can give your skin a lift. It reflects back its warm colour to your skin rather than drain your complexion as some greys near the face can. You can also layer red into your look with plenty of black or white as shown below in the red tartans photos with red tartan another hot look for fall.
However, if you suffer from a complexion prone to blushing, redness, Rosacea or hot flushes then don't despair. You can still wear red, but it will have to be as red shoes, a red handbag or a garment on the lower half of your body. All thumbnails below enlarge.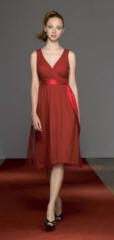 Red signifies danger, love, high energy, anger, passion and desire. We all know how it is the colour of the heart of love, of Valentines day, of romantic red roses and the drama of the recklessness of the bullfight.
Perhaps you usually associate A Lady in Red with that slow romantic dance of the same name. A red dress, like red shoes, has something very special about it.
A red evening dress, cocktail dress, or prom dress like this beautiful short empire line red dress from Monsoon might just fit the bill.
It's a perfect modern prom or office-do red dress for the annual Christmas party.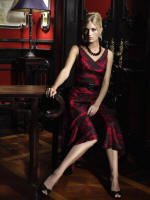 (See picture above left). It's also an on-trend colour, with an on-trend empire line silhouette and that on trend satin ribbon.
Don't forget that the dress as a garment itself, is one of the hottest looks for autumn 2006. A red dress is doubly fashionable.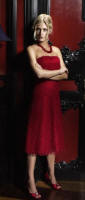 Frequently you will see red teamed with black, a look not really seen often since the era of the film Working Girl. This V neck cocktail dress on the far right and from Phase Eight has black figuring all over it.
Again a red dress is perfect for the annual Christmas party, a late summer prom or reunion dance. Not too revealing enough to cause comment for weeks after, yet very womanly.
Elements to look out for in red prom dresses are V necklines and strapless bodices as in the Phase Eight dress next right. Strapless bustier tops are also the perfect choice under jackets and shrugs when an event is straight from work to venue.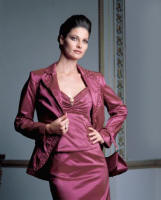 Note how these short red evening dresses all end just below the knee.
Don't worry about the lack of sleeves in a cocktail dress. If you are older, just make sure you cover up the less than perfect bare flesh that a skimpy evening dress reveals with a jacket, shrug or fur bolero.
Red ladies dresses can be found in such a glorious colour range that you can expect to find a tone or shade to suit you.
This sophisticated matching evening ensemble by Vera Mont has a much pinker tone which may be better for your colouring. You are reading an original fashion trends article written by Pauline Weston Thomas© at www.fashion-era.com ©
‡‡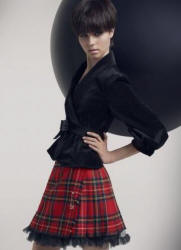 Red is a main fashion trend of fall 2006. Red always looks wonderful in tartan plaids like the modernist Balenciaga egg design at the top of the page which uses the red tartan in an imaginative way, cutting the plaid to great effect.
Dorothy Perkins have this marvellous kilt skirt shown left in red tartan and it looks bang on trend when teamed with a black jacket with a waist enhancing bow belt.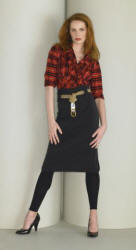 In this case the jacket is black velvet another high fashion fabric for autumn winter 2006/7. With the net underskirt, sheer tights and the richness of the velvet this is a great look for evening or a special day occasion.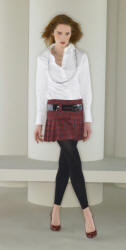 Alter the look easily by changing the layers and wearing black or lacy textured tights or leggings. These models right and both by Matalan wear leggings teamed with red tartan garments to create this autumn's hot fashion trend of layered looks. Interesting and contrasting pantyhose and dance leggings are essential this fall, to get that fashionable layered look.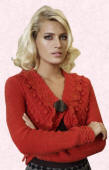 Maybe you are someone who simply prefers to snuggle up by the fireside or curl up at your pc. This cable knit bolero shrug from Phase Eight is just the thing for autumn as it chills down. It is especially good if you are smaller on the top half. That diamond and bobble Aran texture will balance you if you have a smaller bottom half.
This cable knit red jumper right is so very wearable.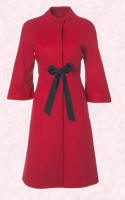 Both of these bright red coats are perfect for winter too. Each has an equally fashionable silhouette for fall 2006.
This first red coat shown left is from Wallis and is trimmed with a black grosgrain ribbon at the raised waistline band. The kimono bell sleeves are easy to wear and accommodate layers well. The easy fuller skirt of the coat means you can wear equally full skirts beneath it. This red coat and its beautifully cut sleeves bears a similar look to a wonderful creamy coat Donna Karan has in her fall advertising campaign.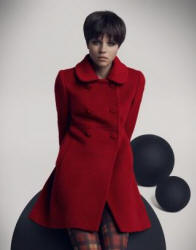 The mini red coat right is from Dorothy Perkins and it captures all the youthful easy wear facets of the sixties modern look.
Wear it with laced up or bow trimmed ankle bootie shoes, leggings or snazzy tights like these tartan tights also from Dorothy Perkins.
The 2006 hairstyle on the model is also pure sixties and is a clean cut youthful refreshing change to all those done to death hair extensions so many of us have tried - yes me too. This is a hairstyle that is super feminine when cut correctly. The elfin look is sure to be a winner and will give all those heads of hair also damaged by hair straighteners a chance to recover.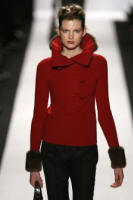 A red jacket will be especially useful on warmer days of autumn and in early spring. This red jacket by fashion designer Oscar de la Renta has an interesting collar and cuffs with mink trim. These are the fashion elements to look out for on the high street.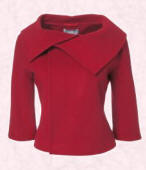 One very attractive red jacket on the high street is this one right from Wallis. I love this jacket. It has all the features of newer lines, but has an especially wide collar and shaped waist - it hits all the right notes.
Right now Wallis is a high street shop to watch as it spruces up its stock. In the sixties it was one of the hottest places to shop. I think it is about to regain some of its former glory.
§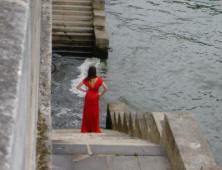 When I think of a Lady in Red I visualise a woman something like this model I saw being photographed on the banks of the Seine when I was in Paris this summer. The enlarged image shows the luxurious silk fabric.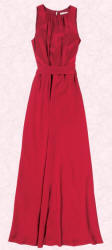 This picture shows the model wearing a stunning red evening gown. From the back she seems mysterious, but someone you would want to know more about - she is the epitome of womanly curves. She is a true Lady in Red.
I wonder who she was - I wonder what advert or feature the shoot was for that day.... hmmm reality means that most of us will be a Lady in Red from the high street. More affordable looks might be found at John Lewis where you could get a not dissimilar evening dress such as this lovely creation on the right. Yet another evening gown ideal for a more formal annual Christmas party.
The Jasper Conran range at Debenhams has an equally attractive full length red evening gown.
You are reading an original fashion trends article written by Pauline Weston Thomas© at www.fashion-era.com ©
This Swarovski chunky red crystal cuff bracelet at £60 from sparklingaccessories.com might be just the finishing touch you need.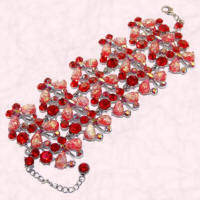 ‡
If red garments are not for you, then think instead about the addition of a red accessory. Perhaps you are the type to take to gloves like these from Accessorize. So many jackets this season have sleeves that leave a long gap from elbow to wrist so get some gloves and what better colour than a cheerful red.
Red is not the only fashion scheme of the season. Black and white and greys are strong contenders too, so use red to update an existing or new outfit.
The Accessorize belt right is a new slim red leather obi at £20/€29.90 and would help give 2006 impact to monochrome outfits.
Of course the other alternative accessory is the red shoe. You can see and read more about some red shoes on the shoe page.
You are reading an original fashion trends article written by Pauline Weston Thomas© at www.fashion-era.com ©
-------v6-------
(Page Date 09 August 2006)
If you like this page then please share it with your friends
---
For more information on ladies and teens fashion trends go to:-
Archived Sections
Custom Search
About Fashion-Era.com
Fashion-Era.com looks at women's costume and fashion history and analyses the mood of an era. Changes in technology, leisure, work, cultural and moral values. Homelife and politics also contribute to lifestyle trends, which in turn influence the clothes we wear. These are the changes that make any era of society special in relation to the study of the costume of a period.

Fashion-Era.com can take no responsibility for any information on the site which may cause you error, loss or costs incurred from use of the information and links either directly or indirectly. This site is owned, designed, written and developed by author: Pauline Thomas and Guy Thomas. This site is designed to be viewed in 1024 X 768 or higher.
ALL RIGHTS RESERVED. Fashion-era.com reserves the right to add or delete information, graphics and links. Copyright © 2001-2014 on all content, text and images in Fashion-era.com. Images and text in this website may not be used on other websites.
Before you write to me for costume/fashion help or information please, please consult the extensive sitemap which lists all our pages. If you still cannot find the answer after searching the site, then before you email me, please consider if you are prepared to make a donation to the website.
Donations
Reader's donations help this site flourish, in particular donations encourage me to write more articles on fashion history as well as current trends. PayPal allows anyone with a credit card to donate easily and securely. You may donate any sum you feel appropriate.