Russian Fashion
The physical barriers between East and West came down in the 1990s. Since then Russia has steadily been moving forward to produce competitive fashion that interests the western world. In late October 18-25, Moscow held their Russian Fashion Week. It has grown so large there was a need for a better fashion show and exhibition venue. Thus the Russian Fashion Week has moved to Gorky Park - read more below about the Gorky Park Venue.
Gorky Park Promises More Space and Opportunities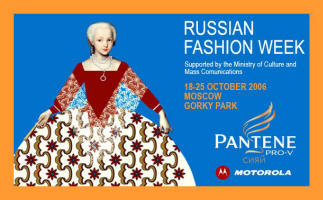 Moscow, Russia (October 18, 2006) – this date marks the start of Russian Fashion Week (October 18-25). This is the biggest fashion event of its kind in Eastern Europe and one of the most unique in Russia.
This new location will give the show organizers an opportunity to provide a bigger space and invite more top designers to present their collections to the Russian and international press. Among the countries represented in the tents and on the catwalks will be Ukraine, Byelorussia, Peru, Greece, Great Britain, Italy, the US and of course, Russia.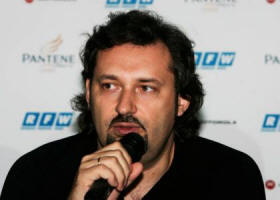 Opening RFW was a press conference held by Producer General Alexander Shumsky and official partners Pantene Pro-V and Motorola. 'We have changed our address which marks a critical shift for us as our old venue exhausted itself,' states Shumsky.
'The growth that led to Gorky Park makes us the biggest fashion event in Russia. With so many designers from across the world presenting, every metre and corner added is most useful.'
The switch to Gorky Park continues a season of change on the international stage: Milan Fashion Week changed locations in order to improve production conditions facilities. The location of New York Fashion Week faces an uncertain future as the venue, Bryant Park, has a commitment that only goes through the coming season.
‡‡
The first day kicked off with Alexander Vassiliev who hails from Ukraine. He was followed by Kusso, Sokolova Bogorodskaya, Anastasia Z, Frankie Morello and a participant of Milan Fashion Week last September – Max Chernitsov.
A prominent international representative on the first day was the Greece Fashion Week participant, Angelos Frentzos.
A supporter of young talent, RFW will also feature five representatives of 'Ruskyi Silhouette' – the fashion contest for young designers.
In addition, International Day will feature American designers presenting in cooperation with TSUM, including: Laundry by Shelli Segal, Rebecca Taylor, Catherine Malandrino and Baby Phat, which also showed at New York Olympus Fashion Week this past September.
Hailed as a success by both participants and organizers and boosted by this season's new and improved venue of Gorky Park, American designers made a splash during the International Day at Russian Fashion Week.
Americans designers Baby Phat, Laundry by Shelli Segal and Rebecca Taylor drew thousands of international press, buyers, and customers. Helping to import the American designers to Russia was TSUM, the largest luxury department store in Moscow, who organized the presentations.
In addition to the huge success of the American presentations, this season's switch of venue also proved to be a hit. The tents at Gorky Park provided more space for the expanding roster of shows, convenient parking, and upgraded production facilities.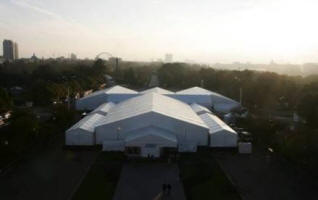 Baby Phat at Russian Fashion Week
...(v4r)
Baby Phat brand representatives BJ Coleman and James Campbell enjoyed their visit to Russia and were thrilled to have participated in Russian Fashion Week. From the first instant BJ entered Gorky Park, he exclaimed 'Your tents are like the ones in New York at Olympus Fashion Week! We are so excited and would never have expected it would be so fantastic!'
Baby Phat's show opened International Day and definitely added a New York element to the RFW tents.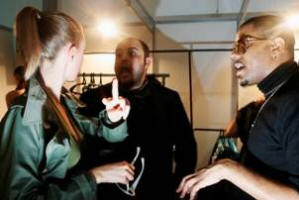 James Campbell and BJ Coleman are giving directions to their model Baby Phat models waiting for the show to start.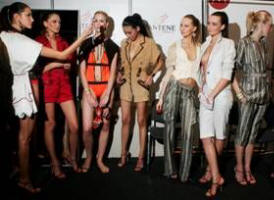 Laundry by Shelli Segal Catwalk Show at Russian Fashion Week
The show that followed was Laundry by Shelli Segal – a stunning collection that proved to be one of the most talked about shows of the week. Charles Pegram, Gianna Bonacorsi and Cynthia Erland Joy, who all represented the brand, were all also thrilled to have participated.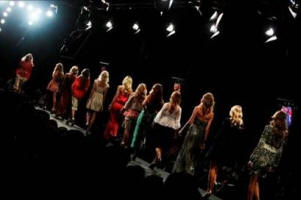 Rebecca Taylor was the last presentation and rounded out International Day. Ellen Kinney, Rebecca Taylor Sales Director proclaimed 'Everything is so well organized. It is much better to be a designer here in Moscow than to be in New York, since lots of things are much more properly done'.
General Producer Alexander Shumsky was excited that the three brands accepted his invitation to Russia and was thrilled with the results. 'American designers brought Bryant Park's atmosphere to the Russian Fashion Week tent, and added to the great mix,' he said.
'It is very important to continue international collaborations between RFW and designers from around the world as we try to expose these designers to the Russia and International fashion community. This season definitely elevates RFW to a global platform.'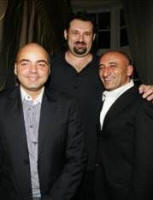 Pietro Francesco Gigliotti, Mourizio Modica (Frankie Morello) Natalia Stefanenko, Sergio Pea (IFD group), Angelika (Frankie Morello) and And Alexander Shumsky Natalia IFD representative in Moscow.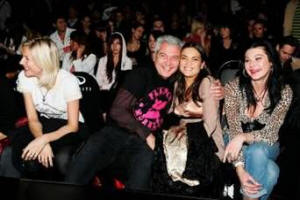 This season's Russian Fashion Week hosted over 60 designers from Russia, Byelorussia, Ukraine and Georgia, so-called, former USSR countries. Tatiana Parfionova – one of the greatest representatives of Russian designers, showed her collection on October 24. Julia Dalakian successfully presented her Spring/Summer collection at Milan Fashion Week and carried over the buzz to Moscow on the same day with Tatiana.
Jenny Packham Catwalk Show at Russian Fashion Week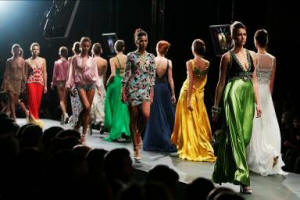 The closing day of RFW included great talents like Russian Silhouette winners, Tamuna Iingorokva from Georgia, Victoria Krasnova from Ukraine, Yulia Nikolaeva, the public favorites Elena Souproun, Larissa Pogoretskaya and Jenny Packham.
Jenny presented her spring/summer 2007 collection on Russian Fashion Week catwalks after Milan Fashion Week. The public's favorite 'James Bond dress' was also loved by Russian publicity.
One of the main reasons why Jenny Packham comes back to Russian Fashion Week is presentation of her collection to buyers and journalists from this part of the World.
‡
Russian Fashion Week Spring/summer 2007 Record Attendance
Russian Fashion Week for the spring/summer 2007 season broke a record in buyers attendance. Over 100 buyers from around Russia and satellite USSR countries visited RFW this season. The accreditation got over 1000 journalists including UK, Hungary, Sweden, France, Netherlands and US representatives. All these facts make Russian Fashion Week the only fashionable event in Russia and Western Europe, which is now attractive not only to former USSR countries but also to World Fashion.
For more information, please, contact Artefact Communications Agency:
Kseniia Ponomarenko, International PR Manager at Russian Fashion Week

24/2 Tverskaya St., Bldg. 1
Moscow 103009 Russia
Tel: +7 (495) 232-3903/04
Fax: +7 (495) 209-2696
ponomarenko@artefact.ru
http://www.artefact.ru/
(Page Date 20 October 2006. Ref P610)
If you like this page then please share it with your friends
---
For more information on ladies and teens fashion trends go to:-
Archived Sections
Custom Search
About Fashion-Era.com
Fashion-Era.com looks at women's costume and fashion history and analyses the mood of an era. Changes in technology, leisure, work, cultural and moral values. Homelife and politics also contribute to lifestyle trends, which in turn influence the clothes we wear. These are the changes that make any era of society special in relation to the study of the costume of a period.

Fashion-Era.com can take no responsibility for any information on the site which may cause you error, loss or costs incurred from use of the information and links either directly or indirectly. This site is owned, designed, written and developed by author: Pauline Thomas and Guy Thomas. This site is designed to be viewed in 1024 X 768 or higher.
ALL RIGHTS RESERVED. Fashion-era.com reserves the right to add or delete information, graphics and links. Copyright © 2001-2014 on all content, text and images in Fashion-era.com. Images and text in this website may not be used on other websites.
Before you write to me for costume/fashion help or information please, please consult the extensive sitemap which lists all our pages. If you still cannot find the answer after searching the site, then before you email me, please consider if you are prepared to make a donation to the website.
Donations
Reader's donations help this site flourish, in particular donations encourage me to write more articles on fashion history as well as current trends. PayPal allows anyone with a credit card to donate easily and securely. You may donate any sum you feel appropriate.