Fashion Accessories for Spring Summer 2007
Female Fashion Accessories Trends 2007
Accessories are a booming healthy sector of the fashion market. Everywhere there is a huge demand for accessories. The fact the accessory market is so healthy means designers can actually be creative with their designing. Many fashion designers are coming up with off the wall ideas which amuse and attract buyers.
Extreme bag creations are often perceived as more attractive fashion accessories by consumers who want to stand out in a crowd. Many people are no longer shy about being early adopters or of deliberately inventive self styling and are now choosing to look different from their peers. Whilst there are many separate pages for bags and jewellery on site, this web page concentrates on new fashion accessories for spring summer 2007 looking at key accessory trends in bags, belts, scarves, jewellery, mobile phones, parasols and headwear.
Fashion accessories update a look more than anything else. This oversized bag shown left and from Debenhams puts this photograph firmly into 2007. Read more about 2007 fashion trends in big bags here.
Left Designers at Debenhams purple puff sleeve dress £45/€70 from the range called Jeans by Jasper Conran. J Jeans by Jasper Conran cork buckle platforms £40/€62; Red Herring slouch bag £25/€38; Mood bracelets £4/€7. Images courtesy Debenhams PLC.
Remember whilst accessories do update an outfit it's also wise to keep your fashion look to one or two main more quirky statements a season.
Clutch fashion bags are an instant update and luxury features such as suede linings add a high end feel. If choosing a designer bag always carefully observe the hardware buckles, chain and catches and opt for bags with both a quality trim and a custom look. If you are over a woman over 40 go for quality and ensure the rest of your outfits are based on classic items.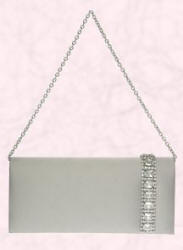 For certain events a heavy large handbag might sometimes be wrong and a smaller bag a better choice. Whilst for a casual situation, a straw, raffia, shell or bamboo bag may look much more the correct accessory than a polished business like designer leather frame bag.
Instead of a formal handbag the best alternative for some circumstances may be great jewelled evening purses in hard or soft fabric styles.
This 'Occasionwear' evening purse right and from Debenhams has the convenience of an underarm bag and the look of a clutch. It's studded with oversized square crystals following the latest designer catwalk trend of the season. Great value too for any event with a hint of occasion about it.
Jewellery effects have been moving onto plainer evening bags for some time. These are not traditional bugle beaded bags of old, but bags with jewel trim finish or actual hardware jewel object especially on the minaudière or along chain clutch like this one from Dune.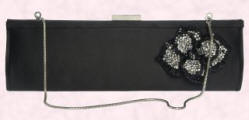 Right - Image courtesy of Dune - Dune 'Mintow' clutch bag perfect for evening, £50/€70.
The decoration has the look of a clutch with a flower corsage attached, but of course worked in beads.
Those who own fabulous large gemstone jewellery brooches or 1980s costume jewellery can simply pin one to a plain clutch and give it an instant update.
You are reading an original fashion trends article written by Pauline Weston Thomas© at www.fashion-era.com ©
‡‡
The fashion trend for designers using oversized chunky Swarovski crystals on clothing has also spread into jewellery styles. Read more about Swarovski here and their new Xilion cut.

Many manufacturers produce crystal, but Swarovski crystal is top notch. This Swarovski necklace with heart and bow pendant is from Vivienne Westwood available from Harrods combines several looks. Right - Vivienne Westwood bow and heart pendant £89.95 - Rhodium plated white metal and Swarovski crystals.
If you like real gems you might like this "Ruby and Diamond heart necklace"
.

This crystal bracelet left is a mass market item and quite a fashion snip. It captures the look of the trendiest styles on offer and at a bargain price from Matalan where bracelets start at the low price of £4.
Note how similar the style of crystal decoration is to that on the bag above.
Watches and jewellery are also going through a period of record growth. Even though the price of precious metals has soared gold sales for example are still increasing annually. The market for luxury goods is seeking rarity or distinctive qualities that makes an item stand apart from the norm.
Strong jewellery trends include zoological influenced jewellery designs with owls, bugs and butterflies.
Take a look at this beautiful gemstone estate jewellery bangle "18kt white gold bangle with multi colored multi sapphire butterflies with diamond accents"
or this dragonfly brooch pendant - "18kt white gold Pink Amethyst, Multi Sapphire & Diamond Dragonfly pin pendant"
I'm very impressed with this attractive fine jewellery.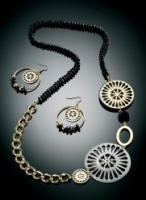 The company also ships to UK, but you must contact them for the special shipping and payment arrangements.
Coloured precious gems have gained consumer interest again and this season there is plenty of competitive good colourful costume jewellery in the stores.
...(v4r)
Current costume jewellery is not only affordable, but also stylish and modern. A great deal of it pays homage to sixties looks with space odyssey futuristic and metallic effects. Do check out chunky link chain necklaces like those sold by House of Fraser.
Left - modern trends in fashion jewellery from Debenhams show how circular pendants with dream catcher looks continue the snowflake pendant frenzy seen over the holiday season.
Read more about new jewellery looks here.
Various actresses have been seen adopting spectacles not just as vision requirement, but purely as an accessory. Just as women have for decades bought clothes to reflect their mood so now they are opting for wardrobes of spectacles just as they have rows of fashion handbags especially it bags.
Glasses are becoming as important to some women as shoes with no one pair of spectacles identifying a woman's look.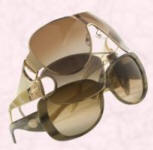 Inter season cruise collections are a real hint of trends we will see later in the shops when the real season occurs. Although the optical field is still dominated by metal frames the oversized sunglass trend means that the influence is passing to other eyewear.
Big Jackie O sunglasses like these right and from house of Fraser may be a fashionable alternative to the Raybans.
For 2007 look out for rounder silhouettes to spectacles and stylish feminine frames with more body in coloured plastics and mottled tortoiseshell effects. Make your next pair of spectacles have plastic coloured frames to stay ahead of the fashion in glasses.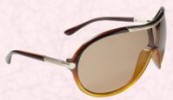 Ray-ban wayfarers sunglasses are the frames of now. But even if Raybans and oversized sunglasses are all the rage, ask yourself, 'do they suit me?' Nothing is more unflattering than a spectacle frame that is wrong for your face.
You are reading an original fashion trends article written by Pauline Weston Thomas© at www.fashion-era.com ©
There are plenty of straight exotic looking scarves in the shops. These can be used to tie as headbands or worn conventionally to elongate the body.
But the newest look is that of big printed square head-scarves draped around the shoulders or worn as cowboy style neck cowls. They are a simple easy way to adopt the more exuberant lively patterns of Spring 2007 and a whole generation have probably never sported this particular variety of the scarf fashion accessory.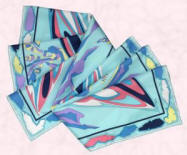 If you are convinced the largest floral cabbage rose patterns may do less for your shape than you hope, then purchase a scarf which is kept at neckline level rather than wear extreme pattern as a skirt or blouse.
This beautiful silk Pucci scarf left is from Harrods and is printed with all the colours you need to see you through 2007.
The purple, blue, turquoise and cerise will enliven any plainer outfit. The square headscarf is an easier 80s trend for everyone to wear than some of the electric punk colours on offer in 80s inspired clothing styles. Electric colours can be harsh against the skin if worn as a solid colour. Image courtesy of Harrods is of Harrods Pucci scarves - Multi-coloured Lava or Pink Lette Leaf designs (£159).
‡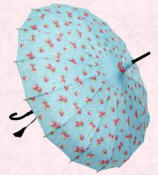 One accessory that has been downgraded for many years is the parasol. I'm someone who cannot stay in the heat of the sun so I was thrilled to find this lovely pagoda parasol on sale at the Dotcomgiftshop. This English rose design Edwardian Parasol. (Code: 15059A) is just £10.95. Whether or not you have a medical reason to stay out of the sunshine a parasol will help protect your complexion from damage and ageing.
In days gone by no young lady would have dreamt of taking a promenade without a parasol to protect her peaches and cream complexion. Now you can add a little ladylike Edwardian glamour to life with this pretty parasol. The unique design with tasselled handle is taken from original Edwardian fashion plates. As you can see this beautiful Turquoise has a very summer like look.
Turbans were featured in summer shows and are perfect to cover up messy hair on the beach and especially useful for those between hairstyles. Turbans are perfect for fashion shoots, but unless you are an early adopter think twice if a turban is really a must have for your personal list. In my opinion there are better looks that define this season. But you never know they could be all the rage by autumn!
If you need to get your hands on the turban style then House of Fraser have a selection. They also sell headbands as do most stores this season. An easy headband is simply any scarf tied around the head. If you fancy a diamanté style Alice band then look no further than Marks and Spencer or Accessorize.
Glove manufactures are reporting a rise in order enquiries. Not surprising when we are living in a fashion era currently based a silhouette trend for elbow to wrist exposure. This season there are plenty of gauntlet and longer length gloves in a wide range of colourations with fancy trims, contrast piping, bows and buttons or other novel effects.
Legwear has been in the doldrums for a decade, but fall has seen a rise in the wearing of exciting new leg wear looks. Danskin found sales last year tripled in spring 2006 and by then had also started to produce lines for department stores. This spring is all about shorter dresses which may be way too short for many women. One way to cope with shorter looks is to wear footless tights, leggings textured, lace or coloured tights.
However it's clear that high street retailers have been slow to fill the hosiery sections. Women are looking for interesting legwear only to find that hosiery departments have become run down and that space once allocated to a colourful selection of tights and other legwear has been eroded by the rise of the handbag as an object of desire.
...(v4r)
Newer legwear objects of desire for the young include neon fishnet stockings and footless leggings in metallic gold and silver offer alternatives to a softer almost 'hidden' metallic look. American Apparel sell metallic footless tights. However as spring moves on I feel this trend will be the wrong look for high summer.
Tights or pantyhose are not what they once were and women know tights are more comfortable to wear than earlier versions were. Some brands now use Body Care by Lycra yarn which releases small beads of moisture that soothe and moisturise dry legs. The moisturisers last for over 20 washes. Marks and Spencer have their version of such moisturising comfort wear tights called Bodysensor. Coolmax is another product used in hosiery.
Generally belts are either pencil narrow or extra deep. Right bow tie belt from French Connection.
The front fastening of belts is often highlighted by extra straps or ornate buckles or other decorative hardware fittings. If there is no buckle maybe you'll find a bow, general texture, pleating or ruching on that belt, bag or shoe.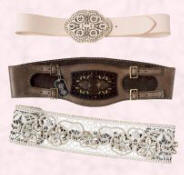 Many belts are strongly coloured in bright primary hues or other strong tones including hot pink, electric blue, vibrant yellow or green. Neutrals like these tones here are always in fashion.
Cutwork lace and appliqué effects which have been seen on handbag surfaces has moved onto belts as shown in this image right.
Some belts and pocket welt bands have top-stitching in rows set 8mm apart - a 1970s 'topstitching' trend is back.
Fashion designers have been slowly moving into designing mobile phones. Not content with adding watches and jewellery to fashion clothing ranges Versace, Dolce&Gabbana and Kate Spade have all designed for mobile phone companies. Now Prada has joined these designers to produce a sleek black mobile phone. This is a contrast to the gold branded cellphone that Dolce&Gabbana produced with Motorola.
Style has become increasingly important to mobile phones regarded by many as accessories rather than a communication tool. This is not surprising when one realises many people leave the house not with a huge 'it' bag, but just a mobile phone hanging from a wristlet.
As mobile phones have become smaller and more unnecessary features have been tagged on, so the numerals for keying have become miniscule. Cellphone designers take note - those who need reading glasses are very irritated by small mobile phones, but with already undersized numerals forced out by other add-ons. With baby boomers turning sixty this year someone or some company could make fortune if they designed a classy looking mobile phone with easy to read numerals without the user having to burrow for their reading spectacles.
Blonde highlights just are not seen on anyone, apart from those who have missed the news or been hibernating. The modern bob continues since a well cut bob demands minimal attention for busy working women. Victoria Beckham's adoption of her particular bob look may be the kiss of death to it or bring even more interesting variations. Personally I like her bob cut with her elfin face. But if you have a few decades on her, then remember a centre parting can be very harsh and severe making you look more Plain Jane than Pretty Polly.
Ponytails have melted into twisted buns, side partings have moved back to the centre and plaited braids and big hair have all been shown in the past months.
You are reading an original fashion trends article written by Pauline Weston Thomas© at www.fashion-era.com ©
Modern make up can be bright 80's make up around the eyes and cheeks, although some may find the eye make up in particular too vulgar, too colourful and lurid. Amy Winehouse thickly spread eyeliner may be fine when you have no natural under eye bags, but adopt the look with caution and refine it to soften it a little. You are sure to be noticed. Metallic eye make up and pastel pink pale lipstick or a mere smear of foundation gives the blocked out look that blends well with futuristic clean space odyssey looks.
Fingernails of course can shine with Chanel Black Satin nail polishes.
Pale looks are in, but if you have to wear shorts, then lightly tanned legs do look nicer. 'Dove' is the new St Tropez or Fake Bake self tanning system and provides a daily build-up of a fashionable soft gentle coloured tan.
It's not just tights that have been challenged over the past decade, but also lip gloss use rose through the nineties. Some women are even addicted to the taste of Lancôme's Juicy Tubes. Others loathe the way that these sticky lip glosses can easily imprint on cups, drinking glasses and teeth.
Lip gloss has had its moments in other fashion history eras and was very popular as a lipstick sealant during the early seventies for that Kathy Kirby/Joan Collins look. Too many of the modern lip glosses are shimmering too much and this is not a good look with shimmering fabrics. If you shimmer in one area of your overall look you must tone down other areas otherwise you will look like a fairy on a Christmas tree. But now lipstick is back, possibly newly cased in a gorgeous gilded container and for 2007 the colour to adopt is pink. I'm already converted to the colour, but nothing will stop my addiction to the staying power of Max Factor Lipfinity.
So even if you have very little to spend on the accessories above I'm sure your budget will run to a new pale pink lip colour as you step into summer.
Read more about these colours and about fabrics on the Spring 2007 colour page.
Special thanks to David of http://www.prshots.com/ one of the best sources of PR material.
You are reading an original fashion trends article written by Pauline Weston Thomas© at www.fashion-era.com ©
-------v6-------
(Page Date 10 Mar 2007)
If you like this page then please share it with your friends
---
For more information on ladies and teens fashion trends go to:-
Archived Sections
Custom Search
About Fashion-Era.com
Fashion-Era.com looks at women's costume and fashion history and analyses the mood of an era. Changes in technology, leisure, work, cultural and moral values. Homelife and politics also contribute to lifestyle trends, which in turn influence the clothes we wear. These are the changes that make any era of society special in relation to the study of the costume of a period.

Fashion-Era.com can take no responsibility for any information on the site which may cause you error, loss or costs incurred from use of the information and links either directly or indirectly. This site is owned, designed, written and developed by author: Pauline Thomas and Guy Thomas. This site is designed to be viewed in 1024 X 768 or higher.
ALL RIGHTS RESERVED. Fashion-era.com reserves the right to add or delete information, graphics and links. Copyright © 2001-2014 on all content, text and images in Fashion-era.com. Images and text in this website may not be used on other websites.
Before you write to me for costume/fashion help or information please, please consult the extensive sitemap which lists all our pages. If you still cannot find the answer after searching the site, then before you email me, please consider if you are prepared to make a donation to the website.
Donations
Reader's donations help this site flourish, in particular donations encourage me to write more articles on fashion history as well as current trends. PayPal allows anyone with a credit card to donate easily and securely. You may donate any sum you feel appropriate.