Fashion Handbags for Spring 2007
The major handbag trend for spring 2007 is that of the extremely large bag.
Clutch bags and wristlet bags with easy-wear, detachable, wrist-loop handles, are the contrast to these extremely large bags.
However, I think we all love our handbags and there is room for variety. The 'now' bag shape, the essential fashionable bag this season, is certainly the over-sized tote shopper bag. By autumn you may want to be pare down your bag size. The bag to the right, is courtesy of Billy Bag Spring 2007 fashion bags the style is Georgia and the price is £195.
Last year a bag like the YSL Muse bag was thought quite large, but judged by 2007 sizing standards, it's just considered of average dimension. In fact, in my opinion, the real forward looking trend is for smaller bags. Some major designers are delivering much smaller bags. I own some larger bags, but the two handbags I've purchased since November, were both smaller 'cute' bags.
Spring 2007 fashion bag materials are varied, but you won't go far wrong for the season if you choose one which is shiny smooth glossy patent. An alternative handbag might be a bag which has the richest of surface textures, especially laser cut patterns with ruching or woven strips.
Naturally, no page on lower priced bags can afford to ignore the fashion directions set by Prada, Bottega Veneta, Marc Jacobs and others. You might expect to find many of these Spring 2007 fashion bags on the high street in your nearest town, or easily obtained online.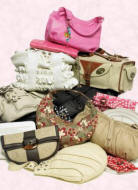 All the hard work that goes into designing and inventing new decoration, structure and surface embellishment on top end designer bags, is raining down, rather than trickling down, to the mass market.
This spring, even high street bags follow directional fashion trends very closely, and look alike fake bag replica copies abound.
This handbag selection to the left, is courtesy of Faith Footwear and the image illustrates their exceptionally wide range of handbag styles. This is a good example of how the high street pays attention to designer bag trends, such as ruching, studs, pockets and patterned fabrics.
Higher expenditure on a bag, is a clear retail trend at any level of the accessory bag market and I discuss the rising prices of bags is on the handbag inflation page.
The 'it' bag of today can cost as much as £1,500, but for many people this is a ridiculous sum, but because of fashion racing and instant communication, the high street has plenty of bags that can satisfy this handbag demand.
Quite a few women wonder, how have we arrived at the situation where a handbag costs as much, or more, than a very good coat or a computer. Yet not even the £800+ price frame is considered that luxurious anymore. Plenty of ordinary mortals will push the boat out for the daily thrill and the cachet of owning a luxury designer bag. Fashion hungry consumers with the bag disease bagititis (only joking), will skip the short-lived thrill of a week on holiday, or even starve for a 'must have' bag.
So, once you purchase your designer bag do make sure you know how to care for it
You are reading an original fashion trends article written by Pauline Weston Thomas© at www.fashion-era.com ©
‡‡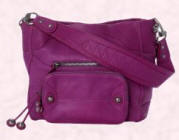 Image left of a larger bag and courtesy of Billy Bag. The purple Sherbert Twist Lauren Billy Bag is a great current colour choice and costs £195.
Big bags have been a real major trend of 2006 and the look is set to continue into 2007. But I think bags have reached quite ridiculous proportions. I confess I have already abandoned my bigger handbags. I began to feel overloaded by the contents.
Despite the success of the larger bigger bag, smaller bags are returning. Smaller bags are being used differently, clutches are gaining new importance because they can be thrown inside a big bag. Clutches can be small or large, but suddenly designers are producing larger clutches. They realize that a woman may want to accommodate a Blackberry phone, and hair straighteners in her handbag. However, a clutch can be used in a similar way to a wallet or credit card holder and the kept within a larger bag. The gold leather metallic clutch bag, see right from Evans, is a bargain price at just £25.
Uniqueness and the use of rare exotic skins, has driven the market demand for the ultimate personal bag even higher. Use of luxury, and ever novel materials, is another constant trend in bag products.

Louis Vuitton bags also have lots of studs and a visible designer address logo plaque, as do the latest Dolce and Gabbana bags. Even less expensive brands, like RI2K, use this name plate idea.
I prefer this classier, statement gold plaque, signature logo, to the dangling logo initials, such as those on my designer bag page. In wear, I found myself tying together the loose logos initials to stop them jangling and clanking. This Dolce &Gabbana handbag right proudly displays a golden nameplate.
...(v4r)
Oversized bags are still a trend that wins through, because put simply, they are chic as well as utilitarian. I confess though that lately I've been toting smaller bags. Frankly the weight of all that junk I was carrying around, meant that when I went out shopping with my filled handbag, I sometimes felt I had already been out for hours before crossing my threshold.
The bigger the bag the more it weighs empty, and then the bigger the bag, the more we all stuff into them.
You are reading an original fashion trends article written by Pauline Weston Thomas© at www.fashion-era.com ©
For Spring/summer 2007, fashion forward women will like the newness of screen printed suede bags. Lighter looking wicker, straw, raffia and woven bags are perfect for summer. The broken nature of the material texture creates a lightness missing from solid leathers.
Plastic see through bags are also a terrific answer to boarding problems, and smarter than the small polythene bag alternatives.
The bags above are: left to right, courtesy of House of Fraser, and Wallis. The Wallis neutral straw bag is just £18.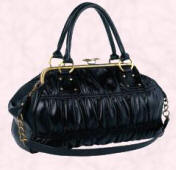 Textured leather skins, snakeskin, metallic effects, crystal studs, spike studs, buckles, pockets, printed suede, woven leathers, leather flowers, plaiting, shirring, ruching, ruffles, studs, chains and mesh all vie for the consumers short lived attention span.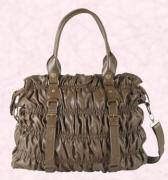 These fashion textures are just some of the surface effects to look out for on bag and shoe accessories as well as clothing.
A feature or Prada bags is their texture and movement. The Prada ruched bag is £1,240, but high street has many versions of this look as shown here. The black bag above is from John Lewis and is Alloa by Fiorelli. The brown bag to the right is from Matalan.
As well as ruching, tassels and fringe add texture. Roberto Cavalli and Prada are both favouring deep fringe on garments and bags this season, the look is shimmy.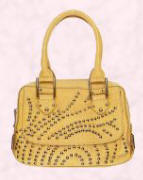 Burberry statement clutch bags, with their deep square jewel studs, and woven handles are very fashionable; look out for how this raised jewel stud effect has started to adorn more bags brands.

Studs are still a favourite of designers, Paul Smith, Sonia Rykiel, Louis Vuitton and Dolce&Gabbana all use them in their styles.
Giambattista Valli has an interesting drawstring small duffle-bag with two-inch punk gold studs.
Beads and sequins are also used on many a minaudière like this lovely Designers at Debenhams hard minaudière.
Right - Limited Edition Butterfly by Matthew Williamson beaded hard case clutch bag £50. Hot.
‡
Designers have been perforating leathers to achieve interesting new looks for some time. One of the newest bag trends in textures, and hot this season, is the more extensive use of laser-cut leathers to create softer more feminine, lace look patterned surfaces. More interesting effects can be achieve by using a contrast material to show through the cut outs. See the pretty Alexander McQueen perforated bag on the luxury bag page.
Since bows on designer bags appeared last year, every high street shop seems to have its own bow bag version.
Bows now explode over the surface of a bag covering the whole of one side. These large bags with bows right are from Marks and Spencer
This clutch style above is perfect for a special occasion.
You are reading an original fashion trends article written by Pauline Weston Thomas© at www.fashion-era.com ©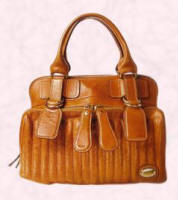 Quilting of course is often used for bags, and Marc Jacobs has had a roaring success with his Stam and East West bags. Imitations of the diagonal quilt bag are everywhere. Quilting is taking on a more modern look.
The leather Bay bag left from Chloé uses linear quilted channels of topstitching to create a fresh but classic pattern. This Chloé Bay bag costs £740.
Bags with woven leather strip texture as the main material of bag, are of course a take on Bottega Veneta bags, and weaving can be combined with quilting.
John Galliano designed twelve new bags based on the Dior saddlebag. My favourite is the gold herringbone saddlebag, but you may prefer the curly queen bag.
...(v4r)
This spring 2007 expect to see every type of printed fabric bag from florals to stripes and luxury or using eco materials.
Stella McCartney did a waterproof mesh bag along duffle bag lines, as part of her designing for Adidas. Still thinking casual with a luxury feel, Prada showed desirable satin rucksacks in deep jewelled tones.
Metallic handbags have been a trend this past year and this continues as a fashion trend through spring and Summer 2007. Metallic will be around most of 2007 so a metallic bag could be good buy without overloading your wardrobe with shimmering garb.
The Yves St Laurent gold muse bag, at £720 from Selfridges, is an investment buy, but you can opt for a much less expensive bag at any high street store.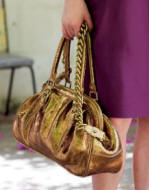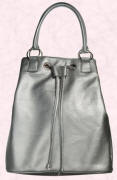 This gold bag left is from The House Fraser and their new range called 'Untold'.
In the high street, Dorothy Perkins has all the key trends. Their silver vinyl bag at £22 captures the metallic fashion instant.
Snake and reptilian skins or patterns are featured everywhere. River Island do a good snake effect bag for £39.99. Hobbs have a divine gold leather clutch bag at £99. Whatever your price range the look alike bag picking up on a designer statement is out there for you.
Handles have been an area for designers to play with in recent years. 2006 saw a fair number of handbags with leather plaited handles, or gilt chain handles. Bamboo handles have returned and they offer interesting contrast on textured or smooth frame bags.
Top handle-frame handbags compliment fashion coats that rely on a great silhouette to make a fashion statement. Don't crowd fashion statement volume coats, with shoulder bags or body bags that spoil the line. Frame bags which are hand held help to maintain that crisp dolly bird look.
You are reading an original fashion trends article written by Pauline Weston Thomas© at www.fashion-era.com ©
If you are not in a major city, getting a genuine designer bag may not be straightforward. Why spend your hard earned cash on a designer fake, and be dissatisfied with the replica that looks lesser on arrival. Most counterfeit handbags are let down by their cheap hardware and materials. Go straight to a responsible online store. For designer bags online try Browns, Neiman Marcus, Saks Fifth Avenue, Bergdorf Goodman, eLuxury, Net-a-Porter, Harrods, Forzieri for reliable service and genuine bags with contralto cards.
'It' bags are to do with green-eyed envy, trends which are off the scale, and fashion racing. Many would argue that some designer bags are quite certainly works of art. Desirable designer luxury bags include both the Yves St Laurent Fauve bag and the Marc Jacobs Christina, a chain strap bag of the moment. Currently still holding their own, are the Marc Jacobs Stam, bags by Chloe including the Edith and the patent Betty.
If I were to buy a new designer bag right now I'd be torn between the gold Zagliani python bag or Roberto Cavalli's laser cut metallic clutch bag. The former a bag that will actually hold items whilst looking good and lush to touch. The latter a cute and eye-catching work of art so pretty for holidays or evenings.
Consumers of 2007 are becoming more handbag aware, yet the wider trend now for many individuals is that the classic bag has become more appealing again. The accessories within a fashion shop only survive if they have the right stock. That stock might be original brands or a good look-alike that hones the momentary zigzag of fashion trends. Boutiques are more likely to have forward looking fashion handbag trends than mainstream high street shops. So small boutiques may be worth a look, for you to get an understanding of the fashionable bag mood of the moment.
Read more about these colours and about fabrics on the Spring 2007 colour page.
You are reading an original fashion trends article written by Pauline Weston Thomas© at www.fashion-era.com ©
Special thanks to David of http://www.prshots.com/ one of the best sources of PR material. Images courtesy of House of Fraser, French Connection, Matalan, Arcadia, Dorothy Perkins, Evans, Marks and Spencer, Billy Bag, John Lewis and Faith footwear.
-------v6-------
(Page Date 19 Feb 2007)
If you like this page then please share it with your friends
---
For more information on ladies and teens fashion trends go to:-
Archived Sections
Custom Search
About Fashion-Era.com
Fashion-Era.com looks at women's costume and fashion history and analyses the mood of an era. Changes in technology, leisure, work, cultural and moral values. Homelife and politics also contribute to lifestyle trends, which in turn influence the clothes we wear. These are the changes that make any era of society special in relation to the study of the costume of a period.

Fashion-Era.com can take no responsibility for any information on the site which may cause you error, loss or costs incurred from use of the information and links either directly or indirectly. This site is owned, designed, written and developed by author: Pauline Thomas and Guy Thomas. This site is designed to be viewed in 1024 X 768 or higher.
ALL RIGHTS RESERVED. Fashion-era.com reserves the right to add or delete information, graphics and links. Copyright © 2001-2014 on all content, text and images in Fashion-era.com. Images and text in this website may not be used on other websites.
Before you write to me for costume/fashion help or information please, please consult the extensive sitemap which lists all our pages. If you still cannot find the answer after searching the site, then before you email me, please consider if you are prepared to make a donation to the website.
Donations
Reader's donations help this site flourish, in particular donations encourage me to write more articles on fashion history as well as current trends. PayPal allows anyone with a credit card to donate easily and securely. You may donate any sum you feel appropriate.