Fashion Accessories for Spring and Summer 2007
Coach Bags and Sam Bags - Accessories Trends 2007
A handbag accessories update is about creating a look more than anything else. On this page I want to comment on a few popular bag suppliers. For other aspects of bag trends, you can read my companion web pages, Fashion handbags and Luxury Handbags
Regardless of dieting, and whether a female is up or down 20 lbs, or not, today her handbag is only one in her small collection of bags. However, with fashion racing ahead so fast, what many women want is a bag they think is a quality handbag, is tuned to current fashion trends, and is one they consider affordable. Many customers will not pay more than £300 ($600) for a fashion handbag. Some can afford a luxury handbag and consequently, will be willing to pay much more. Those who like to stay within their budget may have a mental limit of £350 ($650), but hope to get the perfect accessory for much less than that.
If affordable, but stylish, is your handbag choice then you will find bags by Coach one of the most accessible trendy bags to buy.
Coach is the stand-out, easily obtainable, luxury handbag in the USA.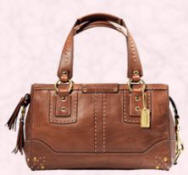 Coach is using their new Legacy Boutiques to woo a more sophisticated consume with their Coach Legacy lines. Coach believes that consumers, who stretch themselves to buy a higher priced coach bag, get an emotional thrill from the experience of buying a limited edition product. Coach offers a bag range starting at under £100 ($200) and progressively rising to the £300 ($600) mark. See the picture on the right as an example of the new line from the Coach legacy handbag range.
Yet Coach do make some limited edition bags such as alligator bags at around £5,000 ($10,000). Coach currently has an aggressive plan to open more stores across North America, and thus bring its stores up to 400. During the next decade, they also have ambitious plans to open stores overseas, Coach hope that China will be a lucrative market.
If you are in the UK, then the easiest way to purchase a Coach bag would be online. No doubt like me, you will have seen many adverts online for fake bags especially Coach replica handbags. To avoid buying a fake bag read more about replica handbags on my earlier pages.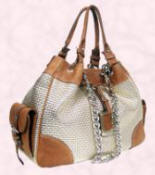 ‡‡
Russell and Bromley also have a popular range of covetable bags where prices start at about £120 ($200) and rise to around £400 ($800) with lots of choice in between. I have noticed that £200 ($400) is often the price point of many handbags that appeal at both Coach and Russell and Bromley outlets.
The quality of the hardware used in Russell and Bromley bags is high, and more expensive bag styles are usually Stuart Weismann marked designs. The gold and silver tone chains stay looking good for years, and the designs are often ahead of other high street bags. This bag on the right is taken from their new 2007 spring summer range.
Designers like Stella McCartney are stretching the concepts that a bag need not be leather. She knows what a woman wants inside her handbag. She designs bags with phone, key and make up compartments. As these bags are not made from animal hides, they are veggie friendly handbags, and are well liked by younger people with eco concerns!
The whole Marc Jacobs range is available at the new Marc Jacobs store in Mount Street Mayfair which opened in London this spring. The store also carries children's wear and displays Marc Jacobs designed china and crystal items for the home.
Marc Jacobs bags are especially popular in the UK, and the designer goods can also be bought at Browns of South Molton Street and at Harvey Nichols. Marc Jacobs goods frequently use British materials with fabrics sourced from Scottish and English mills.
Meanwhile over in Japan, the rising star of the Japanese handbag world is the Samantha Thavasa bag.
You are reading an original fashion trends article written by Pauline Weston Thomas© at www.fashion-era.com ©
The accessories design house Samantha Thavasa was created by Kazumasa Terada. This 'Sam Bag' line has put Japan on the 'it' bag label list. American and European celebrities have helped the brand sales of Samantha Thavasa purses, they also have a sister label for jewellery called Samantha Tiara.
Beyonce Knowles, Victoria Beckham, Paris Hilton, Penelope Cruz and Maria Sharapova all own a Sam bag. The customer base is one of young women who love the trademark zingy colours, diamante decoration and wood handles. Every bag is produced in Japan utilising Japanese craft skills.
The concept behind this brand is that no one bag is an 'it' bag, this is because their customer has a wardrobe of bags to change to suit their mood every day. To ensure bag lovers are not lost for new choices, Samantha Thavasa has a range of 200+ new bag designs every season.
Samantha Thavasa Japan Ltd., opened the first boutique in Tokyo's Shibuya district in 1994. Bag prices are £100 to £300.
The woman of today owns far more bags than the two or three go-everywhere and suit-most-outfits handbag, of 20 years ago. Today the shopper has much more choice and can select from Totes, satchels, clutches, underarm bags, shoulder bags, doctor's Gladstones, frame bags, hobos, saddle bags, and across body bags.
Read more about 2007 fashion handbags and all about luxury designer bags 2007 here. Just search for bags or handbags on the site search and lots of pages on handbags will be shown.
You are reading an original fashion trends article written by Pauline Weston Thomas© at www.fashion-era.com ©
§
Read more about these colours and about fabrics on the Spring 2007 colour page.
(Page Date 20 March 2007)
If you like this page then please share it with your friends
---
For more information on ladies and teens fashion trends go to:-
Archived Sections
Custom Search
About Fashion-Era.com
Fashion-Era.com looks at women's costume and fashion history and analyses the mood of an era. Changes in technology, leisure, work, cultural and moral values. Homelife and politics also contribute to lifestyle trends, which in turn influence the clothes we wear. These are the changes that make any era of society special in relation to the study of the costume of a period.

Fashion-Era.com can take no responsibility for any information on the site which may cause you error, loss or costs incurred from use of the information and links either directly or indirectly. This site is owned, designed, written and developed by author: Pauline Thomas and Guy Thomas. This site is designed to be viewed in 1024 X 768 or higher.
ALL RIGHTS RESERVED. Fashion-era.com reserves the right to add or delete information, graphics and links. Copyright © 2001-2014 on all content, text and images in Fashion-era.com. Images and text in this website may not be used on other websites.
Before you write to me for costume/fashion help or information please, please consult the extensive sitemap which lists all our pages. If you still cannot find the answer after searching the site, then before you email me, please consider if you are prepared to make a donation to the website.
Donations
Reader's donations help this site flourish, in particular donations encourage me to write more articles on fashion history as well as current trends. PayPal allows anyone with a credit card to donate easily and securely. You may donate any sum you feel appropriate.