Colour Fashion Trends, Spring Summer 2007 Tone Combinations
The strongest colours in the spring fashion palette are strawberry ice, apricot gold, silver and blue. Brilliant blue is likely to gain in popularity as the season progresses. Yet various sorbet tones create the tonal soft chalky dimension of many of Spring 2007 seasonal fashion colours.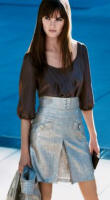 Sharp colour combinations for spring 2007 include monochrome black and white prints or darkest navy blue teamed or trimmed with red. Whilst black and white prints were quite a force on the catwalks, apart from flurries of acid brights, designers generally favoured a muted palette. Somehow that old black and white scheme is always fashionable.
This spring 2007 colour palette was of cream, grey, beige, soft pastel dusty pinks, silvery white, palest lemon, mauve, lilac, cherry red, brown, olive green and petrol blue. Think of the fondant colours of pink, blush, silver grey, cream, lemon, peach or white icing.
Gemstone colours in rich slinky satins were a favourite of Miuccia Prada for spring summer 2007. But you can expect to see a much wider colour range since the high street retailers have wisely adopted a much broader colour palette. Image above right is courtesy of Warehouse - details - metallic high waist skirt £45/€70, blouse £38/€59, crop jacket £70/€110.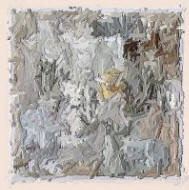 The fashion trendsetter of today will make the most of metallic colour effects in their wardrobe this spring and through 2007.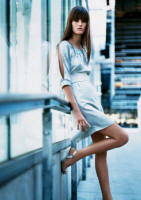 Pebbles and stones have the silver grey and putty tones of fashion colours for spring 2007. In the retail world, this is illustrated by lots of gleaming silver grey garments or creamy or coffee cream clothes with texture on texture.
The greys, silver grey, chocolate and gold tones of autumn have become firmly embedded in our fashion wardrobes and for spring, offer even more metallic variety. This is a fashion trend that has been hotting up for sometime. An easy way to introduce it into your fashion wardrobe is with a silver handbag, shoes or a clutch. Image right courtesy of Warehouse - Silver split sleeve dress £100/€155, clutch £25/€40. See the Spring 2007 silver mood board here. You are reading an original fashion trends article written by Pauline Weston Thomas© at www.fashion-era.com ©
‡‡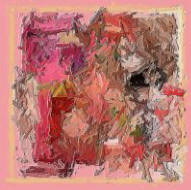 From winter reds and watermelon we find one of the leading 2007 colours is Pantone's strawberry ice. Think of the icy crystals of strawberry sorbet and you have the main red tone colour of this season's fashion colour palette.
This is good news, as Pantone is also predicting the darker red colour chilli pepper

to be the main fashion colour of 2007.

The softer strawberry ice

will lead you gently into it, enabling you to mix and match across the tonal range throughout 2007.
You can see how these two Pantone colours strawberry ice and chilli pepper merge seamlessly with each other in my colour blend image right.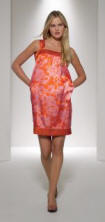 Notice too the warm natural pinks and sandy browns found in an earthy palette that will contrast well with black and dove grey.
Left - This dress picks up on several fashion trends with its straight shift silhouette, contrast colour banded top, shoulder straps and illusion hemline. It also has fashionable pockets and is of course red hot on colour trends. It also marries another prominent colour for spring in its organic print - that of tangerine. Tangerine will move toward terracotta by autumn. but this is a colour you could buy into now. This dress is a perfect sun dress.
On cooler days a sheer blouse beneath it would enable you to wear it as a pinafore dress.
Debenhams Red Herring neon tree print dress worn with Kenneth Cole platforms. Image courtesy of Debenhams Spring/Summer 2007 Womenswear.
Spring 2007 reds mood board here.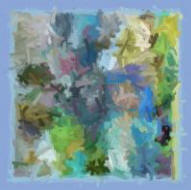 Sky blue, electric blue, brilliant ultramarine blue are a welcome return to the fashion trends within the colour palette.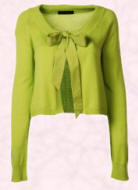 So many colours have a burnished metallic cast like this fabric sample right. Remember all those Quality Street sweet wrappers you smoothed out as child, or even as an adult, well those are the just the colours that capture spring's metallic looks.
§
Acid lime greens are lively and reminiscent of the acid bright colours of fads of the 80s. Right - Dorothy Perkins Spring/Summer 2007 fashionable lime tie-neck cardigan - £20/€35.
Spring 2007 blue greens mood board here.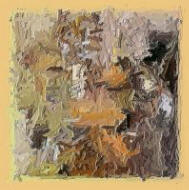 Summer 2007 will see us wearing golden apricot, sky blue, opal grey, clear greens and coffee cream. All these colours follow through on autumn's most important fashion colours.
Golden liquid sunshine looks, gold lame swinging dresses with disco glamour are the mainstay of futuristic fabrics. These tones make gleaming dresses with a lacquer-like sheen.

Read more about gold brocade and metallics - gold fashion garments page and the gold accessories page.
Now for spring and summer 2007 sun dried rich ochre and terracotta gain ground and move through tonal ranges. Brilliant neon yellow and tangerine peach are prominent spring colourations for garments designed to outshine not just the Mediterranean sun, but club lighting too.
This golden apricot colour bag, see right, is from Debenhams. Expect to see many more coloured accessories in this rich dazzling golden yellow this season.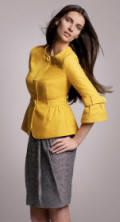 Banana yellow, dazzling yellow, acid lemon lime and lemon all vie for attention. Yellow can be dampened down with cream, black or grey. In recent months gold has been one of the season's hottest looks and it looks set to continue becoming richer as it moves towards bronze tones.
Acid yellow strong and dazzling with high energy is for the sunniest of days and favours those with bold personalities. Look out for acid coloured volumeT-shirts.
Shock colours of acid neon yellow and gold brights enliven sober neutrals like grey. But they also allow for some retro effects such as 1960s Pucci style prints, 1980s power dressing and punk dressing in primary vibrant electric colours.
Above Left - Image courtesy of Principles - Yellow 3/4 sleeve jacket £45 and chocolate bow linen pleat skirt £37. Stockist Tel. No: 0870 122 8802 www.principles.co.uk
Spring 2007 golden mood board here. You are reading an original fashion trends article written by Pauline Weston Thomas© at www.fashion-era.com ©
‡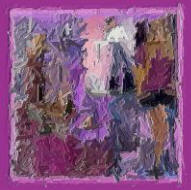 The warm earthen tones plus golds, reds and violets have seen us through Autumn/Winter 2006/7.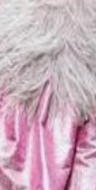 Purple is a spring 2007 fashion trend and it has warmed into hollyhock tones that will linger for next autumn.
Sharper blue violets have moved toward ultramarine as the purples begin to warm up with more red tones.
The chalky pastel colours of the hue are of summer romance - the softest blues, mauves, orchid pinks and the most delicate of chalky violets all work especially well as sweet wrapper metallic colours. Note the orchid pink metallic fabric sample image right.
Spring 2007 purple mood board here.
Finally silver Perspex and silver accessories are very forward looking and perfect for those who like to have the latest fashionable item for spring 2007.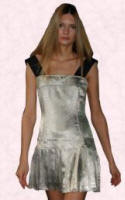 Beautiful silver damask fabric was shown by Alexander McQueen and high street suppliers have taken this look up and offer quite a few silver looks. Watch for clothes in silver with seed pearls and crystal details embedded into fabrics or rising up beyond the fabric surface. Spring 2007 silver mood board here.
The dress for evening should be metallic, molten gold or silver.
Holographic and Pailette embellished mini-dresses have a sci-fi appearance that negates the need for jewellery. The space age pieces or looks are best worn unadorned. By autumn Pailettes on dress will be a mainstay look so early investment will pay off right through 2007.
Image right courtesy of Oasis Catwalk Show SS07.
You are reading an original fashion trends article written by Pauline Weston Thomas© at www.fashion-era.com ©
My thanks to PrShots.com. Images courtesy of Arcadia/ Dorothy Perkins, Principles, Warehouse, and Debenhams. (Page Date 16 Feb 2007)
-------v6-------
If you like this page then please share it with your friends
---
For more information on ladies and teens fashion trends go to:-
Archived Sections
Custom Search
About Fashion-Era.com
Fashion-Era.com looks at women's costume and fashion history and analyses the mood of an era. Changes in technology, leisure, work, cultural and moral values. Homelife and politics also contribute to lifestyle trends, which in turn influence the clothes we wear. These are the changes that make any era of society special in relation to the study of the costume of a period.

Fashion-Era.com can take no responsibility for any information on the site which may cause you error, loss or costs incurred from use of the information and links either directly or indirectly. This site is owned, designed, written and developed by author: Pauline Thomas and Guy Thomas. This site is designed to be viewed in 1024 X 768 or higher.
ALL RIGHTS RESERVED. Fashion-era.com reserves the right to add or delete information, graphics and links. Copyright © 2001-2014 on all content, text and images in Fashion-era.com. Images and text in this website may not be used on other websites.
Before you write to me for costume/fashion help or information please, please consult the extensive sitemap which lists all our pages. If you still cannot find the answer after searching the site, then before you email me, please consider if you are prepared to make a donation to the website.
Donations
Reader's donations help this site flourish, in particular donations encourage me to write more articles on fashion history as well as current trends. PayPal allows anyone with a credit card to donate easily and securely. You may donate any sum you feel appropriate.