Fashion Fabric Trends Spring Summer 2007
In the spring of 2007, the trend in textiles is toward shiny sumptuous fabrics that gleam with dusted sheen or have sheer qualities. Raw silk, glistening brocades, satin, moirés, taffetas and chiffons with luminous qualities reign supreme, as you can see in the main fashion looks. Metallic fabrics are big fashion news this spring and the quality of brushed brilliance is important. With the metallic shimmer look you need minimal jewellery. The fabric becomes the personal decorative jewellery. Expect to see mixes of tulle, brocade, lace and paste jewels on fabric surfaces.
Jersey knit fabrics are one of the big stories this spring. Jersey offers the consumer comfort in wear, plus the novelty of drape and easy care features. New prints tend toward the exotic and the tropical, the result is graphic explosions of pattern.
Shimmer, opalescence and evanescence have become more important as over-distressed and unwashed fabrics have become less fashionable.
Natural fabrics are still important, but their value is starting to relate more to eco criteria and performance in wear. Read about colours on the Spring 2007 colour page.
Beading, crinkled metallic fabrics, gold lame, leather foil effects and metallised plastic all come in silver - the hottest of looks. There are all over silver and gold sequin fabrics and pretty pastel colour sweet-wrap metallics. Any and every one is used to construct apparel from parkas to hot pants.
The gold metallic, asymmetric, one-shoulder disco dress is £34.99/€58.50 from River Island Clothing Co. Ltd., Spring/Summer 07 Womenswear. (See picture to the left).

The trend for gold clothes is increasing with gold embossed and impressed textured leather coats very fashionable right now. Gold and more gold trim - gold leather coats, gold leather mini dresses, gold bomber jackets, gold parkas, gold tops, gold shoes, gold bags, jewelled fabrics that shimmer and glimmer say 2007.
The silver metallic skirt image right is courtesy of Dorothy Perkins - Silver metallic skirt - £25/€40. Wear with metallic high-sandals or shining ballerina flats or easy wedge shoes.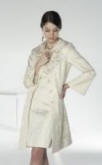 Brocade, lustrous smooth satin and figured satin have all moved into daywear.
All cream jacquard fabrics create expensive looking matching dresses and coats. Several retailers such as House of Fraser and Wallis are offering cream or ivory white coats with matching dresses. Cream coat image courtesy of Matalan New Tribe left. New Tribe Matalan Spring/Summer 2007 jacquard shift dress £18 jacquard coat £35.
Prada used thick duchesse rich toned jewel colour satins to create signature items. The jewelled colours were used for satin shirts and tunics, teamed with skinny pants. This year as desire for the luxe looks increases, Prada will offer dry-clean-only silk denims and pure linen jeans.
You are reading an original fashion trends article written by Pauline Weston Thomas© at www.fashion-era.com ©
‡‡
Other luxury materials include silk charmeuse, matelassé, sheer tulles, chiffon, and fine lawns.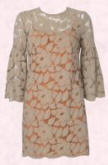 Textured fabrics like cotton lace, Chantilly lace adds great beauty to ladies fashion garments.
Details right - Lined shift lace dress right courtesy of Wallis.

Cream and nude are very strong colours for spring 2007. Many retailers will have nude-toned lace over nude slips or cream on cream versions of lace dresses.
For spring 2007 lace can be the main upper fabric of a court shoe. These lace upper court shoes are from Faith Footwear Spring/Summer 2007 Court Shoes - Style Charmant £40.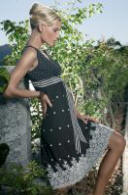 Lace is used in this dress as a border technique on clothes and helps create the illusion hemline. The tea party spot dress left is £75 and is courtesy of Phase Eight. It appears shorter than it really is because the lace hem is see through, fades out and creates an optical illusion to the eye. See more examples here.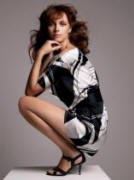 Monochrome schemes will include black and white fabric prints in wild abstract patterns. There are also strong bold tablecloth, buffalo and plaid check pattern arrangements.
The short dress right, can also be worn as a tunic top. So many of this seasons dresses double up as tops over trousers or stand alone dresses.
ar right image courtesy of Principles - Main Spring Summer 2007 Collection black and white kimono top £49.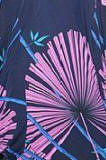 Butterflies, dragonflies, roses, flowers, ginkgo leaves and exotic flowing botanical designs, all feature as print texture for this spring 2007.
Vintage prints are growing as a retro pattern type that designers are favouring. Large oversized spots and circles have a fifties feel especially when the print has sheen to its surface. When such patterns are printed on flowing jersey they take on a very new look.

Fabrics covered with blooms, roses, sprigs, botanical embellishment and floral trails or very bold prints with lush cabbage flowers are standard for spring 2007. Think tropical exotic print and jungle plants. Jungle print is part of this exotic trend and bamboo print was a choice of Matthew Williamson. He used brightly coloured floral sequin patterns to make stunning simple shifts.
Smock top image right courtesy of Dorothy Perkins Spring/Summer 2007 - Pink hibiscus print smock top - £20/35.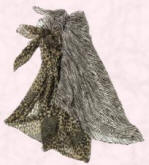 Earthy African and sepia animal prints compete with botanical and massed floral prints and futuristic textured fabrics. Glamour Zebra, leopard, tigers, cows and giraffes are all accommodated as animal prints evolve into modern looks with a modern feel. when combined with futuristic silhouettes.
Leopard prints are always popular although this trend is now in full swing so is less edgy that it was. Even so animal prints are becoming classics.
Fabrics from chiffon to batik mark this animal look a trend that has gained in strength rather than diminished. Chiffon animal print blouses have been especially popular recently. These sarong wraps right are both in animal prints and the image is courtesy of House of Fraser from the spring summer 2007 women's swim wear range.
You are reading an original fashion trends article written by Pauline Weston Thomas© at www.fashion-era.com ©
§

Jersey fabric is a popular choice for spring 2007 clothes. It's perfect for dresses for dancing the night away. Dance trends mean easy swing jersey dresses with plenty of volume are set for popularity.

Modern jersey fabrics perform well in wear and this makes it a great fabric for work, play and easy laundering. The fabrics themselves are often made of a combination of viscose, Lycra and polyester, some are even made of totally silk jersey. The wrap dress right is now a classic wardrobe staple for many women. Right - Black white monochrome wrap dress £35.00 courtesy of Discoo Online fashion store Spring Summer 2007 ladies fashion range.
The dress is so short this summer that sometimes it really is a tunic. The two garments are interchangeable. This volume tunic left is in dazzling golden yellow, a top colour of the moment. Image left is courtesy of Warehouse - yellow jersey dress £25/€40, bag £32/€49.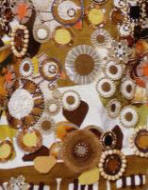 Texture on dress is everywhere. This texture left is from a Chloe dress. Appliqué morphs into hippy themed collage looks as dresses become walking art forms. The complexity of couture craft skills take away the bo-ho folk look; to add further texture, print fabrics are embossed.
Matthew Williamson specializes in colour, his bright, bold, beautiful clothes feature lively surface embellishment.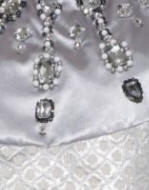 Detailed encrustation and textured appliqué on dresses was intense on many catwalk garments and the high street has followed this lead. The technique made many garments into walking 60s inspired, textile art collages, a confection of modern passementerie.
This silver white dress detail is from the range Star by Julien Macdonald at Debenhams. You can see the actual dress on the Spring 2007 Looks page. The jewelled brocade bodice shown is a dress from the Spring/Summer 2007 Debenhams Womenswear range.
‡
Pailettes, imitation glass gems both cabochon and faceted and larger poppet style opaque beads embellish many garments at necklines, hemlines and sleeve edges. Versace dresses were gold Pailettes. By fall iridescent Pailettes will be making a strong impression.
Note the emerald square cut metallic bead bordered hems, on dresses or worked as either all over fabrics and as deep 10 cm bands on hemlines and below elbow bell sleeves.

In extreme examples round domed studs, so fashionable this past 2 years, are now offering variations as spiked punk style studs. Square studs with diamond domes a feature of punk dressing were used on bags accessories and clothes especially on shoulders.
Bands with domed stud effects are used as fabric inserts such as in the baby doll puffball dress right. Image courtesy of River Island Clothing Co. Ltd., - Bubble mini dress £34.99 Fashion Futuristics range.
You are reading an original fashion trends article written by Pauline Weston Thomas© at www.fashion-era.com ©
Fine 2 or 3mm micro accordion pleating is often used on ruffle cuffed sleeves or used as the body of sleeve fabrics. Coats with pin tucks, fine tucks and fine pleats add texture and interest. One step from this is the trim of fabric fan pleats. Gauzy organza is used as mini-pleated accordion Fortuny style trims applied as ruffles on cuffs and jabots.
There was a noticeable return of hand sculpted fabric roses at designer shows.

Roses were a must of 1980s/early 90s occasion clothing. In the 1960s many dresses were decorated with bodices covered in fabric flowers.
High street stores such as New Look have romantic dresses with sculpted fabric rose flowers decorating the necklines of bodices. The lemon baby doll dress right can be worn as it is as a mini dress or as tunic top. Image right courtesy of River Island Clothing Co. Ltd Lemon Ruffle Collar Dress £59.99/€100.50, Silver T-Bar Sandals £49.99/€84.
Buttons are big and oversized. 5 cm statement buttons are not unusual. Often mixed buttons in different colours and patterns are used. Mother-of-pearl buttons often create interesting fabric surfaces which generate Pearly Queen effects. Versace showed an interesting buttonhole stand of square facings.
...(v4r)
Buckles have been on boots and bags in abundance this past autumn and they continue into spring. If there is no buckle maybe you'll find a bow, general surface add on fabric texture, pleating or ruching on that shoes or bag.
Opulence is still found in fabrics as is ruching, ruffles, and rouleaux loop bows. We are seeing bows on the waist at the back of skirts and jackets. Also, decorative bows, streamers and sashes add a feminine touch.
This season look out to for more quality fabrics, 60s style novel futuristic fabrics. You should also see airy fabrics, light nubble wools, madras plaid, buffalo checks, raffia, seersucker, embroidered net, web-like knits and fabrics that gleam with dusted dazzle. Even natural fabrics like linen get mixed with silver or gold threads to capture that shimmer of the season.
As individuals gain eco awareness, natural fabrics and how they are grown and processed has become a focus of interest for the consumer. Manufacturer Toray Industries has spent some years developing a process to enable them to reuse production nylon waste to create more Nylon 6 and using 85% less energy that making nylon in the first production process.
You are reading an original fashion trends article written by Pauline Weston Thomas© at www.fashion-era.com ©
(Page Date 16 Jan 2007)
If you like this page then please share it with your friends
---
For more information on ladies and teens fashion trends go to:-
Archived Sections
Custom Search
About Fashion-Era.com
Fashion-Era.com looks at women's costume and fashion history and analyses the mood of an era. Changes in technology, leisure, work, cultural and moral values. Homelife and politics also contribute to lifestyle trends, which in turn influence the clothes we wear. These are the changes that make any era of society special in relation to the study of the costume of a period.

Fashion-Era.com can take no responsibility for any information on the site which may cause you error, loss or costs incurred from use of the information and links either directly or indirectly. This site is owned, designed, written and developed by author: Pauline Thomas and Guy Thomas. This site is designed to be viewed in 1024 X 768 or higher.
ALL RIGHTS RESERVED. Fashion-era.com reserves the right to add or delete information, graphics and links. Copyright © 2001-2014 on all content, text and images in Fashion-era.com. Images and text in this website may not be used on other websites.
Before you write to me for costume/fashion help or information please, please consult the extensive sitemap which lists all our pages. If you still cannot find the answer after searching the site, then before you email me, please consider if you are prepared to make a donation to the website.
Donations
Reader's donations help this site flourish, in particular donations encourage me to write more articles on fashion history as well as current trends. PayPal allows anyone with a credit card to donate easily and securely. You may donate any sum you feel appropriate.