Luxury Handbags for Spring 2007
Bag Inflation - Arm Candy Bags
The fashion accessory is a huge growth area, with handbags the prime purchase. It is forecast that in just 3 years, by 2010 handbag spending will be worth a billion dollars. Accessory designers are now as driven as fashion designers to produce lots of new styles that hit the seasonal mark.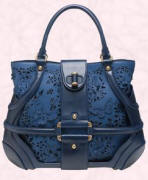 Bag inflation means the consumer now has to spend around £800+ for a decent luxury handbag, compared to £500 just a couple of years ago. The value of any selection is also made worthless by the fickle nature of fashion. This development means a designer handbag may last just a season, if poorly selected, a bag can become outré in the space of a few months.
Picture Right - this lovely navy blue perforated leather butterfly designer handbag, is by Alexander McQueen. It is a reworking of the Novak signature bag by McQueen. A good designer can play with a signature style and make it new each season. This bag is available from Browns Fashion of South Molton Street, London, UK or their online site at £1,015. It is pretty, and special in its own right, which is always a good reason to make any selection. Image courtesy of Browns.
Bag inflation is working at every level, from low to high cost bags. The everyday customer, who a couple of years ago spent £49 on a chain store leather bag, thinking they were buying the most expensive bag on the shop floor, may now be buying one at £89. They now consider that spending £89 on a chain store leather bag, is quite reasonable, and they tout it as great value for a leather bag.
The behaviour of handbag fashion is very odd when you consider how inexpensive other fashion items have become.
The key question is, 'What's driving the accessory market?'
Well you dear reader, the avid consumer, is the person helping to drive the bag market. It is your penchant for must-have 'it' bags and a desire to own what a celebrity owns. Thus prices have crept up as the average shopper wants more cachet from their handbag.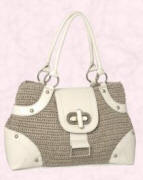 Whether the bag spend is £90 or £900, the customer sees the bag as a passing fashion, in just the same way as she once regarded last years clothing. The modern consumer sees the bag as the part of her wardrobe that can be added to, used, set aside, but also revived at some future date.
The high street puts out its own versions of luxury handbags quickly. Above right the perforated leather Novak bag by designer Alexander McQueen and left Wallis Spring/Summer 2007 white leather and straw bag £23/€37, is a thriftier take on the Novak crochet versions. See the first Novak style produced here.
You are reading an original fashion trends article written by Pauline Weston Thomas© at www.fashion-era.com ©
‡‡
Celebrity endorsement is what is driving the bag phenomenon. High visibility, with celebrity endorsement, is a welcome advert for the bag producer. Celebrities often get such bags as gifts. Celebrities can soon give the 'it' requirement to specific handbags. But the newest 'it' bag is the customized bag, the made to order bag that no-one else has. The only way to secure it is to part with thousands, either dollars or pounds - it doesn't matter which, when you talk 10,000+. Such customized bags have a price tag of £10,000/£12,000. It's all about luxe, luxe and more luxe.
The luxury handbag is the ultimate fashion statement, it is a major status symbol of today. It's a known fact that the average weight of a handbag in Britain is 31/2 lbs. Most women cram personal items into their bags in an effort to be prepared, 'just in case I need it'. But what makes this particular gold bag below so special, is that the Zagliani materials are treated with resin employed silicone injection techniques.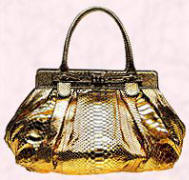 Zagliani make beautiful crocodile bags, which are as soft as silk. In this case Italian dermatologist Mauro Orietti-Carella has pioneered a technique to enable skins, such as python and crocodile, to be transformed into smooth shiny soft supple surfaces.
The crocodile skin in the handbag left has been silicone treated and once softened it is hand crafted into a four figure bag. The process is similar to the use of Botox injections to keep human skin plumped.
This Zagliani handbag right costs £1,280 at Harvey Nichols. Zagliani bags are available in the UK from Harvey Nichols and also from Matches.
If my husband is reading this - darling I'd be thrilled to own 'it'!
A work of art.
As ordinary consumers flash their designer handbags, very wealthy rich consumers feel a need to show their distance, and they want even more distinction from their luxury handbag. Designer bags have become classless, and their purchase is not always dependant on income. This means bag prices are rising and the new market for top end bags is around £3,000.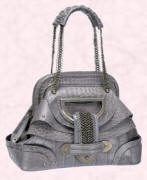 But that top end is very elastic and finishes around the private collection, 'Wait List' bags, that cost £70,000. Such bags in the latter price range are usually finished with diamond pavé studs. But £2,000 for a bag spend is no longer a rare occurrence.
The picture to the left is of the latest John Galliano designed 'Jeanne' handbag, made for Dior and available at Harrods. The chain mail detailing, takes inspiration from Joan of Arc, and the handbag is available in dark grey calfskin, sand ostrich, mint green stingray and grey crocodile (£10,160).
This is a fabulous bag with an unusual futuristic, but medieval armour feel.
I know I would love a Dior bag like the 'Jeanne' above. I love the proportions and the detail of the Jeanne bag. However, you may have noticed that it is the price of small car, and is pure arm candy. 'Jeanne' is also available at a lesser price (a mere couple of thousand), in nu buck and goats skin. The image is courtesy of Harrods, who are now selling a limited, but growing range of goods online.
...(v4r)
Ferragamo are just one of the top design names that do these top line, made-to-order handbags. Clients select from 4 silhouette designs, in a wide range of 50 colours, and just as wide a variety of exotic skins. Authenticity is very important for all luxury companies, especially when a company has a unique and covetable product. Other companies, who are known to do custom order bags include, Marc Jacobs, Louis Vuitton, Dior and Bottega Veneta.
Fashion proof classic bags also include those by Hermès.
All of these bags are made in beautiful materials and can easily become heirlooms. Not only are the finest European and Italian leathers used, but some feature exotic skins such as python, ostrich, alligator and crocodile. These bags are couture bags and are the special super luxe products for a clientele that can truly spend. One wonders what the crocodiles and alligators think of this despite the fact they are predators! You are reading an original fashion trends article written by Pauline Weston Thomas© at www.fashion-era.com ©
Lagerfeld at Chanel, tunes in fast to consumer problems; when airport security checks meant travellers were limited in what they could carry, Lagerfeld spotted a gap in the market. As a result, Chanel introduced the Naked Bag, a see through clear bag, with quilt over pattern - perfect for air travel and speedy security checks.
Furla have their own answer to this flight problem with their own clear see through boarding bag shown right.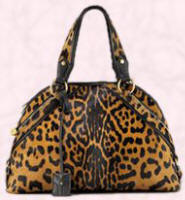 Dolce&Gabbana also have a great niché range of designer bags and by order only bags. They presented a new line with their Animalier range in December 2006.
This new line of accessories features the characteristic leopard print, which has been such a constant in the history of the brand, that it has become its true signature. Domenico Dolce and Stefano Gabbana, feel that animal prints are essential for the existence of divas and divine women.
Dolce&Gabbana revisited and revamped this great classic bag, developing its own exclusive fabric silk-screened in four colours, and that thanks to a special technique creates an illusion of real leopard skin with irregular spots. This special animal print is further enhanced by a discreet lettering of Dolce&Gabbana, and the leather goods all have a stirrup, which is another recurrent symbol in the accessories' history of the brand.
This extensive Dolce&Gabbana collection, comprises 21 luxury handbags in different shapes and sizes, small leather goods, vanity cases, double face belts, hats, flats and Alice bands. It is distinguished by the combination of leopard print fabric and white or tobacco leather.
Animalier has been available at Dolce & Gabbana stores since December 2006.
‡
Bag Help
Once you have bought a more expensive hand bag you'll, need to know how to care for it. Read about aftercare of your designer bag here. If you want to know how to approach buying your first designer bag see my bag replica fake bag and counterfeit bag pages.
Header Dior 'Jeanne' bag image courtesy of Harrods.
Read more about these colours and about fabrics on the Spring 2007 colour page. You are reading an original fashion trends article written by Pauline Weston Thomas© at www.fashion-era.com ©
Special thanks to David of http://www.prshots.com/ one of the best sources of PR material.
(Page Date 16 Feb 2007)
If you like this page then please share it with your friends
---
For more information on ladies and teens fashion trends go to:-
Archived Sections
Custom Search
About Fashion-Era.com
Fashion-Era.com looks at women's costume and fashion history and analyses the mood of an era. Changes in technology, leisure, work, cultural and moral values. Homelife and politics also contribute to lifestyle trends, which in turn influence the clothes we wear. These are the changes that make any era of society special in relation to the study of the costume of a period.

Fashion-Era.com can take no responsibility for any information on the site which may cause you error, loss or costs incurred from use of the information and links either directly or indirectly. This site is owned, designed, written and developed by author: Pauline Thomas and Guy Thomas. This site is designed to be viewed in 1024 X 768 or higher.
ALL RIGHTS RESERVED. Fashion-era.com reserves the right to add or delete information, graphics and links. Copyright © 2001-2014 on all content, text and images in Fashion-era.com. Images and text in this website may not be used on other websites.
Before you write to me for costume/fashion help or information please, please consult the extensive sitemap which lists all our pages. If you still cannot find the answer after searching the site, then before you email me, please consider if you are prepared to make a donation to the website.
Donations
Reader's donations help this site flourish, in particular donations encourage me to write more articles on fashion history as well as current trends. PayPal allows anyone with a credit card to donate easily and securely. You may donate any sum you feel appropriate.