Luxury Sporty Fashion Spring 2007 - Female Fashion Trends 2007
If you are like me, you may have until now assumed that the only real sport is shopping until you drop. One of my forum members has an avatar which states 'I have a black belt in shopping'. Now fashion has moved sideways to provide you with glam sporty looks to help you pursue your passion for the sport of shopping - only kidding. However, it is a fact that utilitarian sportswear and military wear have frequently become mainstream fashion and especially so in the C20th.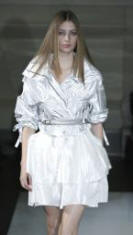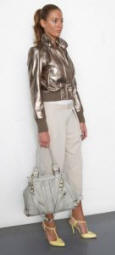 Many will recall the shell suit of the 80s (and maybe inwardly groan). The little bomber jacket shown left is no more than a metallic version of its forerunner, the sturdy milled wool forces jacket worn some 7 decades ago. Who would have thought the styling would travel so far and become catwalk glamour.
Now the luxury version is shimmering and glimmering smart enough to wear for an evening on the town like this lovely silver version right suggests.
Details Left - River Island Clothing Co. Ltd, Metallic Leather Bomber £120/€201.50, Roll Up Pants £32.99/€55.50, Lemon T-Bar Sandals £49.99/€84, Grey Leather Handbag £100/€168.
Right silver metallic parka jacket from the Oasis Spring Summer 07 Catwalk Show. Images courtesy of River Island Clothing Company & Oasis.
Athletic active sporty glamorous wear is an important statement in Spring 2007 fashion trends. Luxury sportswear fashion creates its look with satins and metallic futuristic fabrics combined with neon brights. It is deluxe sporty glamour which is soft, casual yet glamorous, not really intended for sweating in the gym, but perfect for clubwear.
Gold brocade fabrics and latterly silver brocade fabrics have crept into daywear by stealth. The spring catwalk shows also ensured that metallics were destined for more everyday knockabout street looks made up in sportier styles. Welcome Luxe Sports.
Right - Silver viscose satin parka £80/€130 and black cotton shorts £30/€47 - both 'W' - A Limited Edition for Wallis Spring/Summer 2007.

This season Oasis embraces a new modernist mood with clean, simple shapes and a play on volume and proportion running like a thread throughout.
A sense of futurism emerges through the clever use of techno fabrics on luxe sportswear influenced pieces. Day wear has been given a sporty make over through gorgeous parachute fabrics which move effortlessly into short suits with cute racer backs, button through romper suits, parkas and high-waisted skirts. Metallic fabrics add a technical edge to high-shine boxy leather jackets and light weight cagoules.

Luxury sport uses satins and metallic materials including sequins, brocades, leather and wet look Pleather** to achieve futuristic novel effects.
Left - Yellow dress with silver parka dress £25/€40, parka £90/€140, bag £32/€49 and all from Warehouse Spring/Summer 2007 ladies fashion wear.
This softer clothing with sport touches is practical for many women to wear. Racer stripes, techno fabrics with pocket and zip detailing all add a street edge. It's functional, but glam, especially when its figure hugging like this jumpsuit. Images above/right courtesy of Warehouse and Wallis/Arcadia and French Connection.
Above Right - The form fitting body conscious jumpsuit £80 is from French Connection's Spring 07 women's range.
You are reading an original fashion trends article written by Pauline Weston Thomas© at www.fashion-era.com ©
‡‡
As you can see from some of the photos here, River Island offers you a Spring/Summer collection that is guaranteed to tick all the right fashion boxes. River island say key trend alerts include the parka, the spring jacket of choice and available in various guises.
Right - River Island Clothing Co. Ltd. - Parachute Silk Parka £69.99/€117.50, Sequin Hot Pants £39.99/€67, Pixel Print T-Shirt £24.99/€42, Clear Panel Stilettos £44.99/€75.50.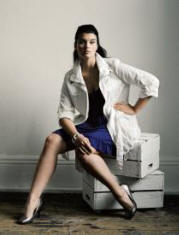 Left - The luxurious silver parka and electric blue dress are both from Oasis Spring 07 collection. Oasis sporty silver parka, drop waist bright blue dress parka £80.00, dress £50.00.
The silver or white parka is the fashion trend picked up by most high street retailers and is likely to be a major hit with younger women.
Every size has been catered for, including plus sizes. This white techno parka £50/€75 is from Evans Spring/Summer 2007 women's plus size range. The purple jersey dress is £28/€43 and the pewter court shoes £25/€38.
Get your white parka or silver parka early before they all sell out.
Images courtesy of Oasis, River Island Co. Ltd. and Evans/Arcadia.
The versatile parka also comes in dress versions. Dress parkas usually have a closed centre seam with front opening about bust level.
Wardrobe Tips -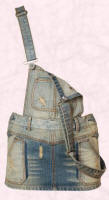 The puffy parka pockets have also moved onto other garments and are often placed low down on other dress and skirt styles, so if this look in its entirety is not for you, you will find parka pockets on other garments.
Left and right - Parka dresses from Oasis Catwalk Show SS07.
Another likely sporty favourite will be the all-in-one suspender skirt or shorts overall. Right - Dorothy Perkins Bib and brace skirt. Dorothy Perkins Spring/Summer 2007 Blue dungaree dress - £25/€40.
Images above courtesy of Oasis and Dorothy Perkins/Arcadia.
§
A key trend for the young will be shorts in materials from denim to floral fabrics. Watch out for sporty fashion satin looks, gold or silver lame shorts like these from Dorothy Perkins shown right.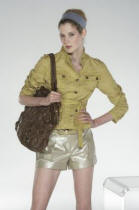 Like the metallic bomber jackets and silver parkas, shorts too can be teamed with neon brights. Silver and electric blue are winners.
Silver lame shorts right £25/€40, are from the Dorothy Perkins Spring/Summer 2007 fashion collection.
Left - The chartreuse jacket and lamι shorts are from Matalan's New Tribe Spring/Summer 2007 range and just £15 for the belted utility jacket £15, £10 for the metallic shorts, and ruched brown bag £12.
Cuffed shorts were a strong development at Armani's show - legs are the look. You are reading an original fashion trends article written by Pauline Weston Thomas© at www.fashion-era.com ©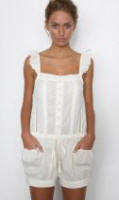 Sports influence was also strong at Stella McCartney where the audience was treated to dungaree bloomers and bloused draw-string features. The high street has versions of these playsuits which are fine for the young and well suited to the beach.
Right - Dorothy Perkins Spring/Summer 2007 button through playsuit £24.99/€42.
Jean Paul Gaultier focused on the athletic scheme of baseball jackets and vest top all covered in half inch Pailettes and teamed with designer zip featured shorts creating a Luxe sports look.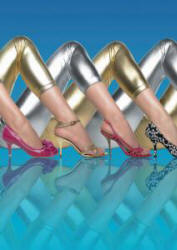 Look for Pailettes and large sequins on sporty styles so that some garments will meet with futuristic looks.
But if shorts are not for you then a token nod at this luxury sporty trend would be to don metallic or satin look leggings.
These metallic leggings will be available at most high street fashion retailers. American Apparel also stock them and they can be bought online too.
These silver and gold metallic leggings right are from Faith Footwear.
Although we think of satin as special, this year satin is another standard fabric.

Miuccia Prada used jewel toned satins in her collections and mixed strong colours in satin fabrics in the same outfit.
This yellow satin top right is from French Connection. It is in one of the hottest colours of the season and hits the right style notes.
You can read more about gold and yellow in gold fashion here.
Footnote
** Pleather is a substitute for leather e.g. Naugahyde.
You are reading an original fashion trends article written by Pauline Weston Thomas© at www.fashion-era.com ©
Read more about colours and about fabrics on the Spring 2007 colour page.
-------v6-------
Special thanks to David of http://www.prshots.com/ and companies providing images. Thanks to Arcadia, Wallis, Dorothy Perkins, River Island Co. Ltd, Evans, Warehouse, Faith, Primark and Oasis.
(Page Date 26 Jan 2007)
If you like this page then please share it with your friends
---
For more information on ladies and teens fashion trends go to:-
Archived Sections
Custom Search
About Fashion-Era.com
Fashion-Era.com looks at women's costume and fashion history and analyses the mood of an era. Changes in technology, leisure, work, cultural and moral values. Homelife and politics also contribute to lifestyle trends, which in turn influence the clothes we wear. These are the changes that make any era of society special in relation to the study of the costume of a period.

Fashion-Era.com can take no responsibility for any information on the site which may cause you error, loss or costs incurred from use of the information and links either directly or indirectly. This site is owned, designed, written and developed by author: Pauline Thomas and Guy Thomas. This site is designed to be viewed in 1024 X 768 or higher.
ALL RIGHTS RESERVED. Fashion-era.com reserves the right to add or delete information, graphics and links. Copyright © 2001-2014 on all content, text and images in Fashion-era.com. Images and text in this website may not be used on other websites.
Before you write to me for costume/fashion help or information please, please consult the extensive sitemap which lists all our pages. If you still cannot find the answer after searching the site, then before you email me, please consider if you are prepared to make a donation to the website.
Donations
Reader's donations help this site flourish, in particular donations encourage me to write more articles on fashion history as well as current trends. PayPal allows anyone with a credit card to donate easily and securely. You may donate any sum you feel appropriate.