Fashion Trends 2007 - Ladies Shoe Fashion Spring 2007
Fabulous ladies shoes and fashion handbags can easily transform and update an outfit. Never underestimate the power of the correct footwear for an outfit. Great shoes, sandals, boots or special 'take notice of me' shoes, like these affordable purple tie shoes right from Dorothy Perkins, can take an outfit into the fashion moment. Coloured shoes are shoes of the moment.
Then update rule number one is to buy new shoes, get the newest haircut or coloured hairstyle, plus the handbag that pays homage to current 'it' bag looks. Those three changes will update last year's look with minimal effort. Need more information on 2007 fashion trends then check out my page on fashion looks for spring 2007 or the wardrobe tips page.
The fashion trend toward the Short Leggy Look, means there will be plenty of thigh and ankle on view this spring. In turn, it means that feet will be very much on show and footwear will be highly noticeable. So ladies shoes and sandals are extra decorative in appearance or have interesting surface texture, shimmer or glistening shine and gleam to the materials and leathers. They also have ties, buckles, straps and bows.

For spring/summer 2007 choose a shoe fashion trend that suits you from the super wedge, to jewelled flat sandals or pumps, to spike studded stiletto heel platforms, to single, double and triple strapped Mary Jane styles. These stacked heel clogs above are from New Look. Whilst heels are high many are sturdy solid stacked heels that do offer more support than narrow stiletto heels.

‡‡
In the spring of 2007, jewelled shoes are consistent with the fashion trend towards futuristic space age dresses that have embedded jewel effect necklines, sleeve bands and skirt borders. Shoes with sequins and stones, dripping with Pailettes or square punk guard dog studs, contrast against shoes with soft romantic flower effects.
Shoes at McQueen were trimmed with a rose corsage and many garments are too.
Far Right - Faith gold ladies sandals with decorative stones effect £45.
Below right crystal stone straps on evening sandals from Faith.

Ladies fashion shoes are just as likely to be made made from thick satin, impressed liquid silver look fabrics, hessian or linen look plain weaves as from 60's floral prints, striped material, animal print or reptilian skin.
This spring is about glistening gleam or raised texture. You'll easily find a bow, buckle, embedded paste jewels, sequins, pleating or ruching on many shoes or fashion bags.
You are reading an original fashion trends article written by Pauline Weston Thomas© at www.fashion-era.com ©
Chunky ladies wedge shoes with interesting hollowed out Perspex, or Lucite heels are very futuristic and were a feature of catwalk shows. Cut-out hollowed effect and cone heels are combined to make very new looking fashionable wedge shoes. Whilst you won't see many of the latter on the high street, no doubt in due course mass production companies will soon be offering their copies of Miu Miu/Prada inspired look-alikes.

Wedges have been very popular this past autumn/winter 2006, but now in 2007, we have fashion trend for stronger brighter colours.
Sea-green peep toe wedge shoe near right is by Faith at £50.

Lots of other wedge styles of varying heights feature rope, beads and the shiniest of patent leathers. These ladies wedge shoes left are by Dune and feature fashionable animal print. They combine fashion glamour and staying power height.

These pink shoes from Primark right, are bang on trend with all the correct elements of a spring/summer 2007 shoe.
Note the shiny patent, contrast gold piping, peep toe and linear wood finish to the platform wedge and the electric pink tone - a hot colour with an 80's vibe for spring 2007.
Buckle features have been everywhere this past autumn and the trend continues into spring/summer 2007. Sometimes you will find a buckle closure to complete the strap, other times the fastening is a baby ball button. The green Mary Jane shoe far right is by Faith shoes.
Mary Janes with the simple bar across the front strap have been in and out of fashion since the 1920s. The Mary Jane shoe is known to have existed since 1914 when skirts were shorter. Unhampered by longer skirts women of that fashion era began to move more quickly. A strapped shoe would have been an aid to walking as well as a pretty style variation. More importantly it was an aid to tango dancing and kept the shoe on the foot. Marks and Spencer have quite a range of Mary Jane styles this season, including coloured suedes.

Shoe fashion of the noughties decade sometimes shows ladies shoes with two or even three bar-straps, whilst boots show many more straps.
Silver, pink and ultramarine are good colour choices for Mary Jane shoes this season, as are fashion conscious Mary Janes trimmed with contrast piping or made up in two tones.
These 'Cody' Mary Janes far right and trimmed in pink are from Jones the Bootmaker at £80.
§
T-Strap Platform High Heels

Heeled fashion shoes for spring/summer 2007 are so high that most are easier to wear with an ankle strap or 'T' bar strap.
The T-strap keeps the shoe in place and a strap is almost essential if you don't want to topple off platform shoes that can be likened to works of sculpture.

Variations to keep the shoe on the foot include, loose tied bows with streamers and baby button straps.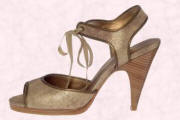 As you can see purple is popular shoe colour for Spring 2007. These gentle platform sandals are from Wallis. Debut purple satin bow wedge right £45 from Wallis
These gold shoes are from Debenhams and are from J by Jasper Conran. Right Debenhams stacked heel linen sandal £40 Spring/Summer 2007 Accessories.
You are reading an original fashion trends article written by Pauline Weston Thomas© at www.fashion-era.com ©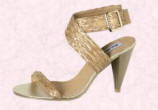 You'll notice that many of the ladies shoes featured here are in statement colours with contrast piping or trim, or fashion shoes and sandals are made up in one of the metallics such as gold or silver.
These gold sandals with wrap ankle strap are from New Look and have a real summer feel.
But printed shoes are another eye catching option.
We saw last season how animal prints were important. This season you can add stripes, spots and florals to that list.
Shoes below are by Dune and Faith.
Patent came back with a vengeance in autumn 2006. From clutch bags to shoes, to slinky dresses, shine is everywhere.
Far right J by Jasper Conran blue patent peep toe wedge £65.
‡
Leather shines with an extra gleam. Shoes sparkle with dusted glitter effects, sequins or larger Pailettes. Futuristic trends that gleam include Lucite and clear Perspex in shoes.
Think gleam, glimmer and glow like these elegant small platform, but high heeled gold shoes centre from Dune illustrate. The fashion trend for metallic looks has moved onto ladies boots like these left from French Connection UK as well as daintier footwear like these silver sling backs from Faith shoes.
If height in footwear is a no-no for you, then metallic ballet flats like these far right below by Faith shoes and in exciting rich gold or other finishes may be the answer. Notice how the flat metallic shoes far left from French Connection are a soft rose gold tone. Expect to see every variation of gold tone this spring/summer 2007/
Ballet pumps with rounded and pointed toes are both easy to find in the shops.

Shiny shimmer futurism means the Gold rush is morphing into Silver shimmer and metallic sweet wrapper foil tones.
Metallics are perfect for evening sandals like these affordable silver sandals left from Dorothy Perkins.
Sling back footwear comes in forms from chunky super wedge shoes to heeled clogs with straps to dainty evening sandals. These very wearable cream contrast peep-toe sandal £40/€65 are from Wallis combine several of the features of this season - contrast piping, Mary Jane bar strap, sling back heel and peep toe.

There is a wide range of footwear on offer for spring summer 2007 and the choice is yours.
To read more about shoe styles popular in the past year click here.
You are reading an original fashion trends article written by Pauline Weston Thomas© at www.fashion-era.com ©
Read more about these colours and about fabrics on the Spring 2007 colour page.
Images are courtesy of Faith Footwear, Dune, Dorothy Perkins, French Connection, Principles, Debenhams, Wallis and New Look. Header pink shoe image courtesy Dorothy Perkins.
Special thanks to David of http://www.prshots.com/ one of the best sources of PR material.
(Page Date 16 Jan 2007)
-------v6-------
If you like this page then please share it with your friends
---
For more information on ladies and teens fashion trends go to:-
Archived Sections
Custom Search
About Fashion-Era.com
Fashion-Era.com looks at women's costume and fashion history and analyses the mood of an era. Changes in technology, leisure, work, cultural and moral values. Homelife and politics also contribute to lifestyle trends, which in turn influence the clothes we wear. These are the changes that make any era of society special in relation to the study of the costume of a period.

Fashion-Era.com can take no responsibility for any information on the site which may cause you error, loss or costs incurred from use of the information and links either directly or indirectly. This site is owned, designed, written and developed by author: Pauline Thomas and Guy Thomas. This site is designed to be viewed in 1024 X 768 or higher.
ALL RIGHTS RESERVED. Fashion-era.com reserves the right to add or delete information, graphics and links. Copyright © 2001-2014 on all content, text and images in Fashion-era.com. Images and text in this website may not be used on other websites.
Before you write to me for costume/fashion help or information please, please consult the extensive sitemap which lists all our pages. If you still cannot find the answer after searching the site, then before you email me, please consider if you are prepared to make a donation to the website.
Donations
Reader's donations help this site flourish, in particular donations encourage me to write more articles on fashion history as well as current trends. PayPal allows anyone with a credit card to donate easily and securely. You may donate any sum you feel appropriate.