Fashion Tips For Spring Summer 2007
There are 2 very strong fashion trends in the new fashion season of 2007 that just about everyone can follow and you don't even need to diet for the first one.
N.B. Latest Fashion Wardrobe for Autumn 2012
Updating Your Wardrobe For Spring Summer 2007
Firstly consider getting a capacity oversized handbag that is in fact more of a shopper or overnight bag. Get the 'It' accessory. Just choose a big super sized bag and don't worry too much about the brand. This season size is more important than a designer name on your bag. Cream Leather Tie Side Bag (to the right) is from River Island and costs £100/€168.
Use the large clutch the most currently fashionable of small bag alternatives, as a purse from within your larger bags. You are then prepared for all looks assuming you can safely deposit your larger bag at your venue. Bag image courtesy of River Island Clothing Co. Ltd.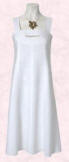 Secondly don't consider the dress as something to buy or reject this season - a dress is a 'must have' item. There are so many varying fashionable dress styles available, one of them will suit you.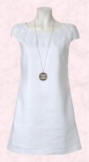 Hemline Interest
These white Spring/Summer 2007 A-line dresses are both from Wallis and offer two quite different lengths. There really will be a length for you out in the shops.
Left - Wallis White linen futuristic dress £60/€99.
Right - Wallis White linen dart detail short dress - £60/€99.
Whether your fashion dress is ultra micro mini, tunic, on the knee or maxi, choose from some of these styles suggested.
Select your dress styles from :- Tunic, Empire line, floral, jersey, Grecian, shirtwaisters, cutaway dresses, halter necklines, Trapeze A-lines, Smock yoke band dresses, bejewelled frocks, Posh parka sporty dresses, Balloon puffball dresses, layered chiffon and tulle dresses, fabric flower textured dresses, sash, belted and wrap dresses.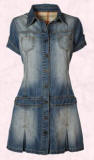 The variety of dress styles on offer is huge this year. If you are a fan of dresses now is the time to stock up.
Yet, if floral romantic dresses like those shown below are simply not your brand of street cred then you can still follow the dress trend, but in good old denim.
This modern short shirtwaister dress right is from Dorothy Perkins Spring/Summer 2007 and is just £25/€40.
Images courtesy of Arcadia/Wallis/Dorothy Perkins.
These top KEY themes are the ones to consider most when choosing from fashion trends to add to your existing wardrobe for Spring/Summer 2007.
Colour is important, so the main spring summer 2007 colours are soft powdery colours - earthy tones, golds, silvers, strawberry ice, sky blue, golden apricot, ultramarine, putty and nude tones. There are also some dazzling neon brights like ultramarine, electric blue, yellow, red, tangerine, emerald and purple as well as monochrome black and white schemes.
You are reading an original fashion trends article written by Pauline Weston Thomas© at www.fashion-era.com ©
‡‡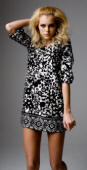 The shorter dress set with a hemline on or above the knee should be your wardrobe staple for spring - the chic dress is very fashionable for 2007.
For the brave and fashion forward with good legs, the ultra-micro mini or tunic dress is the main purchase. If your arms have lost their firmness you will find plenty of elbow sleeve and longer sleeved dresses in the shops.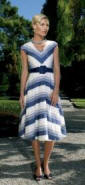 Left - Black and white print border shift dress £12.00 from the Primark Spring Collection for 2007.
When you are older then a dress grazing the knee is always the alternative to the shortest looks.
This navy and white dress right fits that bill and is from Phase Eight. Phase Eight striped dress £120, belt £35, Shoes £80.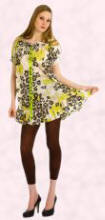 When dresses on offer are too short for your taste or nerve, then it's still acceptable to team them with skinny trousers, leggings or coloured tights. You will also find the illusion hem discussed below, a style worth traipsing shops to find.
Right - Floral Print Smock Tunic, £39 from Discoo - Online fashion store is perfect for this season's trend of floral prints, this Smock Tunic is a great length and can be worn as a dress or tunic top.
If existing dresses have the balance to be shortened, then shorten your dresses. Start pinning them up now to check how they look. If your legs look wobbly get going on some daily walking or lunges!
Images above courtesy of Matalan, Phase Eight and Discoo www.Discoo.co.uk
Look no further for inspiration than ladies clothes from the Marc by Marc Jacobs designer range if you seek a designer who favours folkloric patchwork styled smock frocks. But if price is important, then be inspired by affordable Folkloric looks at Topshop.
Look for tops like the smock right from Dorothy Perkins. These have Slav inspired folk prints, plain solid colours or interesting abstract exotic designs. Right Dorothy Perkins Spring/Summer 2007 collection, blue and cream floral smock top - £24/€40. Image courtesy of Arcadia/Dorothy Perkins.
Romantic dressing - sheer fabrics
Floral and botanical prints -Liberty and Laura Ashley style ditzy prints or full blooms.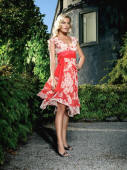 For the full on romantic fashion look opt for tulle tiers and sheer layers. If the tulle dress is too girly for you then adopt trims, ruffles, frills, fine Fortuny pleats, flounces and bows elsewhere.
This pretty silk chiffon flame and cream floral dress left is £120 and is from Phase Eight. It has a dreamy summer look with its flame coral sash, empire line bodice, 2 skirt layers and a soft fluttering cap sleeve making the resulting frock super feminine.

An important trend you could pick up on now as it grows toward autumn is lace and other textured fabrics. Lace shift dresses with sleeves over toning or contrast satin underslips may be one way for you to wear a little satin sheen. The longer lace sleeves of the main dress will flatter older less toned arms that haven't seen daylight for years.
Right Ivory cotton lace tunic lace dress £60/€99 from Wallis Spring/Summer 2007. Images courtesy of Phase Eight and Arcadia/Wallis.
The lace dress above right is suitable to be worn as a long tunic over skinny satin pants or jeans or leggings. Long tunics and short jackets can easily compliment slouchy trousers and long tops can double as mini dresses for night and clubwear.
Fabrics that shimmer with sheen.
Metallic glimmer, gold, silver and sweet wrapper colours.

...(v4r)
Shimmering metallic fabrics often combine well with fashion forward futuristic shapes. Make sure that shimmer isn't highlighting the areas you personally need to play down. Also check that you look good in gold, bronze, copper or silver looks. Women rarely look good in all the metal tones so your personal colouring may mean you should steer clear of the cooler silvers or the warmer golds.
Brocade and textured brocades
Fabrics with arts and crafts texture - Pailettes, buttons, jewels, rings, embroidery.
Bejewelled necklines.
With dresses that have embedded stones, buttons and paste gems as bejewelled looks, avoid overdoing additional neckline jewellery. Choose button decoration on the chest area only if your figure can cope with the extra texture and bulk it creates.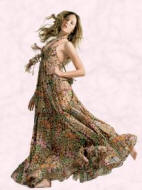 For the not so brave select the Maxi dress or a frock safely just on the knee. Maxi dresses and skirts were popular daytime alternatives to short looks and hot pants in the 1970s.
Flamenco ruffles, flounces and frill are visible on many garments from blouses to skirts, as are accordion pleated frills like Fortuny pleating. Many of these maxi dresses have a final frill at the lower hemline. Right is a floral print maxi dress for Miss Selfridge Spring Summer 2007 and courtesy of Miss Selfridge/Arcadia. Note the soft full frill at the hemline.
Flounces created by elastication and drawstrings are also evident on folkloric dresses especially at shoulders. Long tunic or mini dress gypsy tops with elastication that can be pulled on and off the shoulders with ease will enable you to customise your own fashionable look.
Again don't be afraid to ignore any of these lengths and find a length that flatters your body and your legs. You have to feel comfortable and once you find a shorter length that is just so for you, then you are more likely to wear it with confidence.
As a baby boomer I know my limits on this one despite liking my pins.
Do you know yours?
You are reading an original fashion trends article written by Pauline Weston Thomas© at www.fashion-era.com ©
If a maxi seems to extreme for you fear not, illusion hemlines will be everywhere as dresses get shorter. Baby boomers take note. Look out for shimmy fringe false hem illusions, mesh, lace or pastel flesh toned hems that are used to create deceptive dress lengths.
False illusion hems are a typical 60s ploy to give an illusion of shortness whilst in fact offering extra length.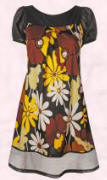 In the 1920s this was achieved by the handkerchief hemline and in fact in the noughties we have been playing with this indeterminate length for some time.
The illusion hemline is being applied to both dresses and skirts as this dress and skirt right both from Dorothy Perkins clearly illustrate.
Brown and yellow floral dress - £25/€40 and Cream skirt with black trim - £25/€40.
Look for deep bands of contrast colour that creates an optical illusion of wearing a shorter garment than the longer real leg cover the dress or skirt truly offers.
‡
Volume and fullness in sleeves. Sleeves are a great way to gain volume in clothing without excess untamed fabric folds bulking you out too much. If a puffball skirt fills you with dread then try a balloon sleeve.
Look out for elbow and just below elbow sleeves. Burberry is featuring coats with 3/4 Lantern sleeves that have bell like flounced flares or trumpets at the elbow. Wallis have a very good look alike version shown on the main Spring/Summer Fashion Trends 2007 Looks page.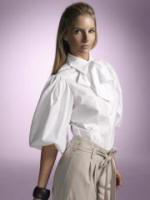 Now is the time for interesting full sleeves such as short, long, balloon, bell, lantern, trumpet or kimono sleeves. Familiarise yourself with these terms as there is great deal of difference between an average puff sleeve and the fulsome balloon sleeve left.
Puff sleeves vary in volume from dainty puff to leg of mutton balloon puffs. This sleeve in the photo shown left is a full balloon sleeve. It is the top part of a leg of mutton sleeve which normally reaches the elbow is the balloon part.
The white poet shirt at £65 is by Helen Berman and available from House of Fraser. The poet shirt has been teamed with high waisted belted cropped trousers at £35 also HOF. This shirt strikes me as the perfect high street shirt for this season.
Images courtesy of House of Fraser.
Let's face it when it comes to trousers, pants, call them what you will, the best pair are the ones that suit your personal body shape. Cropped relaxed pants are still good for summer wear. Wider looser pants are easier to wear for most people. Skinny pants and skinny jeans are for skinny people. But they will work well with long tunics or dresses once you have squeezed into a pair.
No one wants to see bare midriff jeans anymore and most of us are just so glad it has passed into costume history it's a trend so dead in the water.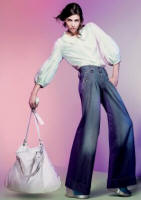 You can come into 2007 by purchasing a pants style of leg, full or narrow that suits you, but which is higher waisted like the waist in the photo just above or on these slouch denim jeans left. This wearable look is likely to sharpen up as a trend leaning toward more androgynous tailored looks for autumn 2007.
This photo has all the elements of a fashionable look of 2007 - wider high waistline trousers, big slouchy bag and full sleeved blouse.
Right - Oasis pleat front jeans £50, white oversized slouchy bag £30, silk balloon sleeve blouse £45.
At the time of writing both romper suits and Harem pants are for the fearless early adopters. Fine if you are as long and leggy as Erin O' Connor, in which case a mini dress might still do you more favours. Image courtesy of Oasis.
Coats and Jackets
...(v4r)
If you are a fan of trousers then jackets and coats will be a top cover up option for you. You can read more about wardrobe needs for coat and jackets and luxury parkas on other pages. The pages highlight changes in use of buttons, pockets, volume, collars, cuffs, sleeves and fabrics. Keep an eye out for newer jacket lengths. Whilst the cropped and bomber jacket still reigns, some jackets are gaining length again.
You can also read more wardrobe needs for accessories on the Accessories page.
Think carefully about these trends
There are always so many ideas on offer that have filtered from the catwalks to the high street, but think twice about some looks before you even leave home.
Consider carefully what you are trying to say when you decide to don an adult Romper-suit as a fashion statement - fine for the beach - not great for town - you are a grown woman aren't you?
Animal print leggings and the nasty legging dropped crotch look - this is almost cruelty to grown women and of course even worse for the onlookers.
Do you really want to look like a WAG with squared off white tipped manicures and fake spray tans - go for soft oval nails. If you must use fake tans (on legs only) opt for paler golden tans rather than dark mahogany or frankly orange looks.
Crocs - strictly for your beach bag and wandering on cobbled beaches where seawater just might run over that brand new pedicure. Not for town.
Turbans - featured in summer shows and perfect to cover up messy hair on the beach or especially useful for those between hairstyles. Yes turbans are perfect for fashion shoots, but unless you are an early adopter think twice if a turban is really a must have for your personal list. In my opinion there are better looks that define this season and now you should go shopping for them. That sunny spring day really is just around the corner. Happy shopping.
2007 New Fashion Trends - Wardrobe Tips Spring Summer 2007 - Spring 2007 Image Planning
You are reading an original fashion trends article written by Pauline Weston Thomas© at www.fashion-era.com ©
(Page Date 16 Jan 2007)
If you like this page then please share it with your friends
---
For more information on ladies and teens fashion trends go to:-
Archived Sections
Custom Search
About Fashion-Era.com
Fashion-Era.com looks at women's costume and fashion history and analyses the mood of an era. Changes in technology, leisure, work, cultural and moral values. Homelife and politics also contribute to lifestyle trends, which in turn influence the clothes we wear. These are the changes that make any era of society special in relation to the study of the costume of a period.

Fashion-Era.com can take no responsibility for any information on the site which may cause you error, loss or costs incurred from use of the information and links either directly or indirectly. This site is owned, designed, written and developed by author: Pauline Thomas and Guy Thomas. This site is designed to be viewed in 1024 X 768 or higher.
ALL RIGHTS RESERVED. Fashion-era.com reserves the right to add or delete information, graphics and links. Copyright © 2001-2014 on all content, text and images in Fashion-era.com. Images and text in this website may not be used on other websites.
Before you write to me for costume/fashion help or information please, please consult the extensive sitemap which lists all our pages. If you still cannot find the answer after searching the site, then before you email me, please consider if you are prepared to make a donation to the website.
Donations
Reader's donations help this site flourish, in particular donations encourage me to write more articles on fashion history as well as current trends. PayPal allows anyone with a credit card to donate easily and securely. You may donate any sum you feel appropriate.