Colour Trends for Spring 2008
The trend in spring 2008 is for fresh, clear fashion colours. I'll be describing each main colour group of importance. You can also see 2008 colour mood boards as PowerPoint presentations on another page. Pure bluebell is a colour trend likely to grow in strength as the year progresses. Indeed, blue is back on the fashion colour palette and with a vengeance.
Spring and Summer 2008 Key Colour Fashion Trends
Colour Trends for Spring 2008
In 2008, new fashion colours for spring are bright and clear like these shown here. We can have polychromatic fashion wardrobes with for example, citrus tones of lemon, chartreuse lime, mandarin orange, daffodil, peach and pomegranate red. These are all strongly represented as coming colour trends. Bluebell, lilac and purples add cool jolts of colour amid a monochrome fashion palette. Traditional black with white, nautical navy or creamy ecru set against white, are the easy alternative classic schemes to such brilliant colour bursts.

Some find such vivid radiance jarring, but why reject colour? For the summer of 2008, be eager to embrace pops of colour by selecting the tones that suit you. But think, and shop wisely, before you buy the hottest fashion colours. Consider how just one or two shades removed from the hue on the shop rack may suit your skin tone better. Some colours will make you look sallow, whilst others will make you look and feel fresh and clear skinned.

This spring and summer of 2008 you will notice how important blue has become as a fashion colour. Blue is also an important colour trend in home interiors with Wedgwood's jasper blue and related tonal blue pastels also gaining ground. These blues below are very much of the moment.

The pure lapis lazuli base of the ultramarine blue turban wrap in Vermeer's 'Girl With A Pearl Earring' is a testimony to the powerful beauty of this intense blue.
For some, this blue tone may well be too strong, too vivid and too electric. Yet if you add a touch of white to ultramarine makes a softer tint. Fabric in that tone of whitened, lighter blue may be perfect for you. The simple test is to hold the garment against you with a mirror. Ask yourself is ultramarine a fashion colour that makes your skin look harsh and aged against such colourful boldness. Or, do you see a winning uplifted vibrant reflection ready to woo the world. If a colour looks too strident against your skin colouring, find a colour that reflects the special you. With so much colour on offer you should be able to select a satisfactory blue tone with ease.
You are reading an independent and original fashion article by Pauline Weston Thomas at www.fashion-era.com ©
‡‡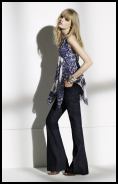 The trend for blue has been slowly growing. Blue is back on the fashion colour palette and with a vengeance.
In particular, manufacturers have worked on spring's electric blues to produce a wide range of attractive tones. Royal blue is used for fashion parkas and jackets. This year the blue hues have taken off, and even if it is not your favourite colour a blue chambray shirt is a seasonal must-have for Spring Summer 2008.
Above - Images left and centre courtesy of Oasis spring summer 2008 range of womenswear. Right - Warehouse jeans - Spring Summer 2008 WARE-DENIM jeans £40, shoes £65, top £35.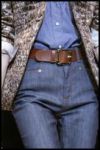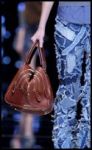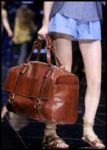 Jeans are always in fashion and the history of denim jeans is a long one.
Left - White trousers and denim toned blue blouse from Wallis Spring Summer 2008.
There are strong bold blues in the stores now as well as many greyed blues. Notice how these examples right move from clear bluebell to light indigo.
Soft pale blue denim is used for faded jeans, yet just as available in denim wear is the deepest of indigos.
Triple images to the right are all courtesy of Dolce & Gabbana. These reconstructed patchwork jeans are highly covetable as are the traditional denim blue jeans far right.
The D&G bags look rather snazzy too.
Jeans of every variety, colour and style are in a mall near you, just waiting for a merger with your body shape. Beware though of mixing the best washed out pale denims with deeper dark denims. Choose pale or dark denim wear, but don't mix the dark with light. For best pale effects let your jeans naturally fade by washing them yourself to get that softness only possible in the domestic environment.
The memorable blue of the Aegean sea and of Santorini blue is hauntingly beautiful and your wardrobe is sure to hold some blue fashion styles in 2008. Kaftans have become even more popular as beach cover ups and have usurped the sarong as fashionable beach wear. Of course the Kaftan also acts a great relaxed, yet exotic, fashion top to wear over jeans or pants.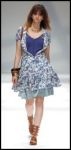 Kaftans will be a big summer fashion trend of 2008. Think of them lovingly in the same way you loved your old Boho skirt. Kaftans in all colours and patterns are a great way to wear strong colour, whether maxi, mini or short.
The high street fashion retailer Monsoon has a terrific range of Kaftans for this spring and summer. These turquoise rich blue hues left - and in these New Look patchwork shoes right, all recall Greek island seas and illustrate the spirit of the blues for summer 2008.

Above left - Warehouse Ditsy print dress - Dress £45/€70, bag £28/€45, sandals £30/€45.
Centre left - Monsoon Spring/Summer 2008 Beach Pink-tucked Kaftan £40.
Centre - Warehouse Blue floral dress £70/€110, belt £40/€62, shoes £65/€99.
Centre - Matalan Spring Summer 2008 Women's tie dye dress £16.
Far right - Monsoon Spring/Summer 2008 Fusion Aqua Rosemary bead dress £55.
Right patchwork blue shoes from New Look collection Spring Summer 2008.
§
Spring 2008 continues last autumn's theme of lilac, magenta and purple puce. The purple mauve tones have been a very strong fashion colour trend since 2007, and now there is a tonal merge with orchid lilac to bluebell. Frequently the purple colour group is set against the hot pinks, cerise and softer pink orchid tones as in these fashion examples below.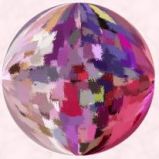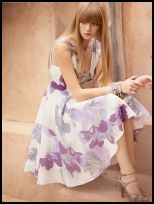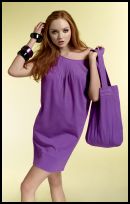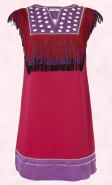 Far left - Oasis Spring Summer 2008 Campaign - New fashion trend for fuller skirts - white dress with full skirt and lilac print pattern.
Centre left - Marks and Spencer purple tunic dress and bag Spring Summer 2008
Centre right - Spring Summer 2008 fashion trend of red and purple tunic dress from New Look.
Right - Spotlight by Warehouse SS08 - Pink and white stripe 50's dress £75, sunglasses £14/€22, shoes £65/€99.
You can read more facts about Purple and Tyrian Purple and see purple fashions here.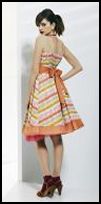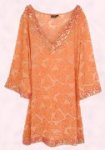 Spring has a great colour palette with pinks frequently mixing with other bold brights. Designers have used pink next to orange, coral, rose amethyst, purple and surprisingly, lemon yellow or green. Since Ombre dip dyeing, tie dye and painted fabrics are all the rage for Summer 2008. Merged dye colours easily create fantastical colour schemes, which are often enhanced with painterly watercolour effects.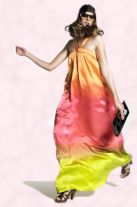 All the warm colours show their lively brilliance, from coral to soft peachy watermelon. By autumn, burnt tangerine will emerge from the more delicate peach tone on offer this spring.
Far left - Freemans Spring Summer 2008 -1950's Prom Dress - 65B0941 - £39, Orange T Bar sandals - 40E7811 - £49.
Above centre left - Watermelon orange devore sequin trim Kaftan £45/€72 Linea Womenswear Spring Summer 2008 at House of Fraser. Right - Ombre dip dyed maxi dress - Spring Summer 2008 Collections from New Look
You are reading an independent and original fashion article by Pauline Weston Thomas at www.fashion-era.com ©
Fashion writers have tried to resist the importance of yellow creeping back into the palette. Yellow is a tone you either love or hate. My bet is that if you are fair you will love lemon and yellow. The lemon yellow tones are mingling too with mustard, olive and khaki greens. Think of the mixed citrus skin on a lemon that veers toward lime.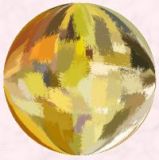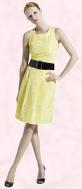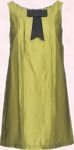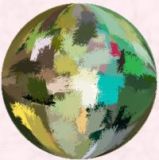 Retailer details :-
Left - Lemon yellow dress from House of Fraser - Lemon embroidered silk dress £265 Max Mara,2, teamed with wide black patent belt £25/€40 by Episode and also from House of Fraser Womenswear range for Spring Summer 2008.
Centre left - Glam power from the Betty Barclay Collection Spring/Summer 2008. This jacket in shimmering fashionable gold is in a crushed look fabric. It makes an exciting contrast to the casual parka shape with large collar, drawstring and concealed pockets. Betty Barclay jacket in 100% polyurethane, 50% cotton, 38% polyester, 12% metal - Style: 4380/2613 UK ₤260.00 IRL €345.00. 98% cotton, 2% Elastane Trousers - style: 4137/2703 UK ₤60.00 IRL €75.00
Centre right - River Island Clothing Co. Ltd - 2008 Summer is Coming…Best Dresses £39.99.
Right - Cuff fashion trends at fashion-era.com - Wallis Jewellery Spring Summer 2008 Jewellery - Plastic inlay wood stretch bangles in aqua, lemon greens, white and black. £8/€13.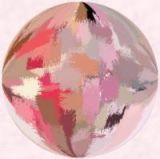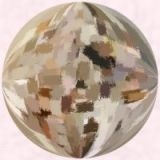 ‡
Tribal fabrics are often brown based, but with jolts of added colour for bands and straps. Creamy coffee, taupe, silver grey and mole mixtures work well in tribal mixes especially when teamed with bold trims of red or yellow, bringing sunny heat to the latest 2008 print fabric designs.
These coffee cream colours easily blend with the dusty and subtle orchid pinks of the spring summer 2008 fashion colour palette. African folklore was the inspiration for the Betty Barclay Savannah skirt design right. This has been combined with a sleeveless fine-knit top with positioned metallic print and a short Ύ-sleeve knitted cardigan.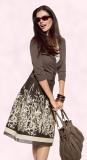 Far right - Spring Summer 2008 Wallis Jewellery - Embellished dark wooden bangle with gold sequins £12/€20, studded bangle £10/€17, gold inlay bangle £15/€24
Right - Savannah range from the Betty Barclay Collection Spring/Summer 2008.
Cardigan in 52% cotton, 48% viscose - Style: 6798/0339 UK ₤60.00 IRL €80.00
Top in 95% cotton, 5% elastane - Style: 4743/0559 UK₤25.00 IRL €35.00
100% cotton Skirt - Style: 5759/2483 UK ₤65.00 IRL €90.00.
Belt in 68% viscose, 32% polyamide - Style: 6835/0338 UK ₤25.00 IRL €35.00
Bag - Style: 036/1898 UK ₤230.00 IRL €320.00
Black and White Monochrome Options is a continuing strong trend.
The palette for autumn 2008/9 has true autumnal hues with even richer depth. Take the fresher clearer brights of spring summer 2008 to your heart right now. See how easily they carry coming colour trends and mix with autumn 2008 hues. Overall, for Fall Winter 08/09, expect to see plenty of intense velvety purple with blue depths found in the iris, and in the twinkle of bluebell fields. Add black or white to these main colours and see how the resultant dusty aubergine, and the darkest rich plums, all play for attention.
Fashion History
We are surrounded by colour everywhere we look. Catwalk fashion colour affects every area of our lives. Even car manufacturers follow new colour trends. All the time the car manufacturers are working on new paint tones. Right now they are working on popular car models in purple aubergine, silver mauve and blue hues. With huge costs at stake these are carefully developed tints. Changes in fashion clothing colours fortunately move faster.
Fashion history shows that colour in clothing ensembles, was just as important to generations hundreds of years ago, as it is to us today. Jane Austen's heroines favoured white muslin, but two centuries later women have warmed to wearing fashion colours again. Women today, do everything to make themselves look younger, and careful use of colour helps to enhance their skin making it zing with vitality.
With the many man made methods of adding colour to materials in 2008, we can select from thousands of tones. More importantly, dye systems of 2008 can guarantee repeatable colours, so we can have exactly the shade, or tint that a designer carefully selected. In the early years of the millennium, texture and shimmer crept into fashion fabrics and as a result our lives have become more sparkling and colourful. Now the first fashion decade of the century, 'the noughties' in costume history terms, is likely to close with strong pattern and bright colour. In retrospect, it is clear that the natural vibrant hues found in foodstuffs, flora and fauna have helped create the main colour palettes of the noughties.
See also the main page Key Fashion Trends, Main Looks Autumn Winter 2007/8
You have been reading an original fashion article by Pauline Weston Thomas at www.fashion-era.com ©
These are the top new fashion colours for Fashion Trends Spring Summer 2008.
Images courtesy of PRSHOTS, Monsoon, Wallis, House of Fraser, New Look, Dorothy Perkins, Warehouse, Marks and Spencer, Oasis, Debenhams, Betty Barclay, Dolce and Gabbana, & Matalan. Shoe image in header courtesy of New Look.
Page Added 11 February 2008 - Ref:P669.
If you like this page then please share it with your friends
---
--Link--
For more information on ladies and teens fashion trends go to:-
* AW (Autumn Winter)
Archived Sections
Custom Search
About Fashion-Era.com
Fashion-Era.com looks at women's costume and fashion history and analyses the mood of an era. Changes in technology, leisure, work, cultural and moral values. Homelife and politics also contribute to lifestyle trends, which in turn influence the clothes we wear. These are the changes that make any era of society special in relation to the study of the costume of a period.

Fashion-Era.com can take no responsibility for any information on the site which may cause you error, loss or costs incurred from use of the information and links either directly or indirectly. This site is owned, designed, written and developed by author: Pauline Thomas and Guy Thomas. This site is designed to be viewed in 1024 X 768 or higher.
ALL RIGHTS RESERVED. Fashion-era.com reserves the right to add or delete information, graphics and links. Copyright © 2001-2014 on all content, text and images in Fashion-era.com. Images and text in this website may not be used on other websites.
Before you write to me for costume/fashion help or information please, please consult the extensive sitemap which lists all our pages. If you still cannot find the answer after searching the site, then before you email me, please consider if you are prepared to make a donation to the website.
Donations
Reader's donations help this site flourish, in particular donations encourage me to write more articles on fashion history as well as current trends. PayPal allows anyone with a credit card to donate easily and securely. You may donate any sum you feel appropriate.