Jewellery for 2007
Celebrity Fashion Jewellery Branding 2007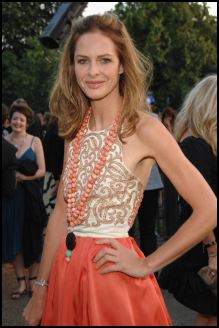 Famous celebrities make their mark as fashion early adopters. Whatever Miss Celebrity has, then girls and women want to incorporate into their own fashion persona. Everyone who is interested in looking fashionable, makes an effort now to style themselves with accessories or quirky combinations of clothes. In fact this is what women always did before the dressed down looks of the 90s under the guise of grooming.
Now we say a look is styled, or a person's look can be improved with a bit of styling. In recent years TV presenters/influencers Trinny Woodall and Susanna Constantine have spouted wardrobe opinions on TV's 'What not to Wear'. The TV programme challenges frumps who are locked in a fashion time warp, to a restyling. Over the last decade, the presenters in their turn, have become celebrities.
Left - Trinny Woodall at the Swarovski sponsored Serpentine Summer Show. She may not be the first celebrity that springs to mind, yet this woman is hugely influential among masses of women especially in the UK.
Styling is nothing new. Even Cleopatra styled herself with fabulous, exotic eye make up, wigs and ornate jewellery.
In restoration England Nell Gwynne was a cause celebre. By the late Victorian era, and in her hay day, Lily Langtry was a leader in celebrity advertising.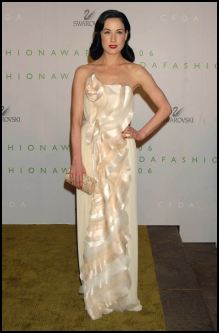 Rita Hayworth in the 1940s and many screen starlets that came later, such as Joan Collins have all been used to sell products to women who care about their appearance.
When girls in the 1950s copied the groomed starlets of the day, they copied the likes of young stars such as Sophia Loren and Audrey Hepburn. What the film stars fans of the fifties did wasn't really any different than copying clothes as seen on celebrities today.
It is nothing new and has all been done before in every generation.
Do you have an outfit that was fashion led by Lindsay, Lily, Paris, Sienna, Halle, Dita, Keira or Kate? 'Ah, but they have a stylist' you think. Some do, some don't.
Right Dita Von Teese at the Swarovski Fashion awards.
In the 50s every one of the screen starlets were contracted to acquire a certain trademark look. They knew the rigour of consistently working at maintaining a look either to be glamorous, or to be the girl next door. They were guided by screen studio staff, who helped them get 'a look' that made the most of their assets.
Victoria Beckman may still attract some followers, but style and celebrity adulation is constantly moving on.
Today teens and twenties are more interested in the looks of Lindsay Lohan, or Agyness Deyn the current Burberry star model. Tomorrow it will be someone else that inspires a following. You are reading an original fashion article by Pauline Weston Thomas at www.fashion-era.com ©
‡‡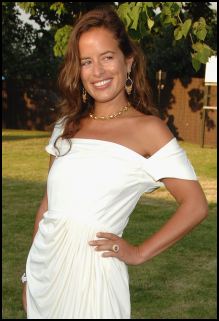 Any jewellery brand that has a celebrity name associated with it soon creates fresh interest.
The photo left shows Jade Jagger, daughter of 'Rolling Stone' Mike Jagger, at the Swarovski Serpentine Gallery Summer Show.
Back in 2000 Jade Jagger was appointed fine jeweller to Garrard. She retained that appointment until June 2006. Now she has launched a range with Garrad. Jade began her career as an artist in the late 1980's. She held numerous successful exhibitions of her works before setting up Jade Inc., applying a colourful, bohemian aesthetic to bespoke fine jewellery and leather goods.
Fine jewellery is actually driven by the more distinctive designer styles. Costume jewellery has gone upmarket in recent years, today we see attractive bridge lines that name drop materials to add a quality edge. Swarovski crystal and man made gems are a quality recognised brand that designers like to use.
Since the millennium, top quality synthetic stones, or man made diamonds have been cut and polished to more exacting standards. To increase their believability, the stones are now set in fine metals with a crafted dainty look. Until recent years this was mostly a technique used only with top quality gem materials.
Now jewellers and supply manufacturers, are better attuned to fashion and try to create pieces to match the fashion mood, especially since celebrity adulation drives consumer expectations.
The use of precious metals, means that a costume jewellery necklace might cost £3000, but of course, the real thing would be almost priceless. This type of costume jewellery, is given almost the identical craft production treatment as the fine estate jewellery that uses real gems.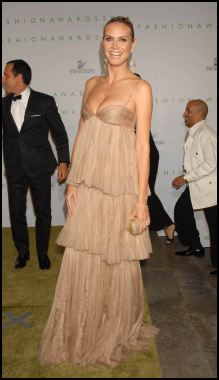 The consumer demand in fashion jewellery today is such that the item is intended to deceive. In aristocratic, movie star and model circles this has always been the case. Often the 'real thing' was kept in the vault, whilst the celebrity gadded about the globe in the convincing fake. You are reading an original fashion article by Pauline Weston Thomas at www.fashion-era.com ©
TV personalities, and models in particular have joined the bandwagon to design just about anything. Many of you will be familiar with Joan Rivers appearing on QVC shows selling her fashion jewellery range. It seems having been gifted so much jewellery this becomes an area of expertise. Because their design eye becomes so developed, they are able to convert an interest in jewellery into a successful commercial venture. Heidi Klum for example has jewellery line.
According to press information 'The Heidi Klum Collection is a dazzling line of fine jewellery designed by Supermodel Heidi Klum. The collection was inspired by one of Heidi's visits to Italy during which she was intrigued by a clover-patterned marble inlay at the Duomo in Milan. Heidi envisioned the clover as an adornment piece and expressed her desire to incorporate the symbol into the design of a jewellery line.

§
Paris Hilton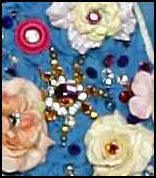 In August 2007 the celebrity heiress, Paris Hilton signed deals with jewellery Damiani of the Bliss collection. Bliss Collection have affordable prices for their jewellery products which are made up of gold, stainless steel, wood and bright diamond pieces with a prices range from $60 to $3000 USD.
Right image of heiress Paris Hilton modelling a Swarovski encrusted gown at Ir Heatherette SS07 catwalk fashion shows.
Right detail of the dress which has been Swarovski CRYSTALLIZED™. When celebrities adopt such embellished clothes in real life, little wonder the shops are full of encrusted and appliquéd clothes.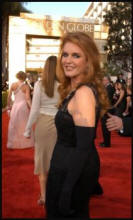 The former Duchess of York, Sarah Ferguson was behind the launch of 2 jewellery lines in November 2006. The jewellery lines are Sarah Ferguson Signature Collection and Sarah Ferguson for K & G creations.
Using 14 and 18ct white and yellow gold the pieces feature Baroque and Tahitian pearls and Moissanite™.
Classic art deco and modern styling mean variety in range that costs from £200 to £9000 for a limited edition Sarah Ferguson jewellery piece.
The Duchess has partnered with K&G Creations to create a collection of unique jewellery designs featuring Charles & Colvard(TM) created Moissanite. K&G Creations is the world's largest manufacturer of Moissanite jewellery.
Rings, necklaces, earrings and bracelets are all set with Charles & Colvard (TM) created Moissanite. All of the Duchess' net proceeds from the K&G collection will be given to the 'Sarah Ferguson Foundation for Children' which benefits the lives of children worldwide. Image courtesy Golden Globe® Awards 2007 - © HFPA" and "64th Golden Globe® Awards.
Moissanite is a unique, near colourless lab-created jewel with fire & brilliance unmatched by any other jewel or gemstone. Harder than sapphire or ruby and second in hardness only to diamond, Moissanite was first discovered in nature by French Nobel prize winner Dr. Henri Moissan in 1893. Women around the world have embraced this magnificent jewel and are rewarding themselves with the big, bold look of Moissanite jewellery.
K&G Creations, a division of JewelNet Corp., located in Boca Raton, Florida, is the world's largest manufacturer of fine jewellery featuring Charles & Colvard created Moissanite. K&G was formed in 1997 to focus exclusively on developing and manufacturing Moissanite jewellery. Working against the conventional belief that fine jewellery retailers couldn't sell a new category of created jewellery, K&G has pioneered a new profit centre with Moissanite and garnered the nation's largest retailers.
-------v6-------
Low Cost Celebrity Jewellery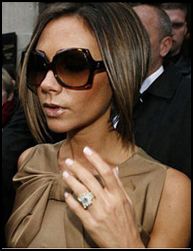 Frostfirestyle.com is the new website from the Frostfire Group providing celebrity inspired Jewellery. Frostfire is convinced that we all want to look like a celebrity and wear the latest looks. For many that's certainly a trusim. With this in mind, Frostfirestyle.com sells up to the minute, cutting edge celebrity 'style' at a fraction of the cost.
Their web site Frostfirestyle.com has something to suit all tastes and budgets. Plus a large number of new products are added every week creating an ever-growing range.
Frostfirestyle.com has set out to provide the very latest celebrity style at factory prices. They buy direct from the factory, eliminating the middlemen with their costly markups.

Peter Frost the founder said "We live in a celebrity obsessed culture and we aim to move quickly to accommodate the customer's requests for the latest Celebrity Jewellery fashions."
Above Victoria Beckham wearing a large ring, which can be bought as a low cost copy from www.Frostfirestyle.com. Right - a copy of the Beckham ring from frostfirestyle.com.
Both images courtesy of frostfirestyle.com.
Good quality branded jewellery is a growing market.
At present it only represents 6% of global sales, but more and more consumers are seeking a brand name with cachet. According to the New York based Luxury Institute, jewellery brands from Tiffany, Cartier, De Beers, Gucci and Bulgari lead the luxury awareness list. Those retailers are closely followed by Van Cleef & Arpels, Harry Winston, Chanel, Dior and Mikimoto. These are the luxury jewellery brands most consumers know by name.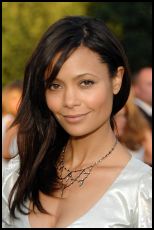 Branded jewellery is a finding a corner of the marketplace. Mont Blanc for example, are looking for special premises to promote their newer jewellery lines, which they believe demand more space to show it to best effect. Mont Blanc specialise in a unique six faceted diamond cut, and called unsurprisingly 'the Mont Blanc cut'. Customers are willing to spend as long as the item is what they want even if the price is high.
'Want it' - so 'buy it'. 'Not sure' - so 'leave it'.
Modern fashion design houses are also entering the jewellery market. Badgley and Mischka have launched a new line of costume jewellery in USA. They are jewellery items which women find perfect for travel. Badgley and Mischka feature day, evening and bridal jewellery. Prices range from £50 to £500.
Guess is another brand that is promoting its range of Guess branded jewellery across Europe. With its youthful look it intends to rival jewellery brands like those of Dolce and Gabbana.
Right - actress Thandie Newton at the Swarovski Serpentine Gallery Summer Show and sporting a must-have necklace. This consumer story will run and run....
All images courtesy of Swarovski and Sarah Ferguson image courtesy © HFPA" and "64th Golden Globe® Awards/Golden Globe® Awards 2007.
Read more about these colours and about fabrics on the Spring 2007 colour page.
Date added 13 October 2007 - Ref:P651.
If you like this page then please share it with your friends
---
For more information on ladies and teens fashion trends go to:-
Jewellery Trends 2007
* AW (Autumn Winter)
Archived Sections
Custom Search
About Fashion-Era.com
Fashion-Era.com looks at women's costume and fashion history and analyses the mood of an era. Changes in technology, leisure, work, cultural and moral values. Homelife and politics also contribute to lifestyle trends, which in turn influence the clothes we wear. These are the changes that make any era of society special in relation to the study of the costume of a period.

Fashion-Era.com can take no responsibility for any information on the site which may cause you error, loss or costs incurred from use of the information and links either directly or indirectly. This site is owned, designed, written and developed by author: Pauline Thomas and Guy Thomas. This site is designed to be viewed in 1024 X 768 or higher.
ALL RIGHTS RESERVED. Fashion-era.com reserves the right to add or delete information, graphics and links. Copyright © 2001-2014 on all content, text and images in Fashion-era.com. Images and text in this website may not be used on other websites.
Before you write to me for costume/fashion help or information please, please consult the extensive sitemap which lists all our pages. If you still cannot find the answer after searching the site, then before you email me, please consider if you are prepared to make a donation to the website.
Donations
Reader's donations help this site flourish, in particular donations encourage me to write more articles on fashion history as well as current trends. PayPal allows anyone with a credit card to donate easily and securely. You may donate any sum you feel appropriate.