Coats Fashion for Fall 2007 & Winter 2008
If Spring/Summer 2007 was the season of the tunic dress, then Autumn Winter 2007/8 will be the season of the fashion coat.
The proper mantle is back in town. This is a coat that does what a coat was originally intended to do. It acts as a proper cover up of clothing volume beneath. It can accommodate full skirted suits or dresses.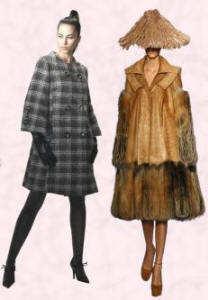 Within this coat fashion there are two key styles :-
Loose coats
Fitted coats
Loose fashion styles include barrel cocoon silhouettes or A-line swing coats. These more voluminous fashion coats are contrasted against leaner sharply tailored skinny coats.
Without doubt the coat is the key trend this Autumn Winter 2007/8 season.
For more fashion trends read about key fashion trends 2007/8 here. Images above courtesy of IFTF, left Matalan.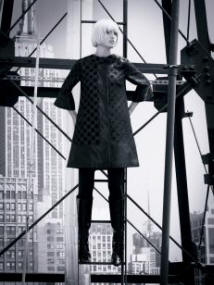 This Autumn 2007, plain, but colourful Melton wools and luxury cashmeres, or wool and angora mixes will sit beside fabrics that have texture on texture.
Quilted and padded fabrics or brocade will shimmer to give richness and opulent effects to winter coats.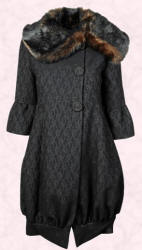 Notice the surface texture quality of this coat on the left with matt texture set against shiny. The coat is from the new A/W 2007 range called Nouveau and by high street retailer Principles. The shape of this Nouveau coat is a classic Autumn Winter 2007/8 coat style in the making.
Outerwear coat hemlines offer interest and draw attention to good legs or contrast colourful tights/pantyhose.
This high fashion Erica coat by Monsoon (in store from October 2007 at £150) and shown right, captures a bubble skirt into a band. It also has the fashionable ruffle sleeves so popular through summer. The lavish fur trimmed collar makes this a winter statement coat. The coat fabric has texture on texture a material type so dominant at the designer catwalk shows.
Leather will be a material of contrasts and varied textures. Some leathers will have smoothness, shine, glimmer others have skin reptilian effects such as python, croc and lizard.
You are reading an original fashion article by Pauline Weston Thomas at www.fashion-era.com ©
Images courtesy of Principles Nouveau range and Monsoon autumn 2007 womenswear collection.
‡‡
Fashion coats shown on this page are typical of the easy A-line swing styles many shops will stock through Autumn Winter 2007/8. The easy trapeze line has gained ground and this year has been a staple silhouette for youthful coats, jackets, tunic, tops and dresses.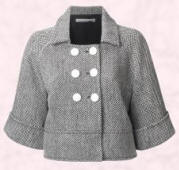 These coat styles have a lot of 60s influence and often have wide set collars, funnel necklines, flat faced bands or are collarless.
This short check jacket shape from Matalan and shown left has swing and has been a hugely popular silhouette through 2007. The jacket style is set to continue through winter.
The basic shape similar to this short grey jacket from the John Lewis autumn 2007/8 range, has been used for a wide range of cropped trench Macs and tailored jackets. The grey jacket is available in store October 2007 at £85.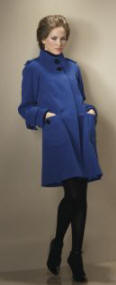 The Matalan royal blue coat (see right) is in one of the strong bold vibrant jewel colours of Autumn Winter 2007/8. Note the short funnel stand neck which is a recurring element in this year's winter coats and jackets. The funnel collar sometimes folds back to a flat collar.
In knitwear the funnel easily replaces the hoodie as a neck finish of choice. You are reading an original fashion article by Pauline Weston Thomas at www.fashion-era.com ©
Images courtesy of John Lewis and Matalan autumn 2007 womenswear collection.
Many new Autumn Winter 2007/8 fashion trends have absorbed volume as a matter of course. Note how refined volume has become. It is now relaxed and easy to wear, rather than difficult, because before it was so unusual.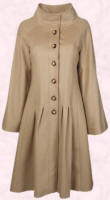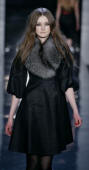 If you have a full skirted dress or dirndl style skirt you won't find it difficult to buy a cover up coat this Autumn Winter 2007/8 season. Look out for coats cut with a more generous fuller skirt or swing that sits atop indoor clothes more easily.
Note the similarities between the silhouette shapes in this beige Della coat right and other styles on this page. The Della coat will be £140 and is in store at Monsoon in October.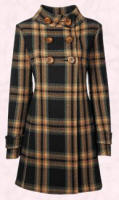 This pared down volume with a streamlined shapely body and full skirt or A-line skirt is much easier to wear than the usual suggestion of tying up already bulky volume coats with a belt. That only really works well on super skinny women. Most women benefit from a bit of seam or dart contouring that hints at a narrower waist area.
You will find fashionable coats in a wide range of materials from traditional Melton and polished Venetian wools to tweedy tartan plaids.
This plaid Dempsey coat left is from Monsoon and is available in store in September at £120. It has the latest double breasted styling and streamlined silhouette with an A-line skirt. Both of these fashion coats have half stand funnel collars, which frame the face delightfully, without jabbing into the chin as some higher funnel neck might.
Images courtesy of IFTF and Monsoon autumn 2007 womenswear collection.
§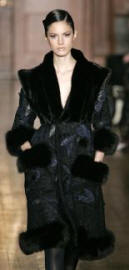 This autumn expect to buy at least one coat and consider developing a wardrobe of coats for a variety of occasions. The coat choice will be huge from full and swinging styles to nipped in and waist cinched.
The styles could be cocoon shape, have military influence, trench belted practicality, be proudly punk studded and zippered, have vivid fur colouration, be heavy knits, or luxury satin parka styles.
The ivory cashmere cocoon coat with black Swakara collar left and by Valvo is an easy to wear shape and this is shape we will see time and again this winter.
Clothes can simply glide easily over the body or you can choose more fitted fashions with a shapely classical womanly silhouette. If you prefer fitted looks then the battle dress theme that military provides just below may be your best option. You are reading an original fashion article by Pauline Weston Thomas at www.fashion-era.com ©
Images courtesy of IFTF.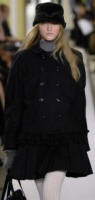 Military fashions have emerged season after season and here comes battle dress yet again. Now for Autumn Winter 2007/8 it's looking sharper and shapelier making it a key trend once more.
The hallmark of the latest army or naval fashion trend is that of double breasted styling. Plain buttons make for great urban looks but for something extra, many fastenings have been replaced by bold large gold buttons as well as braided trims of gold or self coloured frogging.
Easy pea coats fit well with modern life of the urban country commuter and offer just the right amount of cover with trousers or jeans. They are battle dress options for real life.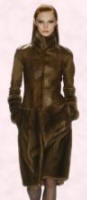 Some of the key trends for Autumn Winter 2007/8 incline toward a cinched waist and a stronger shoulder line. When combined with groomed glamour this easily creates a fashionable look that is both modern and chic. Images courtesy of IFTF.
Many leather garments have military touches and armorial looks are worked in leather and other shiny materials. Patent, leather and metallic finishes are sure to be found in every type of fashion garment and fashion accessory.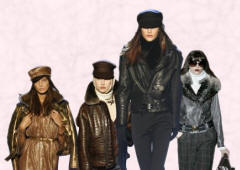 Notice how sheen, sparkle and gleam of metallics associated with futuristic looks have spread into leather wear for Autumn Winter 2007/8.
Leather coats will cover the colour spectrum with olive green, gold, copper tan, grey and black colourations the most prominent. Look for full length around the knee coats as well as biker coats like these above. Images courtesy of IFTF.
‡
Padded, quilted, Puffa coats jackets and extended anoraks zippered or double breasted are practical options for those who want to wear sporty coats. Autumn colour options include lots of shades of white, silver and green.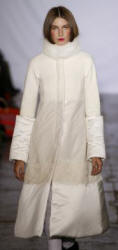 Look for massive padded collars that double as quilted neck mufflers and note the available countless options from maxi coats to cropped jackets.
The latest fashion trends for autumn will soon have you shopping till you drop. This is the season where studied fashion elegance makes a real come back whichever coat you finally decide on buying. My bet is you will soon have a new wardrobe of coats for different moods. There are plenty of styles to choose from on this fashion-era page of new fashion trends in coats for Autumn 2007, Winter 2008.
You have been reading an original fashion article by Pauline Weston Thomas at www.fashion-era.com ©
See also the main page Key Fashion Trends, Main Looks Autumn Winter 2007/8 or Wardrobe tips AW 07/08.
Many images courtesy of IFTF and prshots with other images courtesy of John Lewis, Monsoon, Matalan, and Principles.
Date added 06 Aug 2007 - Ref:P634.
If you like this page then please share it with your friends
---
For more information on ladies and teens fashion trends go to:-
Jewellery Trends 2007
* AW (Autumn Winter)
Archived Sections
Custom Search
About Fashion-Era.com
Fashion-Era.com looks at women's costume and fashion history and analyses the mood of an era. Changes in technology, leisure, work, cultural and moral values. Homelife and politics also contribute to lifestyle trends, which in turn influence the clothes we wear. These are the changes that make any era of society special in relation to the study of the costume of a period.

Fashion-Era.com can take no responsibility for any information on the site which may cause you error, loss or costs incurred from use of the information and links either directly or indirectly. This site is owned, designed, written and developed by author: Pauline Thomas and Guy Thomas. This site is designed to be viewed in 1024 X 768 or higher.
ALL RIGHTS RESERVED. Fashion-era.com reserves the right to add or delete information, graphics and links. Copyright © 2001-2014 on all content, text and images in Fashion-era.com. Images and text in this website may not be used on other websites.
Before you write to me for costume/fashion help or information please, please consult the extensive sitemap which lists all our pages. If you still cannot find the answer after searching the site, then before you email me, please consider if you are prepared to make a donation to the website.
Donations
Reader's donations help this site flourish, in particular donations encourage me to write more articles on fashion history as well as current trends. PayPal allows anyone with a credit card to donate easily and securely. You may donate any sum you feel appropriate.