Current Colour Trends for Fall 2007 Winter 2008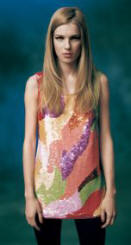 The key new fashion colours for Autumn Winter 2007/8 are as usual darker tones than the summer palette. This winter the strawberry ice of summer has gained strength to become the red colour called chilli pepper. Purple, also a summer hue, is now a key colour in the Autumn Winter 2007/8 fashion colour palette.
According to Pantone the colour specialist, their main colour trends for fashion in autumn 2007 concentrates on the base colour palette of purple wine, cashmere rose, lemon curry, green moss, a soft violet blue, a blue grey green, a deep turquoise, chilli pepper red, burnt ochre and an espresso brown.
This wonderful sequin embellished vest see right, is from UK's trend hotspot Topshop. The garment picks up on all the most fashionable colour trends of Autumn 2007/8. Topshop multi-coloured flame sequin vest £55/€80, Black opaque tights £6/€9. Copyright image from Topshop left is courtesy of Arcadia/Topshop UK.
Jewel colours make up the bulk of the bold brights - orange, coral, pink, red, emerald green, rose amethyst and purple.
Pick a rich wine infused tone of crushed purple grapes and you hit the hottest colour trend. Buy almost any tone or shade of purple and your choice will fit in with the current purple mood.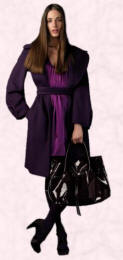 Left - K Aadnevik purple dress and jacket image courtesy of IFTF.
Coat and purple dress on the right available from House of Fraser.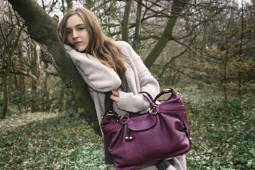 For Autumn Winter 2007/8 you can easily select a top colour from mauve, lilac, lavender rose, amethyst, aubergine, puce and heliotrope.
Vivid purple is destined to be one of the most fashionable colours this Autumn 2007. You will find coats, tunics, handbags and shoes in rich and lush purple, the most majestic of colours.
Left - Billy Bag in purple style Holly bag £255.
For evening glamour the selection of an intense purple dress perhaps in rich bold satin, will put you right in the fashion game. Sales of dresses continue to gain popularity. The dress has been this years hottest seller. Women love it for the easy one item dressing it offers. Every high street retailer has several attractive versions of purple dresses or tunic dresses.
Purple has not been this important or prominent a colour choice for 2 decades and it was very important colour in the late 1960s and 1970s as well as a 100years before when discovered as the first aniline dye.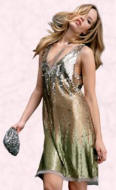 You can read more facts about Purple and Tyrian Purple and see purple fashions here.
For Autumn Winter 2007/8 golden liquid lame disco diva dresses glimmer and dazzle especially suiting the young. This lovely dress to the right from Miss Selfridge moves through silver, gold and olive green capturing the essence of the autumn colour palette for 2007/8.
Past the point of baring all in a skimpy dress? Then instead join the golden trend by buying a golden toned bag for your handbag collection.


Military battle dress trends look good made up in dusty tones such as olive and khaki. But gold, taupe, grey, charcoal, anthracite, snuff, tobacco and dark navy also work well. These are the autumn colours that take on a military fashion look with ease.
Watch out for oversized gold and chartreuse tinted sequin Pailettes as well as golden trims and braiding from battle dress trends. Many halter yokes are encrusted with jewels or sequins. You are reading an original fashion article by Pauline Weston Thomas at www.fashion-era.com ©
‡‡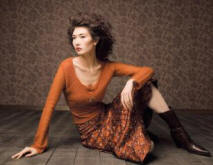 Note the yellow tones moving for instance toward olive, moss and cardamom as in the Miss Selfridge dress above. Gold also moves from palest gold, richer deeper 24k gold, through into rose gold, copper and ginger effects.

Shimmer is everywhere. Watch out for metallic copper effects on leather jackets and evening fabrics. Image left in terracotta tones is courtesy of Noli Autumn Winter 2007/8 womenswear.
The sun dried rich ochre and terracotta of spring, has gained ground and autumn sees a move toward chartreuse greens. The effect is that of a tangerine with that hint of green to the citrus skin. These burnt orange colours take on a dustier look more suited to the season of falling leaves.
Some of the burnished terracotta tones are shown here.
Gold, camel, orange and tan are used as a mainstay fabric colour for materials especially leathers. If you are terrified of wearing such a hot bright colour near your face, then opt for the simple solution of a new hand bag like this bag from Accessorize below. It can add that jolt of colour that makes your self styling pop.
Chisato design image above left courtesy of IFTF. Rust coat image available from of Matalan. Bag - Autumn Winter 2007/8 Nova suede and stud tote is from Accessorize and costs £40/€62. Rucci ginger jacket image courtesy of IFTF.
This is an opportunity to get out that rose gold jewellery or coral holiday necklace that languishes in your drawer. I am reliably informed by a jewellery executive that sales of smoky quartz jewellery have soared these past months. This too could be the season when amber, citrine gemstones and copper as a fashion metal regains great popularity. You are reading an original fashion article by Pauline Weston Thomas at www.fashion-era.com ©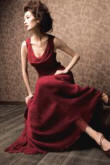 So near to burnt umber earth tones, terracotta and orange you will find coral tones merge with richer muddy reds. Jolts of red can add instant impact to dull outfits.
Rich red is a great colour choice for an evening dress. Stand out from that sea of little black dresses in a rich red dress like this one from Noli's current Autumn Winter 2007/8 womenswear.
The addition of a brightly coloured accessory to the black and white, or black on black trend, can be useful to update last season's clothes with this season's major statement colours.
Red is also the perfect colour choice for accessories. Left small Celia Billy Bag in red at £85.


A red handbag or rich red ankle boots can add instant magic to more sombre navy, anthracite, black or greys and hint at a less sombre person. Right image - J by Jasper Conran platform ankle boots £75.
Red accessories such as these may be especially useful if you find you have to wear dull sombre colours daily as part of a hidden dress code uniform.
Whilst BOLD BRIGHTS figure strongly this season 2007/8 so do monochromatic schemes. Consider now the importance of the black themes for winter.
§
Black on Black - Black texture on texture, matte against shiny, against dull, against shimmering.
Monochrome Options - Black with white optical effects give many options. This summer saw lots of black and white spot variations, now for autumn 2007 notice how this current trend plays well to plaids and checks. This fashion trend for black and white has been a fashion love affair for years. Last autumn 2006, black and white looks favoured dog and houndstooth checks. This winter check out the alternative bold black and white tablecloth plaids.

Grey, silver, anthracite and charcoal make for grey knitwear, military tailoring, masculine trouser looks and slinky silver satin glamour.
It's not just silver grey and gunmetal grey garments that act as basic neutrals. Look out for cream and coffee cream clothes with texture on texture.

Grey, anthracite, silver, taupe and mole mixtures are soft and sedate, but can be enlivened by the bold bright colours.
This year the blue hues have taken off. In particular manufacturers have worked on springs electric blues. Royal blue is used for parkas and jackets. There are strong bold blues in the stores now as well as many greyed blues. Notice how these examples below move from sapphire to turquoise sea green.

Far left - Dorothy Perkins Cobalt blue short jacket price £50. Centre Left - Evans Autumn Winter 2007/8 blue spot dress.
Centre right features an evening dress from Monsoon Originals Autumn Winter 2007 range. The Pip Sequin Tunic costs £150/€235. The Originals collection is a limited edition range of exquisitely designed evening wear available in 33 stores and also online. Inspired by vintage pieces the range is sourced and handpicked by the Monsoon design team. The range has its own exclusive colour palette and has a signature unique to the high street. Sumptuous fabrics and beautiful embellishment are characteristic of the collection. Each stunning piece is a luxury to own, not least because no more than 400 pieces of each style are ever produced.
Far right - Monsoon Storm - Elgar Dress - £65/€99 from Monsoon Storm – a new capsule collection launching Autumn Winter 2007. Monsoon Storm is an exclusively designed, trend driven capsule collection that will be refreshed monthly. Monsoon Storm range goes into 30 top stores across the country in September and will also be available online. The range complements the main collection, but has its own distinctive design influences and handwriting.
You have been reading an original fashion article by Pauline Weston Thomas at www.fashion-era.com ©
See also the main page Key Fashion Trends, Main Looks Autumn Winter 2007/8
Images courtesy of IFTF and prshots especially Topshop, Miss Selfridge, Evans, Monsoon, Billy Bags, Noli, Debenhams & Matalan.
Page Added 07 August 2007- Ref:P635.
Spring 2007 reds mood board here.
TOP new fashion colours for Fashion Trends Autumn 2007, Winter 2008
If you like this page then please share it with your friends
---
For more information on ladies and teens fashion trends go to:-
Jewellery Trends 2007
* AW (Autumn Winter)
Archived Sections
Custom Search
About Fashion-Era.com
Fashion-Era.com looks at women's costume and fashion history and analyses the mood of an era. Changes in technology, leisure, work, cultural and moral values. Homelife and politics also contribute to lifestyle trends, which in turn influence the clothes we wear. These are the changes that make any era of society special in relation to the study of the costume of a period.

Fashion-Era.com can take no responsibility for any information on the site which may cause you error, loss or costs incurred from use of the information and links either directly or indirectly. This site is owned, designed, written and developed by author: Pauline Thomas and Guy Thomas. This site is designed to be viewed in 1024 X 768 or higher.
ALL RIGHTS RESERVED. Fashion-era.com reserves the right to add or delete information, graphics and links. Copyright © 2001-2014 on all content, text and images in Fashion-era.com. Images and text in this website may not be used on other websites.
Before you write to me for costume/fashion help or information please, please consult the extensive sitemap which lists all our pages. If you still cannot find the answer after searching the site, then before you email me, please consider if you are prepared to make a donation to the website.
Donations
Reader's donations help this site flourish, in particular donations encourage me to write more articles on fashion history as well as current trends. PayPal allows anyone with a credit card to donate easily and securely. You may donate any sum you feel appropriate.