Latest Fashion Trends for Fall 2007 & Winter 2008
N.B. Latest Fashion Trends for Winter 2012
Latest Fashion Trends
The key looks are determined by fashion moving on to newer versions of familiar themes. The old themes get refined, pared down or vamped up. This makes them seem so much more polished, creating a new desirable appeal and regenerates the fashion kudos. Now the key trend for Autumn 2007 is fashion with a sophisticated touch of glamour. Of course to stay at the head of the latest trend you need to follow the key Pantone colour trends.
In brief, the foundation of autumn winter 2007/8 key trends are based on glamour, shine, embellishment and bold bright colours. The latest fashion themes cover military tailoring, relaxed easy to wear coats, leather, dresses, oversized knitwear, and black on black texture.
Take note of how the fashion seasons are merging. Pre-collections, cruise and resort ranges, once just extra collections to feed an ever hungry clientele, have now become as important to designers as the original twice a year collections. The new super-class of shopper is able to afford staying ahead by buying the latest costly wardrobe additions. Countless consumers find it undesirable to be caught out wearing passé or inappropriate apparel. The global nature of fashion today ensures that mass retailers keep up especially well. If you have been following these pages for the past few years you will have already bought hot fashion items that are in line with the Autumn Winter 2007/8 new season.
The relentless hype from the internet is such that many shoppers now vigorously purchase clothes all year rather than for the 2 major seasons. Fashionistas steadily buy into the next big look, always ready, always primed to scour the latest clothing rack. Staying ahead of key trends has become easier to achieve with the rise of internet fashion shopping. Internet fashion shopping is now up a whopping 55% since last year and has overtaken sales of computers. Fashion racing is happening because of the way we now travel and communicate with increasing ease through the global village.
For an instant update to any outfit start with a pair of ankle boots. The red and black ankle boots shown left are from Dune whilst the black stiletto patent boot right is from Dior.
You are reading an original fashion article by Pauline Weston Thomas on the latest fashion trends. www.fashion-era.com
‡‡
COATS - A major trend is for coats - seek Cocoon volume, Trapeze A-lines or masculine lean tailored fitted coats.
PLAIDS AND CHECKS - Big tartans and checks create punk influenced jackets, dresses, bags and coats.
ARMY & NAVY MILITARY - Sgt. Pepper - braids, brass, ornate pea coats, martial lines in black, navy, cream, olive.
GLEAM & SHEEN - METALLICS, LEATHER, PATENT, PLASTIC, RUBBER - shine, sheen, glow, glimmer and gleam.
BIKER BABE - Leather multi zipper biker jackets, sans studs. Supple leather knee coats worn with skinnies.
ARMORIAL - Clothes with hardware or reptilian textured leathers make the perfect warrior women.
1940s GLAMOUR GODDESS GOWNS - Grown up dressing for girls who emulate 1940s satin clad sultry sirens.
SECRETARY DRESSES - Figure hugging midi dresses for hourglass bodies. Try sack, trapeze or pinafore alternatives.
OPULENCE - Pailettes and embellishment bulks-up to become passementerie. Deluxe gold trim overlays black.
SKIRT SUITS - Formal dressing made easy with matchy matchy jackets and full or pencil skirts.
SHOOTING PARTY - Lighter weight country look tweeds, moleskin and corduroy separates, but for town wear.
EQUESTRIAN - Sporting touches in boots and trousers. Think jodhpurs, crisp shirts, caps and riding capes.
MAN ABOUT TOWN - Androgynous dressing in high-waisted man tailored pants, or tuxedo masculine trouser suits.
GLOBAL NOMAD - Ethnic Mix - tribal look that evolves, refuses to die. Melting pot traveller clashing prints, patterns.
WINTER WARMERS - BIG KNITS - Every wardrobe will succumb to at least one item from oversized knit ranges.
QUILTED, PADDED & PUFFA LOOKS - Practical glamour for winter cosiness. This is edgy when styled well.
MONOCHROME - Black with white optical effects, grey knitwear and tailoring.
BLACK ON BLACK - Black texture is laid beside other textures. Matte against shiny, or dull against shimmering black.
COLOUR - Jewel colours, bold brights - orange, coral, pink, red, emerald green, amethyst and purple.
PURPLE - Any tone, any shade as long as it's purple. Amethyst, aubergine, puce, purple, mauve, lilac, lavender.
You are reading an original fashion article by Pauline Weston Thomas at www.fashion-era.com ©
§
Latest fashion trends for coats for the Autumn Winter 2007/8 new season. There are 2 key coat trends.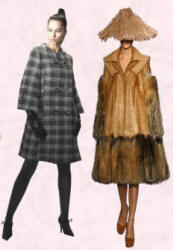 1. Lean tailored fitted coats with military styling.
2. Coats with Cocoon volume or Trapeze A-lines sixties styling.
The new coat is frequently cute, often short on the knee or around the knee and can be truly chic when a woman is well groomed and aiming for a more glamorous look.
Jewel colour wool velour Melton coats with topstitching like these fats fashion coats shown left often with dual collar funnel necklines and above waist seaming, pay homage to Jackie O Sixties style.
The coat of the Autumn Winter 2007/8 new season is more of a statement piece and one of chic elegance. It's a bolder shape and sculptured with a futuristic line. It can be double breasted, frequently has a fuller skirt or wide A line Trapeze shapes that swing and the colour can be very bold and bright.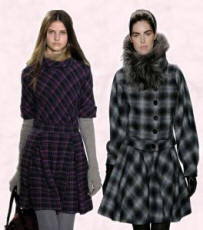 1970's style broad topstitching to highlight seams and construction lines makes a comeback. Read more about coats for Autumn Winter 2007/8 here.
Images above, left and below courtesy Country Casuals, Debenhams, Matalan and IFTF.
Bold tartans, lumberjack, tablecloth or windowpane checks are used for punk influenced jackets and coats for the Autumn Winter 2007/8 season.
Wrap tie belts are a feature of trench styles and capes. Texture on contrast texture means that piped contrast edges are used to trim revers. Cropped boxy jackets and hip length toppers with central back seam pleats give swing and a modern edge to an outfit. Read more about the latest coats for Autumn Winter 2007/8 here.
You are reading an original fashion article by Pauline Weston Thomas at www.fashion-era.com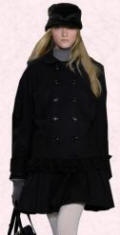 Sergeant Pepper lives again in military styled ornate pea coats, fitted marching coats with martial lines in black, navy, cream, olive green.
Military army or navy khaki, gold, olive, taupe, grey, charcoal, anthracite, snuff, tobacco and dark navy all take on a military fashion look with ease. Military rich touches are created by golden ornamental frog fastenings or golden brass toned metal buttons.
Epaulets get the stud trim or leather treatment and cuffs are deep. Belts and buckles feature above some sleeve hemlines often highlighted further with braid decoration. This is a precision look which is best worn layered to get the most fashionable effect.
Double breasted looks jackets coats and pea coats are practical and easy for driving and commuting so are sure to be a huge trend this Autumn Winter 2007/8.
Read more about coats for Autumn Winter 2007/8 here.
‡
METALLICS, LEATHER, PATENT, PLASTIC, RUBBER - shine, sheen, glow, glimmer and gleam.
Leather competes with PATENT, PLASTIC AND RUBBER. These materials that have a sheen all vie for attention. Industrial black neoprene, plastic shiny or glossy fabrics in basic shapes feel modern.
GLEAM & SHEEN in LEATHER - In the main this translates into BIKER CHIC with zips, buckles studs and eyelets worked into body conscious cut garments in smooth gleaming leather. Some are cute with SIXTIES CHIC shape wise. Many have a gentler softer silhouette in the softest of draping leathers.
Other leathers have an armour plate feel with the python or croc finishes. Texture on leather creates a fresh appearance which also follows through into bags and other accessories.
For the Autumn Winter 2007/8 season try to look beyond biker versions toward fashion garments in leather that is supple and draping with folds and softness. Styles are easy to wear and often in full modern looking coats rather than traditional trenches as well as shorter jackets bloused, baggy or fitted. Find designers for womens clothes and jewelry at passador.com. You are reading an original fashion article by Pauline Weston Thomas at www.fashion-era.com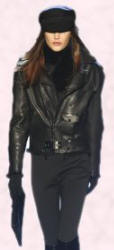 Leather looks include biker jackets which are multi zipper trimmed garments. For the fashion forward Autumn Winter 2007/8 biker versions are without stud decorations.
Soft supple knee coats with curving seams or incorporating soft falling gathers from bust or waist give a fresh look to traditional pieced leather silhouettes.
Clothes with hardware or of liquid look molten fabrics or reptilian leathers help create a warrior women look.
ARMORIAL runs side by side with leather - from a high street point of view the masses will wear the leather version rather than real python, alligator, crocodile or other reptilian skin like the designer fashions right. See more armorial looks on the wardrobe tips page for the Autumn Winter 2007/8 season. Read more about coats for Autumn Winter 2007/8 here.
This is grown up dressing for girls who love to pretend they are 1940s satin clad sultry sirens. Dress up for the party season for the Autumn Winter 2007/8.
SCREEN GODDESSES -

Satin clad sirens party in posh frocks that have a couture touch. Think floor length and trained evening gowns or short snappy above knee cocktail frocks. Gold, pure pink, rich purple, royal blue, red and silver grey satin are party frock material.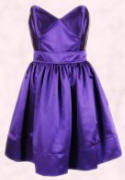 Purple satin bold and rich and bright is a top favourite for autumn and winter evening glamour. Purple Tanya Dress from Monsoon - £55/€85 - In Store October. Monsoon Merissa grey dress - £135/€210 - Monsoon Autumn Winter 2007 - in Store October.
Goddess glamour can be yours with a sweeping evening dress with a fishtail train and a halter neckline, cutaway armholes, deep waist plunging V necklines or one shoulder dresses spell screen siren. Thick duchesse satins draped and sculptured into swathes of fabric can be found with ornamental obi like bows set at the waistline.
Forties silver screen romantic grown up styles hint at victory with and strength in the shoulder line and power in a cinched in waist. Think ultra glamorous evening wear, glam, glam and more glam.
Cocktail suits - Forties Glamour exists in many forms, but especially as the cocktail suit or dress with jacket. Embellished jackets covered in passementerie like texture and decorative work make suits an evening option. Look for garments with appliqué, sequins and encrustations that vary in style from armorial to angelic.
Dress images both courtesy of Monsoon.
-------v6-------
Despite some designers showing above knee length tunic dresses, the mid length dresses a few inches below the knee is the length for Autumn Winter 2007/8. Shorter styles are generally worn as layering components with hosiery.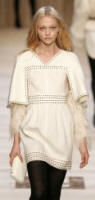 Midi styles make good basics for layering. Hemline volume or pencil slim skirts draw attention to legs, or leg cover ups. Coloured tights that contrast make an older existing wardrobe item updated.
Formal figure hugging midi dresses have timeless appeal for the hourglass body. Sack and Trapeze alternatives can be pulled in with a belt on thin days!
SLIM SECRETARY DRESSES - Look for a ladylike silhouette and think cinched waists emphasised by slim belts. Tailored dresses can be teamed with colourful contrast tights and ankle boots. Ankle boots is one of the key trends for Autumn Winter 2007/8.
You are reading an original article by Pauline Weston Thomas on the latest fashion trends for 2007. www.fashion-era.com. ©
Textured dress images above and below courtesy of IFTF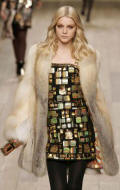 Pailettes and passementerie style embellishment expands to cover whole garments not just highlighted areas. Pailette size has grown to armour like scales.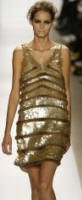 Heavy embellishment as opposed to romantic ethereal floating effects are more dominant this winter 2008 as a stronger looking very groomed woman becomes the fashionable look. Rich embroidery incorporates bird designs as well as feather trims. Deluxe gold trim and textural overlay shows well against black.
Gleam and sheen will not go away. Liquid silver and molten gold looks glimmer shimmer and sparkle.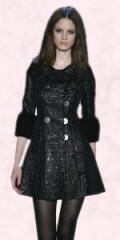 Metallics have the look of molten material that appears elegant, rich and fashionably expensive. Get away with the look for day by contrasting matt dull fabrics with metallics on the other half of the body.
GLEAM & SHEEN in METALLICS - Time to drop the sweet wrapper metallic looks of earlier seasons and move on into the harder tougher stronger metallics of Autumn Winter 2007/8.
Find metallics in tones of silver, dark greys, anthracite, or gold from palest gold to rich 24k gold through into rose gold and copper or ginger effects.
Gunmetal, anthracite, rich bronze and copper liven the familiar tones of the sheer soft silver and gold we have become used to seeing.
This Autumn Winter 2007/8 formal prim practical business dressing is made easy with matching skirts and jackets.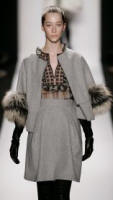 SECRETARY SUITS - The matchy matchy skirt suit is back.
Match your skirt and jacket, but choose from a wide range of skirt styles teamed with fitted jackets or short boxy or swing jackets. Suits have matching skirts.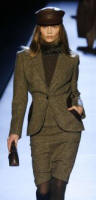 Sleek curved darted or seamed jackets hug the body team well with super pencil slim on the knee skirt styles. Whereas the alternative skirt the pleated fuller skirt set on a yoke looks best and teamed with a neat sharp boxy jackets.
The full skirts of suits all mix well with 50s and 60s inspired jacket lines.
Prefer separates? Try the high waist Pencil skirt which is perfect for body conscious dressers. Team it with a leather or equestrian jacket or go the whole hog and have a leather suit. You are reading an original fashion article by Pauline Weston Thomas at www.fashion-era.com ©
Suit and jodhpur images courtesy of IFTF.
Lighter dull country look tweeds and equestrian influenced garments, moleskin and corduroy separates are perfect for inner cities. They make up well into the ever practical skirt suits which can take you to a variety of events through the day.
Urban country meets industrial city based Equestrian.
Note the sporting touches in boots and trousers. Think jodhpurs, crisp shirts, soft fancy riding dress shirts, caps, riding capes and traditional good leather saddle bags. Jodhpurs are expected to see good sales this Autumn Winter 2007/8.
We've seen this look time and time again, but here it is again for the Autumn Winter 2007/8 season. Androgynous dressing interprets as high-waisted man tailored pants or tuxedo style masculine trouser suits. This look has been revived many times, but that is simply because it works. Androgynous dressing can make a woman in a masculine cut garment look even more feminine as it packs a punch with the surprise.
The new high waist trousers give a newer look with their wider legs. Team them with a slouchy bag or try wearing them with a tuxedo, new military influenced blazer or soft pleated blouse. Or soften the look with a chunky knit and wear the cropped version of the loose trousers held up with a man style belt.
Left - New Look Autumn/Winter 07/08 Collection - Womenswear Collection - Patent bomber £40/58€, Grey high waisted trousers £28/40, Black polo neck £20/29€, Black socks £2.50/3.50€, Black shoes £25/36€.
Image courtesy of New Look.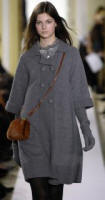 Knits emerge for Autumn Winter 2007/8 as bold chunky knits, rib effects or are of textured lace appearance and used to make coats of a weight well suited to a world dominated by the cocoon effects of commuting by car. Natty knitwear brings knits out of the ordinary into the exuberant realms of texture and surface interest not seen in knits for 20 year.
Bulky loose knits for bundled up warmth and cosiness are created by oversized knit stitches made from yarns an inch thick in diameter. Texture takes a 3D turn with Austrian/Aran texture influences with the knit roses, frilly flutes, bows, cables, bobbles and muted fair isle patterns or Inca inspired knits.
GREY - Especially popular neutral choice for knitwear, simple belted dresses, coats, suits or silver screen satin.
Cream Aran knit jacket courtesy of Plumo and Marc Jacobs grey knit image courtesy of IFTF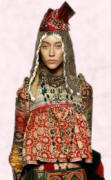 Ethnic mixing of style elements creates a global nomad tribal look that is still evolving and simply refuses to die. This is likely to be a trend that does not dominate Autumn Winter 2007/8, but which will develop as individuals personalize it as they did with Boho. Look for medieval touches and archaic styling that somehow looks fresh and interesting.
This look is melting pot traveller meets historical reference with its brilliant colourations, ornate embellishment, clashing prints and patterns.
GLOBAL NOMAD - Is a look that captures ethnic traveller. It pays homage to nomadic tribes, medieval robing styles and modern day girly fashions of Fruits influence - Harajuku Girls.
You are reading an original fashion article by Pauline Weston Thomas at www.fashion-era.com ©
Gaultier image right and Byblos image below courtesy of IFTF.
Practical glamour for winter cosiness can be edgy when styled well. QUILTED AND PUFFA looks are the ultimate in urban and luxury winter fashion wear 2007/8. This fashion trend can easily have an URBAN EDGE or can move into opulence when combined with luxury fabrics and embellishment.
Puff and padding can also be worked in luxe fabrics with contrast linings in exotic fabric prints especially animal prints. Massive padded collars that double as quilted neck mufflers make available countless options from cropped jackets to maxi coats.
This is practical mass market fashion wear for everyday inclement weather for the Autumn Winter 2007/8 season.
BLACK and textural blacks or monochrome schemes of black with white optical prints or cut out effects and bold contrasts frequently highlight hemlines, collars and cuffs.
Texture is especially noticeable in the black range of clothing. Black texture is laid on more black texture. Matte black is set against shiny black, against dull black, against shimmering sparkling black. Decorative touches add whole cluster areas of crunchy surface embellishment.
With all the neutral grey, navy, black and taupe earthy colours shown on this page you might wrongly imagine there was no colour this autumn. Grey, silver, anthracite and charcoal are all strong this winter and make for grey knitwear, military tailoring, masculine trouser looks and slinky silver satin glamour. However jewel colours, bold brights - orange, coral, pink, red, emerald green, amethyst purple and Peridot green are the key trend colours to wear this Autumn Winter 2007/8.
PURPLE is one of the hottest of colours for Autumn Winter 2007/8. Purple is prominent still with every tone from the richest of deep violets and softest of dusted heliotrope, lilacs and lavenders. Read more on the colour page.
This is the winter of the letter G.
Whatever key trend you opt for, be warned that a word beginning with G is involved. Glamour is the name of the game for Autumn Winter 2007/8. Think grooming, gala gowns, goddess, grace, glimmer, glisten, gloss, gold, ginger, Gucci, Gabbana, Galliano even girdles, all governing global garb. Glorious!
These are the key new fashion trends for Fashion Trends Autumn 2007, Winter 2008.
You have been reading an original fashion article by Pauline Weston Thomas at www.fashion-era.com ©
See also the main page on Wardrobe tips AW 07/08 - Also Coat Fashions - Colour Moodboards
Copyright of fur images courtesy of IFTF.
Special thanks to prshots with images courtesy of Dune, Debenhams, Matalan, Country Casuals, Monsoon, New Look and Plumo.
Date added 28 July 2007 - Ref:P633.
If you like this page then please share it with your friends
---
For more information on ladies and teens fashion trends go to:-
Jewellery Trends 2007
* AW (Autumn Winter)
Archived Sections
Custom Search
About Fashion-Era.com
Fashion-Era.com looks at women's costume and fashion history and analyses the mood of an era. Changes in technology, leisure, work, cultural and moral values. Homelife and politics also contribute to lifestyle trends, which in turn influence the clothes we wear. These are the changes that make any era of society special in relation to the study of the costume of a period.

Fashion-Era.com can take no responsibility for any information on the site which may cause you error, loss or costs incurred from use of the information and links either directly or indirectly. This site is owned, designed, written and developed by author: Pauline Thomas and Guy Thomas. This site is designed to be viewed in 1024 X 768 or higher.
ALL RIGHTS RESERVED. Fashion-era.com reserves the right to add or delete information, graphics and links. Copyright © 2001-2014 on all content, text and images in Fashion-era.com. Images and text in this website may not be used on other websites.
Before you write to me for costume/fashion help or information please, please consult the extensive sitemap which lists all our pages. If you still cannot find the answer after searching the site, then before you email me, please consider if you are prepared to make a donation to the website.
Donations
Reader's donations help this site flourish, in particular donations encourage me to write more articles on fashion history as well as current trends. PayPal allows anyone with a credit card to donate easily and securely. You may donate any sum you feel appropriate.