Wardrobe Fashion Tips for Fall 2007 & Winter 2008
N.B. Latest Fashion Wardrobe for Autumn 2012
As you are planning your new wardrobe or keen to makeover your fashion image, you may be vaguely aware that the fashion seasons are merging. Soon I suspect there will be fewer hard and fast rules about what fashion trend to buy for the new season.
Why?
Well the season is becoming one continuous fashion show as designers present almost as many collections as there are months in a year. High street clothing retailers have followed suit and are hot on the heels of catwalk extravaganzas. The latest 'must have' high fashion trends are soon copied. Leader high street stores like Zara have their own model versions within a fortnight of catwalk sightings. Demand Based Flow methods get fashion apparel to you fast, as retailers track the desirability of the latest fad before the momentum is lost to another trend.
You need to know those little detailed differences to make your personal look seem fashionable and fresh.
Autumn 2007 & Winter 2008 Fashion Wardrobe Top Tip 1 - Boots

FIRSTLY - Get some boots.
The simplest way to update your Autumn Winter 2007/8 wardrobe is with the latest fashion trends in new footwear of boots or shoes. Fashion boots create the fastest update and are essential to any winter look. Go purchase either demi-shoe boots, the latest ankle boots, cropped walking boots, to the knee shiny patent heeled or flatter biker boots.

Above - Dune Tan demi-shoe, Pitch, £80/€115; French Connection Taupe leather ankle boot £115; Debenhams Accessories - J Jeans by Jasper Conran 3 buckle boot £55/€85; Shellys Shoes - Bonita Buckled Ankled Boot £75 Colour: Black/ Tan/ Blue/ Red. Biker Boots James Lakeland. Boot images from left courtesy of Dune, French Connection, Debenhams, Shellys. Biker boots in heading and right by James Lakeland.
Autumn 2007 & Winter 2008 Fashion Wardrobe Top Tip 2 - Coats
SECONDLY - Get a coat.
The coat is the 'must have' fashion garment of fall 2007/8. Coats are so important this autumn that you can read even more about new coat styles on other fashion pages, especially the fall 2007/8 coat page.

You have two coat style choices.
Roomy or slim fitting (military influenced) coats.
From roomy coats select either A-line swing styles, or cocoon coats like this turquoise coat from Designers at Debenhams.
Betty Jackson coat £250/€387, Red Herring roll neck dress £25/€39.

Miss Average will find the best value fashionable coat pound for pound, dollar for dollar, will be a military inspired pea coat. These can be fitted slim silhouettes or have A-line fullness. Notice how several of these coats have cuffs to rein in the sleeve fullness.

A proper seafaring style pea coat will prove to be a workhorse garment for all sorts of everyday and casual wear. With double set brass buttons it is one of the 'must have' cover ups of the season. True pea coats have a bit of the seagoing wayfarer about them and are best in navy blue, Captain Bird's Eye style!

Note how shoulder lines are widening. The trend for broader shoulders is thanks to Martin Margiela and Nicolas Ghesquiθre.

The return of the high waist in trousers, shorts skirts and empire line dresses, means that the high waist seam has also appeared on jackets often, as two piece or as yoked jackets.

Autumnal versions of this fashion, show the seam on and below the bustline. You are reading an original fashion article by Pauline Weston Thomas at www.fashion-era.com © The purple coat right with seam bust yoke emphasis, is from the Monsoon Autumn 2007 FUSION range.
Monsoon Fusion Autumn Winter 2007 Purple Joy Coat - £75/€115 - In Store September 2007.

Voluminous coats.

Autumn 2007/Winter 2008 will see plenty of retro inspired volume coats with oversized buttons. A-line empire coats and easy swing coats are an alternative to the trench coat, which is a belted shirt style. Chic coats with wide stand collars have a Princess/Jackie 'O' sixties feel. Wallis do this look very well. Volume in new versions of the coat is wearable and softer than earlier versions. See Rules for Wearing Volume here.

The variety of coat styles available will be greater than you have seen for many a shopping year. There should be plenty of opportunity for you to have several different fashion silhouette styles in different colours. View these variants as fast fashion coats, rather than investment buys. You will tire easily of coats made in big tartans and checks, so consider such purchases as fast fashion items.

You can read about the fashion history of coats in Coats and Cloaks section.
‡‡
Necklines get higher, shoulders get wider and the waist gets defined. 1940s screen siren is the influence behind new emerging forms. Power dressing is clearly returning with a well defined, but increasing shoulder width, now evident in so many garments.
Funnel necklines - These are the latest fashionable alternative to the casual touch a hoodie finish gives. Until this season a hoodie added a relaxed appearance to easy casual wear styles.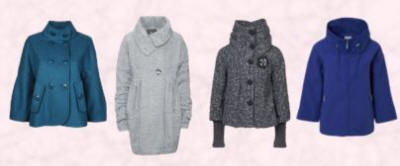 There are many funnel stand neckline styles around and within that plenty of minor variations. The easiest stand and funnel necks to wear are those that can also fold as a flat collar. Paul Costelloe does a great winter coat with a high funnel collar for chill winds, but a collar that folds flat for easy wearing.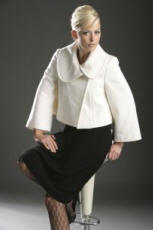 These grey mix high street fashion garments in the centre above are from River Island. The teal blue short coat above left is from Monsoon and the royal Parka above right is from Wallis. Each has a variant of a funnel stand neckline. Note the charcoal grey mix funnel jacket above right, and how it shows ribbed knit under sleeves rather than bare or gloved arms. This is the most obvious practical solution to wearing shorter sleeves.
New collars are much wider - Since spring 2007, collar interest has varied from small Peter Pan styles to large flat broad collars. These nursery look collars stem from many periods of costume history including Cavalier and 1830s costume as well as that of Edwardian dress of children. Look out for very big flat and gathered Peter Pan collars. Some collars and cuffs are topstitched 70's style. Deep ruffle flounces have also been taking the finishing edge of sleeves to a newer fashion look through 2007. You are reading an original fashion article by Pauline Weston Thomas at www.fashion-era.com ©
Above left - White jacket image courtesy of Internacionale (No details). Above right -In Store September 2007 Monsoon Autumn Winter 2007, Teal Blue Naomi Coat - £95/€150; River Island Clothing Co. Ltd, Grey and white herringbone coat £64.99/€109.00; River Island Clothing Co. Ltd, charcoal grey Funnel jacket; £59.99/€100.50; Wallis Autumn Winter 2007 Cobalt nylon jacket £50.
Wardrobe Tip - Invest in a high fashion garment with an up to date collar line.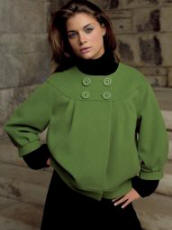 The cropped jacket has been master throughout 2007 and the short more casual jacket continues to evolve.
This year these cropped jackets have had more interesting bell or ruffle frilled sleeves. Flat collars, wide stand collars and as winter approaches fur trims and zipper effects have all appeared. Big noticeable buttons with popper under fasteners are often the means of closure.
Acceptable short coat alternatives to biker jackets and leather coats include short swing loose jackets like this short boxy jacket. Many swing jackets have a centre back pleat.

The easy green jacket left is from Debenhams. The green jacket with its circular yoke has a collarless faced neckline, making it perfect for a high neck sweater or similar under garment with a funnel neckline. Image left courtesy of Debenhams - J Taylor green jacket £70/€109, Red Herring roll neck dress £25/€39.
Wardrobe Tip - Always team a fuller more voluminous jacket with a narrow skirt or dress or perhaps hip hugging trousers.
§
Leather is used for coats and short jackets. Leather coats are often softer looking than those we have come to expect from leather styling. This tiered leather coat from Debenhams shown right, should see you through more than one season as tiers in the skirts of clothes gain in popularity. Supple leather knee coats are teamed with skinnies and roll neck sweaters.
Biker Babe - Leather multi zipper biker jackets, sans studs means that jackets with bold visible zips are the gear to get. The Armorial look often runs into the biker look and is one that gets extra hardware with bold, visible zips. Some garments are made of reptilian textured leathers for the perfect warrior woman look. These leather jackets ranging from fitted, semi fitted to swing are all available on the high street. Marks and Spencer has a selction of leather items to suit a variety of shapes, sizes and prices.
Notice how the fuller style of sleeves that have ruffle bands, or fuller wrist lines have migrated to leather garments. The central leather taupe jacket shown centre below, will easily accommodate flounced sleeves.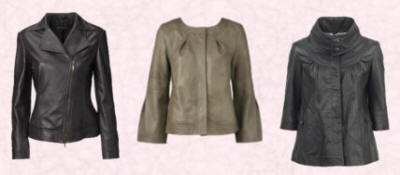 Left - John Lewis - Betty Barclay leather Biker jacket; Centre - Dorothy Perkins Taupe Leather Jacket - £120; River Island leather Jacket £120.00/€201.50. Images courtesy of those stores.
Wardrobe Tip - Invest in a coloured leather jacket that will look good next spring too. Tan or olive are especially good choices as terracotta and green gain momentum.
Sleeves continue to have plenty of volume. Many sleeves are still three quarter or elbow length bell style, but now found in cool weather ranges. This means that demand for autumn interesting long opera or gauntlet gloves has grown. Consumers can opt instead to put their under sleeves firmly on show as contrast sleeves peep beneath jacket, or coats.
Look out too for fingerless gloves. Marks and Spencer are selling fingerless rib knit gloves that reach to the elbow, so you can wear that short sleeved jacket without being frozen to death whilst appearing to wear knitwear beneath the jacket sleeves.
Wardrobe Tip - Buy a long pair of long gloves.
Good long gloves with a high sheen or armorial texture is a must have perfect accessory for cooler weather.
Far left - Purple blouse Principles Autumn Winter 2007 - Petite Collection; Centre -White Lee Blouse - £35/€54 from Monsoon Autumn Winter 2007/8 collection - in Store August 2007; Far right - Topshop Autumn/Winter 2007 - Dark green batwing dress £70/€104, Gold star studded clutch bag £15/€22, navy blue opaque tights £4/€6.
Just above left, note the elbow purple puff sleeve set into a narrow cuff band. The purple Principles blouse is also teamed here with a high waisted pencil skirt, which highlights the waist another attention element of this season.
Wardrobe Tip - Diary note - Purple is possibly the most fashionable colour to be seen wearing for autumn 2007.
In the centre this Monsoon white blouse has a similar, but fuller balloon sleeve which is three quarter length. Finally, the dark green Topshop dress has full bishop sleeves set into a long, deep fitted cuff. Many of the cuffs are trimmed to highlight their new importance to a garment silhouette. Piping is a common feature inserted into cuff seams.
Wardrobe Tip - Buy a garment with full bloused sleeves and/or deep cuffs.
You are reading an original fashion article by Pauline Weston Thomas at www.fashion-era.com ©
‡
Bare Those Shoulders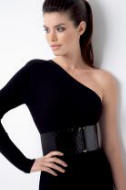 There are fewer traditional sleeveless garments, but more items with small cap sleeves, interesting sleeves, huge cutaway armholes or halter variations. See below how the red blouse has a dainty cap sleeve set into a yoked bodice.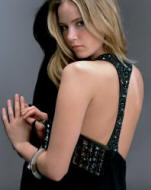 Arms and shoulder blades feature strongly in their own right, especially in evening or clubbing dresses. Read more on halter styles here.
Look out for jewel embellished halter necks, asymmetric one shoulder dresses and cutaway armholes. This striking little black dress left with its single sleeve is somehow daring, yet modest at the same time. Image left courtesy of River Island Clothing Co. Ltd - Black Knitted One Shoulder Dress £34.99/€58.50 and Patent Elastic Belt £19.99/€33.50.
The halter dress right from Miss Selfridge is an LBD of the moment with its large crystal cut beads and cabochon trim. Make sure if you opt for such dresses that your skin is body scrubbed and moisturised to perfection, as these dresses are certain scene stealers. Each is the sort of wow factor dress to make that ex-boyfriend's eyes sting when he recalls you are no longer an item!
Wardrobe Tip - This autumn 2007 if you do have a waist then draw attention to it.
You will find a huge array of attractive belts in the stores. This belt right really fits the mood of the era. It has shimmer and glistens with its golden iridescence contrasting the turquoise leather.
Throughout the past 12 months the dress, or the shorter tunic dress, has rivalled all other garments for popularity. If hourglass bodies are a distant memory to you, try the sack, trapeze or pinafore dress alternatives. The easy, body skimming shift is just as available as the more figure hugging body con dress that emphasises hips, breast and waistline.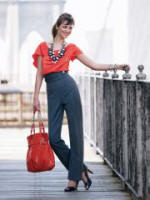 The dress is here to stay for a while at least and so it really is worthwhile investing in some classic basic dresses that suit your shape.
Grown up dressing is for girls who emulate 1940s satin clad sultry sirens and gives us the screen goddess dress with an incredible nipped in waist. Some stores like Monsoon and Debenhams do this look really really well and at a high street price.
High waist trousers - If you still feel the dress is not for you, then try a suit with either a full, or pencil skirt, or the latest high waisted trousers which also draw attention to the waistline area. Androgynous dressing in high-waisted man tailored pants, or tuxedo masculine trouser suits are a practical way to dress in winter.

Image left is from Principles Autumn/Winter 2007, main collection. Note the oversized swag bag and see more bags here. Orange silk top £39/€59, grey high waisted silver square military button trousers £39/€59 euros, necklace from a selection at Principles.
Principles Stockist 0870 122 8802. Belt image courtesy of James Lakeland.
Skirts have hem interest and many new shapes have emerged. Of particular note is a new play with tiers in skirts. It's not Boho gypsy tiers, more fifties couture like this designer suit right. Far right Dior image of tiered suit courtesy of IFTF. One company that has a version of this tiered look is Coast with their Bernice Dress £175.00 Style code: 2224610592.
In addition to tiers many skirts have bold decorative hemline interest, beading, braiding, lace, feather or fringe trimmings.
-------v6-------
Every wardrobe is likely to succumb to at least one item from oversized knit ranges. Just make sure you don't land up looking like an oversized cuddly toy.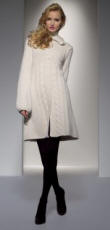 Much of the available knitwear is in bright colours, and some is in grey or creams like this feminine Aran cable coat left. This coat does look beautiful on this model. Do remember that bulky textured knits can also make you look colossal if you are not super slender and you have large shoulders. If you are Miss Dainty then you will look divine in such a knit.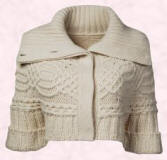 This short boxy textured cable cardigan, far right, would be especially suitable for someone who is petite on her upper torso with narrow or even sloping shoulders and needs to balance her smaller upper body to a heavier bottom half.
Some of the bulky, chunky knits on offer are for serious hibernation - in private. But as long as the shoulder line is fitting correctly you will find the chunky knits look better overall.

Left - Autumn/Winter 2007 Designers at Debenhams, John Rocha cream cardigan coat £65/€101, Collection cream roll neck. Monsoon Autumn Winter 2007 - Cream Cassie Cable Cardigan - £60/€95 In Store October 2007. Cable knit images courtesy of Debenhams and Monsoon.
Wardrobe Tip - Textured knits look lovely, but they can add pounds - ten at a time. Select bulky knits with caution and using a triple mirror.
You are reading an original fashion article by Pauline Weston Thomas at www.fashion-era.com ©
Trims or the lack of them can make or break how fashionable a look is in any given fashion era. A change of haberdashery trim can bring an old garment bang up to date in the fashion stakes.
For Autumn Winter 2007/8 the fashion trend is for decorative trims of gold braid or gold beading. Look out for self colour contrasting texture on texture trimmings. Patent, croc and other fancy leather is also frequently used as a finishing binding touch. Pailettes and embellishment or deluxe gold trim is textural and chunky with many large crystal cut beads and cabochons.
The trend for army and navy dress, means Sergeant Pepper braids, brass buttons and gold hussar frogging compete with zips.
Big buttons have been a developing trend for a couple of years on coats, jackets and arty cardigans. This winter some fastenings reach mammoth size. Too many buttons have become so large they are pure decoration. The actual fastener is a jumbo press stud and popper set beneath the sewn on button. This is because an extra big button would require too large a gaping buttonhole.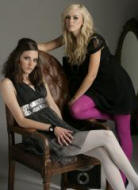 Wardrobe Tip - Watch out for oversized quality zippers. Consider biker jackets with zips that bare their teeth as a fashion feature.
Coloured tights take over from leggings and enable women to wear shorter clothes than they sometimes feel comfortable.
Coloured hosiery gives a sparkly jolt to tunic dressing, especially when worn with ankle boots or colour coordinated bag and footwear, an acceptable way of styling again. Every colour and metallic texture of pantyhose is available this AW season 2007/8.
Right - image courtesy of Internacionale fashion fall 2007.
Give new life to your fashion image, assess what aspects of your silhouette can take the strongest elements of the new season. Let's face it the best choices for most women are the garments that make them feel slimmer and feel good about themselves.
The best wardrobe fashion tips are always the same.
Don't forget the importance of an up-to-date hairstyle. Make sure your hair is regularly trimmed and colour maintained.
Note the ever growing importance of hot accessories, especially 'must have' bag or shoes, copy or original.
Buy into seasonal colour trends, but select only from 1 or 2 of the season's colours that enhance your colouring.
If you prefer to wear fashion classics and many women do, updating to this season's colour, getting a new hairdo and new shoes will reinvigorate your image no end. The shoes certainly will be essential at some point, unlike a handbag which is a 'must have' rather than a 'need it' replacement item.
After considering the 3 points above for updating your image and wardrobe, review the most fashionable and classic items you already own. At the same time remember the most important factors for consideration with the new season's fashion items are colour and fit.
Wardrobe Tip - Check fit and colour against current fashion trends.
Check the key trends here at the main fashion looks for Autumn 2007. Check out the latest fashion colours here.
Need some more fashion wardrobe tips?
To assess any new fashion look, always work your way down the body as I explain in the How to Assess a Fashion Look pages. The pages are in my Image Planning section here (part 1) and here (part 2). As you regularly tidy up your wardrobe and review, select and reject the hanger contents, keep these working down or up the body image steps in mind.
From about 20 fashion themes, some three or four key looks will always emerge stronger than others. Need and instant makeover this season - I suggest you concentrate your buys on what are bound to become the workhorses of your wardrobe.
If you can get away with rock chic then opt for a quality leather biker zip jacket. Almost all keen shoppers should consider a silhouette conscious coat (buy fitted or loose dependant on your personal style), some ankle boots, a new fuller skirt and colourful tights. Boost those basics with a tailored jacket and add a slim line matching dress to create a two piece go anywhere outfit. You could also keep your eye out for knee high biker boots, a shiny or croc armour texture clutch handbag or hard case minaudiθre, plus a new knit in grey or black.
Nightlife
Gleam and Sheen - This look embraces many garments especially coats and posh frocks. Bold fabrics like rich tapestry metallic brocades help create futuristic shapes. Heavily embellished fabrics drip with over sized crystals and Pailettes. Oversized crystals, coin sized Pailettes and saucer style beads and buttons embellish simple shapes such as tunic dresses or t-shirts. Tone the look down by staying away from dainty footwear and team these deluxe looks with more robust pieces, the new boots will help give it a warrior woman look.
This autumn choose colour for a free and easy free choice take on the latest trends.
Colours include the bold brights as well as the neutrals of grey, creams, golden camels, brown, navy and black and white.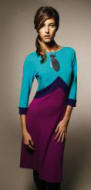 Bold bright jewel colours include warm hues such as gold, orange, terracotta, coral, pink, garnet and chilli red. Cooler colours embrace emerald green, chartreuse, Peridot green and amethyst purple. These are the key trend colours for Autumn Winter 2007/8. Often these brights are placed in juxtaposition to each other as in this vibrant dress shown left and from Wallis.
Wallis Autumn Winter 2007 teal and magenta jersey dress £40.
If you cannot wear strong hues next to your skin, then use colour as an accessory interest to the more sombre greys, earth tones, brown, navy or black and to the dusted colours.
Wardrobe Tip - PURPLE - Any tone, any shade as long as it's purple.
Amethyst, aubergine, puce, purple, mauve, lilac, lavender all compete in the purple haze. Consider adding instant pizzazz with the hottest fashion colour of purple, or any other jewel tone that lifts your complexion to a knockout bloom.
MONOCHROME - Black with white optical effects, grey knitwear and tailoring. BLACK ON BLACK - Black texture is laid beside other textures. Matte against shiny, or dull against shimmering black.
And what about those jodhpurs I hear you mutter.
They may be selling out of them at Matches, but the watered down version that hits the high street will be a poor imitation of the original catwalk inspiration. If you can afford designer cut Balenciaga jodhpurs, that truly are a designer take and the creation of a new denim silhouette then fine. In the main I believe body moulding jodhpurs are not for the faint hearted and best kept next to a horse!
A tall slim woman is the best person to adopt jodhpurs. If you are 5'3'' tall forget it. This fashion can so easily be saddle bag suicide.
My slender niece who is 6 foot tall, once wore cream jodhpurs whilst on holiday in Hong Kong. She wondered why everyone was staring at her as she shopped in one of the world's busiest cities. Jodhpurs attract attention and not always the right sort of attention.
I had the same reaction once in the early 90s when following a larger than average woman wearing beige leggings and a too short top. This was a truly nasty experience close up, but just as alarming from a distance. Body hugging beige, cream or flesh toned skinny trousers of any variety, can look quite nauseating to the onlooker on even the smallest of posteriors. Think of male ballerinas in their on stage tights and you get the picture.

Unless you ride horses, do yourself a favour keep them away from your neighbours and me - please, even if your jodhpurs are in denim.
Wardrobe Tip - Updating your wardrobe should be straightforward. Just accept that the seasons are merging and that to stay fashionable you need to grasp the small fashion details that make the difference. New garments and accessories should relate to the following themes of glamour, shine, embellishment, bold bright colours, military tailoring, relaxed easy to wear coats, leather, dresses, oversized knitwear, and black on black texture.
With any of these new additions you and your wardrobe will soon pass muster.
Monsoon Fusion moves into its third season looking stronger than ever. The diffusion line holds its edginess and drives the range forward while still retaining incredibly competitive price points. The collection is designed exclusively in house and fuses Monsoon's distinctive signature style with a reactive trend driven punctuation. Fusion is stocked in 100 Monsoon stores nationwide and also available online at Monsoon. The Fusion collection is available in sizes 6 –18. Prices start at just £14 up to £100 for a beautiful leather biker jacket. The new season Fusion collection launches in store on 3rd September 2007. Check out Monsoon online.
Dorothy Perkins have a new range of limited edition leather jackets this Autumn 2007. The jackets are all made from high-quality, luxury super soft leather and come in a variety of colours and styles. The Swing, with its characteristic bell sleeves, is available in classic black and neutral taupe. Check out www.dorothyperkins.com from 5th September to ensure you snap up this exclusive line.
These are wardrobe image planning tips for the key new fashion trends of Fashion Trends Autumn 2007, Winter 2008. You have been reading an original fashion article by Pauline Weston Thomas at www.fashion-era.com ©
See also the main page Key Fashion Trends, Main Looks Autumn Winter 2007/8
Colour - Colour Moodboards - Fashion Coats
Special thanks to David of prshots with images courtesy of Dune, Debenhams, Principles, Monsoon, Shellys, French Connection, River Island, Wallis, James Lakeland,Internacionale, Miss Selfridge, John Lewis, Dorothy Perkins and IFTF. Header image of Biker boots courtesy of James Lakeland.
Date added 21 August 2007 - Ref:P637
If you like this page then please share it with your friends
---
For more information on ladies and teens fashion trends go to:-
Jewellery Trends 2007
* AW (Autumn Winter)
Archived Sections
Custom Search
About Fashion-Era.com
Fashion-Era.com looks at women's costume and fashion history and analyses the mood of an era. Changes in technology, leisure, work, cultural and moral values. Homelife and politics also contribute to lifestyle trends, which in turn influence the clothes we wear. These are the changes that make any era of society special in relation to the study of the costume of a period.

Fashion-Era.com can take no responsibility for any information on the site which may cause you error, loss or costs incurred from use of the information and links either directly or indirectly. This site is owned, designed, written and developed by author: Pauline Thomas and Guy Thomas. This site is designed to be viewed in 1024 X 768 or higher.
ALL RIGHTS RESERVED. Fashion-era.com reserves the right to add or delete information, graphics and links. Copyright © 2001-2014 on all content, text and images in Fashion-era.com. Images and text in this website may not be used on other websites.
Before you write to me for costume/fashion help or information please, please consult the extensive sitemap which lists all our pages. If you still cannot find the answer after searching the site, then before you email me, please consider if you are prepared to make a donation to the website.
Donations
Reader's donations help this site flourish, in particular donations encourage me to write more articles on fashion history as well as current trends. PayPal allows anyone with a credit card to donate easily and securely. You may donate any sum you feel appropriate.