Latest Fashion Trends for 2008
Wardrobe Tips and Fashion Looks for Summer 2008
N.B. Latest Fashion Wardrobe for Autumn 2012
Wardrobe Tips for Fashion Looks Summer & Spring 2008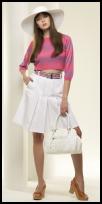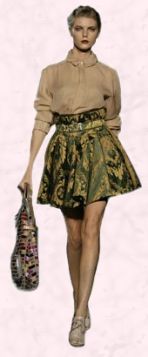 These days fashion trends these days come and go so fast, that we are no longer faced with just 3 or 4 ideas to create a really inspired personal fashion wardrobe. Even so, your body shape, height and your personal style, all affect how you select a new fashion look from fashion trends of Spring Summer 2008. Review how best to work the current trends onto your body type, whilst creating a desirable image. Spring is the classic time to pan your wardrobe replacements, review essentials and indulge with impulsive treats.
Faced with so much fashion on offer the question is always where to start. If you need fast entry into image planning updating then two specific trends of the clutch bag and the fuller skirt style will see you sail through Summer 2008. Essentially, the main fashion trend of 2008 is still for dress variations.
Right - We see a great design idea from Dolce and Gabbana which has fuelled many of the mass market designs in the shops. Next to it is a black and white outfit from Oasis and left above, is a New Look Spring Summer 2008 white skirt. Both are takes on the fabulous Dolce and Gabbana brocade skirt shown right.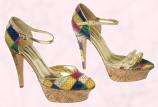 Trends to observe from this D&G image right include:-
Focus on the high rise waistline.
Focus on more puff sleeve fullness.
The patchwork mosaic like snakeskin elements of the bag.
In fact this mosaic patchwork effect has already been repeated by high street manufacturers such as Dune in their footwear.
Left - Spring Summer 2008 shoes by Dune - Court- £125 or €180. Sandal - £110 or €160.
‡‡
Key Fashion Trends for Instant Updated Looks - Spring & Summer 2008
Fashion Wardrobe Tip, Top Accessory
Clutch Handbags
FIRSTLY - Get a modern clutch or box clutch handbag. The clutch comes in many sizes and is a great way to work toward downsizing your bags. The small clutch (much like a money purse wallet) could easily be removed from a larger tote bag and is great way to ease yourself into using smaller handbags.

Bag details - Clutch selection.
Left - Wallis Spring Summer 2008 Accessories, Chocolate snake box clutch bag £15/€23. Centre - Black leather patent envelope clutch bag by Alexander McQueen, and available from Matchesfashion.com at £245. Right - River Island Clothing Co. Ltd, Summer 2008 Accessories - Yellow clutch handbag £29.99.
If you need a larger handbag, especially for work or travel, consider if your existing tote bag has the look of the moment, if not opt for a pyramid dome bag or balloon style bag. Read more and see these pyramid triangular dome and balloon styles on the Spring Summer 2008 accessories bag page.
You are reading an original fashion article on wardrobe tips by Pauline Weston Thomas at www.fashion-era.com ©
Spring 2008 Fashion Wardrobe General Silhouette Top Tip
SECONDLY - Add more skirt volume - Choose a dress or skirt which has some swing kick fullness. This is likely to be either a short gathered dirndl style skirt. Or, it may have soft easy pleats and could even be of circular style.
The range of skirt styles, shown below mostly graze the knee, but according to your style can easily be worn over the knee and mid thigh.
Contrast Band Hemlines
Many skirts also have contrast band illusion hemlines. This Oasis Spring Summer 2008 Collection dress right, has a deeper band. Others have narrower, contrast hem bands, such as the black band in the first dress left below.
If you prefer more shape pull in that volume with lacing or a belt. Gain control over volume in garments, so that it flatters your body by the contrast of smaller to fuller parts. Enhance your best bits with close fitting volume, enhance your figure faults with carefully placed volume. An inch higher or lower in your placement of volume on the hips or waist, can make or break the volume effect on most individuals.
Clear bright colours are not the only hallmark of Spring Summer 2008. The navy and white dress above right is as clean cut as these black and white outfits.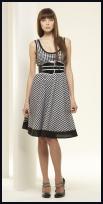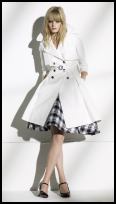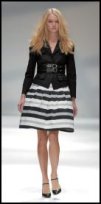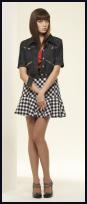 Black teamed with white is a very strong look this spring. It is a statement contrast to all the brighter colours, printed fabrics and dip dye effects shown below. I have selected a good range of monochromatic outfits to illustrate this particular fashion silhouette for Spring 2008.
To be fashionable in 2008 think fuller skirts.
Reverse negative/positive, for example black and white spots, stripes, checks, plus tribal abstract patterns, all add interest to monochrome fashion looks.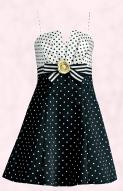 Above
Far Left - Matalan Spring Summer 2008 Women's gingham check dress £12, belt £4.
Centre left - Warehouse Spring Summer 2008 Women's white trench coat trench £90/€140, check dress £35/€55, shoes £65/€99
Centre left - Warehouse stripe full skirt, jacket £55/€85, skirt £50/€80, shoes £65/€99
Far right - Matalan zip stud crop denim jacket £15, bow front vest £5, gingham skirt £10
See how the negative positive black and white spots of this bustier dress and striped belt create a well thought out design. Right - Debenhams Debut spot mini dress £100/€155 from the Womenswear Spring Summer 2008 range.
If you have a thick waist, but slim hips you may find full skirts hard to wear. The answer is to opt for a full skirt which is set on a Basque yoke, or deep wide waistband. Alternatively, choose princess seamed fullness, A-line or circular flare. A large volume of fabric worked into fine gathers or pleats can make you look heavy and add pounds if you are thick waisted. However, those with neat slender waists, but saddle bag thighs, will find a full skirt can highlight the positive, whilst playing down the negative body part. In image planning terms, if you choose correctly for your shape then a full skirt can become a body enhancing tool on a par with hip and thigh liposuction!
§
Fashion Wardrobe Top Tip - Abstract Tribal Print is a Must-Have
Tribal prints are mostly being used on dresses and skirts. These simple cutaway dresses set on a halter yoke, both feature striking, but very different tribal influenced primitive prints.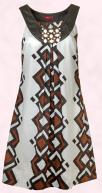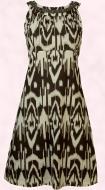 This year dresses are also full length, making the maxi dress even more popular than last year. Global chic 2008 can be easily acquired with that old summer favourite the Kaftan. When constructed in abstract prints, like these, the garments almost behave like neutrals and blend in where florals fail.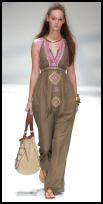 Some tribal trends rely on a simple dress, tunic or top shape, and let the exotic abstract fabric take praise. These dresses right are statement making with their striking prints, yet at the same time they are utilitarian.
Note the swing flare in theses skirts are a classic alternative to dirndl gathers, or bulky pleats. Above near right - Dorothy Perkins Spring Summer 2008 Brown/cream safari print sun-dress £30 €45. Above far right - Monsoon Spring/Summer 2008 Womenswear Masai dress £50.
Left - Warehouse tribal maxi dress £70/€110, bag £38/€59, sandals £20/€30. This maxi dress features edges embellished with ethnic style embroidery stitching.
In spring 2008, Monsoon have two ranges focusing on tribal looks called Zanzibar and Tangier. The result is an understated safari and utility them, with combined tribal print and pattern details that create a modern urban look. Monsoon use a rich colour palette, bold print and graphic appliquιs to make the African urban look. Ethnic prints are matched with luxurious fabrics to give a modern sleek feel. Key items come in an opulent colour mix of chocolate, amber, claret red highlighted with metallics. Elegant printed dresses and separates are finished with tribal inspired trims making for a sophisticated and glamorous take from Monsoon.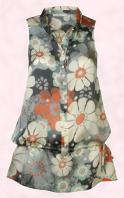 Hot Tip - Tribal prints are a must-have this Spring 2008 and have a sun scorched hue which reminds of Souk and Mediterranean sun soaked days. This global chic look trawls the world for inspiration and finds it in the murky earth tones of a Renaissance artist's palette. Browns, ochre, burnt umber, sienna, indigo blue all have that natural look also found in Indonesian block batiks, African, Mayan or Aztec graphics.

This floral print bloused tunic near right relies on the tribal colour mix of natural materials such as stone and terracotta earth, but within the modern floral theme of summer. Near right - NEXT DIRECTORY - Womenswear Spring/Summer 2008 - Large floral blossom print drop waist top costing £32/€48.
Team the earthy tribal look with wooden cuffs, wood beads, onyx and ebony carved pieces of jewellery. Left - Selection of wooden and metal bangle cuffs from Wallis Spring Summer 2008 Jewellery range.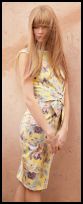 These prints work very well on simple slim dresses and tunics.
Some of the global chic prints even have Japanese influences, such as on this hand painted silk trailing blossom cowl dress - far right. It is an Alexander McQueen designer piece at £1200, and can be purchased online from Brownsfashion.
Left - Offered in both Petite length 34"/86.5cm or Regular length 36"/91.5cm at £55, this 100% Silk Linear Spot Tunic Dress is from NEXT DIRECTORY (Catalogue number 382-911-X41).
Near right - This lemon print dress is by Oasis from their Spring Summer 2008 collection. You will find plenty of other attractive summer dresses from in 100% silk at Oasis and many start from £65.
You are reading an original fashion article by Pauline Weston Thomas at www.fashion-era.com ©
‡
Spring & Summer 2008 Fashion Wardrobe Top Tip - Romance in Ruffles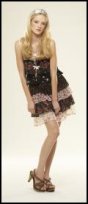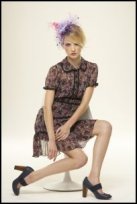 Many of the floral dolly prints are in sheer or semi sheer fabrics, and of course exotic animal prints are still abundant, but more often worked in transparent sheer fabrics for summer.
This play with fantasy sheers and transparent fabrics means that underwear styles, will in many instances become outerwear.
Fashion history is full of examples of underwear moving into mainstream fashion trends. Layered sheer and transparent materials create a lightness of effect.

Ruffles are a huge feature of sheer and semi-transparent feather-light dresses and tops. Ruffles appear everywhere on garments, but especially on blouse necklines, shoulders, hemlines and in skirt panels.
Above left - Matalan Spring Summer 2008 Women's - Ruffle dress £16, headband £2.
Above right - Matalan Spring Summer 2008 Women's - Tea dress £16.
Romantic looks include tiered ruffles with fringe being used to make the whole dress shimmy. Frills and roses all appear on skirts, dresses, tops, blouses. This outfit left from Oasis features 5 strong Spring Summer 2008 fashion trends. It is one shouldered, has fabric roses for decoration, a full gathered skirt is made from a dip dyed fabric and it is worn with Gladiator sandals.
Spring 2008 Fashion Wardrobe Fabric Top Tip - Dip Dyes
After the sombre black of the 1990s, this play with dye seems mouth-wateringly new and extravagant in its vivid exuberance. Couple the techniques with the changing undulations of crushed pleated fabrics, jersey or sheer fabrics you can create a whole host of rich looks. All these dye effects can be luxuriant, pretty and mystical when worked in satins, silks and chiffons. Blouses, skirts and scarves also get this treatment too.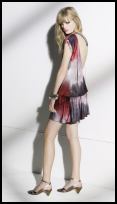 The Ombre technique was quite popular in the 1970s when it was used extensively to make interesting graduated colour effect Macs, by Dannimac.

Of course the technique also adorned T-shirts and Boho skirts across the land. Now in 2008 Ombre is set to take the world by storm again. This colour bleeding dye method also makes very individual looking scarves or other accessories. It can be shockingly gorgeous and bring rich colour variety to an incidental item.
The fascinating variegated pattern created by random due methods, makes the fabric perfect for use in a simply cut top or dress. Simply cut garments rely on gorgeous fabric. In fact the simpler the cut of the garment, and the less the material is cut, the better the end result.
Campaign 2008. Left - Warehouse Tie dye dress £35/€55, shoes £55/€85 Warehouse Spring/Summer. Right - Rachel Roy dress, image courtesy of Swarovski. You are reading an original fashion article by Pauline Weston Thomas at www.fashion-era.com ©
Safari elements can be full-on with military precision or softly diluted. The fabric can be utilitarian, or rich lush, and silky crisp. The simple ecru or golden camel colour scheme is well suited to safari styling and almost always looks expensive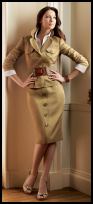 .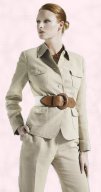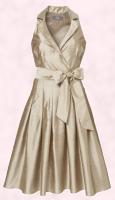 Look for pockets and shirt waist elements highlighted by belts. The look can also be softened up with a sash bow tie, like this oyster dress centre left from Wallis.

Ecru, gold and metallic footwear teamed with safari style gives an outfit a fresh modern touch. Select from golden gladiator sandals, wooden wedges shoes to bow trimmed shoe boots.
Centre left - NEXT Women's Footwear Spring/Summer 2008 - Bow detail ankle boots £35/€50
Wallis SS08 Oyster wrap shirt dress £70/€110
Centre right - House of Fraser Womenswear Spring Summer 2008 - Linea range safari trouser suit.
Far right - Gold safari skirt suit from Principles Main Spring Summer 2008 Collection.
-------v6-------
If all this softer feminine take on spring summer 2008 fashion is too much for you, fear not there is always a tailored alternative. This year the blazer is back in town, and especially watch out for striped and edge bound variations of the blazer basic. Nautical blazers with regatta contrast trims are great buys that will recoup their value over the season.
Make your blazer a your working must-have of the Spring Summer 2008 season.

Volume is fickle; it offers full wide trouser leg, versus skinny narrow leg, or extra long pants, versus cropped walking shorts. Take your pick - much is on offer.
Choose according to your body shape and the look that enhances your figure. I especially like the wide flared leg jeans and the Katharine Hepburn pants suits shown on the main Spring Summer 2008 fashion looks page. The latter are perfect for more formal occasions or in neutral tones ideal for the working woman.
But for everyday fun, I think these pants suit the mood of summer.
Left River Island Clothing Co. Ltd Spring Summer 2088 Shirt £24.99/€42, Jodphurs - £34.99/€58.50.
Consider walking-shorts/culottes or tapered pant styles too. If you want a totally fresh look, opt for a jumpsuit the latest all-in-one.
The all-in-one jumpsuit is a go anywhere outfit, cut for the evening or day, or as safari style. But make sure you buy your jumpsuits in a top quality fabric, or else you may end up looking as if you own a retro 1980's shell suit.
If you love jeans, then your denim selection should include high waist, flared faded blue jeans. My advice is steer clear of the coloured skinny jeans, especially bright strawberry pink ones! The coloured skinny jean look is strictly - 'I do love to be beside the seaside.' Day-Glo colour requires equatorial sunshine to offset its dazzle. But skinny is not a new look, and only looks really good on the ultra slim. Time to move fashion forward, drop skinnies and instead consider the jumpsuit.
Hot tip - coloured skinnies - already on the wane. Jumpsuits - on the up. Still with us - leggings.
In any year, great accessories can update you in the time it takes to purchase a new pair of shoes, a bag and a pair of fashionable sunglasses. High street shop Monsoon Accessories continues to expand the offering of quality bags, jewellery and footwear for Spring Summer 2008. Key for this season are oversized patent shoppers, small structured clutch bags, chunky stack-heeled shoes, Gladiator sandals and statement necklaces matched with chunky bangles.

For true summer days, add a pair of Gladiator sandals or elasticated flats to the clutch bag. Choose natural tan, brown or metallic tones for ease of matching. I especially like these brown sandals from Debenhams Spring Summer 2008 range.
Hot shoes also have wooden cone heel peep toes, but wedge shoes, espadrilles and ankle strap style shoes will all add that 2008 spring summer edge. See the footwear pages for more details on shoes.
Don't forget that head squares are making a comeback and are best worn cowboy style.
These are some of the top trends best suited to update your Spring Summer 2008 wardrobe. All these trends create the carefree mood found in easy summer working and holiday clothes.
You have been reading an original fashion article by Pauline Weston Thomas at www.fashion-era.com ©
Copyright of images courtesy PRSHOTS, Dune, Debenhams, Matalan, Matches. Oasis, Wallis, NEXT, Browns, Dorothy Perkins, New Look, Warehouse, River Island and Principles.
Date added 1 Feb 2008 - Ref:P668.
If you like this page then please share it with your friends
---
--Link--
For more information on ladies and teens fashion trends go to:-
* AW (Autumn Winter)
Archived Sections
Custom Search
About Fashion-Era.com
Fashion-Era.com looks at women's costume and fashion history and analyses the mood of an era. Changes in technology, leisure, work, cultural and moral values. Homelife and politics also contribute to lifestyle trends, which in turn influence the clothes we wear. These are the changes that make any era of society special in relation to the study of the costume of a period.

Fashion-Era.com can take no responsibility for any information on the site which may cause you error, loss or costs incurred from use of the information and links either directly or indirectly. This site is owned, designed, written and developed by author: Pauline Thomas and Guy Thomas. This site is designed to be viewed in 1024 X 768 or higher.
ALL RIGHTS RESERVED. Fashion-era.com reserves the right to add or delete information, graphics and links. Copyright © 2001-2014 on all content, text and images in Fashion-era.com. Images and text in this website may not be used on other websites.
Before you write to me for costume/fashion help or information please, please consult the extensive sitemap which lists all our pages. If you still cannot find the answer after searching the site, then before you email me, please consider if you are prepared to make a donation to the website.
Donations
Reader's donations help this site flourish, in particular donations encourage me to write more articles on fashion history as well as current trends. PayPal allows anyone with a credit card to donate easily and securely. You may donate any sum you feel appropriate.