Accessories Trends for Autumn 2007/Winter 2008
Handbag Fashion 2007
Trends to watch for in bags for 2007/8
Early Adopters Love Hard Frame Handbags
Clutch Bags
Coloured Bags
Minaudière
Bejewelled or Highly Textured Bags
Metallic Bags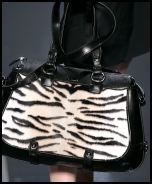 Accessories frequently have the look of rare animal skins, like this bag left from Celine, but the most important change is that classic handbags are back in fashion. Look for the traditional handbag shapes of the box frame bag and the clutch.
Whilst over the shoulder oversized hobos as shown in the header are still a good look, think about buying a proper frame handbag or clutch bag. The fact that a frame handbag must be carried by hand or overarm like a fifties starlet, creates a new look in itself.
Even more important than the bag shape is its colourations and texture. I'd love to get this dark red Dior Samourai handbag above in my 'large' Christmas stocking. Could this be the 'it' bag of tomorrow. Available from Dior at £1925.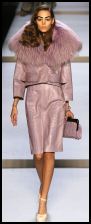 Other variations within the Dior Samourai range include the same silhouette lovely green bag above right and at £1815. Notice how intricate patterned texture has been introduced into the leather to create this signature Dior piece.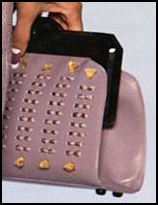 In the world of fashion accessories, it's clear that the 'it' bag has lost the importance it had a couple of years ago. But no season is complete without a new bag. And as soon as any bag becomes a must-have then a new 'it' bag is born.
The clutch bag in the image left is also coloured and has textured detail. Detailing such as this is the mark of a fashionable bag.
Images courtesy of IFTF.
This season a wide range of fashionable bag shapes are available and whatever the shape you select, the one thing about a new bag is that like new earrings, no dieting will ever be required. No wonder these are items that are both high on quantity and quality in a woman's wardrobe.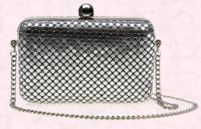 There are strong trends for not only coloured bags, but also hard case minaudière, clutch bags and metallic bags. Left - Silver minaudière from Primark. Chain mail box bag £8.00 due in mid November from the Primark Autumn and Winter 2007 Collection

Envelope clutch bags, pouch gathered clutches, wristlets and hard case minaudière all cater for daintier, evening and smaller bag looks.
Right - Useful Barbarella clutch wristlet from Accessorize future Noir range £25.
Just large enough for the 5 C's - Cellphone, comb, car key cash and credit card.
Fashion bags have become so large and heavy, that many people only sling them over their shoulder whilst the bag is half empty. But as that oversized bag fills up, so the fashionista just has to carry it as a handbag, or develop backache. As we have started to hand carry our bags again, so the proper box frame handbag has gained acceptance.
You are reading an original handbag fashion article by Pauline Weston Thomas at www.fashion-era.com ©
‡‡
Left - This bag from Plumo is a hot mix of three major fashion trends in one handbag. It has the fashion trend of shine with the purple patent, has the contrast texture of a matt look with the purple suede, and all is combined in an upright frame style.
Plumo Minna Parikka bag - Unusual handmade leather bag in lush purple patent leather. Scalloped body, ruched velvet sides. Inside lined with pink fabric with pockets for mobile, keys and money. £298.00
This group of purple bags illustrate of available autumn Winter 2007/8 bag styles.
You can see how many tones there are in the purple/plum family.
Note the clutch, the frame bag, the Gladstone tote and satchel, all great bag variations for you to choose, according to your personal style.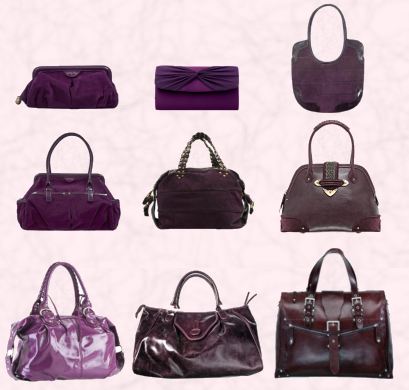 Purple bags from left to right are:-
Top - Row 1 are from Billy Bag, the Jayne suede clutch at £55, at centre, value Marks and Spencer fabric evening clutch and elongated Billy Bag underarm bag - Sadie - £145.
Middle - Row 2 first bag is a roomy Billy Bag called Mary at £95, the centre Billy Bag with gold chains, is Anoushka at £220. Far right - the plum Jeanne XL frame bag from Dior at £1045 direct from the Dior online website.
Bottom - Row 3 - The bag on the left is a light purple grab bag with a wet look. It is obtainable at River Island Clothing Co. Ltd price £29.99. In the centre is the distressed Dorothy Perkins rich plum purple bag £25 and the last satchel style leather bag far right, is from a varying selection at T.K.Maxx.
§
Metallic Bags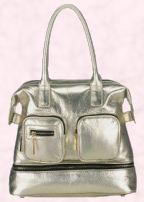 Metallic bags have gained momentum.
Initially metallic looks were confined to gold or silver. This past year other coloured metallics, such as burnished copper and gunmetal tones have also all become standard.
Left - J Jeans by Jasper Conran for Debenhams gold bag £85/€132
Right - Debenhams Autumn/Winter 2007 Women's Accessories. Red Herring two pocket grab bag is £20/€31. Note the removable base which can be used to store documents, magazines, footwear or a fresh blouse. There are quite a few high street stores selling bags with extra zip bases - a take on the Dior Detective bag of a few years ago.
Of course evening bags are made to be gold, silver or black. These two gold bags below are from DUNE and have the currently fashionable snakeskin effect or chain mail texture effect.

Above left - Magical clutch bag (mesh) Dune price £70. Both clutch bags are from the Dune Christmas Collection. Above right - Marcon snake skin style clutch bag from Dune. Price £40. You are reading an original fashion article by Pauline Weston Thomas at www.fashion-era.com ©
Grey and silver grey are popular tones for bags this season. They can be metallic, textured or matt like these bags.

Above left - Accessorize Christmas Collections 2007 - Crystal Oscar Bag - £45/€76.
Above right - Primark hard clutch. Diamante mould bag £8.00 due in end of October from the Primark Autumn and Winter 2007 Collection.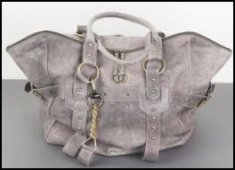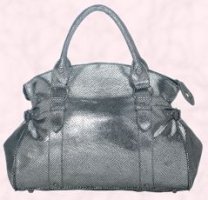 Right - This metallic finish bag is Debenhams Red Herring range silver snake music bag.
At £25/€39 it is currently one of Debenhams top sellers.
I especially like this capacious bag left, from River Island Clothing Co. Ltd.
River Island washed oversize leather holdall at £120/€201.50.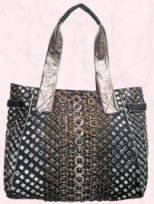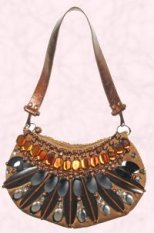 Another feature of Autumn 2007 Winter 2008 bags is texture. Warrior woman has taken stud texture to new limits in day and evening bags.
Bead surface texture is thick and crunchy. It is also much influenced by the current fascination with Swarovski crystal embellishment on designer fashion items.
This silver and gunmetal grey studded medieval shopper right is from Accessorize Christmas Collection 2007 and has been in stores since September.
Far left - Accessorize Studded Medieval Shopper - £45/€76.
Left - Accessorize Boutique gemstone Boutique Bag - £55/€93.
Header image details - Plumo - Tutu slouch bag. Gorgeous soft, slouchy leather bag made from bronze coloured leather. Inside neatly organised with space for mobile, keys and a zipped side pouch. Straps are long enough to sling the bag over the shoulder. Contrast lined. £269.00
Whatever bag you choose this autumn it will have a distinctive look of 2007 about it.
Major New Fashion Accessory Looks for Fall 2007 Winter 2008. You are reading an original fashion article by Pauline Weston Thomas at www.fashion-era.com ©
Read more about these colours and about fabrics on the Spring 2007 colour page.
Images courtesy of IFTF, Plumo, River Island, Accessorize, Monsoon, Debenhams, Billy Bag, Primark, Marks and Spencer, Dior and prshots,
Page Date 26 Sept 2007. P643
If you like this page then please share it with your friends
---
For more information on ladies and teens fashion trends go to:-
Jewellery Trends 2007
* AW (Autumn Winter)
Archived Sections
Custom Search
About Fashion-Era.com
Fashion-Era.com looks at women's costume and fashion history and analyses the mood of an era. Changes in technology, leisure, work, cultural and moral values. Homelife and politics also contribute to lifestyle trends, which in turn influence the clothes we wear. These are the changes that make any era of society special in relation to the study of the costume of a period.

Fashion-Era.com can take no responsibility for any information on the site which may cause you error, loss or costs incurred from use of the information and links either directly or indirectly. This site is owned, designed, written and developed by author: Pauline Thomas and Guy Thomas. This site is designed to be viewed in 1024 X 768 or higher.
ALL RIGHTS RESERVED. Fashion-era.com reserves the right to add or delete information, graphics and links. Copyright © 2001-2014 on all content, text and images in Fashion-era.com. Images and text in this website may not be used on other websites.
Before you write to me for costume/fashion help or information please, please consult the extensive sitemap which lists all our pages. If you still cannot find the answer after searching the site, then before you email me, please consider if you are prepared to make a donation to the website.
Donations
Reader's donations help this site flourish, in particular donations encourage me to write more articles on fashion history as well as current trends. PayPal allows anyone with a credit card to donate easily and securely. You may donate any sum you feel appropriate.