Belts and Shoes
Fashion Accessories Trends 2007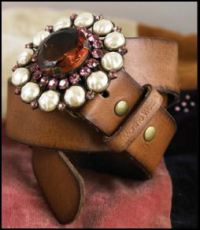 The perfect fashion accessory is the one that suits you, and lifts your everyday outfit into the realms of making it so special, that compliments roll fast and furious.
You may have already seen my page of looks for autumn trends 2007, or have read about the influence of Swarovski CRYSTALLIZATION™ on the Swarovski page, or about texture on handbags. If so, you will be aware that gem encrustation is influencing all areas of clothing and accessories, including underwear.
The perfect fashion accessory is bound to set off any outfit and the very best thing about accessories is that slimming is never involved! Fat or thin, there are plenty of accessories to suit all sizes.
Left - This Plumo Vintage style belt in chestnut brown leather is available in two sizes and can be bought online from Plumo at £109. Its Swarovski crystal set buckle, is encrusted with ivory fashion pearls and sparkling pink Swarovski crystals.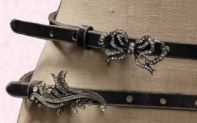 These belts shown right are also by Plumo and are the perfect item to dress up a favourite black dress or trousers. Price N/K.
The crystal bow is a hot fashion symbol this autumn especially in jewellery items such as earrings or pendants.
‡‡
Belts had a revival with the gypsy Boho look when the belts were slung low on the hip.
Belts are now back on the waistline, and these belts here, feature a mixed selection of buckles and clasps. Many more varieties than we saw during the Eclectic Ethnic Era. The Plumo crystal buckles above offer a feminine daintiness that some of the heavier buckles can never achieve.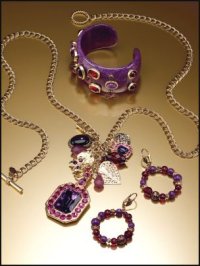 In addition to leather and manmade material belts, look out for chain lariat style belts. This sumptuous gold chain link lariat belt with purple crystal medallion, covers several trends in one item. The fashion accessory items in the image left are all from a selection at Debenhams Accessories. The photograph should remind you that purple is the 'it' of colour of autumn.
Jewellery chain belts and bejewelled minaudière are also the alternative to wearing standard jewellery. The gem studded cuff in the upper section of the image, looks like a splendid fashion buy, for that all important pop of autumn 2007 purple.

Left - This is another bangle cuff from Debenhams with a purple jolt of colour. It's a simple, but modern inexpensive accessory that will help update your look.
Just below, and equally feminine, is this lovely decorative butterfly belt from River Island Clothing at just £19.99.

Wallis have many various belts that have a bold space age look.
The second elastic black belt below has a lovely central disc clasp buckle fastening that might have been seen in a Sci-Fi film.
Warrior woman is at large in a city near you.
Right - Wallis black elastic clasp disc belt, price £15/€23.


Hardware first moved off belts onto fashion handbags, but now the studs are once again richly decorating belts. These two belts left have a mixture of stud sizes and are from the House of Fraser 'UNTOLD' range. House of Fraser black and brown belts with antique brass roller buckle, price £25 each.
In keeping with the flurry of metallic bags there are many golden and silver belts on offer in all the high street stores. The gold House of Fraser 'Linea' belt below, also pays homage to stud style.
Linea multi chain link and gold mesh belt £29.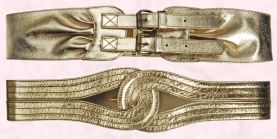 These three high fashion belts, to the left and right, are all from Dorothy Perkins. Two follow the double buckle style.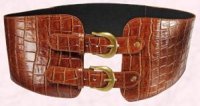 Gold double buckle belt, £12/€20, Gold loop belt, £12/€20, both Dorothy Perkins.
Dorothy Perkins - Tan double buckle belt £12/€20.
You are reading an original 'fashion trends in accessories' article by Pauline Weston Thomas© at www.fashion-era.com
§

If you have no waistline for a belt, consider instead purple boots. These £90 purple suede fashion boots right, are from the Georgina Goodman range for Evans. They are bound to be wide enough for those with larger calves since the boot has an elastic panel. With a pointed toe, suede upper and lining they are also available in black.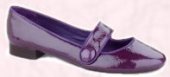 Purple - great colour. See how it extends to flats and even shoe boot linings. Above right - Dune Passby shoe boot £110.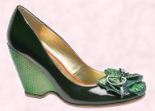 Left - French Connection purple patent flat pumps £70.
Other popular shoe tones this season include green, a colour which will take us into spring. These patent green wedge shoes are from Shelly.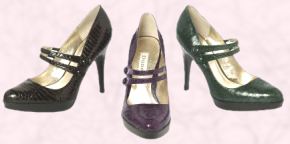 Black, purple and forest green are all must-have choices for Christmas. The selection of Mary Jane shoes below are from Dune.
Note the patent wet look, and the colourations.

The double bar strap is a feature of the latest Mary Jane shoe styles. This bar strap feature has also crossed over into ballet flats and even slippers.
If metallic is on your mind then what better choice than this warm gold shoe boot also from Dune.
Hosiery is very much at the fore of fashion this autumn Winter 2007/8. Some styles of clothing only gel when worn with coloured or patterned tights and wildly contrasting footwear.
Coloured shoes can be worn with thick or opaque black tights, coloured tights, animal print tights or lace hosiery.
Gloves have been a growing trend ever since three quarter and elbow sleeves started appearing on outdoor winter wear.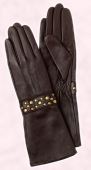 For a super deluxe evening think gold or metallic gloves like these shown left and from Plumo.
Gloves of all types especially elbow length gloves or ditsy short gloves set the tone of your outfit. Right - Wallis long grey ruched leather gloves, £22, €36, long teal button detail gloves, £18, €30. Left studded gloves from Marks and Spencers.
For gloves that may become vintage in the years check out those at House of Fraser. House of Fraser glove departments are stocking Dents black leather cut out gloves with a diamante box cut out finish at £49.
‡
Everyday headwear is has made a comeback especially with younger people. Hats can vary from knit beanies to fur or feather inspired pieces zany enough to revive as cocktail hats. But the Fedora is the most important hat revival style.
Far right - Purple velvet trilby from French Connection is priced at £30.
In the past 5 years, we have rediscovered terms like barrette, a hair accessory name that almost went out of use.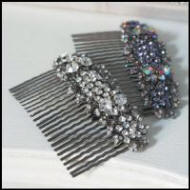 Beautiful hairclips, bobby pins, barrette slides, hairclips and grips can all be jewel decorated to add a glamorous touch to any hairstyle.
Left - Plumo hair combs with crystals.
In particular hair ornaments are very fashionable both day and evening. Many hair accessories will suit current French pleats and other updo hairstyles. Other hairstyles to consider are classic bobs and also the Victoria asymmetric bob.
As the season becomes more festive expect hair ornaments to go wild. Hair decoration began to happen again when women started to wear flowers and fascinator hat pieces in their hair. These small, but festive hair accessories have become perfect for adding a partied-up touch for weddings and other social occasions, especially when the protocol for wearing headwear is optional. Evening wedding receptions have created a great deal of difficulty for women who ponder the need for wearing a hat for 'special occasion' dressing.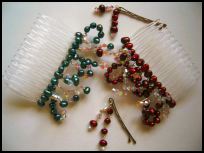 Now all sorts of new creative accessories are being used to decorate the hair. These little works of art certainly make a welcome change from those straight hair extensions of yesterday.
Bridal wear has already been the prime place for tiara wear and Pearls Plus make them to order.
Right - Other items Pearls Plus make for the hair include these coloured freshwater pearl pieces. The coloured pearls and dainty Swarovski crystals catch the light and reflect lovely colours that match your dress.
Decorative brow headbands and forehead drops and lariats are an accessory area about to see more demand within the jewellery marketplace. Some of the decorative pieces seen on hair accessories this season are just as likely to be adorning belts.
The jewellery market and online gem market is booming and now many stores place their fashion costume jewellery at the front of the store. the choice of fashion and fine jewellery is enormous. Read all about the latest cuff, luxury bespoke and general jewellery trends on my other pages.
You have been reading an original fashion trends article by Pauline Weston Thomas at www.fashion-era.com
Read more about these colours and about fabrics on the Spring 2007 colour page.
Images courtesy of swarovski, Plumo, River Island, Dorothy Perkins, Wallis, Accessorize, French Connection, House of Fraser, Debenhams, Dune, Shelly, Evans, Pearls Plus, Marks and Spencer, and prshots,
Special thanks to David of http://www.prshots.com/ one of the best sources of PR material.
Page Date 2 October 2007. REF.P644
If you like this page then please share it with your friends
---
For more information on ladies and teens fashion trends go to:-
Jewellery Trends 2007
* AW (Autumn Winter)
Archived Sections
Custom Search
About Fashion-Era.com
Fashion-Era.com looks at women's costume and fashion history and analyses the mood of an era. Changes in technology, leisure, work, cultural and moral values. Homelife and politics also contribute to lifestyle trends, which in turn influence the clothes we wear. These are the changes that make any era of society special in relation to the study of the costume of a period.

Fashion-Era.com can take no responsibility for any information on the site which may cause you error, loss or costs incurred from use of the information and links either directly or indirectly. This site is owned, designed, written and developed by author: Pauline Thomas and Guy Thomas. This site is designed to be viewed in 1024 X 768 or higher.
ALL RIGHTS RESERVED. Fashion-era.com reserves the right to add or delete information, graphics and links. Copyright © 2001-2014 on all content, text and images in Fashion-era.com. Images and text in this website may not be used on other websites.
Before you write to me for costume/fashion help or information please, please consult the extensive sitemap which lists all our pages. If you still cannot find the answer after searching the site, then before you email me, please consider if you are prepared to make a donation to the website.
Donations
Reader's donations help this site flourish, in particular donations encourage me to write more articles on fashion history as well as current trends. PayPal allows anyone with a credit card to donate easily and securely. You may donate any sum you feel appropriate.