Latest Fashion Trends for Fall 2007 & Winter 2008
Gold Brocade, Molten Looks, and Jewels Create Fashions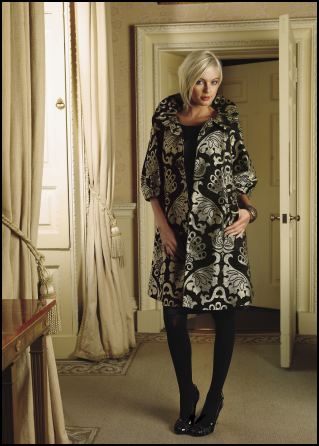 This is a very important season for contrasting texture effects in clothing. Look out for encrusted jewel trimmings and also beautiful gold Damask weave decoration.
In the past decade texture in fashion has grown apace, ever since the underlying trend for eclectic ethnic started. It brought appliquι and traditional folkloric elements into the design of the fabric and construction of our clothes. This fascination for embellishment has led to a revived interest in opulent luxury fabrics.
For autumn 2007/Winter 2008 texture is one of the main stories. Two types of texture are most prominent:
1. Brocade Fabrics - traditional damask weaves and Venetian brocade patterns that will move toward tapestry fabric effects by summer 2008.
2. Fabric Encrustation - huge cabochon*, square glass and crystal jewels; you will also see beads, or sequins which all add depth and surface texture.
*Cabochon is a gemstone that is polished rather than cut.
Above left - Emma Somerset Autumn/Winter 2007 - Occasion Wear - Brocade puff sleeve coat £325 and shift dress £99 by Oky Coky. Printed bangle £28 by Emma Somerset. OkyCoky is collection from the Spanish design duo Geli Torres and Sandro Portela.
Metallic or jewelled texture is one of the most prominent trends in every form of fashion wear. Rich gold brocades have added value with their extra bead embellishment. Evening bags drip with jewel studding, belt buckles cascade stones and crystals.
Think texture, contrast, gloss, gleam, sheen, gold and goddess glitz.
Matt texture is set against shiny or metallic; as the fabrics all vie for attention, the effect is to shock and delight. Fabrics thrill because many materials are quite simply lush in their rich complexity. The effects are so unusual to the eye they seem almost mysterious in their opulence. Many will give the impression of belonging in a distant eastern bazaar or renaissance faire. Re-enactors are advised to take advantage whilst this fabric is so strongly in fashion, and stock up on the best brocades available.
Patterns in brocade can be subtle or bold, however, bold and manifestly renaissance in style often wins through, like this beautiful gold and black brocade coat from Emma Somerset shown above left.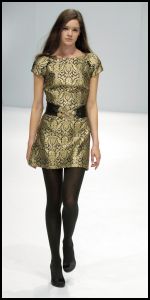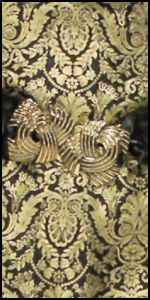 Brocade and damask looks have become a norm in current fashion.
A few years ago the jacquard brocade fabric seemed initially limited to haute couture and the odd magazine dress or coat, now opulence has moved into main stream fashion and brocade is used for every fashion item from tunic dresses, bags to footwear. This trend for gold damask is likely to endure, since, Dolce and Gabbana feature gold damask patterned trousers in their summer 2008 collection.
For autumn 2007, gold fabrics, rich ochre brocade materials and deluxe gold trim are regularly set against black. This dress right is from Warehouse.
Far right - Warehouse Catwalk Shots AW07 Look 51 - Tunic dress £90/€140, belt £18/€27.
Near right - Detail of the tunic brocade fabric and contrast textured buckle belt, creating ornament on ornament.
Traditional damask patterns like this, add richness and an expensive luxurious touch, which is brought quickly into the late noughties by the silhouette of the modern youthful tunic shape. You are reading an original fashion trends article written by Pauline Weston Thomas© at www.fashion-era.com ©
‡‡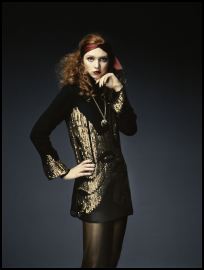 Noughties versions of patterned fabrics are frequently playful, like this black spot and gold dress above from Warehouse, or this gold weave jacket from Phase Eight autumn/winter 2007/8 collections. You are reading an original fashion trends article written by Pauline Weston Thomas© at www.fashion-era.com ©
Left - French Connection Campaign 07 - Gold and black spot dress £95, black body £30, black suede ankle boots £90.
Right - Phase Eight Autumn/Winter 2007 - Embellished tunic £90, shell pendant £20.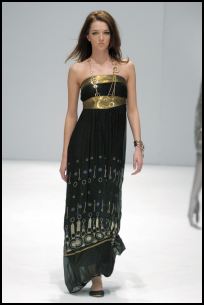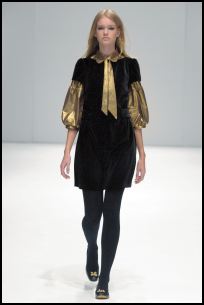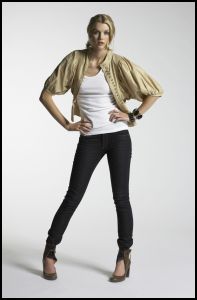 Above left - Warehouse Catwalk Shots AW07 - Look 53 -Maxi Dress £150/€230.
Centre - Warehouse Catwalk Shots AW07 - Look 11 - Blouse £30/€45, Dress £65/€99.
Right - New Look Autumn/Winter 07/08 Collection - Legend Womenswear Cream button blouse (worn as jacket) £25/36€, White vest £4/6€, Skinny jeans £25/36€, Brown shoes £35/50€, Gold cuff with black disks £12/17€, Gold cuff with black squares £12/17€.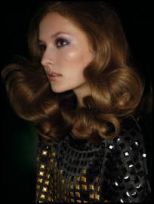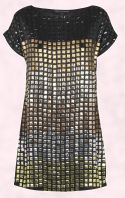 Sheer soft silver acts as a silky and ethereal pastel tone, especially when set against warrior-like anthracite, charcoal and gunmetal grey. The resulting effect gives out a strong powerful message when worn by a woman - 'Don't mess with me'. In addition, the colour combination also looks expensive and adds a new gravitas to these styles.
This tunic dress left and right is studded with jewels and is from French Connection Christmas Collection 2007 - Magical mosaic dress £135.
Texture is especially noticeable in the black range of clothing. Matt texture on black sits beside a black satin edge, with perhaps a black chiffon frayed insert.
Black or gold is the foundation for contrasting texture. This multi-jewel, embellished tunic dress adds interest with innovative surface gilding. By its very newness, you will arouse interest when you wear such a novel dress.
Some sequin fabrics also have added texture. Elongated Pailettes and spangles dangling from the surface create new garments with armour like scales.
§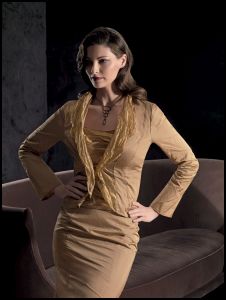 Fabrics lay texture on texture, they contrast matt against smooth, or reptilian leathers against dry suede.
Croc and lizard, python, animal skin prints, real or fake are all available. Armorial leather is re-textured with cut-outs, punch work, plaiting, studding, weaving or appliquι. Shiny patent also provides a sleek contrast and uses bold colours like black, yellow and of course, traditional gleaming black, to command attention in modern rainwear Macs.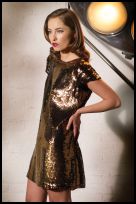 Wet look gold molten looks were prominent in recent spring 2008 catwalk collections. Combined with metallic colourations, the resulting look is of molten metal, dripping and lustrous with gleam.
Glimmer, shimmer and sparkle are a challenge for modern metallics. The resulting appearance is either molten, sheer or iridescent.
24k gold tones both compete and contrast with either pastel pale gold, stronger rose gold, or copper bronze hues. Sheer gold and semi-sheer gold fabrics are laid upon each other to help create nuances of tone, and also the play of light and shade. Above right - Copper bronze sequin tunic dress from Marks and Spencer.
Vera Mont golden suit - Above left this combination of skirt, bodice and blouse jacket made from metal-organza and satin has sophisticated gathers and frills.
Autumn/Winter '07 - Vera Mont Bodice 1857/4341 UK ₤105.00/IRL €140.00, Material: 55% acetate, 25% metal, 20% polyamide. Blouse 1851/4374 - UK ₤125.00/ IRL €160.00 - Material: 88% polyester, 12% metal.
Vera Mont Skirt 1743/4374 - UK ₤115.00/IRL €150.00 - Material: 88% polyester, 12% metal.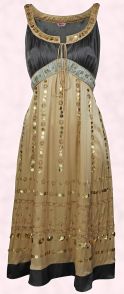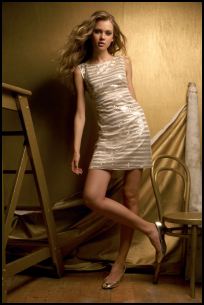 Above - Three very different gold outfits, but each captures the essence of the golden season.
Molten and wet look fabrics include a variety of materials, with each contributing a slightly different take on the look. Patent, plastic, leather, satin, neoprene, rubber and sensational sequin materials give off powerful shimmer with looks rarely seen before. Modern production of innovative new materials, combined with the canny sourcing, means low cost retail prices, enabling the ordinary person to dress as grandly as a Queen in her coronation robes. You are reading an original fashion trends article written by Pauline Weston Thomas© at www.fashion-era.com ©
Autumn 2007 is one of iridescence, opulence and shimmer. This is the year to dress up and be the ultra glam the character of Jill Masterson the Goldfinger 007 gold painted lady. These are the new fashion styles for gold and evening Fashion Trends Autumn 2007, Winter 2008.
Left - Warehouse Christmas Collection A/W2007 - Look 52 - Jacquard blouse with high waist trousers - Blouse £65/€99, trousers £55/€85. Centre - Monsoon - Gold sequin evening empire line dress.
Right - Autumn Winter Fashion from Freemans - Gold sequin shift dress, Product number 53H790LMY, £45.
See also the main page on Wardrobe tips AW 07/08 - Also Coat Fashions - Colour Moodboards
Special thanks to David of prshots with all images on this page courtesy of Emma Somerset, Monsoon, Warehouse, Phase Eight, New Look, Vera Mont, French Connection, Freemans and IFTF (header image) Autumn winter 2007 ranges.
Date added 17 October 2007 - Ref:P655.
If you like this page then please share it with your friends
---
For more information on ladies and teens fashion trends go to:-
Jewellery Trends 2007
* AW (Autumn Winter)
Archived Sections
Custom Search
About Fashion-Era.com
Fashion-Era.com looks at women's costume and fashion history and analyses the mood of an era. Changes in technology, leisure, work, cultural and moral values. Homelife and politics also contribute to lifestyle trends, which in turn influence the clothes we wear. These are the changes that make any era of society special in relation to the study of the costume of a period.

Fashion-Era.com can take no responsibility for any information on the site which may cause you error, loss or costs incurred from use of the information and links either directly or indirectly. This site is owned, designed, written and developed by author: Pauline Thomas and Guy Thomas. This site is designed to be viewed in 1024 X 768 or higher.
ALL RIGHTS RESERVED. Fashion-era.com reserves the right to add or delete information, graphics and links. Copyright © 2001-2014 on all content, text and images in Fashion-era.com. Images and text in this website may not be used on other websites.
Before you write to me for costume/fashion help or information please, please consult the extensive sitemap which lists all our pages. If you still cannot find the answer after searching the site, then before you email me, please consider if you are prepared to make a donation to the website.
Donations
Reader's donations help this site flourish, in particular donations encourage me to write more articles on fashion history as well as current trends. PayPal allows anyone with a credit card to donate easily and securely. You may donate any sum you feel appropriate.