Fashion Trends for Fall 2007 & Winter 2008
Grey Coats & Pants
Silver, Greys & Neutrals are in Fashion for 2008
This page features examples of basic wardrobe buys.
This autumn 2007, neutral grey clothes make a striking contrast to brighter colours such as purple, hot pink, orange, lime and electric blue. This page is full of everyday clothes in neutral tones including coats, pants and dresses. Matalan and New Look offer some of the lowest prices for many wardrobe necessities in black, charcoal, silver and grey.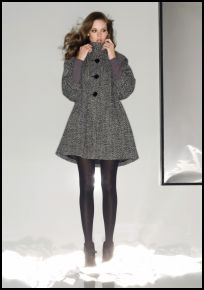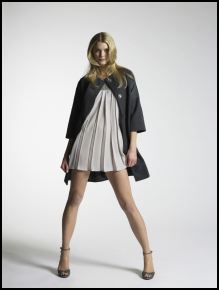 If grey suits your colouring, think about purchasing an investment piece. Consider paying a little more, for a beautifully fitting garment like tailored pants and opt for a costlier brand such as Fenn Wright Manson. Wear-for-wear more expensive clothes really will last longer before the fabric deteriorates. Simply decide what you want from grey - fast seasonal fashion with a few outings, or year after year wear.
Above left - French Connection Autumn/Winter 2007 Herringbone coat £160, black leather ankle boot £115.
Above right - New Look Autumn/Winter 07/08 Collection - Legend Womenswear - Collarless trapeze coat £45/€65, Pleated smock with beaded neckline £45/€65, Teardrop earrings £8/€11, Silver shoes £25/€ 36.


In the chill of winter nights, the short charcoal coat, above left from French Connection, would sit well above trousers, or a short skimpy dress. A coat in a good basic shape and a neutral tone will get worn more frequently that a high fashion coat that has to be styled a specific way to look correct.
If you have a good waist then there are many wrap-belt style coats like these from Wallis, left, and the Monsoon check coat right. Right - Monsoon Autumn Winter 2007 - Charlie Coat - £140/€220. Left - Wallis Autumn Winter 2007 - Stone 40's style belted wrap coat £85/€140.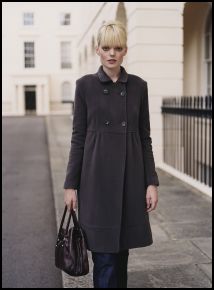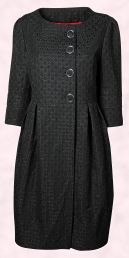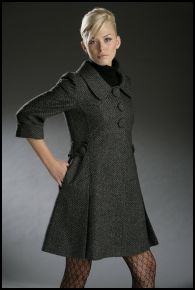 The deep charcoal coat above from Great Plains has an empire line with soft gathers that would allow for the skirt fullness so many empire line dresses have.
Above left - Great Plains AW07 - Cashmere wool coat £100.
The Monsoon Mirabella coat in the centre, also has some soft tucks at the waistline which gives skirt fullness. This is helpful for accommodating bubble skirts beneath. Monsoon Storm is a new trend-driven capsule launched in September 2007. The collection is refreshed monthly and is available online and at 30 top Monsoon stores across the country.
Centre - Monsoon Storm - Mirabella Coat - £130/€199.
Far right - Internacionale Autumn/Winter 2007 - Coat Dress £45, Tights £5.
‡‡
Practical Macs
Shine, zips and belts are a big fashion trend this autumn. These practical topcoats, like the patent Mac, or the padded coat and jacket would help keep you dry during the commute to work.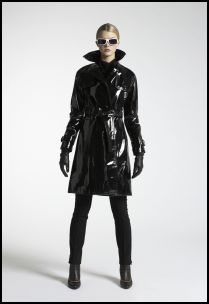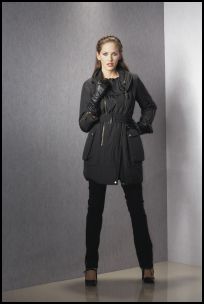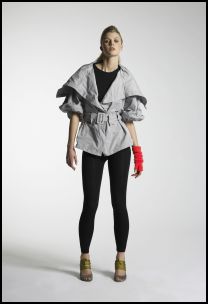 Above left - New Look Autumn/Winter 07/08 Collection - Womenswear Visionary - Patent mac £50/€72.50, Black turtle neck jumper £20/€29, Black skinny leg high waisted trousers £25/€36, Black leather elbow gloves £20/€29, Black boots with orange trim £40/€58, White sunglasses £8/€11.
Centre - Matalan Autumn/Winter 2007 - Parka jacket and jeans - Padded parka jacket £30, zip detail jeans £12.
Far right - New Look Autumn/Winter 07/08 Collection - Body Conscious Womenswear - Grey big collar belted jacket £40/€48, Black vest £4/€6, Black leggings £6/€9, Neon pink arm warmer £3/€4, Grey shoes with green laces £35/€50.
You are reading an original fashion article by Pauline Weston Thomas at www.fashion-era.com ©
The choice is yours - narrow legs as shown above with the coats, or forties fashion pants with buttoned high waists and wide leg styles. I've already bought my Paul Costello winter trousers in a cashmere mix ready for ultra cold days. The image far right is of a black jumpsuit from Principles Nouveau. Note those blouson sleeves. The sleeve is an area of great interest in the silhouette at present.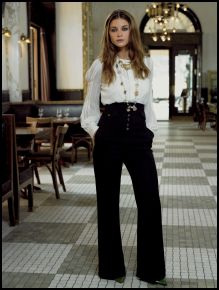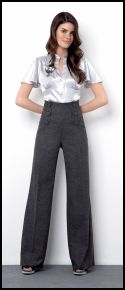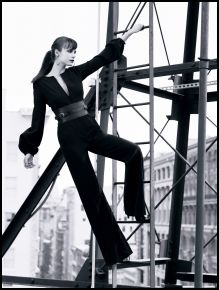 If you are sleepy first thing in the morning, neutrals like these are ready to go. Grab any coloured bright jacket and you'll still look great. These black cropped trousers to the right, zing with energy when teamed with this bright pink Red Herring jacket from Debenhams.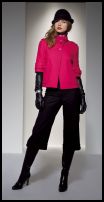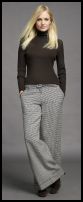 Above left - Debenhams Autumn/Winter 2007 Womenswear - J by Jasper Conran blouse £45/€70, Butterfly by Matthew Williamson trousers £45/€70, EB by Erickson Beaumon long charm necklace £35/€54, short charm necklace £25/€39.
Centre and header - River Island Clothing Co. Ltd - A/W 2007 Womenswear, Satin blouse £29.99/€50.50, High waisted trousers £39.99/€67.00
Above right - Nouveau at Principles Autumn Winter 2007 - Black jumpsuit £79/125 euros, black elastic double buckle belt £25/39 euros and shoes £55/85 euros. Stockist Number 0870 122 8802.
Extreme lower right - Marc Jacobs AW2007
Lower right - Debenhams Autumn/Winter 2007 - Red Herring pink jacket £35/€54 and crop trousers £22/€34, J by Jasper Conran black boots £125/€194, J by Jasper Conran trilby £18/€28, Simply silver cuff.
Lower left - Black and white fine check trousers with turn ups from Fenn Wright Manson. Left - Fenn Wright Manson - Wool Dogtooth Trousers £109.00.
See more trouser styles on the Miss Selfridge daywear page.
§
Some days you just want to feel womanly, and a dress makes for that girly feminine feeling. These soft grey dresses can be worn with grey tights to create a neutral understated look. Alternatively, dress them up with bright or patterned hosiery, shoe boots and other colourful accessories like a red handbag or vivid scarf.
Wardrobe Tip - Grey opaque hosiery is proving to be one of the hottest sellers in UK this autumn.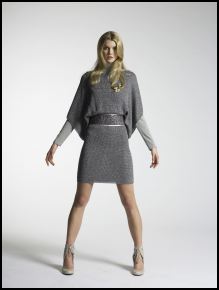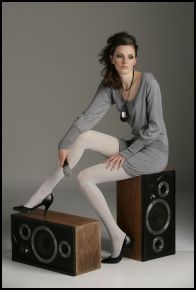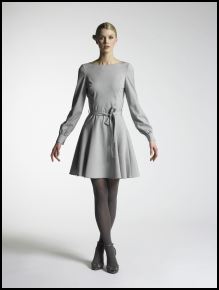 Above left - New Look Autumn/Winter 07/08 Collection - Womenswear Legend - Silver Lurex knitted dress £35/€50, Grey jersey polo neck £10/€14.50, Silver mesh belt £12/€17, Showgirl brooch £8/€11, Cream shoes £35/€50.
Centre - Internacionale - Silver tights £5, Scoop dress £16. Internacionale Autumn/Winter 2007.
Far right - New Look Autumn/Winter 07/08 Collection - Womenswear Visionary, Grey dress £30/€43.50, Black tights £3/€4, Black shoes £25/€36.
To set off any of these outfits select some silver jewellery like this silver leaf bracelet from Curteis. It would make a great Christmas present to yourself! The olivine tones of the Swarovski crystal are very fashionable.
Details - Curteis Jewellery 2007 contemporary style sterling silver ladies feather charm bracelet from the 'feathers' collection within the 'inspired' jewellery range by Curteis Ltd. Semi precious beads comprise: Olivine Swarovski crystal. RRP: £70. For stockists call Curteis on : 0800 195 6771
These are new fashion styles from Matalan, Warehouse, Great Plains, Monsoon, Internacionale, New Look, Fenn Wright Manson, Debenhams, River Island, French Connection and jewellers Curteis, for Fashion Trends Autumn 2007, Winter 2008.
You are reading an original fashion trends article by Pauline Weston Thomas at www.fashion-era.com ©
See also the main page on Wardrobe tips AW 07/08 - Also Coat Fashions - Colour Moodboards
Special thanks to prshots with all images on this page courtesy of Matalan, Warehouse, Great Plains, Principles, Monsoon, Internacionale, New Look, Fenn Wright Manson, Debenhams, River Island, Curteis, French Connection Autumn winter 2007 ranges.
Header Image courtesy River Island.
Date added 16 October 2007 - Ref:P654.
If you like this page then please share it with your friends
---
For more information on ladies and teens fashion trends go to:-
Jewellery Trends 2007
* AW (Autumn Winter)
Archived Sections
Custom Search
About Fashion-Era.com
Fashion-Era.com looks at women's costume and fashion history and analyses the mood of an era. Changes in technology, leisure, work, cultural and moral values. Homelife and politics also contribute to lifestyle trends, which in turn influence the clothes we wear. These are the changes that make any era of society special in relation to the study of the costume of a period.

Fashion-Era.com can take no responsibility for any information on the site which may cause you error, loss or costs incurred from use of the information and links either directly or indirectly. This site is owned, designed, written and developed by author: Pauline Thomas and Guy Thomas. This site is designed to be viewed in 1024 X 768 or higher.
ALL RIGHTS RESERVED. Fashion-era.com reserves the right to add or delete information, graphics and links. Copyright © 2001-2014 on all content, text and images in Fashion-era.com. Images and text in this website may not be used on other websites.
Before you write to me for costume/fashion help or information please, please consult the extensive sitemap which lists all our pages. If you still cannot find the answer after searching the site, then before you email me, please consider if you are prepared to make a donation to the website.
Donations
Reader's donations help this site flourish, in particular donations encourage me to write more articles on fashion history as well as current trends. PayPal allows anyone with a credit card to donate easily and securely. You may donate any sum you feel appropriate.