Custom Fashion Trends 2007
Bespoke, One of-a-kind, Luxury Jewellery
Below are diamonds on display in Hong Kong 2007, photographed in one of the finest places in the world to shop for jewellery. It's also the perfect place for buying many bespoke and custom made jewellery items.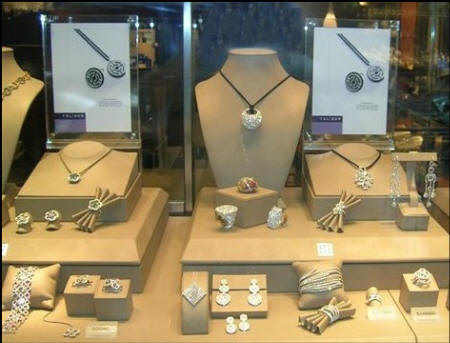 In the field of accessories, jewellery is the next big 'it' item. Consumers want fresh gemstone designs and women frequently make the jewellery purchase themselves, rather than waiting for items as gifts.
This has had a knock on effect in mass terms. Lots of jewellery designs using precious metals and gemstones are now easily available and bought cheaply by the masses. This may suit some people. But for just as many people who are thrilled by accessible, and affordable jewellery there are consumers who are rejecting the cookie cutter looks of standard window shopping jewellery.
Today, jewellery marketed at the super rich has to offer more than something that is available to the mass consumer market. Some jewellers consider the phrase 'mass luxury market', a much abused term and lacking meaning. Pieces have to be unique and individual to please the discriminating.
'Want it' - so 'buy it'. 'Not sure' - so 'leave it'.
'Luxury' has gone downmarket the same way as the newer term 'must-have'. I've been observing the desires of Miss Musthavethatnow for decades. In Autumn Winter 2006/7, Saks was using the theme of WANT IT NOW and MUST HAVES in their advertising campaign. Now even the Argos catalogue advertises must-haves. With such slack use of terms, it follows that jewellery is not always considered the luxury it once was, even among the masses. One person's must-have is another person's must-not-have.
To impress, everything today has to be a luxury, ultra or premium alternative version - even yoghurt! Look at the back of any quality glossy magazine, or surf online and notice how many references are made to bespoke items. Once the reference was solely for bespoke tailoring. Now we have bespoke weddings, bespoke cakes, cars, writing paper, ceramics, food, conservatories, wallpaper etc., even bespoke sandwich fillings and bespoke dog wedding wear.
For jewellery to impress the top end consumer, it must now be cutting edge and of course, be bespoke.
Has the world gone mad? Where will this abuse of the words bespoke and luxury end? You are reading an original fashion article by Pauline Weston Thomas at www.fashion-era.com ©
‡‡
Today really rich people often opt for a one-off, one-of-a-kind, or a very limited edition artist piece of jewellery. Such pieces are meant to be viewed as works of art. The price is not always as relevant, nor necessarily unaffordable, but what matters is how exclusive and authentic a bespoke piece is distribution wise. It's that old chestnut, rarity increases the desirability. You can read more about exclusive haute jewellery, south sea pearls and gems on my other pages on Van Cleef and Arpels and also Jewels of Ocean.
Of course, mostly a higher price does play a part, but there are lone jewellers who work in mid price ranges simply because they enjoy producing one-off handmade pieces.
Creative satisfaction of owning one-of-a-kind handmade pieces can be as important to the craftsman who makes them, as to the customer.
Right - Diamonds on display in Hong Kong in 2007. I wonder how many requests there were for this red carpet, showstopper, extravagant diamond necklace design?
British artist Marc Quinn used the strawberry as the unit of a new frozen strawberry pendant design.
His strawberry jewel piece was studded with 600 diamonds representing a textured iced, diamond pip surface, and was worked in 18K white gold. The design was made in a limited edition of 10 strawberries, each priced at £24,000. This project was intended for a niche gallery market.
Galleries are the perfect place for an invited niche audience. The strawberry art, called 'Frozen Strawberry', is considered a work of art in its own right. When not being worn, the strawberry piece is intended to be displayed in its own art object case.
This is gemart - gemstone art in the style of the original one off Fabergé eggs
All natural forms provide great sources of inspiration for jewellery makers.
Strawberry pendants are bound to be top of the list for bespoke seekers in 2008, after Ken Haladjian of Exclusive Jewels won the Grand prize for his gorgeous 3D gemstone strawberry at Gemvision Corporation 2nd Matrix Design Contest.
Ken Haladjian of Exclusive Jewelry Designs, 706 South Hill Street, # 940, Los Angeles, CA. 90014, Tel. (800)554-2221 sent me these wonderful images of his 18K gold gemstone strawberry. The strawberry gem can be used as a pendant, charm or objet d'art. Click to see the strawberry images enlarged.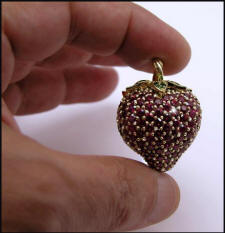 Here is another photograph of the Ken Haladjian gem set strawberry, and showing proportion. What a wonderful picture of a fruit we all love.
The strawberry has a flat 18K gold back and the 3D front features 162 diamond cut Rubies totalling 15.32 cts., 32 Diamond cut Tsavorites (the finest green gemstones) total weight of 1.28 cts., and about 40 brilliant cut diamonds, 0.005 carat each. The diamonds are set on the very prongs that are holding the Rubies and they sparkle continuously from every angle!
This is gemart.
Gorgeous!
'Want it' - Now!
The contest Ken took part in is open to users of Matrix 3D Jewellery Design Software. Other Matrix banquet attendees at the second Matrix Design Contest, voted Ken Haladjian the grand prize winner. So this was a considerable accolade for Ken to be voted by fellow artist craftsmen jewellery designers. You are reading an original fashion article by Pauline Weston Thomas at www.fashion-era.com ©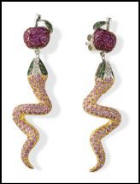 Gems from Heavenly Treasures
These apple and serpent earrings right, are a great example of gems used to create talking point wearable jewels. Heavenly Treasures offers value for money goods and a huge variety of styles.
In the late noughties you can expect to see a lot more fruits used as inspiration in jewellery designs. Fruits are joining the long list of nature inspired pieces on offer, from insects and other bugs such as bees, dragonflies and butterflies.
§

Luxury has been redefined. Those truly in the market for luxurious goods seek couture jewellery pieces that imply bespoke rarity and impeccable taste. In terms of luxury, if a jewel item is on tap, in store, to the mass of people, then the higher echelons of the most affluent of consumers don't touch it.
Van Cleef & Arpels have always addressed this elite market. You can read more about their exclusive bespoke pieces and items costing over £100,000 on the Van Cleef & Arpels page.
Unless the jewellery is rarefied, unique and has distinctive authenticity it will never satisfy the new breed of discerning super client. Custom gemart is for those seeking a special, rare and different piece. Currently this desire for one off custom gemart is a driving force in high end sales.
To the left, gems on display in Hong Kong in 2007.
You are reading an original fashion trends article by Pauline Weston Thomas at www.fashion-era.com ©
Beyond those who actively look for custom gemart, there is also a trend for ordinary people to buy into real gems and precious metals. Finer, higher priced pieces with platinum, gold and diamonds are safe purchases for long term use. Whether fashion costume jewellery, or fine estate jewellery, quality always shines through in the long term.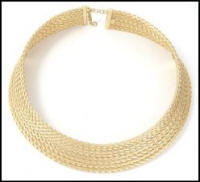 Jewellery is a broad spectrum, catering for many moods, occasions and pockets. Countless looks sit side by side.
Today jewellery sways between, streamlined statement pieces and pumped up vulgarity. Now there are sophisticated, contemporary jewellery styles which are pared down; they are worked cleanly with the rigour of sleek design simplicity at its best.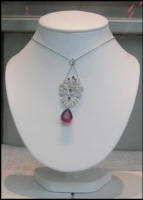 I especially like this simple plain gold Cleopatra style collar right. With classic good looks, it would sit well with no end of outfits. This stunning collar is worked in just over 80gms of gold. Eight rows of woven links are approx 7/8 inch thick and because the collar necklace has an adjustable chain, with a hook clasp it can extend to fit 16 to 17 inch lengths. There is a matching bracelet and the items are available in white gold too.
In contrast to the gold Cleopatra collar, styles with boldly opulent, richly intricate, gemstone confections offer a luxury wow factor. This intricate diamond pendant left, was on display in Hong Kong in 2007.
Other contemporary designs present an earthy quality. Such designs are less precious, more flexible, but still provide interesting materials and textures to capture the purchase from every kind of consumer.
You are reading an original jewellery article by Pauline Weston Thomas at www.fashion-era.com ©
‡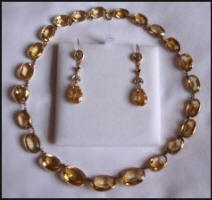 There is plenty of good quality fashion jewellery and gemset jewellery both on the high street and online. But sadly so much of it is cookie cutter repetitive, and this is what many dislike. Mechanically perfect goods, yet lacking expression. Indeed it was this mechanised approach to jewellery and other crafted goods that sparked the objections of the Aesthetics. Today if you like good style and are not super rich, there are a couple of ways to achieve a fashionable style.
If you seek something new and individual, but are not able to afford gemart you need to search out small non chain jewellers. Independent jewellers are invariably craftsman goldsmiths too, who put quality first, whilst making and seeking unusual different looking lines.
The Marcel Roelofs and Jorg Heinz jewellery pieces I show lower down were bought from an independent jeweller.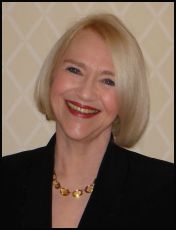 Alternatively, look for statement pieces as you browse antique shop windows, or antique jewellery websites. Second-hand jewellery is sometimes magnificent and unusual, as well as mostly being excellent value - no VAT (value added tax) to pay!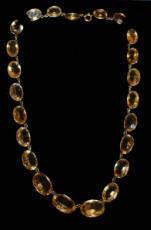 Take your time to buy such a piece. Get used to looking and browsing, then you will be primed to instantly recognise and appreciate the value of the perfect item.
This citrine necklace I wear, and shown right, is one I fancied in an antique shop for about 4 months. When my birthday came around I knew exactly what was on my list and just prayed it would still be there, and my husband would part with his cash. Purchasing such an item from new, if you could get it, would cost about 3 times the antique value. In this size of stone, I think it's the nearest I'll get to a necklace of yellow sapphires or diamonds!Citrine, smoky quartz and yellow topaz are hot sellers this year and you may like this necklace - .
Citrine quartz looks magnificent and fits in with all the golden tones around at present. The citrine gem stone is said to impart healing qualities. Citrine and yellow Topaz are both birthstones of November. But my birthday is not in that month. Don't let birthstone months stop you buying any gem you like, just because it's not your birthstone.
Whether new, or antique fine jewellery, whatever your benchmark price, consider buying one outstanding signature piece of jewellery and build from there. Once you have some basic pieces you love, my advice is try working through the calendar of birthstones, a lifetime should just about do it!
Take time to sometimes support independent jewellers, rather than the same old high street names. Independent jewellers often deal with young and established designer jewellers, with fresh ideas and limited editions of handmade pieces.
Marcel Roelofs and Jorg Heinz products are quality, handcrafted jewellery in 18ct carat gold and platinum. Most importantly this is 'clever jewellery' that encourages you to invest in building a collection of related, but interchangeable pieces. This system allows you to mix convertible bayonet end necklaces with diamond and precious stone bayonet recipient clasps.
In the last year I have purchased an 18ct gold cable necklace by Jorg Heinz and 2 interchangeable clasps.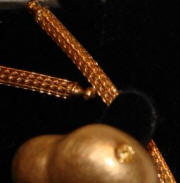 One of the patented clasps from Marcel Roelofs is a large beautifully smooth carved rutilated quartz, topped with a gold bezel set diamond. You are reading an original jewellery article by Pauline Weston Thomas from www.fashion-era.com ©
The second interchangeable clasp is the modern looking 18ct gold heart shown far right. You can see the male/female bayonet fitting here in the photograph left. It's a nifty bit of patented engineering. Once in position, the closure is incredibly neat and tailored in appearance.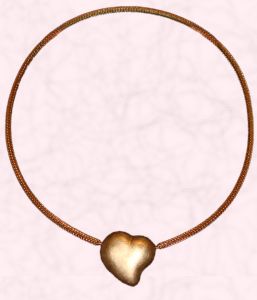 Not an ugly lobster clasp in sight.
Puff effects within links and motifs are a hot trend to watch. Notice how my heart has a puff effect. In some cases, new techniques use electroforming to pump air volume into pieces. The technique has been especially successful in creating 'gold pearls' which look weighty, but are not. The puffed pearls can then be mixed with heavy real pearls and appear to be as equally dense.
This 3D puff style heart clasp also comes as a version with one face platinum and the reverse face gold, so that can add an another dimension to the necklace. You are reading an original jewellery article by Pauline Weston Thomas from www.fashion-era.com ©
I have another black onyx bead convertible necklace using the same interchangeable fitting and shown left.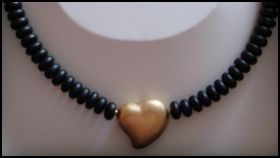 The onyx necklace can easily be converted to a totally different look, using the rutilated quartz and diamond clasp shown right.
Technically it's the purchase of 2 necklaces, but the interchangeable clasps and necklaces mean I can create 4 quite different, contemporary looks. In eco terms this is sound too. Ask yourself why you need loads of separate chains for all those pendants, if you buy into an investment system like this one.
A few alternative clasp styles can be seen at the interactive Jorg Heinz site.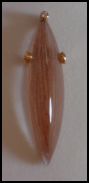 If you wish you can also just watch the moving images on the Marcel Roelofs home page which features similar clasps to my rutilated quartz right. Remember many of these stones are one of a kind pieces.
I see such necklace combinations as investment pieces. With the purchase of several more perhaps coloured stone clasps, a wider range of looks can be achieved. If you are interested in this line of European jewellery, I made my purchase at Mark Linley's Jewellery Gallery in Worcester.
Mark is one of limited number Marcel Roelofs and Jorg Heinz stockists in UK. I have my eye on another interchangeable clasp, but am keeping the style to myself as many are one off pieces. I hope it will still be there at Christmas - are you reading this Santa! You are reading an original jewellery article by Pauline Weston Thomas from www.fashion-era.com ©
You may also be interested in the contemporary work of interchangeable clasp CliClasp© specialist Anna Tabakhova.
-------v6-------
Saretta's UK founder and creative director, Sarah Bond says 'Saretta jewellery is statement jewellery, with unique and unashamedly bold designs that are made to be noticed. Sarah aims to create jewellery that make heads turns and upstages others with their originality and flare.'
Saretta specializes in affordable, but limited pieces. Many of the handmade pieces are unique one-offs. Saretta offers a bespoke jewellery service as well as making limited edition designs using precious gems, silver and gold metals. Your ideas can be discussed and a design solution reached.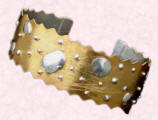 This beautiful amethyst ring right is a Saretta bespoke one-of-a-kind design.
The interesting, individual looking gold and silver cuff, is from her Meteorite collection. You can see another of Sarah's cuffs on the Cuff Jewellery Trends 2007 page.
Where will it all end? Sometimes I feel dizzy from all the wonderful goodies now on offer. If you are as fascinated as I am by bespoke jewellery then you can read more about the exclusive bespoke pieces that cost over £100,000 on the Van Cleef & Arpels page.
You have been reading an original jewellery article by Pauline Weston Thomas at www.fashion-era.com ©
Images courtesy of Marilyn Jones, Dior, Saretta, Heavenly Treasures. Header image from Heavenly Treasures.
(Page Date 10 Sept 2007)
If you like this page then please share it with your friends
---
For more information on ladies and teens fashion trends go to:-
Jewellery Trends 2007
* AW (Autumn Winter)
Archived Sections
Custom Search
About Fashion-Era.com
Fashion-Era.com looks at women's costume and fashion history and analyses the mood of an era. Changes in technology, leisure, work, cultural and moral values. Homelife and politics also contribute to lifestyle trends, which in turn influence the clothes we wear. These are the changes that make any era of society special in relation to the study of the costume of a period.

Fashion-Era.com can take no responsibility for any information on the site which may cause you error, loss or costs incurred from use of the information and links either directly or indirectly. This site is owned, designed, written and developed by author: Pauline Thomas and Guy Thomas. This site is designed to be viewed in 1024 X 768 or higher.
ALL RIGHTS RESERVED. Fashion-era.com reserves the right to add or delete information, graphics and links. Copyright © 2001-2014 on all content, text and images in Fashion-era.com. Images and text in this website may not be used on other websites.
Before you write to me for costume/fashion help or information please, please consult the extensive sitemap which lists all our pages. If you still cannot find the answer after searching the site, then before you email me, please consider if you are prepared to make a donation to the website.
Donations
Reader's donations help this site flourish, in particular donations encourage me to write more articles on fashion history as well as current trends. PayPal allows anyone with a credit card to donate easily and securely. You may donate any sum you feel appropriate.