Fashion Jewellery Trends 2007/8
Wrist Focus on the Bangle, Bracelet and Cuff
Jewellery Trends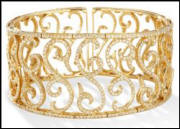 Jewellery wardrobing is the new Accessory buzz phrase.
Designers consider almost any material is worth experimenting with to make novel items that keep attracting new customers. Modern jewellery can be made from the most precious of metals and gemstones, as well as lesser materials. This lovely bangle left is 11/4 inches wide. It's open-ended to fit 7" wrists and studded with 2.16 carat weight of diamonds. Simply beautiful.
Santa keep me in mind please.
The jewellery cuffs can of course be cheap and cheerful high street items, or even wear it once showstoppers.
In 2007 you need a jewellery wardrobe just as much as a bag cupboard, or a shoe closet. Jewellery is the easiest accessory to carry with you, to change your looks from office to evening and according to your mood. So get jewel wardrobing, and start with this season's must-have jewellery - the bangle cuff, or opt for a charm bracelet.
Jewellery Wardrobe Tip - Jewellery wardrobing is the new Accessory buzz phrase.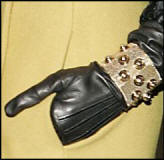 The wrist is a prominent area of focus for jewellery. The hands and wrist have been of interest ever since three quarter and elbow length sleeves became popular a couple of years ago.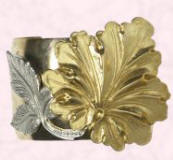 This means the wrist, hand and arm are all ripe for decoration with jewellery, from dripping trinkets, leather punk stud straps, to sleek bands of metal. Fashion trends in wrist wear for 2007/8, show that the deep wide cuff and stacked bangles are the choice for new autumn and winter jewellery. You are reading an original fashion article by Pauline Weston Thomas at www.fashion-era.com ©
Right - New Look Autumn/Winter 07/08 Collection of Cuffs - Oak leaf cuff £8/€11. Image left courtesy of IFTF and right New Look.
Jewellery Wardrobe Tip - Get a cuff and wear it over your gloves.
‡‡
Bangles and cuffs have gained a fashionista following in the past year. Choose from narrow bangles to wide deep cuffs. Massed stacked fine bangle pieces also create their own look, as do bangles in metals such as wood and enamel. The three images below are courtesy of Plumo and the items are available from their website. Prices centre and right £15, £95.
Stack your jewelled, Perspex or wooden bangles up your forearm. Alternatively, wear one exquisite statement bangle above your elbow high on your upper arm.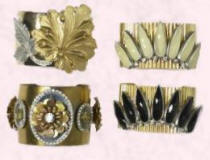 This year Vogue magazine has shown more than one model wearing deep wide cuffs set high on the upper arm. Whilst this may well serve the practical purpose of allowing the bangle cuff to sit well on a model's skinny anorexic arm, this is how a style trend can easily start.
Right -New Look Autumn/Winter 07/08 Collection of Cuffs - Legend (big flower) cuff £15/€21. Oak leaf cuff £8/€11, Fan cuffs £12/€17. Images courtesy of IFTF and New Look.
Jewellery Wardrobe Tip - Get a bangle mix and stack the bangles
This season the Freedom at TopShop jewellery collections scream directional design and cutting edge sass. Freedom's collections are all about catwalk-inspired coolness, and on the A/W 07 runways, it was all about big bold jewellery and plenty of it.
Left is a Cuff £8 from the Medieval Freedom range at Topshop.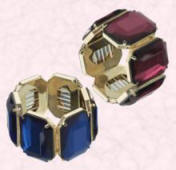 80's excess and gig girls inspired the Freedom Velvet Goldmine collection. The element of dressed down glamour is all around, with jewel and sequin highlights. Cluster pendants and Perspex charms work well together with rocky layered studded bracelets. Giant jewelled bracelets are worn with scruffy backcombed hair and acres of eyeliner.
Right - Large stone stretch metal bracelets - £10 each from the Velvet Goldmine/Freedom at Topshop collection.
The Topshop Freedom range is an inexpensive take on these catwalk pieces. Freedom has once again created collections that are sure to be the stylish keystone to any outfit.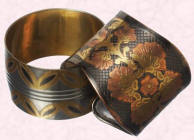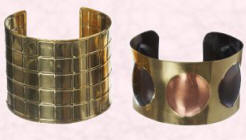 Medieval from Freedom at TopShop is a jewellery collection showing strong silhouettes and vivid gothic imagery.
Chain-mail effects are seen on necklaces, and beaten armour influences gem-encrusted neck plates. Rivets and high-shine leathers feature on bangles, and giant Queenly gemstone rings.
If you are seeking a real silver or gold cuff then look no

further than Sarah Bond's UK company Saretta.
Her latest design for Autumn 2007 is this lovely handmade gold cuff right. Perfect for both warrior women and screen starlets in the making. You can see more of Saretta designs at the Saretta website and also on my bespoke jewellery page.
Jewellery Wardrobe Tip - Begin to invest in rose and copper tone metals
You are reading an original jewellery article by Pauline Weston Thomas at www.fashion-era.com ©
§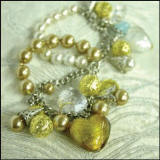 Charm bracelets are big news again. Style mavens are already asking their grandmothers to dig out their gold charm bracelet from the 1960s. If I were seeking a modern charm bracelet today I would head straight to the Theo Fennell website and check out the gorgeous selection there. Choose from gem encrusted skulls, hearts, tusks.
Jewellery Wardrobe Tip - Get a Chain Charm Bracelet
Charm bracelets are often a very good buy in second-hand jewellery shops, and since they are mostly sold by weight, they disregard the value of the individual craftwork in the charms. Some pure gold or pure silver charms are also peculiar to specific decades and jewellery styling like my gold charm bracelet below.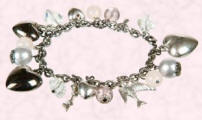 If you cannot get a great vintage or second-hand gold charm bracelet then try high street shops. Many are selling modern costume jewellery versions of charm bracelets and even charm necklaces as well as handbag charms.
These charm bracelets feature pretty Venetian glass, small charms, pearls and also crystals. Both bracelets follow the heart theme that is featured on many items for Autumn 2007/Winter 2008.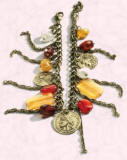 Another inexpensive buy is this colourful, pretty and cheerful bead and coin charm bracelet from Avon.
Right - Accessorize heart cluster bracelet - £10/€14.90 for Autumn Winter 2007 - Magpie.
Extra Jewellery Tip - As a long standing charm bracelet wearer I suggest you watch what you wear your charm bracelet with, as delicate clothes can snag easily when pointed charms catch on fabric threads.
‡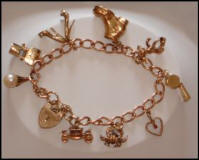 Finally you could consider the charm bracelet as an investment piece and start by getting the plain gold or white metal link bracelet and then add charms as special occasions and events occur.
I am fortunate to own this gold charm bracelet shown left, that I was given as a teenager.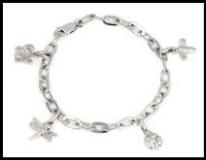 When I look at it now, I fondly recall the events associated with several memorable charms. The charms given as gifts on special occasions, become special memories. Vintage charms of the era include the golden coronation coach, the dancing shoes, wishing well and an old boot.
Such items become great sentimental pieces to hand down to future generations.
Vintage in the making.
For an instant fashion fix this charm bracelet is easily found at online ranges.
Just remember that for fall 2007/8 modern wrist wear is chunky, bold and more than a little kitsch. See more wrist wear on the Watch page.
You have been reading an original jewellery article by Pauline Weston Thomas at www.fashion-era.com ©
Special thanks to David of prshots.
Other images courtesy of New Look, John Lewis, Plumo, Rotary, Avon, TopShop, Saretta.co.uk, Heavenly Treasures, and Bulgari. Header image courtesy of New Look.
Page Date 26 August 2007. Ref P639
If you like this page then please share it with your friends
---
For more information on ladies and teens fashion trends go to:-
Jewellery Trends 2007
* AW (Autumn Winter)
Archived Sections
Custom Search
About Fashion-Era.com
Fashion-Era.com looks at women's costume and fashion history and analyses the mood of an era. Changes in technology, leisure, work, cultural and moral values. Homelife and politics also contribute to lifestyle trends, which in turn influence the clothes we wear. These are the changes that make any era of society special in relation to the study of the costume of a period.

Fashion-Era.com can take no responsibility for any information on the site which may cause you error, loss or costs incurred from use of the information and links either directly or indirectly. This site is owned, designed, written and developed by author: Pauline Thomas and Guy Thomas. This site is designed to be viewed in 1024 X 768 or higher.
ALL RIGHTS RESERVED. Fashion-era.com reserves the right to add or delete information, graphics and links. Copyright © 2001-2014 on all content, text and images in Fashion-era.com. Images and text in this website may not be used on other websites.
Before you write to me for costume/fashion help or information please, please consult the extensive sitemap which lists all our pages. If you still cannot find the answer after searching the site, then before you email me, please consider if you are prepared to make a donation to the website.
Donations
Reader's donations help this site flourish, in particular donations encourage me to write more articles on fashion history as well as current trends. PayPal allows anyone with a credit card to donate easily and securely. You may donate any sum you feel appropriate.