Jewellery for 2007
General Jewellery Looks for 2007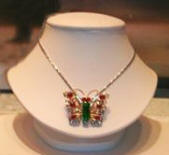 Colour in gems is the big story for 2007 and 2008.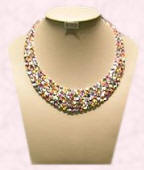 Think vibrant, vivid, luminous hues that shimmer with brilliance. These colourful necklaces were on display in Hong Kong in 2007. Expect brooches with colourful cabochon stones, briolette cut stones and plenty of malachite green.
Black cameos, black pavé crystal/diamonds, plain or rougher onyx and oxidised silver, bring a blacker jewellery look to the fore.
In contrast to dazzle, note how the popularity of rose cut diamonds has risen this year. Rose cut diamonds were highly regarded about a 100 years ago. They have a soft scintillating sparkle and the cut is what gives a vintage softness to antique pieces when compared to modern brilliants.
Is the rose cut diamond the next big 'it' diamond cut?

Here we have Paloma Picasso's sugar stack rings for Tiffany & Co at Harrods.
Paloma Picasso's rings are made from 18 carat yellow gold, with a variety of coloured stones. The Sugar Stack rings can be worn either separately or lined up together. Stacked rings are as much of an important style statement as stacked bangles. Image courtesy of Harrods.
Another important aspect of jewellery this year is the use of pavé set pieces whether diamonds, cubic zirconia (CZ) or crystal. As a result of the use of crystal, the status of the superior Swarovski crystal grows each year. Pavé and micro pavé is used to good effect in many watch styles and techellery taking pavé beyond necklaces, earrings and brooches.
Lesser gems especially of the quartz variety have become very fashionable too, because of their brilliant colouration. For example topaz, garnet and tourmaline come in many bright colours, but are less costly than the harder stones like diamonds or sapphires. You are reading an original fashion article by Pauline Weston Thomas at www.fashion-era.com ©
Jewellery Wardrobe Tip - Build more colour into your gem and semi precious gem collections
‡‡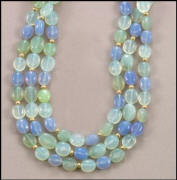 If for example you wear lots of gold and earthy tones think about a necklace or earrings which uses lemon citrine, smoky quartz and amber. If you are a something of a pink fan then pink quartz, pink topaz and tourmaline are all less expensive than pink sapphires. Consider how garnets cost less than rubies, lavender jade costs less than amethysts.
If greens are your favourite opt for affordable peridot, green amber or jade if your bank balance won't run to fine emeralds. If opals, sapphires and lapis lazuli are beyond your budget consider buying chalcedony. This necklace left is an enchanting pastel-tinted olive, sea foam and blue 17" chalcedony necklace, with 14kt gold roundels and toggle clasp.
Blondes mostly look best in gems like peridot, sapphire, aquamarine, citrine, and emerald with gold metals. Brunettes wear white metals more easily, mostly looking better in garnet, ruby, amethyst, rich topaz and sapphire. But trust your instinct when you see a colouration against your skin. Ask yourself, does it lift my skin and make it look healthy, or does it make it look greyed and deathly flat.
Diamond cut gold means that gold necklaces and chains sparkle more than ever. The chequerboard facets catch the light and twinkle. Look for heavy chunky collar necklaces that are bejewelled. Chunky jewellery can be worn with different plain dresses, when you don't have the embellishment on the dress. This large chain link pavé stone-set collar necklace right is from John Lewis and priced at £499.
Costume and fashion jewellery is large and very chunky for 2007/8. Notice the unbelievably oversized metal jewellery of a chain size to match chains on handbags. Twenties style 30 and 24 inch chains can also be found as often as shorter chains. See the necklaces that make use of lettering or graphic styling bring a fresh look to chain links.
Jewellery Wardrobe Tip - Seek out a chunky chain necklace, short or long, with either style being fine provided the links are large
Heavy chain straps have moved from bags onto dresses, so that a shoe-string strap becomes an attractive chain.
§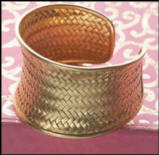 The cuff -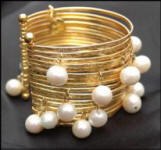 This is such an important jewellery item this season that I have a whole page devoted to the style. These gold cuff are both from Plumo. Every jewellery range from low, to high price ranges offer a cuff.
Jewellery Wardrobe Tip - Get a cuff bangle
Right - this Plumo brand Turkish gold cuff, called Eau de Nil is made from 925 silver with 24 karat gold plating. It consists of 25 individual bangles adorned with pearls at £129.00 and is at the Plumo online site. Nothing beats the look of 24K gold.
Hurry if you want one, as these cuffs are selling out quickly!
With a modern wide cuff bangle you can be in fashion for as little as a few pounds, or spend thousands.
Gemstones such as citrine and yellow sapphire are good alternative to pink diamonds, as golden tones become the more fashionable colour trend. Gold tones have some staying power right now. Smoky quartz matches many of the earthy colours in fashion.
If you prefer real diamonds and gold, to costume pieces then put good diamond sellers to the top of your list.
Coloured gems are in every range of jewellery, and you can wear them on your fingers, or your wrist.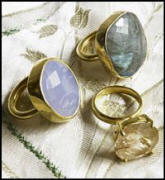 It's not just the wrist that is a focus for adornment. The well manicured hand drips with chunky oversized rings, either fabulously fake or real rocks.
Big cocktail rings have been on the up and up for some time. Now they have reached enormous proportions, whether in precious gems, semi-precious stones, or quality costume jewellery with Swarovski crystal. The most obvious fashion choice for the hand is a ring. But rings are new, bold and chunky in fashion style. Chunky dress rings with huge cabochon stones or multi mix gems used in one ring are bold and fashionably big this year.
Right - A sumptuous collection of large cocktail rings from Plumo and made from semi-precious stones in lavender blue, honey coloured quartz and dark green labradorite. All are made from 18 carat gold plate on sterling silver, price ranges from £89 to £129.

Recall all those old war and spy films where a main character had their poison ring filled with a some deadly tablet, that they could take rather than give precious information. Theo Fennell has excellent leading edge examples of this type of secret compartment jewellery. Think of poison rings of the past, and you have the locket ring of today.

You might also like to have a bold ring like this lemon citrine shown left and designed by Saretta.co uk.
But if all these choices break your budget, then try browsing the rings at frostfirestyle This ring shown right is bit of bling. It is celebrity inspired from 'designer' diamond pavé pieces and costs just £9.

The blue pavé rolling ring has two overlapping sections creating a sophisticated visual effect. The ring uses Swarovski crystals and a high polish finish.
Want to be a fashion diva? Then for £25 this is your ring! This impressive ring from frostfirestyle is embedded with beautiful pink crystals to wrap your finger with nothing but glam. You are reading an original jewellery article by Pauline Weston Thomas from www.fashion-era.com ©
Jewellery Wardrobe Tip - Choose a chunky cocktail ring or dig out a vintage oversized 1960s/70s dress ring.
‡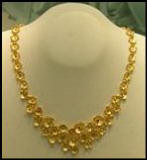 As we drifted toward the millennium, the cool, stark, simplified looks of the white metals - platinum, silver and white gold became the most sought after accessory metal.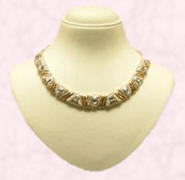 Gold took a dip. White jewellery metals were minimal in style, and matched stainless steel or chrome design elsewhere in the environment. Now in the late noughties every kind of precious metal is back in favour. Gold yellow looks are important again.
But all the gold metals are in vogue. Very yellow gold as in this 18K gold necklace left is much admired and so is rose gold.
In this necklace shown right, the goldsmith has mixed the metals in an interesting way. It gives added versatility to an item. Such an easy to match, two tone statement necklace could become a workhorse in your jewellery wardrobe. Both necklaces on display in Hong Kong in 2007.
Choose from bright yellow gold, white gold and rose gold.
Jewellery Wardrobe Tip - Observe that rose gold is becoming more fashionable when you next purchase gold
Rose gold, which lends itself to wearing with copper tones, is an autumn colour trend. A subtle warm rose gold is the new fashion colour for gold. Out of favour for many years, rose gold has gained a new following from a generation unfamiliar with the metal. This is a metal colour to buy if warmer tones suit you. But as gold prices increase, so too silver emerges as an affordable alternative. Women buy silver for themselves often leaving family and friends to buy them gold.
For autumn, hammered copper sits well against metallic shimmering looks, although brushed metals are gaining ground. Other metal textures include frosted, brushed, puffed, mesh and interwoven effects.
Then of course there are fast fashion pieces in coloured or gold plated metals, that on first sight give a grand impression. This piece on the right is from Monsoon Accessories, Autumn Winter 2007 range. It is a magnificent statement piece, but at the high street price of £16/€25. The Alexis Necklace is in Store from August 2007. It follows neckwear shape trends in superior modern fine jewellery collars like the gem set necklace above and seen in Hong Kong in 2007.
You are reading an original jewellery article by Pauline Weston Thomas from www.fashion-era.com ©
This deep collier trend was first highlighted on fashion-era on the Indian Lac pages. I also showed a garnet gem set version here from Prague.
Jewellery Wardrobe Tip - The trend is to deep wider bib colliers.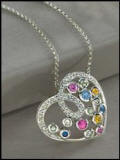 Butterfly diamond pendants are some of the prettiest of charm necklaces. Diamond star, starfish and snowflakes make great jewellery drop pendants, as do dream catcher cathedral window pendants.
Jewellery micro pavé hearts and key pendants are physically bigger than ever and are life size. The large link chains that often hold them are a mega trend. Other hearts have colourful multi gem insertions.
Right - The gold and silver hearts are from Plumo online.
Jewellery Wardrobe Tip - Buy some jewellery that features a heart
-------v6-------
Talisman
We all know the heart is a favourite talisman between sweethearts and lovers, but the latest lockets hold even more secrets. Hearts have been growing in favour this past year, but now working heart lockets, together with round or oval lockets are about to become popular again. There is trend for pendants and lockets to be the size of pill boxes.
Lockets can take many forms and poison heart lockets are fashionable. Over sized lockets and pendants on elongated chains, or on shorter choker chains or torqs are sure to be Christmas scene stealers. Heart earrings follow by default. Heart rings, and every heart design imaginable, including puffed hearts are at the forefront of jewellery compositions.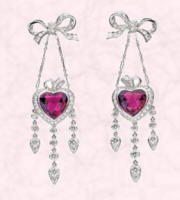 Charm-link looks with multiple baubles, add a fresh twist to an old idea.
Keys are everyday objects, but wearing them hanging off a chain is a newer way of wearing keys. This is an easy trend to pick up on even when you don't buy custom designed key jewellery necklaces. Simply wear your handbag key from that D&G designer handbag around your neck with all your other charms and pendants. For a modern effect, make sure you wear your lockets, keys, hearts, pendants or charms on extra long chains. You are reading an original fashion article by Pauline Weston Thomas at www.fashion-era.com ©
Right - Heart and bow earrings from Dior.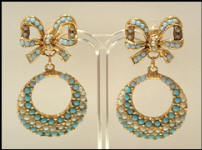 Bows, streamer bows and ribbons can look modern or vintage dependant on the design.
You can also find all these elements of fashionable jewellery today at Vintage sites. These lovely turquoise and seed pearl hoop earrings are topped with pretty bows. Image left courtesy of online vintage jewellery store V4 vintage.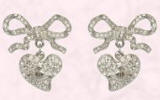 Pave Diamanté bow and heart earrings right are from Vivienne Westwood, and available from House of Fraser. Vivienne Westwood earrings £99/€149.
Filigree Effects - Bows are often worked in filigree metals.
Accessorize Autumn Winter 2007 have many filigree earrings at the low price of £6/€8.90 in store now.
Fleur-de-lis - Like the heart, the fleur-de-lis symbol is another traditional motif that is instantly recognisable. This year watch for some wonderful filigree and micro pavé work related to the fleur-de-lis emblem, as well as the heart and butterfly designs which truly lend themselves to filigree.
Jewellery Wardrobe Tip - Get some earrings with flamboyant bows, streamers or hearts.
Women love the change of look that jewellery can bring. Now they are buying jewellery in the same way they have been devouring fashion handbags. One fifth of women's spend is on earrings in their accessory choices. Medallion earrings and dream catchers are one of the better new looks in chandelier styles of earring.
Jewellery Wardrobe Tip - Consider some circular earrings with dream catcher, snowflake or medallion styling
Pearls are used for earrings with stars. Many chandelier earrings feature pearls or diamonds.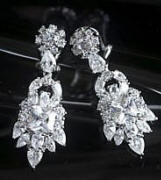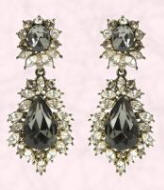 Notice how some earrings are pear drop leaf forms. Drop leaves become almost charm earrings.
Right - Plumo Art deco earrings - Beautiful art deco style earrings made from faceted Swarovski crystals. White gold plated, nickel free and hypoallergenic. Length 4.5cm £49.00.
Left - House of Fraser 'Babe' Gold & black stone drop earrings £79.
Snail shaped pave earrings are centred with a pearl. Pavé, pavé and more pavé.
Larger earrings like these glamour earrings above are set to dominate the evening scene. Feel that 80's vibe again. Under sleek Italian influence, women in the 90s abandoned over the top jewellery looks for the discreet diamond stud. This was a backlash to the glut of Dynasty style diamante rocks, or the golden bling of the era.
But glamorous jewels sit nicely beside screen starlet fashion looks of today.
Diamante bow and heart earrings £99/€149 Vivienne Westwood
Jewellery Wardrobe Tip - For earrings think glamour and glitz.
Brushed sterling silver is used as a contrast to sleek shiny silver and crystal or CZ encrustation. For more Gothic and rock looks sometimes oxidised silver proves more suitable.
Pavé - Sparkle and shimmer with pave is another big favourite. Pavé in diamond, cubic zirconia or crystal are all good choices and look quite different when set in a white metal. White metals such as silver, white gold, platinum or rhodium plating offer lots of different price points.
These 3 brooches right are from Plumo and they pick up the current fad for bows and leaves in jewellery.
Platinum is still used extensively, but palladium which is from the same metal group, is being used more and more as a primary metal in its own right. In the past palladium was mixed with platinum, this makes platinum more malleable when worked. Palladium is also a prime alloy in making white gold.

White metals are brushed and beaten, hammered, oxidised or worked in fine filigree. Every effect imaginable is available. These delicate sterling silver flower earrings shown left, are from an Australian jewellery company, Simply Jewelry.
The Hawaiian Plumeria (frangipani) stud earrings have a frosted finish to the silver and feature 14k gold plate highlights around a clear cubic zirconia. These affordable earrings have a look similar to some I saw at Tiffanys. Other matching pieces are available. You are reading an original fashion trends article by Pauline Weston Thomas at www.fashion-era.com ©
Multi coloured mixes of gems enable jewellers to ply their skill to create botanical works of art reproducing gemstone orchids, leaves, roses, camellias, lilies and fantasy flowers that captivate.

Leaves, as shown above right, feature heavily in many collections, often as skeleton leaf foundations for pavé or other enhancement. The fine jewellery butterfly brooch pin left has a different effect when diamonds are set against yellow gold. The look is quite different to that of the brooches above set in white metals.

Butterflies and dragonflies are some of the prettier insects this year. But flower forms for jewellery are competing with dream-catcher circles, medallions and snowflake designs. Natural forms, bugs, fruit, cherries, pears are all motifs seen in jewellery for 2007. Right - affordable Mikey apple brooch.
You can read more about the wonderful ruby, diamond and tsavorite strawberry gem pendant in the bespoke jewellery page.
Strong jewellery trends this year have included jewellery designs with owls, ladybirds/ladybugs, dragonflies, bees, lizards and butterflies.

Right - look how intricate this Octopus ring is.
Doves, wings, birds, cats, lizard and dragon jewellery studded with pavé diamonds, rubies and sapphires, all give ample opportunity for 3 dimensional effects. Whether the resultant pieces are pendants, rings, brooches or earrings is not important. All are fascinating, but brooches are big news again especially when several are worn to compliment each other.
Jewellery Wardrobe Tip - Gather together your brooches and wear several of similar type such as insects massed together.
Whatever your favourite colour there is always a semi-precious gem to suit you. You can choose from natural materials, or frankly fake alternatives if the finest gems are way out of your league. Read about more jewellery looks on the fashion-era web site by searching for jewellery or using the list below. You have been reading an original jewellery article by Pauline Weston Thomas at www.fashion-era.com ©
Read more about these colours and about fabrics on the Spring 2007 colour page.
Special thanks to David of prshots one of the best sources of PR material. Images courtesy of Heavenly Treasures, Simply Jewelry, Mikey, Dior, House of Fraser, Plumo, V4Vintage, Saretta, Monsoon, Marilyn Jones, John Lewis, Harrods and Frostfirestyle.
Page Date 14 September 2007. Ref P641.
If you like this page then please share it with your friends
---
For more information on ladies and teens fashion trends go to:-
Jewellery Trends 2007
* AW (Autumn Winter)
Archived Sections
Custom Search
About Fashion-Era.com
Fashion-Era.com looks at women's costume and fashion history and analyses the mood of an era. Changes in technology, leisure, work, cultural and moral values. Homelife and politics also contribute to lifestyle trends, which in turn influence the clothes we wear. These are the changes that make any era of society special in relation to the study of the costume of a period.

Fashion-Era.com can take no responsibility for any information on the site which may cause you error, loss or costs incurred from use of the information and links either directly or indirectly. This site is owned, designed, written and developed by author: Pauline Thomas and Guy Thomas. This site is designed to be viewed in 1024 X 768 or higher.
ALL RIGHTS RESERVED. Fashion-era.com reserves the right to add or delete information, graphics and links. Copyright © 2001-2014 on all content, text and images in Fashion-era.com. Images and text in this website may not be used on other websites.
Before you write to me for costume/fashion help or information please, please consult the extensive sitemap which lists all our pages. If you still cannot find the answer after searching the site, then before you email me, please consider if you are prepared to make a donation to the website.
Donations
Reader's donations help this site flourish, in particular donations encourage me to write more articles on fashion history as well as current trends. PayPal allows anyone with a credit card to donate easily and securely. You may donate any sum you feel appropriate.