2007 Fashion Trends
Fashion Jewellery Wrist Focus - Watch Trends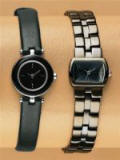 The watch is a more important accessory than ever. As sleeve styles have created new silhouettes, so the hands and wrist have gained new focus in the past few years. New materials and finishes keep up with changing fashions. These two watches from NEXT Directory show how dark finishes are popular. The watch in the picture to the far right has a gunmetal finish so it's suitable for wearing with metallic cast warrior woman, or the futuristic fashion trends this Autumn 2007/Winter 2008.

Jewellery Wardrobe Tip - Get working on your watch wardrobe
European women own 6 or 7 watches, whereas American women own fewer. Once people bought a watch and expected it to last until it wore out, or they lost it. But now the watch business is an accessory business that is booming.
The reality is that today few people need a watch as time is displayed everywhere, on PC, TVs, phones and microwaves. Fashion brands that have emerged in the past few years look beyond Swatch styling. But even Swatch have crystal embellished styling on newer designs.
Now fashion jewellery watches pay homage to the latest Suisse designs. These sales are capturing a market of consumers that own a wardrobe of watches.
Retailers believe that having a wardrobe of half a dozen watches is no different than having bags in a variety of colours and designs. We women need no help in being swayed, and many of us covet a watch like this Black watch by Dior, or this Diamond Bulgari Ovale watch. See picture to the right.
Mother of pearl is still a much sought after watch face material. But the most desirable watch face is the diamond face one might find on a top end watch like the Bulgari Ovale watch, at just a mere $50,000 it's sure to please some lucky woman. If that is beyond your budget, consider these attractive Rotary watches left with their rectangular faces and encrusted bezels.
Watch makers actively decorate watches with crystal, diamante or diamonds, they are all intended for daywear and are in imitation of high end brands. We wear watches because we like them. In response to this fact Tiffany have produced several new diamond styles for its evening collection.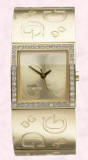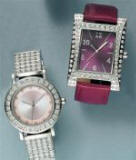 The 'it' watch of the season should have a sprinkle of diamonds, or at least a crystal surround watch face. in fact it's hard to find a watch without a diamond or crystal face surround. Square faces and Art Deco effects of baguette cut crystals are very fashionable and a hot trend. This pale gold watch right with crystal bezel, is by Guess and from John Lewis, priced at £89. The two watches left are from Next and the purple watch has an Art Deco look.
‡‡
Jewellery Wardrobe Tip - Gemstone bezel encrustations on watch faces and surrounds have become a growing trend.
Colour trend and occasion both affect new watch purchases, pieces are not just time pieces, but are seen as iconic jewellery. A watch that goes with just one, or two outfits is perfectly acceptable. It also gives you an excuse to build that watch wardrobe. Most of us own one silver toned and one gold toned watch. Now consider for 2007/8 a two toned version mixing silver and gold looks in 1970s retro style.
You are reading an original jewellery article by Pauline Weston Thomas at www.fashion-era.com ©
Chains and links also feature in many new ways in all ranges of jewellery specially necklaces. It follows that chunky metal link jewellery is a newer feature of watch styles. Below - Diesel gold plated chain link watch at £150.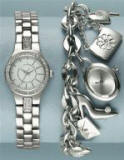 Right - Ladies gold plated jewellery style bracelet watch with floral-embossed dial features chain linking. This is a Rotary Watch of Dolphin Standard waterproof type at £135 - functional and pretty too. Watches today combine function with beauty.

Watch stacking happens when a watch is worn with a bracelet or jewel cuffs.
Left - A traditional link watch easily worn together with a silver tone charm bracelet. Both items are from NEXT Directory. The watch style shown left, is very similar to the now current classic watches produced by all the major brands, for example by Citizen and Seiko. Of course it is much less costly.
Seiko has a good market share of watches around the £250 to £400 price range. Seiko are now moving into costlier £500+ designs with their new Velatura and Premiere collections. They will also have huge advertising campaign for their watches so look out for informative adverts soon to be shown.
§
Women are now often selecting watches once designed for men. Women like the larger faces and the technical extras, but they still like the dainty dials of cocktail watches, hence the need for a wardrobe of watches. What looks good on the golf course, looks out of place at an upscale dinner dance or prom style event. Manufacturers are already working on that, as they have found large watch faces as much as 4.5 cm across are gaining on the sales front.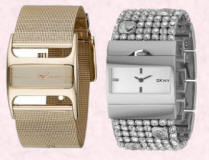 This season more and more of us will be choosing wider style jewelled watches in cuff styles like these right and from the DKNY range. Gemstone cuff watches will be all the rage this Christmas. Don't be seen without yours.
I can't wait!!
Jewellery Wardrobe Tip - Get a Cuff Watch and stack those watches.
Designer Tip - D&G Jewels will soon be available in USA at Bloomingdales, Nordstrom, and Neiman Marcus online.
You have been reading an original jewellery article by Pauline Weston Thomas at www.fashion-era.com ©
Read more about jewellery cuffs here.
Special thanks to David of prshots
Other images courtesy of Next Directory, John Lewis, Rotary, and Bulgari.
Header image courtesy of Rotary.
Page Date 26 August 2007. Ref.P640
If you like this page then please share it with your friends
---
For more information on ladies and teens fashion trends go to:-
Jewellery Trends 2007
* AW (Autumn Winter)
Archived Sections
Custom Search
About Fashion-Era.com
Fashion-Era.com looks at women's costume and fashion history and analyses the mood of an era. Changes in technology, leisure, work, cultural and moral values. Homelife and politics also contribute to lifestyle trends, which in turn influence the clothes we wear. These are the changes that make any era of society special in relation to the study of the costume of a period.

Fashion-Era.com can take no responsibility for any information on the site which may cause you error, loss or costs incurred from use of the information and links either directly or indirectly. This site is owned, designed, written and developed by author: Pauline Thomas and Guy Thomas. This site is designed to be viewed in 1024 X 768 or higher.
ALL RIGHTS RESERVED. Fashion-era.com reserves the right to add or delete information, graphics and links. Copyright © 2001-2014 on all content, text and images in Fashion-era.com. Images and text in this website may not be used on other websites.
Before you write to me for costume/fashion help or information please, please consult the extensive sitemap which lists all our pages. If you still cannot find the answer after searching the site, then before you email me, please consider if you are prepared to make a donation to the website.
Donations
Reader's donations help this site flourish, in particular donations encourage me to write more articles on fashion history as well as current trends. PayPal allows anyone with a credit card to donate easily and securely. You may donate any sum you feel appropriate.