Nautical Fashion Stripes and Holiday Beach Fashions
Latest Trends for Summer 2008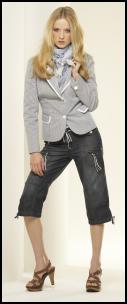 Nautical fashion never really dies. Every year there is always a variation on this fashion trend. The nautical scheme uses mainly navy teamed with pure snow white. At other times nautical stripes use navy, but with soft cream, ivory, or red. Natural tan is frequently the leather colour of choice for accessories such as scarves and belts. However, red, yellow, emerald and orange can also be used in accessories to pick up the look from strict to saucy.
Because this very dark navy is so similar to that of service uniforms, it has an authoritarian look which instantly marks the wearer out as groomed. This is understated chic that always looks good.
To achieve more formality with the nautical fashion look, a blazer is the obvious choice, especially when teamed with well cut trousers or a well made skirt. As you can see from these photos, the look is so easy to dress up or soften down.
These three pictures all show how a navy blazer or striped jacket can add pizzazz to long shorts, cropped pants or classic pants. The light striped jacket right and cropped pants appear even more informal than the white tailored shorts and dark navy blazer. The darker the navy item, and the less added bright contrast, the more gravitas to the nautical outfit. The winter version of the nautical jacket style is the double-breasted reefer coat and cropped Napoleonic jacket.
Above Left - River Island Clothing Co. Ltd Spring Summer 2008 Women's Looks - Blazer - £39.99/€67, Shorts - £29.99/€50.50, Shoes - £24.99/€42.
Above Centre - Wallis Summer 2008 - Navy and white pinstripe fitted blazer £65/€99, White wide leg trousers £40/€65, White strap sandals £35/€60, Black waisted elasticated wide belt £15/€23.
Above Far Right - Matalan Yarn dye stripe blazer £22, nautical denim cropped jeans £12.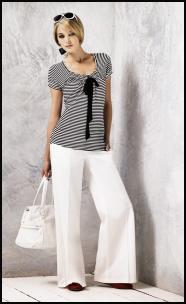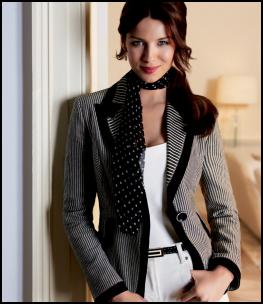 The tone of navy blue so often used in the United Kingdom is almost the same colour as the black blue of the Royal Navy or Police services uniforms. The navy even looks black under some lights. When you are in a dark shop, sometimes the only way one can tell the colour really is navy is to look at the wording on the label.
So in Britain, blue black is mostly used, but the nautical style also embraces the much lighter French navy, Italian navy and denim blue too. This navy blue is further confused by retailers also stocking the same style, but in a black and white version. The Principles jacket design, left, is actually black, but the theme is clearly intended to be perceived as ship-shape nautical smart.
Keep the jewellery to a minimum, but add a simple gold necklace to upgrade your nautical style from casual to chic. This classic look will take you into superior venues when crumpled cargo pants will leave you refused entry outside that gated 5 star hotel.
Above left -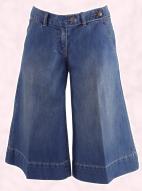 Principles Spring Summer 2008 Collection - Black and white two stripe blazer £85/€135, Printed spotty scarf £19/29€.
Above Right - BHS Womenswear Spring/Summer 2008 T-shirt £14, Wide Leg Trousers £25, Pumps £15, Bag £22. Looks like an ideal holiday buy.
Like many of the main high street retailers Principles are also stocking some very similar white sailor trousers (not shown) and with a high deep waistband, which feature three nautical contrast buttons.
Stockist telephone number 0870 122 8802.
Nautical trousers may have contrast saddle stitching, or sailor flap front button decoration. The trousers can be cropped at any point on the leg and the variety of nautical is so great, that it is not difficult to select the leg style length that flatters your body shape.
‡‡
For a fast fashion cropped option, like these denim culotte pants above right, look no further than Matalan - Denim Culottes £12. Again I think these look like a great item for weekends as well as a relaxing seaside holiday.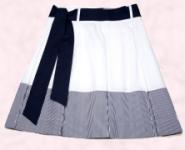 A skirt such as this one shown right, can work just as well as trousers or shorts. Some women feel happiest in a skirt and others prefer trousers. Isn't it wonderful we have so many options compared to women of 100 years ago. This skirt is from Penneys (Ireland) Spring 2008 Collection.
Striped hem skirt with tie belt €13.00.
You are reading an original article on nautical stripes by Pauline Weston Thomas© at www.fashion-era.com ©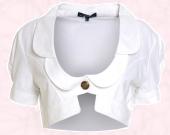 Nautical is such a timeless look that whenever I go on holiday at least one of my outfits is based around it.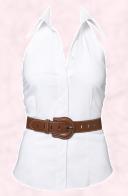 A nautical outfit is a safe option for sightseeing when you are unsure how smartly you need to be dressed and haven't quite grasped what the locals wear.
Super smart nautical still has that holiday feel. Yet this little white cropped jacket left is fun and flirtatious. Team it with navy or white linen pants and a vest for a chirpy combo.
Above Left - Nautical Collection Matilda Cropped Jacket - £15 Summer 2008 at Boohoo.com.
For cool as a cucumber understated glamour, opt instead for this sharply cutaway shirt with a tan leather belt, and add a Riviera touch with super sized sunglasses.
Above Right - Wallis Summer 2008 - White sleeveless cotton blouse £25, €40

Whilst tan and natural brown leather belts look expensive, belts, sandals or bags in French navy and red can also add a nautical fillip to an existing plain garment.
Above Left - Anchor buckle elasticated belt €3.00 - Penneys Spring 2008 Collection and from Penneys (Ireland).
Above Right - True Blue SS08 Belt £19.99 at River Island Clothing Co. Ltd.
What makes any nautical outfit look 'of the moment' is that current fashion twist such as an up-to-date accessory or belt. This year you would be hard to better gladiator sandals like these.
The French navy gladiator sandals left are a prettied up version of some the brown gladiator sandals shown on the main gladiator sandal page.
Above Right - Navy Gladiator flat sandals £34.99 from River Island Clothing Co. Ltd, Summer 2008 Collection.
§
The whole point of nautical stripes is that it is classic clothing, but with a nod to this year's fabrics and shapes. The more youth oriented the store you buy from, the more funky the nautical twist.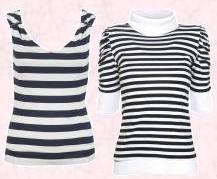 You may buy a nautical inspired sleeved T-shirt almost any year yet every year there will be a subtle upgrade to the fashion designing. Look out for the 'sleeve of the moment'. It might be cap, three quarter or full length dependant on fashions in general. The same T-shirt may have a boat neck, V, scoop neck, roll, or a full square flat sailor collar complete with tie.
The traditional striped Breton top usually has long dropped sleeves and is based on simple T cut tubes as shown lower down this page. But updated versions might look like this vest and cuffed top with their horizontal nautical stripes, see right.
Right- Stripy Polo Neck T-shirt - Nautical Collection - Cassie - £10.
Left - River Island Clothing Co. Ltd - Womenswear Tops SS08 £16.99/€28.50
The styling elements of nautical fashions are always the same - stripes, anchors, capstan wheels, boat necklines, wide flat sailor collars, buttons, piping, striped diagonal piping, or blazer looks. On occasion gold, red or white braiding and cord is used. Sometimes large eyelets/grommets, metal studs and golden trigger hooks add a ship-ahoy touch.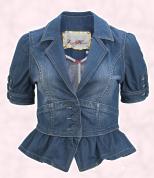 Flirtatious cropped denim jackets, dark navy or striped nautical waistcoats also add a military air when teamed with any bottoms. River Island Clothing Co. Ltd has a large selection of navy based waistcoats and has done the nautical look very well this season. I adore this little jackets right, its just perfect for lovers of nautical looks. Choose from shorts, Bermuda shorts, Capri pants, palazzo pants to skirts for the bottom half, but avoid velour and jogging bottoms and opt for drawstring linen or high waist pants instead.
Left - Short Sleeve Denim Blazer, £39.99, River Island Clothing Co. Ltd.
Right - Plain navy waistcoat, £29.99, River Island River Island Clothing Co. Ltd.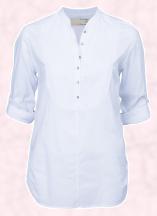 Most girls and women own a white top, plus a pair of good denim blue jeans or casual summer linen pants. So with minimal expense this nautical look can easily be yours.
Finding a great white all purpose holiday shirt is always a challenge. This shirt is perfect for holidays and for shielding you from the fierce heat of the sun. If you catch the sun too quickly on shoulders, arms and back neck the longer sleeves mean it can be used as an instant, but light upper body cover up.
Right - River Island Clothing Co. Ltd Womenswear Top SS08 - White shirt - £21.99/€37.
A little jacket, waistcoat, striped cardigan or top like these high street fashion styles can bring the sailor out in your outfit rapidly. If you wish to give the nautical outfit a lift - simply add red. The addition of red to navy and white, or to black and white, adds a real shock of colour.
You are reading an original article on nautical trends by Pauline Weston Thomas© at www.fashion-era.com ©
‡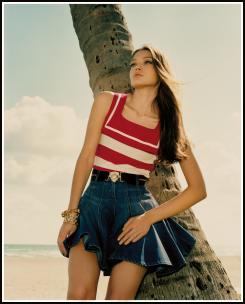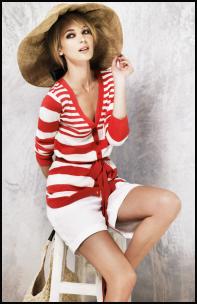 Nautical knits serve many purposes.
Functional knits designed for strong sea breezes, may be heavy with Guernsey style cables, complex Norwegian or Fair Isle patterns. Made in thick oiled wools or cashmere they can easily do battle with blustering coastal winds.
Or, they may be feather weight tops perfect for layering and made from gossamer fine silks or viscose and cotton mixes. Of course, nautical knits can be striped, just like this cardigan and top left and right. Boat, square and V-necklines are all traditional nautical shapes.
The fabrics you select all play their part in the end look. Choose from cotton jersey, silk jersey, denim, heavy linen, crushed linen, satin cotton, seersucker, pique, twill cotton, drill or modern manmade fabrics such as viscose/poly mix and tencel. Any of these materials with a very small percentage of Lycra (2-5%) added, will perform even better in wear.
Above Left - BHS Cardigan £25, Cotton Shorts £20, Bag £12, from the BHS Womenswear Spring/Summer 2008 ranges.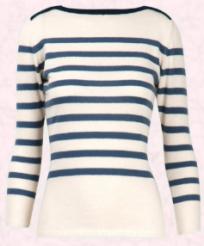 Above Right - Topshop - Red and white stripe t-shirt, denim skirt, military stripe belt, sleeve-less t-shirt - £18, skirt - £22, elastic belt - £15 all from Topshop Summer 2008 Campaign. Topshop item extra details - T-Shirt-04G21SRED, Skirt- 26C01SBLE, Belt-19L20SBLK. This picture above is courtesy of Topshop/Arcadia and remains their property.
For true luxury this lovely cashmere cream and petrol blue Breton style sweater right, with its boat neck, is ideal for wearing on a walk along a coastal path whether it be in Britain or Rhode Island.
This 100% cashmere knit is a true nautical classic and the lightly shaped body and fashioned sleeves, would always sit well under any jacket without creating too much bulk.
Right - 100% cashmere kraz knit sweater - price £345 from matches.com.
The traditional striped shirts below also have a proper name, and technically are all variations of the Breton top.
Apart from a real flat sailor collar found on a true matelot, as you can see, the nautical T-Shirt has a simple neckline that is unfussy. The style is good because it is unlikely rub a neck that might be touched raw by too much sun. If the traditional striped shirt is your view of nautical, then look no further than the value for money tops shown below and from Land's End.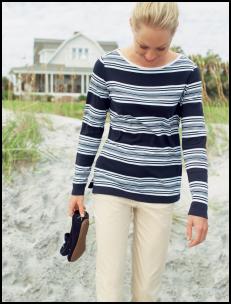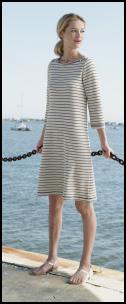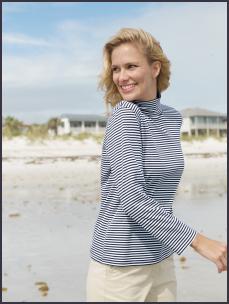 Above Left - Lands' End Spring/Summer 2008 - Stripe Boatneck T-shirt £25, Slim-leg Chino Crops £35.
Above Centre - Lands' End Spring/Summer 2008 - Cotton/Linen Ribbed Boatneck Dress £49.
Above Right - Striped Three-quarter sleeve Turtleneck £25, Slim-leg Chino Crops £35.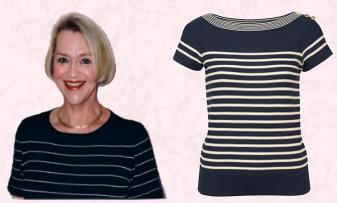 Ahhhh the women above wearing these easy tops look so comfortable and relaxed.
Make a diary note now - must get a new nautical top soon.... put that on the wardrobe gaps list....
There has hardly ever been a year when I did not purchase a classic navy and white striped top in this simple style. Sometimes it has been a stripe knit sweater, other times a long or short sleeved striped T-shirt. Last year my nautical top was a navy blue with softer denim blue stripe, and this year it already seems I'll be spoilt for choice.
Often I have selected a plain navy or white top, but with a contrast highlight such as a fine bow trim, or piped trim edge.
This photo shows me 5 years ago in 2003 wearing a classic nautical striped short sleeve knit sweater. Besides the photo is another River Island top available this summer 2008. It looks very similar, but only costs just £26.99 making it a good buy. This fashion clearly stands the test of time and remains a very classic look.
You are reading an original article on nautical fashion trends by Pauline Weston Thomas© at www.fashion-era.com ©
-------v6-------
But if you still don't feel the classic nautical look is for you, then try instead some zany footwear, accessories, jewellery or swimwear themes for your nautical nod to this fashion trend.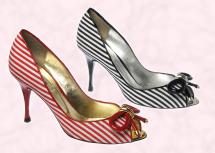 Right - Dune striped court shoes - Peeptoe - Letsey, £75 or €105 Spring/Summer 2008 - Ladies & Accessories at Dune.
Left - White Bag - River Island Clothing Co. Ltd Womenswear accessories Summer 2008, £24.99.
Of course nautical is a look that Gucci always does wonderfully well.
Buy as costly as thy purse can afford......
This summer it's even easier to add swimwear with a nautical theme. These bikinis and swimsuit should get you in the mood for your holiday.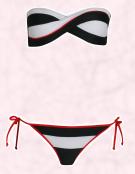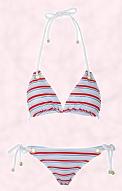 The narrow halter striped bikini below left, is from New Look and the gorgeous coral red swimsuit is from online lingerie store - Figleaves.
Far right - Figleaves Spring/Summer 2008 Swimwear La Blanca plunge swimsuit £73 - buy it online at figleaves.com.
Centre - ASOS say their twisted front bandeau set in nautical stripes is the perfect choice for Riviera relaxation.
Left - New Look Spring Summer 2008 Collections Swimwear - Bikini Top £14, and Bottoms £6. This makes this bikini a great purchase for someone with different sized top proportionately to their lower half.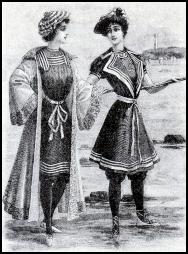 For pure glamour you could go a long way to match this red swimming costume. Maybe posing by pool bar would be the glamour alternative to swimming in it, but catching appreciative glances may be just as much fun as catching a wave.
As always. fashion comes full circle, repeats and reinvents itself everyday. The image left is a fashion plate of two women wearing nautical influenced swimming costumes of 1905. The women of the Edwardian era who were in a suitable situation eagerly bought subscriptions to fashion magazines just as we do. They too were just as keen to be up-to-date on the latest fashion trends and nautical fashion styling was a big hit with the Edwardians too.
Perhaps a 100 years from now in 2108, women surfing the web will be reading about the latest nautical trends too, and see them compared with the nautical fashions here today. Fashion history is always in the making changing and evolving everyday. Nautical looks are now as classic as the LBD (Little Black Dress). Make sure your wardrobe has its share of this trend now, whether it is called anchors away or sailor style, you won't regret any nautical fashion purchase.
You are reading an original article on nautical fashion trends by Pauline Weston Thomas at www.fashion-era.com
See also the main page on Wardrobe tips SS 2008 - Colour Moodboards SS2008
Copyright use of images are courtesy Principles, Matalan, River Island, Dune, Boohoo.com, New Look, Matches Fashion, Land's End, Topshop, Wallis, BHS, Penneys, ASOS and Figleaves. Header Image is from Principles.
My thanks to these companies.
Date added 11 March 2008 - Ref:P676.
If you like this page then please share it with your friends
---
--Link--
For more information on ladies and teens fashion trends go to:-
* AW (Autumn Winter)
Archived Sections
Custom Search
About Fashion-Era.com
Fashion-Era.com looks at women's costume and fashion history and analyses the mood of an era. Changes in technology, leisure, work, cultural and moral values. Homelife and politics also contribute to lifestyle trends, which in turn influence the clothes we wear. These are the changes that make any era of society special in relation to the study of the costume of a period.

Fashion-Era.com can take no responsibility for any information on the site which may cause you error, loss or costs incurred from use of the information and links either directly or indirectly. This site is owned, designed, written and developed by author: Pauline Thomas and Guy Thomas. This site is designed to be viewed in 1024 X 768 or higher.
ALL RIGHTS RESERVED. Fashion-era.com reserves the right to add or delete information, graphics and links. Copyright © 2001-2014 on all content, text and images in Fashion-era.com. Images and text in this website may not be used on other websites.
Before you write to me for costume/fashion help or information please, please consult the extensive sitemap which lists all our pages. If you still cannot find the answer after searching the site, then before you email me, please consider if you are prepared to make a donation to the website.
Donations
Reader's donations help this site flourish, in particular donations encourage me to write more articles on fashion history as well as current trends. PayPal allows anyone with a credit card to donate easily and securely. You may donate any sum you feel appropriate.