NEXT DIRECTORY Fall 2007 & Winter 2008
NEXT Silver Anniversary of 25 Years in Fashion
In 2007 NEXT celebrated 25 years in the modern fashion business.

In 1981 Hepworth bought a chain of shops in the UK called Kendall & Sons. The intention was to develop these long established UK gentleman's tailors into shops called NEXT, which would stock modern womenswear. By 1982 the first NEXT store specialising in womenswear opened in mid February. 70 more opened by the end of July. In 1984 the new 'NEXT for Men' launched 52 shops. By 1985 NEXT Interiors had developed, and soon there were department stores selling both women's and men's clothing, and also interior furnishings. NEXT children's wear launched in 1987.
It was the legendary George Davies who was instrumental in the development and design of NEXT products. George Davies has always known his market, a trick he learnt early. Long after he departed from NEXT, George continued to influence what women wear, especially with his involvement with the Marks and Spencer Per Una range. Whatever retail clothing venture he is involved in, each week he checks the sales figures for very item of stock. From that he keeps his finger on the pulse, and George knows what is selling well and what women like. It was this strategy that led to the early success of NEXT. George had a brainwave to arrange the clothes at NEXT in colour order, and it worked brilliantly. NEXT soon became a leading retailer within the UK.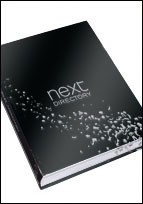 By 1986 Hepworth had changed its name to NEXT Plc.

It also acquired the mail order company Grattan PLC. This was an important move since NEXT now had a recognised and workable mail order system in place.
The stage then was set for the 'NEXT Directory' launch in January 1988. The next significant move came in 1999 when NEXT Directory started its internet shopping site at www.next.co.uk. By 2000 any order placed at NEXT Directory before 5pm would be delivered the following day.
I recall clearly the launch of the NEXT chain of shops. The clothes were totally in tune with the working woman of the 1980s. In this era, a 'Working Woman' needed to look good for her job. She had money to spend on herself, and what's more, her busy working day meant she needed to be able to shop quickly.
The 1980s was an era when coordination in clothing was important. Match matchy was alive and well, and NEXT satisfied its customers quickly by providing coordinated goods, which mixed and matched whilst having a contemporary fashion edge. In store, clothes were presented in design led fitments. Garments were easy to see, although sizes were limited for those carrying spare body fat. Size 16 was often the largest size on the rack, and the few 18s available soon sold out. Now NEXT sells garments up to size 20 and is a global brand.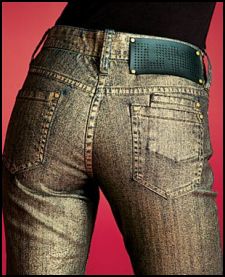 I feel NEXT initially lost direction at the start of the C21st . What happened was that other shops like Zara began to stock trend driven garments within weeks of catwalk shows. NEXT for a time lagged behind, since the catalogue nature of NEXT DIRECTORY stock had to be much more pre-planned and therefore was much safer. BUT now with the immediacy of the internet, it can update items quickly and is suddenly producing far more trend driven items, which customers can access quickly.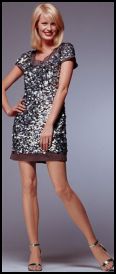 The two garments, shown opposite, were part of the Autumn Winter NEXT 07/08 Directory.
You may have read my page on gold metallic fashion looks, so let's begin with these gold jeans. They fitted well with metallic looks of fall 2007 and were great value for money.
Like many aspects of NEXT supplies attention has been paid to a range of fits. These jeans were made in 3 leg lengths from leg 29 to 33. Details - NEXT Gold Coated Jeans £38 - 99% cotton 1% elastane. Regular - to fit inside leg 29"/74cm. Long - inside leg 31"/79cm. Extra Long - inside leg 33"/84cm. You may still find a similar item at the online site today.
You may well have seen NEXT's silver anniversary celebration TV advertisement and noticed this dress being modelled. It was well in line with the sequin tunic dresses I featured on my silver sequins dress page. Silver Sequin Dress £80 in 100% nylon. Length 36"/91.5cm. These two garments shown here were all part of the Autumn Winter NEXT 07/08 Directory.
There are many just as attractive wearable and affordable fashion trends in the current NEXT DIRECTORY online, or in their department stores.
You are reading an original fashion trends article by Pauline Weston Thomas at www.fashion-era.com ©
See also the main page on Wardrobe tips AW 07/08 - Also Coat Fashions - Colour Moodboards
Special thanks to NEXT PR staff for use of Autumn Winter 2007/8 range images.
Date added 9 October 2007 - Ref:P652.
If you like this page then please share it with your friends
---
For more information on ladies and teens fashion trends go to:-
Jewellery Trends 2007
* AW (Autumn Winter)
Archived Sections
Custom Search
About Fashion-Era.com
Fashion-Era.com looks at women's costume and fashion history and analyses the mood of an era. Changes in technology, leisure, work, cultural and moral values. Homelife and politics also contribute to lifestyle trends, which in turn influence the clothes we wear. These are the changes that make any era of society special in relation to the study of the costume of a period.

Fashion-Era.com can take no responsibility for any information on the site which may cause you error, loss or costs incurred from use of the information and links either directly or indirectly. This site is owned, designed, written and developed by author: Pauline Thomas and Guy Thomas. This site is designed to be viewed in 1024 X 768 or higher.
ALL RIGHTS RESERVED. Fashion-era.com reserves the right to add or delete information, graphics and links. Copyright © 2001-2014 on all content, text and images in Fashion-era.com. Images and text in this website may not be used on other websites.
Before you write to me for costume/fashion help or information please, please consult the extensive sitemap which lists all our pages. If you still cannot find the answer after searching the site, then before you email me, please consider if you are prepared to make a donation to the website.
Donations
Reader's donations help this site flourish, in particular donations encourage me to write more articles on fashion history as well as current trends. PayPal allows anyone with a credit card to donate easily and securely. You may donate any sum you feel appropriate.