Latest Fashion Trends for Fall 2007 & Winter 2008
Silver Sequin Glitz Fashion Trends for Fall 2007 & Winter 2008
Silver, Gold and Glitz Fashion Trends for Fall 2007 & Winter 2008
A sequin is a spangle and it catches the light easily. It also catches the onlooker's immediate interest, as light is reflected with movement of the sequin disc. Spangles, sequins, pailettes, call them what you will, sequins are big news this autumn. One of the best party looks this autumn 2007 is the all over sequin A-line tunic dress which is a fashion trend that has been growing.
For value for money sequin styles check out the high street for the latest party hot trends. Shops are already gearing up for party wear purchasers.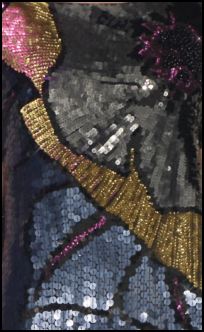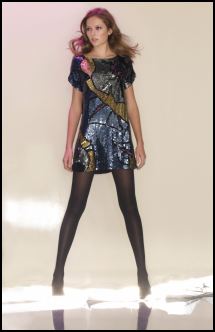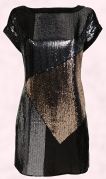 One of the most attractive type of this dress, is this abstract bead and sequin patterned tunic dress from French Connection available Autumn 2007. The futuristic space age effect is one of metallic liquid wet paint glimmering with glitzy glamour. It's such an easy comfortable fashion trend to wear and the shortness can easily be offset by extra special tights. Lurex hosiery would add an extra party touch, as would coloured tights.
Above left - Sequin and bead detail of the dress right.
Above right - French Connection Campaign '07 - Funky petal sequin dress £160 with black platform shoes £85.
Right - Monsoon gunmetal and copper sequin tunic dress, another dress that looks like molten liquid.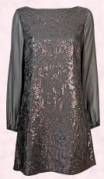 This simple A-line shift is a much loved silhouette of the 60s and 70s.
The dress may have short cap sleeves, or be sleeveless. Sometimes there are long sleeved versions and generally these often have contrast softer, or semi sheer sleeves.

Left - Monsoon Christmas Collection 2007 - Haidee Tunic - £65/€99 - In Store November.
Right detail of the sequin fabric which is not as dense with sequins, as the first two tunics. This should make the dress much lighter to wear. One factor with beaded and sequin clothes the wearer needs to consider is the weight of the dress. Dependant on the volume of embellishment they can be heavy to wear.
Note how each of these 3 sequin tunic dresses has a simple bateau neckline. You are reading an original fashion trends article by Pauline Weston Thomas at www.fashion-era.com ©
‡‡
The fashionable bateau neckline is also called a boat neck, because of the shallow shape that looks like the curve of a rowing boat sitting on the sea.
The bateau closely follows the line of the collarbone and thus is a conservative, wearable silhouette. The neckline sits well under coats with fancy or complex collars. On occasion, such necklines are offset with either detachable flat collars or bertha picture collars, which broaden the shoulder line to set off the face even more.
These wide bateau necks show off a nicely proportioned head and neck, or a great hairstyle. But they also show the collar bones (clavicles) and these are the bones that many consider to be an area of great beauty in a woman. They show delicacy and femininity and are revered in the same way as high cheekbones are in a woman. Sometimes, the visible bone hollows formed by the delicacy of the collarbones are are referred to as salt cellars. Generally salt cellars are seen on slender people.
Since bateau necklines widen the neck area, they also offset wider hips which the A-line skirt in these tunic dresses also helps minimise. This style goes anywhere and is very good for those women who are straight up and down. The dress skims the body imperfections and gives a gentle shape. When the bateau is slightly more curved by an inch or so at the front, it's called a Sabrina neckline after neckline styles worn by Audrey Hepburn in the film Sabrina. You are reading an original fashion article by Pauline Weston Thomas at www.fashion-era.com ©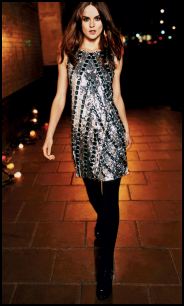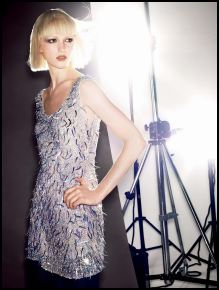 Above left - Jewel and sequin mini dress in pewter and silver tones £125/€195, from Warehouse Christmas Collection autumn Winter 2007/8. See Some Sequin Dress Fashions For Autumn 2009 Winter 2010.
Above right - Monsoon Fusion Christmas Collections 2007 - Silver Gatsby Dress, £75/€115 - In Store November.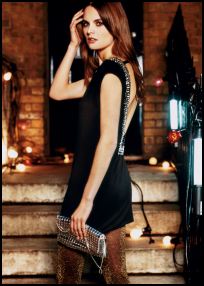 Because the decorative, embellished fabric can sometimes catch the skin, most methods of construction involve using a full lining which is turned through leaving a smooth neckline and armhole edge. Be sure to check your decorated garment is lined well before purchasing such a style. Cheaper versions sometimes simply use the textured self fabric neckline facing, and this may ultimately rub your skin on wearing.
The Warehouse dress above, follows the same neckline contour as the sleeved tunic dresses shown above, but this dress is sleeveless. This in itself makes it look very different. As in the halter dress page you can see how the arms become elongated when the armscye is cut in slightly.
The same basic dress can take on another distinct look if the neckline is scooped out creating a scoop neckline.
This sleeveless scoop neck tunic style especially suits the young, with well toned skin and arms. If you do have great skin you may wish to show off your back.
Right - This black, embellished low back mini dress, is also from Warehouse and is £55/€85. The Lurex tights add a festive touch.
§
Your bust may be your finest asset so some of you will want a dress that shows off your cleavage. Look then to the Christmas collections in the high street.
The first cocktail dress left, is from Emma Somerset. The centre maxi dress from Monsoon and the evening dress right is from Warehouse.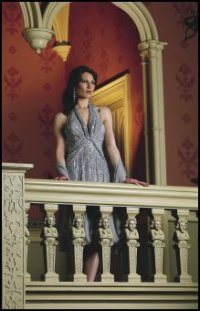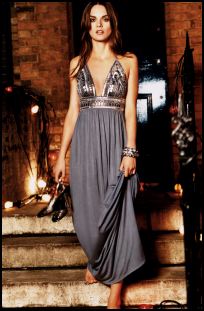 Full length evening dresses like these pewter grey and silver sequin empire line gowns above, emphasis the bustline and shoulders with bead or cabochon stone decoration. See more sequin party dresses.
Left - Emma Somerset Autumn/Winter 2007 silver grey silk halter neck dress and scarf £440 by Jovani. Earrings £55 by Emma Somerset.
Centre - Monsoon Christmas Collection 2007 - Milla Dress - £160/€250 - In Store October.
Warehouse Christmas Collection Autumn Winter 2007 - Silver sequin maxi dress, £65/€99.


Simple cover ups include little jackets either silky or faux fur like these two right.
Near right - Monsoon Christmas Collection 2007 -Ava Jacket - £50/€78.
Far right -Wallis Autumn Winter 2007 - Grey metallic crop jacket £75/€120.
These are the new fashion styles from Monsoon, French Connection, Warehouse, Wallis and Emma Somerset, for Fashion Trends Autumn 2007, Winter 2008.
See Some Sequin Dress Fashions For Autumn 2009 Winter 2010.
Fads for decorating with sequins come and go. Over the years sequins have been made of many materials. The oldest sequin use is thought to be those found at King Tutankhamen's burial site. Craftsmen produced the sequins by rolling gold super thin, cutting out discs, glazing them to prevent scratches and then attaching them to the boy king's clothes. Shisha mirror work has a long history in India and among nomadic tribes.
Gold coins have also been used as a form of sequins and the travelling Romany gypsies decorated their clothes with coinage. Others suggest that iridescent fish scales have also been used. Certainly fine layers of mother of pearl have been used to make sequins. A more robust version is that worn by Pearly Kings and Queens who have decorated their clothes with natural mother-of-pearl shell buttons. The buttons discs reflect light in a similar manner - all sequins discs are intended to behave as spangles to catch the light and reflect it back.
Sequins were certainly being used in embroideries of the C16th. Usually silver metal, discs were made from flattening a ring of silver wire. The flat silver disc was sewn on with a bead to hold it in place. They were embroidered on to three dimensional C16th English pieces found on stomachers, mules, bonnets and shoes.
When gelatine was discovered and used to create sequins, the sequins produced from the material were unstable and could never be laundered or put near heat. They also gave off an odour. I'll leave that bit to your imagination!
Thinly rolled silver sheets produces a weighty sequin, and gave incredible hang to the weight to flapper dresses. But such sequins have long been abandoned because silver tarnishes and discolours on the sequin cut edges. In the latter part of the C20th sequins have been made with various plastics. The current method employs the use of vinyl plastics. Today sequins are cut from what is basically a sandwich of coloured foil. But if you desire the look of vintage clothes then seek out vintage sequins online. You are reading an original fashion article by Pauline Weston Thomas at www.fashion-era.com ©
‡
A small shiny ornamental disc, especially sewn on women's clothing, accessories and used for theatrical or dance purposes.
Also known as a spangle or a pailette or paillette.
A former gold coin of the Venetian Republic, 1284 - called zecchino; former gold coin of Malta c1535 and of Turkey 1478.
You are reading an original fashion trends article by Pauline Weston Thomas at www.fashion-era.com ©
See also the main page on Wardrobe tips AW 07/08 - Also Coat Fashions - Colour Moodboards
Special thanks to David of prshots with all images on this page courtesy of French Connection, Monsoon, Warehouse, Emma Somerset, Wallis, Marks and Spencer from the Autumn Winter 2007/8 ranges.
Date added 9 October 2007 - Ref:P652.
If you like this page then please share it with your friends
---
For more information on ladies and teens fashion trends go to:-
Jewellery Trends 2007
* AW (Autumn Winter)
Archived Sections
Custom Search
About Fashion-Era.com
Fashion-Era.com looks at women's costume and fashion history and analyses the mood of an era. Changes in technology, leisure, work, cultural and moral values. Homelife and politics also contribute to lifestyle trends, which in turn influence the clothes we wear. These are the changes that make any era of society special in relation to the study of the costume of a period.

Fashion-Era.com can take no responsibility for any information on the site which may cause you error, loss or costs incurred from use of the information and links either directly or indirectly. This site is owned, designed, written and developed by author: Pauline Thomas and Guy Thomas. This site is designed to be viewed in 1024 X 768 or higher.
ALL RIGHTS RESERVED. Fashion-era.com reserves the right to add or delete information, graphics and links. Copyright © 2001-2014 on all content, text and images in Fashion-era.com. Images and text in this website may not be used on other websites.
Before you write to me for costume/fashion help or information please, please consult the extensive sitemap which lists all our pages. If you still cannot find the answer after searching the site, then before you email me, please consider if you are prepared to make a donation to the website.
Donations
Reader's donations help this site flourish, in particular donations encourage me to write more articles on fashion history as well as current trends. PayPal allows anyone with a credit card to donate easily and securely. You may donate any sum you feel appropriate.