Floral Print Dresses
Latest Fashion Trends for Summer 2008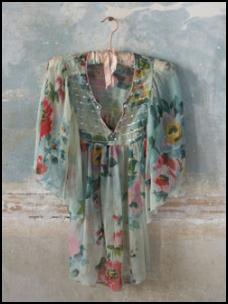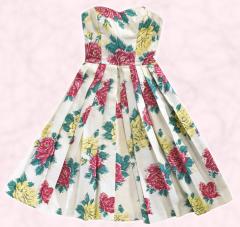 The high street now has countless versions of flower festooned dresses. The frocks have itsy, ditsy, floral dolly prints or big blousy cabbage rose blooms.
See how printed fabrics have tiny pinhead flowers that look like they belong in wild meadows, or compete swathes of fabric are covered in tropical exotic blooms and jungle plants.
If you wear a floral print dress this summer you will have bought into the latest floral fashion trend.
Fifty years ago flower prints like the vintage retro dresses shown here, became a fashionable fabric to wear again after a century of plain materials. Floral fabrics found less favour after the 1830s, but floral print dresses were a big hit again from the 1950s.
Right - Vintage 1950s floral print dress, £60. From a selection at Beyond Retro Vintage Store.
Left - Plümo Isobel Kaftan top. Sheer silk tunic with crystal and sequin embroidered front panel and wide fluted sleeves. The top is made of washable Silk/viscose mix - dry clean or cold hand wash. Sizes length 65cm, £79.00 sizes 10 to 18.
Flower power is back again. If this is a trend that frightens you, where better to start than the Kaftan top shown above left. So many fashion designers have embraced floral fabrics in their fashion designs, that floral approval is well and truly here.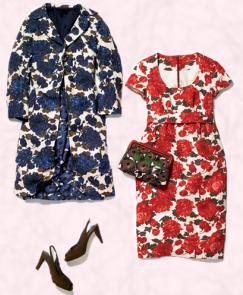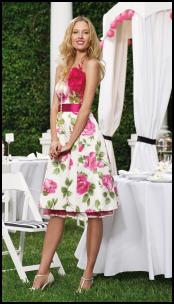 Dries Van Noten, Kenzo, Dolce & Gabbana, Stella McCartney, Nicolas Ghesquière at Balenciaga, and of course Miuccia Prada have all paid homage to florals. Once women regained confidence after a decade of wearing trousers, floral fashion looks have become approachable once more.
That drab, understated masculine look has been replaced by femininity. Traditional vintage and other retro floral fabrics are being used in every type of garment from coats, dresses, blouses, skirts, and even footwear.
Left - Debenhams Womenswear Summer 2008 - Cabbage Rose Floral Print Dress.
Right - Flower print coat and dress all from Boden. Coat - Silk linen coat £110, Dress - Silk linen dress £95, Bag - £55, Shoes - £95. You are reading an original article on floral print dresses by Pauline Weston Thomas at www.fashion-era.com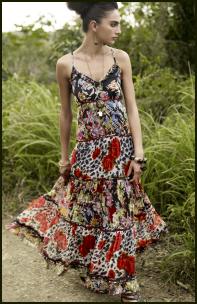 Ditsy dolly prints like these always look terrific on dainty petite women. Bolder patterns often look better on taller more Amazonian figures. .
Left - Womenswear Spring/Summer 2008 - Red Herring chiffon maxi dress £40/€62,
EB by Erickson Beamon tribal cut-out earrings £10/€15.50,
Spiral bead pendant necklace £18/€28,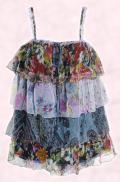 Spiral stretch bead bracelet £20/€31,
Mood gold thin multi bangles £6/€9.50.
Centre - Spring/Summer 2008 Red Herring maxi dress Spring/Summer 2008 Womenswear Debenhams.
Right - Frilly layered top - Debenhams Womenswear Spring/Summer 2008 Red Herring multi colour ruffle cami £22/€34 Spring/Summer 2008.
The maxi patchwork dresses, tops and tunic dresses are directly influenced by the type of prints and garment style used by D&G in their last summer show. The mixed prints create a patchwork of sheers and semi sheer fabrics that mix and blend to pretty effect. Ruffles and bows are also an important trend feature of many garments this Summer 2008.
»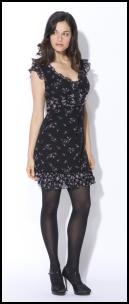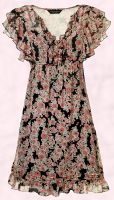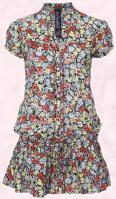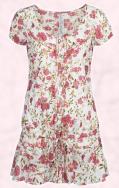 Empire styles are as popular as drop waisted dresses. Both styles and can be worn as tunics with thick tights or jeans.
The model in the image left wears her summer dress with opaque tights and T-bar shoes.
Left - Navy Ditsy Dress £24.99 Spring/Summer 2008 by Bay Trading Company.
Left and Centre - River Island Clothing Co. Ltd floral dresses. Both floral print dresses are from the Brighten Up SS08 range from River Island Clothing Co. Ltd.
Far Right - Dorothy Perkins ditsy floral print dress.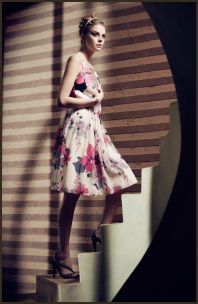 This summer, Oasis heralds a return to the feminine, fun and colourful brand values synonymous with the high street leader. The first collection under the guidance of new Creative Director Nadia Jones will see Oasis come full circle with an exciting take on the new season ahead.
Aware of the importance of florals, the talented in-house design team have created a modern take on femininity, full of print and colour which perfectly embodies the spirit of the Oasis woman.
Oasis recognises the return of the dress as a key wardrobe staple that will run throughout the season ahead. They promise couture inspired shapes echoing back to glamorous times. The focus is on full skirts fifties style alongside delicate seventies influenced maxi dresses, an essential for your summer wardrobe.
Left - Oasis Belle Campaign Floral Dress.
Highlights include a chiffon tiered mini in Vintage Rose, a crisp white cotton bandeau with delicate lace trim, or a dip dyed crepe dress with a floral detailed strap.
In-house flower prints unique to Oasis like those below, add a modern quirky accent to nostalgic glamour looks.
Oasis has introduced 'Floral Frocks' their beautiful collection of four exclusive dresses based on original vintage prints from the mid C20th. All are designed with a modern contemporary feel. The collection was inspired by the Floral Frocks exhibition at the Museum of Fashion at Bath Spa.
Ω
The Summer 2008 collection epitomises this season's trend for all things floral. Oasis have given each 'Floral Frocks' collection dress a name.
The first dress 'Poppy Parker Jones' (left) is charming.
Poppy is a day dress that embraces volume and shape, which is belted at the waist. It is printed with bold cardinal red poppies scattered across a background of pure white cotton. With a net underskirt, it is fun and flirtatious and surprising with the low back.
It embodies the spirit of the early 1960's and is a stylish modern interpretation. It is a very wearable dress and should brighten up any summer day.
Left - Oasis 'Poppy Parker Jones' floral dress. You are reading an original article on flower print dresses by Pauline Weston Thomas at www.fashion-era.com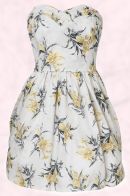 Oasis say 'Lily Lane' (right) is a strapless summer frock with a sweetheart neckline in crisp cotton flaunting a bold yellow and green lily print. Right - Lily Lane dress.
Layers of tulle create a full underskirt and the bodice top is gathered around the waist showing off a simple ruche detail.
A young lady of the 50's would have found this dress quite irresistible. So might a young woman of 2008.
The 'Violet Valentine' dress captures the feel of 1950's daywear in all its glory.
In the early 1950s rationing had come to an end. There was a renewed optimism among the stylish set. Sunny cheerfulness was in the air and vibrant cotton satin prints were rich with the promise of greater exuberance in life.
Violet Valentine from Oasis is a delightful strappy sundress. It is adorned with sweet violets in sugared shades, through a soft floral border print with graduated small blossoms to larger full blooms.
Violet Valentine is gathered at the waist so that the full skirt falls just below the knee. When worn with layers of petticoats and matching tie belt it creates an exaggerated hourglass figure.
Finally comes 'Rose Riley' which is a striking tulip shape dress, that takes its inspiration from a vintage 'gown of distinction'. The lush print covering the crisp cotton fabric, is of rich cerise pink blossoms. The pretty oversized bow sits on a nipped-in waist.
This is a chic and sophisticated floral print dress, simply perfect for heady summer evenings.
Right - Oasis Rose Riley dress.
All the Floral frocks dresses are from mid summer selections at www.oasis-stores.co.uk.
For UK Stockist enquiries call 01865 881 986. Compare any of them to the Beyond Retro dress at the top of this page and you will see how Oasis Stores have captured the era. We are not yet quite used to the skirt fullness of the original vintage dress, but by Christmas full skirts will be a hot fashion.
Wardrobe Tip - think floral, think fifties vintage looks.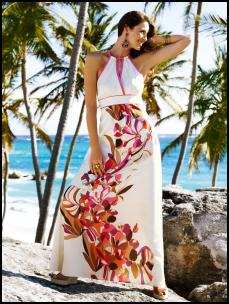 At Principles there is a softer romantic mood, which brings in a fresher and lighter feel to the Summer 2008 season. The strong warrior woman aesthetic of last winter, has given way to a gentler more sophisticated attitude.
Fabrics are either translucent with a diaphanous quality, or fluid to envelope the body in sensual layers.
This summer's frocks bring modern romance to fashions using pretty tones of coral, lavender, blush and lemon. Their floral prints look new, particularly with the graduated scale play that is so important this season.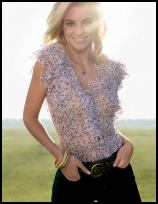 Frills, ruffles and layering add to the romantic feel. Chiffons and organza add lightness to this layering. Pretty blouses and couture shells in levels of pale greys and apricot, stylised floral and graphic spot prints, all add a modern touch.
Left - A maxi dress from Principles High summer 2008 Collection.
Right - This Principles blouse is from Principles Spring Summer 2008 Petite Collection. Lilac frilly confetti printed blouse £39/59 euros, Wide leg belted jeans £39/59 euros. Principles Stockist number 0870 122 8802 and at www.principles.co.uk.
Combine ruffles with florals and you have one of the main summer fashion trend looks of 2008.
See also the main page on Wardrobe tips SS 2008 - Colour Moodboards SS2008
Copyright use of images are courtesy Bay Trading, Plumo, River Island, Debenhams, Dorothy Perkins, Wallis, Principles, Oasis, Beyond Retro and Boden. Header Image is from Oasis Stores. The dress is called Poppy Parker Jones and is from the Floral Frocks Collection at Oasis.
My thanks to these companies.
Date added 10 March 2008 - Ref:P675.
If you like this page then please share it with your friends
---
For more information on ladies and teens fashion trends go to:-
* AW (Autumn Winter)
Archived Sections
Custom Search
About Fashion-Era.com
Fashion-Era.com looks at women's costume and fashion history and analyses the mood of an era. Changes in technology, leisure, work, cultural and moral values. Homelife and politics also contribute to lifestyle trends, which in turn influence the clothes we wear. These are the changes that make any era of society special in relation to the study of the costume of a period.

Fashion-Era.com can take no responsibility for any information on the site which may cause you error, loss or costs incurred from use of the information and links either directly or indirectly. This site is owned, designed, written and developed by author: Pauline Thomas and Guy Thomas. This site is designed to be viewed in 1024 X 768 or higher.
ALL RIGHTS RESERVED. Fashion-era.com reserves the right to add or delete information, graphics and links. Copyright © 2001-2014 on all content, text and images in Fashion-era.com. Images and text in this website may not be used on other websites.
Before you write to me for costume/fashion help or information please, please consult the extensive sitemap which lists all our pages. If you still cannot find the answer after searching the site, then before you email me, please consider if you are prepared to make a donation to the website.
Donations
Reader's donations help this site flourish, in particular donations encourage me to write more articles on fashion history as well as current trends. PayPal allows anyone with a credit card to donate easily and securely. You may donate any sum you feel appropriate.