Latest Fashion Trends for Spring and Summer 2008
Gladiator Sandals, Flats, Heels & Shoes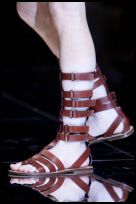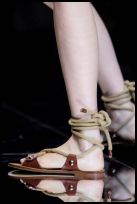 This summer the fastest way to get the latest look is to wear Gladiator sandals.
The Gladiator sandal or Gladiator strap boot, is a trend which has been developing for a year or two. In the spring of 2008, mass manufacturers have taken this sandal to heart in the same way they did with another old favourite flat shoe - the ballerina.
You will find that Gladiator footwear is usually worked in one of these colours, either rich orange tans, strong dark browns, metallics, gold or silver.
Many Gladiator styles are strappy, and follow the influence of Dolce and Gabbana, like the D&G Gladiator £380 sandals above left. Scores of summer sandals are toe post, jewelled flip-flops, while others have ankle wrap straps and cord lacing like these shown. Even if your a big fan of the gladiator sandals, there are other options like flip flops, women's slippers, and boots that you can wear to match your outfit.
Spell it how you will - sandal, sandel or sandle - of all the Gladiator sandals I have looked at recently, my favourite is by Office; the sandal shown immediate right.
This Office sandal could not have existed in the era of the Roman Empire, because it has a heavy duty central zip, and as you probably know, the zip is very much an invention from 1891 and developed in the last century. Yet somehow the design of this Roman look, Gladiator sandal, seems exactly right for 2008.
Think how easy this sandal will be to slip on and off your foot compared to those with multi straps. So it deserves this large image! I like it so much I'm sure you will too.
Right - This brown stud Gladiator sandal is from the Spring 2008 Office Ladies Footwear Collection and is called Levictus Zip Sandal. Price £40.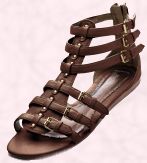 Notice the rich dark brown shade which gives the Gladiator sandal an authentic look and which is also similar in tone to the sandal shown left.
This Gladiator sandal with its six adjustable straps, most conforms to our idea of what a Gladiator sandal might be like. The sandal offers an opportunity to adjust the straps for a perfect fit. It is available from Debenhams and is sure to be summer accessory you return to time and again.
Left - Debenhams Spring Summer 2008 Women's Accessories - Red Herring Gladiator Sandal, Price £25.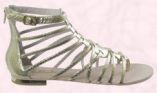 Right - Tan Leather Gladiator Sandal €14.00 - In store end of April from the Summer Collection at Penneys for 2008
Left - Metallic Gladiator Sandal from Faith Footwear £35.
When you select your Gladiator sandal, think carefully about the number of straps the style has, before you make your selection. In the morning rush to work will you want to dress quickly, so a simple lace tie, zip or lone strap may be more convenient.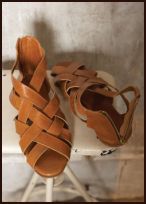 Of course there are many other great looking variations on the theme of Gladiator sandals. Softer tans feature in many ranges. These tan sandals shown left are from Plümo. Look carefully and you will see an easy opening short back zip for a fast and perfect fit. They are priced at £89 and are available from plumo.com online.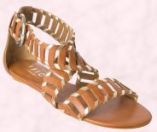 Left - Plümo Belle Sandals £89 - Fabulous sandals made from tan coloured, lattice woven leather with a back zip.
Many of this summer's sandals are absolutely flat. If you are used to wearing heels it make take a few days for your leg muscles to adapt to wearing a flat shoe. But lovers of ballerina shoes will be immediately at home in super flat sandals.
Right - Tan Sandal Loopy Loo £50 from Spring 2008, Office Ladies Collection at Office.
»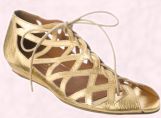 Metallic footwear is so fashionable at the moment; look out for gold tones, pewter and silver effects in flats of all types. The yellow gold of these laced open Gladiator shoe sandals by Office is rich and warm. The shoe has a very slight wedge elevation.
Right - Abu Dhabi in yellow gold tone - Gladiator sandal shoe £55, Spring 2008, Office Ladies Collection by Office.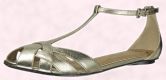 But these Monsoon T-bar flats are also gold, yet they are much cooler in tone.
Left - SS08 Monsoon Accessories Pale Gold gladiator sandal £35, due in April at Monsoon Spring/Summer 2008 Accessories.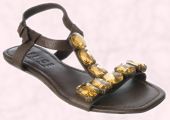 Jewelled footwear always looks terrific on a hot summer day, with gems catching the light. Read more about Swarovski CRYSTALLIZED products.
Far Left - Dramatic T Bar £40 for Spring 2008, Office Ladies Collection by Office.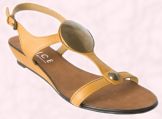 T-Bar shoes and sandals are very comfortable to wear since the shoe is held over the whole length of the foot.
Right - Golden Tan 'Long Night T-Bar' Sandal - £45, Spring 2008 Office Ladies Collection Office.
This neutral T-Bar selection below is from the Summer 2008 Footwear Collection at Barratts.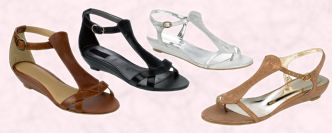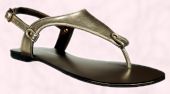 For those fond of toe post sandals, then these black sandals by NEXT might fit the bill.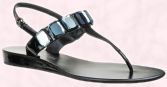 Right - Next Women's Footwear Spring/Summer 2008, Black large jewel sandals £40. A low cost alternative might be this gold toe-post sandal £15/€22, shown left, and from the Dorothy Perkins Spring Summer 2008 Collection.
You are reading an original independent 'gladiator sandals' article by Pauline Weston Thomas at www.fashion-era.com ©
As a shoe lover, if the thought of wearing flats is an abomination, then maybe these high heel sandals with a Gladiatorial take will placate your feelings.
Left - Sandal £44.99/€75.50 - Womenswear Footwear SS08 River Island Clothing Co. Ltd
Right - NEXT Women's Footwear Spring/Summer 2008, Tan weave sandals £35/€50.
Below Left - Matalan High heel Sandal £16, from the Spring Summer 2008 Womenswear range.
Below Centre - French Connection tan high heel sandal.
Below Right - Dorothy Perkins Spring Summer 2008, tan chunky strap platform £25 €40.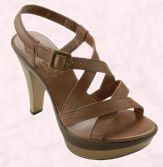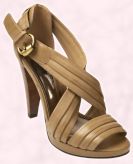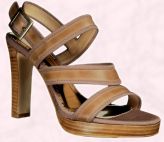 It's clear that if one shop is out of stock of a tan wrap strap, high heel sandal, then plenty of other high st. retailers will have the perfect sandal for you.
If these heeled sandals above all seem too high, then these clog influenced raised sandals might be the best alternative. They are from Shellys Summer 2008 Footwear and Accessories.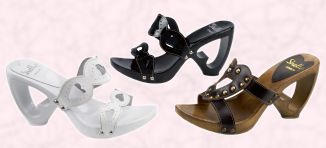 Ω
Shoes on the high street are more innovative than ever before. Cuffs, or protective materials only at the ankles, are one of the newer shoe fashion trends. These black heeled shoes shown right are from Debenhams Spring/Summer 2008 Women's Accessories. The flat black and white ankle cuff shoe sandal design is called Hera and both are from the Summer 2008 Collection at Shellys.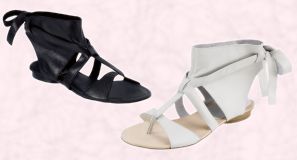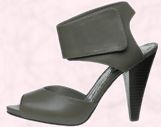 These unusual pieces of footwear move us toward boots and newer styles of airy summer footwear.

So many of us wear trousers and jeans that we love a finished look with a short boot. Both these high st. boots are good for cooler summer days.
The stone boot left and the retro button feature adds a vintage fashion touch. They would toughen up a pretty dress that might seem over girly to some women.
Left - Creamy Stone Boots - £59.99/€100.50, River Island Clothing Co.
Right - Rich Tan Calf Boots - £54.99/€92.50, River Island Clothing Co. Ltd, Womenswear Footwear & Shoes Summer 2008.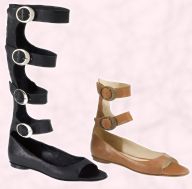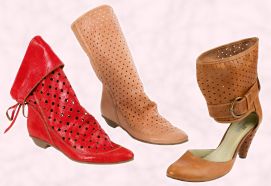 Left - Shellys Trick/Treat/Tremble footwear - Red Trick style is £80, Treat and Tremble are both £75 and from Shelly's Spring/Summer 2008 Shoes.
All these themes make footwear far more interesting than it has been for years. Even summer boots with cut out sections enable the summer foot to breathe more easily.
Right - Shellys black knee length and high tan ankle Gladiator open strap wrap shoes from their Summer 2008 Collection.
Which brings us back to the point where we started - Gladiator looks are the big fashion trend of summer 2008. So, get your Gladiator inspired footwear now.
You are reading an original independent 'gladiator sandals' article by Pauline Weston Thomas at www.fashion-era.com ©
See also the main page on Wardrobe tips SS 2008 - Colour Moodboards SS2008
Copyright of images courtesy Shellys, Monsoon, Matalan, French Connection, Dorothy Perkins, NEXT, Barratts, Office, Penneys, River Island Clothing Co. Ltd., Plümo, Accessorize, Debenhams, D&G .
Date added 28 February 2008 - Ref:P673.
If you like this page then please share it with your friends
---
For more information on ladies and teens fashion trends go to:-
* AW (Autumn Winter)
Archived Sections
Custom Search
About Fashion-Era.com
Fashion-Era.com looks at women's costume and fashion history and analyses the mood of an era. Changes in technology, leisure, work, cultural and moral values. Homelife and politics also contribute to lifestyle trends, which in turn influence the clothes we wear. These are the changes that make any era of society special in relation to the study of the costume of a period.

Fashion-Era.com can take no responsibility for any information on the site which may cause you error, loss or costs incurred from use of the information and links either directly or indirectly. This site is owned, designed, written and developed by author: Pauline Thomas and Guy Thomas. This site is designed to be viewed in 1024 X 768 or higher.
ALL RIGHTS RESERVED. Fashion-era.com reserves the right to add or delete information, graphics and links. Copyright © 2001-2014 on all content, text and images in Fashion-era.com. Images and text in this website may not be used on other websites.
Before you write to me for costume/fashion help or information please, please consult the extensive sitemap which lists all our pages. If you still cannot find the answer after searching the site, then before you email me, please consider if you are prepared to make a donation to the website.
Donations
Reader's donations help this site flourish, in particular donations encourage me to write more articles on fashion history as well as current trends. PayPal allows anyone with a credit card to donate easily and securely. You may donate any sum you feel appropriate.