Latest Tribal Fashion Trends Spring and Summer 2008
For summer 2008, the trend of eclectic ethnic continues and now embraces simplified primitive motifs and elements, creating novel tribal fashion trends. This tribal fashion trend includes not just earthy traditional tribal prints, inspired by African, or South American designs, but also the safari look of raw earthy elements such as bold buckles, buttons, jewellery alongside tie dye and Ombre effects.
This fashion trends page highlights some of the tribal influences seen in looks currently available in the shops on the UK high street.
The tribal shift Aztec dress near right, is from Marks and Spencer Summer 2008 Per Una Collection. The dress sums up a typical Tribal style pattern and the colouration is everything one might expect in this very fashionable look. It has the raw earthy tones found in the palette of a Renaissance artist. The colours really could be obtained from materials in nature.
The Tribal decorated top and coordinating skirt above right, is from the Matalan Spring Summer 2008 Collection.
Matalan top with crochet detail £12, print skirt £10, belt £4 - all Matalan .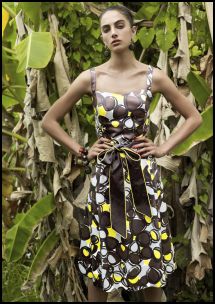 Bold jungle exotic blooms, large leaves, nuts or simple geometric shapes form the basis of repeating designs in the majority of tribal look patterned fabrics.
The dress left is from Debenhams Womenswear Spring/Summer 2008 range.
Debut pebble print prom dress £70/€109,
EB by Erickson Beamon spiral bead drop earrings £10/€15.50,
tribal stretch bead bracelet £20/€31,
spiral stretch bead bracelet £20/€31 - all at Debenhams.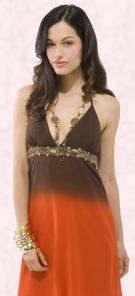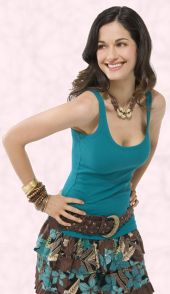 Near Left - The Aegean turquoise and brown jungle print skirt makes a feature of tribal colours with tropical jungle flowers.
Bay Trading Company Spring/Summer 2008 - Jungle print skirt £19.99, Bling tab vest £5.99, Stud belt £9.99.
One aspect of the tribal trend is use of dye and colour. Hit and miss methods of dye application, such as tie and dye, or more controlled bleed dye Ombre techniques emphasise the primitive tribal feel to the garments. Tie dyeing and bleed dyeing is a fashion trend that simply won't die. But this year it does look a bit more sophisticated and there is obvious technical control in the Ombre dyed garments.
Near right - This rusty orange and brown dress uses Ombre dyeing to merge the colours seamlessly. Bay Trading Company - Necklace trim dress £39.99 from Bay Trading Spring/Summer 2008 Collection.
You are reading an original tribal trends fashion article by Pauline Weston Thomas© at www.fashion-era.com ©
Ω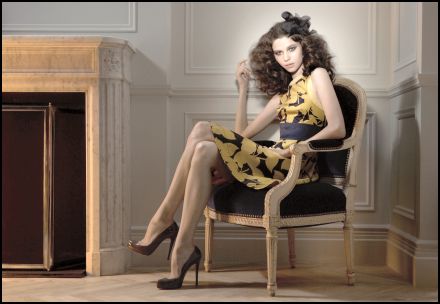 Tribal patterns are statement making prints that feature primitive art motifs, or the imagery of objects found in nature. This might be the enlarged skeleton silhouette form of a leaf, a simple bone outline or tooth, or the pattern of an animal skin.
Fashionable tribal fabric prints generally show strong bright colour contrasted against a neutral tone such a brown, ecru, charcoal or white base.
The colour is most often typical of simple natural dyes found in plant greenery, lichen and berries, bark and nuts, or sea products such as shells or fluid sacs.
Golden brown onion skins for example produce a wonderful mustard yellow tone and natural tones such as these are often the most used colours along with black for dramatic positive/negative contrast.
The advertising campaign picture above is courtesy of French Connections Spring Summer 2008 Campaign.
Dress details - French Connection Purple and Mustard Leaf Print Dress £65.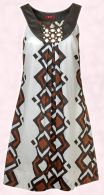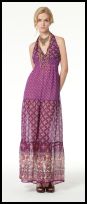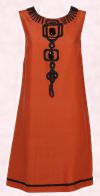 All these uncomplicated high street garments show tribal trend influence, yet each item is quite different. The rust red dress has black contrast decoration; the white print dress uses typical African colours in a simple block print. The purple voile dress features small traditional Asian patterns with a stamped wood block quality echoing the gold embossed hippy prints of Phool dresses of the 70s.
Left - Monsoon Storm Red Halle dress £70
Monsoon Spring/Summer 2008 from the Storm Collection.
Centre - Maxi halter dress - Oasis Spring/08 Collection.
Right - 2008 Monsoon Womenswear Masai dress £50 - Monsoon Spring/Summer 2008.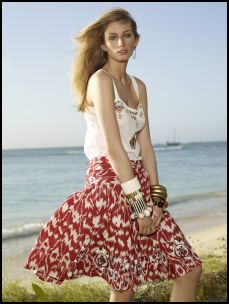 These ikat prints are very representative of two tone fashion prints of Summer 2008.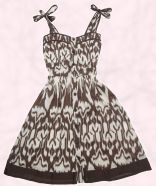 Left - Tribal print sundress €13.00 due in store end of March from the Penneys Summer 2008 Collection.
Debenhams Womenswear Spring/Summer 2008 Collections -
Red Herring tribal vest £18/€28 and tribal pattern skirt £25/€39,
Gold hoop earrings £5/€7.75,
EB by Erickson Beamon tribal stretch bead bracelet £20/€31,
Mood gold chunky bangles £6/€9.50 each,
Cream embossed floral bangle £12/€18.50,
Brown and beige beaded stretch bracelet £8/€12.50,
Mono wood stick stretch £7/€10.75,
EB by Erickson Beamon silver coloured and wood bead stretch bracelet £15/€23.50 All items can be bought at Debenhams.
But if you are not keen on these earthy colour combinations near your face, then adopt the simple approach to going tribal and use this tribal fashion look only in an accessorizing way. You could soon be buying tribal fashion accessories, shoes, bags and jewellery at an online store or high street shop.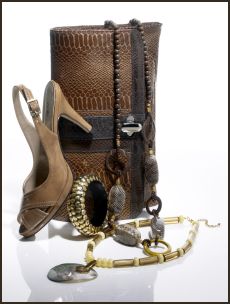 Adding bead, wooden, raffia or woven effect trinkets or bags helps create textural contrast which is so important to the tribal fashion trend. You can go tribal in your wardrobe this summer 2008 just by accessorizing. You may already have an animal skin item or accessory so see how you can work that item into your fashion look.
Right - Debenhams Spring/Summer 2008 Women's Accessories - Bags
J by Jasper Conran straw box clutch £20/€31.
Left - Wallis Spring Summer 2008 -
Lizard trim clutch bag £20/€34,
Peep toe sandal £35/€66,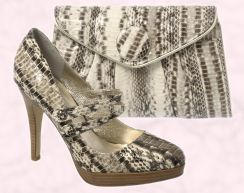 Studded wood bangle £10/€17,
Snake bead wood necklace £15/€24,
Shell disc bead rope £10/€17.
The matching clutch bag and shoes right are both from Dune.
Dune - Killa, £85 or €120.
Dune Clutch Fashion Bag - Milla, £55 or €80.
Footwear and clutch bag all from the latest Dune summer 2008 Collection.
You are reading an original tribal trends fashion article by Pauline Weston Thomas© at www.fashion-era.com ©
Ω
These high fashion costume jewellery necklaces, bangles and cuffs below, could all add a tribal finish to your summer 2008 look. Most importantly if you are unsure about this fashion trend then this would be at a very low cost.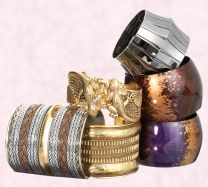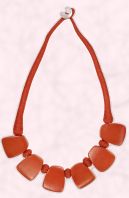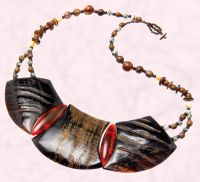 Left - Concave bangle - £10, Paint splatter bangles - £8, Double Lizard clamp - £12, Huge ethnic cuff - £12, all Boho Tech Range and from Freedom at Topshop.
Centre - Wallis Jewellery SS08 - Orange resin wrapped collar £12 E20 - Spring Summer 2008 Jewellery at Wallis.
Right - Wooden plate necklace on beaded rope - £10 - Boho Tech Freedom at Topshop.
So without further ado get into the tribal fashion trend and give the look your personal twist.
You have been re reading an original tribal trends fashion article by Pauline Weston Thomas© at www.fashion-era.com © See also the main page on Wardrobe tips SS 2008 - Colour Moodboards SS2008
Copyright use of images are courtesy Debenhams, Oasis, French Connection, Bay Trading, Marks and Spencer, Penneys, Topshop, Wallis, Monsoon, John Lewis. Header Image is from Marks and Spencer. My thanks to these companies.
Date added 8 March 2008 - Ref:P674.
If you like this page then please share it with your friends
---
For more information on ladies and teens fashion trends go to:-
* AW (Autumn Winter)
Archived Sections
Custom Search
About Fashion-Era.com
Fashion-Era.com looks at women's costume and fashion history and analyses the mood of an era. Changes in technology, leisure, work, cultural and moral values. Homelife and politics also contribute to lifestyle trends, which in turn influence the clothes we wear. These are the changes that make any era of society special in relation to the study of the costume of a period.

Fashion-Era.com can take no responsibility for any information on the site which may cause you error, loss or costs incurred from use of the information and links either directly or indirectly. This site is owned, designed, written and developed by author: Pauline Thomas and Guy Thomas. This site is designed to be viewed in 1024 X 768 or higher.
ALL RIGHTS RESERVED. Fashion-era.com reserves the right to add or delete information, graphics and links. Copyright © 2001-2014 on all content, text and images in Fashion-era.com. Images and text in this website may not be used on other websites.
Before you write to me for costume/fashion help or information please, please consult the extensive sitemap which lists all our pages. If you still cannot find the answer after searching the site, then before you email me, please consider if you are prepared to make a donation to the website.
Donations
Reader's donations help this site flourish, in particular donations encourage me to write more articles on fashion history as well as current trends. PayPal allows anyone with a credit card to donate easily and securely. You may donate any sum you feel appropriate.