Fashion Trends 2007
Techellery - Wearable Technology Accessories
Techellery - Wearable Technology Accessories
The demand for accessories continues to grow each year. There is now a demand for novel and innovative techellery - technology enabled smart accessories. Techellery is jewellery combined with technology.
In the past couple of years we've all seen pictures of wearable technology belts and wrist technology devices, but most are so hideous and clunky, the average woman would cringe at wearing anything so ugly.
Now Phillips have used Swarovski crystals to make headphones and thus enhance a previously ugly technology item, which was probably designed by men who were not bothered about the sheer ugliness of such products. Now these Swarovski headphones are the best fashion techellery one could wish to own right now.
When an item's appearance is a great improvement on current technology, then it is destined to become a must-have hit, and a desirable fashion trend. Each day brings more opportunities for techellery to become a reality. These Swarovski studded headphones are already on my want-it list. Santa please drop by soon with my crystal headphones. Before Christmas is fine by me, but as long as I get this set by New Year 2008, I'll be happy.
Phillips Swarovski Crystal Headphones Christmas 2007 Harrods Ltd. Phillips Swarovski Crystal Headphones, from £49.95 - £94.95 Available from Sound & Vision, 3rd floor.
Since first writing about wearable technology in 2006, I have always thought of such forms of wearable technology as techellery. What made me coin the word techellery last year, was the Levi Strauss company launch of Redwired DLX jeans, which integrated iPod plug and play technology. You are reading an original fashion article by Pauline Weston Thomas at www.fashion-era.com ©
‡‡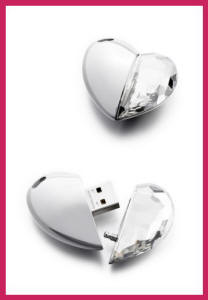 As with every other fashion item, techellery is gaining importance in the field of innovative accessories. Consumers want fresh ideas.
Another accessory you might like to keep in your handbag and flash around and make your friends jealous, is this girly-girly desirable USB stick covered in Swarovski crystals.
When not in computer use, you can Play with the Phillips Swarovski Crystal Heart USB Stick like a well designed worry heart. Make sure you are seen tipping it hand to hand. Think of it as a rather glam worry bead. It's certainly a heart meant to be seen. What better way to combine technology with a gift for the love of your life.
Left - Phillips Swarovski Crystal Heart USB Stick Christmas 2007 Harrods Ltd.
Swarovski and Phillips have worked on 4 USB models that look like locks or hearts and also make 4 earphone styles with crystal.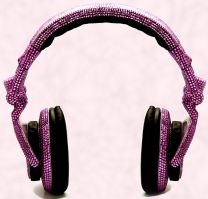 Admit it. This heart is really far more attractive than the usual memory stick. I'm sure the next design will be some Swarovski crystal faceted football - perfect for WAGS.
But even within a month of writing this page I came across this picture of ultra glam headphones CRYSTALLIZED™ with Swarovski elements.
And pink too!
Must-have!
Want-it!
NOW!
These items are the ultimate small, but modern fashion accessories of the era. For an understanding of modern day Swarovski crystal read more here. You have been reading an original jewellery/techellery article by Pauline Weston Thomas at www.fashion-era.com © Images courtesy of Harrods, Swarovski, and prshots.
§
Page Date 26 Aug 2007. Ref P638
If you like this page then please share it with your friends
---
For more information on ladies and teens fashion trends go to:-
Jewellery Trends 2007
* AW (Autumn Winter)
Archived Sections
Custom Search
About Fashion-Era.com
Fashion-Era.com looks at women's costume and fashion history and analyses the mood of an era. Changes in technology, leisure, work, cultural and moral values. Homelife and politics also contribute to lifestyle trends, which in turn influence the clothes we wear. These are the changes that make any era of society special in relation to the study of the costume of a period.

Fashion-Era.com can take no responsibility for any information on the site which may cause you error, loss or costs incurred from use of the information and links either directly or indirectly. This site is owned, designed, written and developed by author: Pauline Thomas and Guy Thomas. This site is designed to be viewed in 1024 X 768 or higher.
ALL RIGHTS RESERVED. Fashion-era.com reserves the right to add or delete information, graphics and links. Copyright © 2001-2014 on all content, text and images in Fashion-era.com. Images and text in this website may not be used on other websites.
Before you write to me for costume/fashion help or information please, please consult the extensive sitemap which lists all our pages. If you still cannot find the answer after searching the site, then before you email me, please consider if you are prepared to make a donation to the website.
Donations
Reader's donations help this site flourish, in particular donations encourage me to write more articles on fashion history as well as current trends. PayPal allows anyone with a credit card to donate easily and securely. You may donate any sum you feel appropriate.