Latest Fashion Trends for Fall 2007 & Winter 2008
Miss Selfridge Teen & Young Fashion Clothes
Miss Selfridge Clothes
Miss Selfridge are always hot on fashions designed for the the young. At Miss Selfridge you will find a good selection of denim wear in a wide range of trouser leg styles. On this page you can see some of their lovely press shots featuring shorts, knee length city shorts, skinnies and wider leg pants. You can also see teen party fashion clothes on the second Miss Selfridge page. Images on this page are courtesy of Miss Selfridge/Arcadia Autumn winter 2007 range.
Miss Selfridge has several collections including a Denim range and a Knit collection. Below is one of the prettiest shrug cardis of the 2007 season.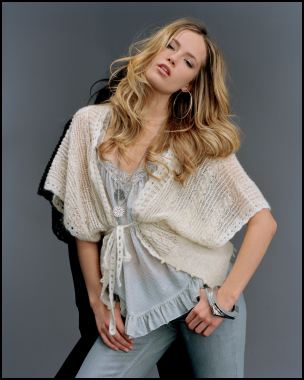 Looks from Miss Selfridge Autumn/Winter 2007.
Above - Open sleeve cardi £35/€55, Glitter smock top £30/€47, Silver skinny jeans £35/€55. Range - Knit.
Miss Selfridge is well known for its Denim wear and these photographs show classic, Miss Selfridge denim pieces.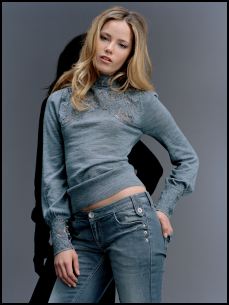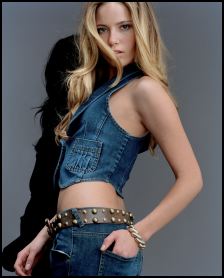 Denim looks are from Miss Selfridge Autumn/Winter 2007.
Left - Vintage polo £40/€65, Grey jeans £35 €55. Range - Gothic Angels.
Right - Collared waistcoat £28/€46, skinny flare jeans £35/€55. Range - Denim.
‡‡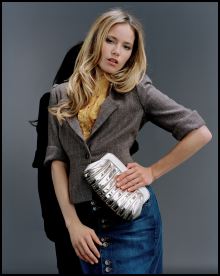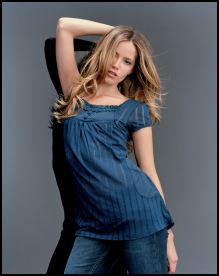 Miss Selfridge knows that a girl has to work as well as play. This more formal look from Miss Selfridge Autumn/Winter 2007, will be perfect for work.
Left - Tweed Lurex herringbone jacket £50/€80 Ruffle front shirt £22/€37 Denim button pencil skirt £30/€47 Metallic clutch £18/ €30. Range - Land Girls.
Right - After work has finished put on this easy relaxing blue top and jeans.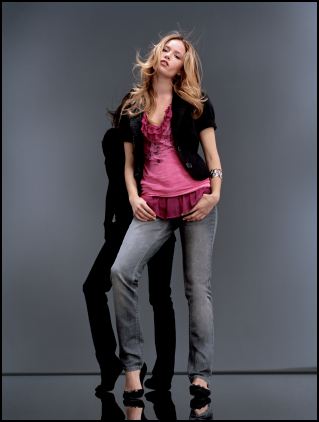 A go anywhere outfit to hang out with friends and all from Miss Selfridge Autumn/Winter 2007.
Above - Faded distressed washed denim is such a favourite with everyone. Necklace print vest £18/€30 Ruffle bib smock (worn underneath) £28/€47 Skinny jeans £35/€55 Jacket £35/€55 Bangles £4/€6 Diva at Miss Selfridge.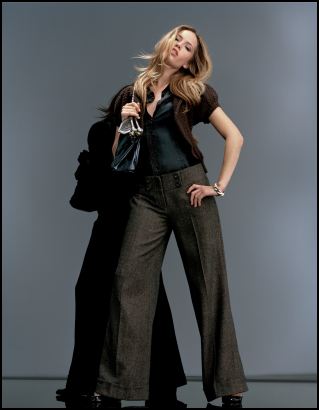 Above - Another outfit perfect for office wear. Formal trousers with wider legs catch the moment when they are from Miss Selfridge Autumn/Winter 2007 range.
Knit jacket £40/€65, 40's stitch detail blouse £40/€65, Tweed wide leg trousers £35/€55, Amara bag £28/€46, Brogue stilettos £35/€55. Collection - Land Girls.
§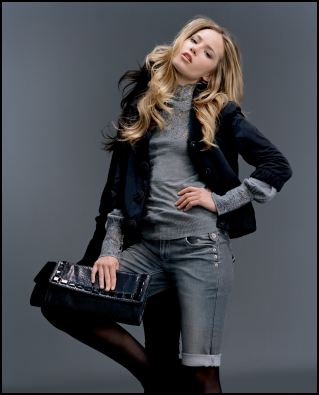 Tailored city shorts and denim shorts have been a huge hit this past year with younger women. This photograph is the epitomises the look we can expect from Miss Selfridge. Vintage Polo £40/€65, Black Jacket £45/€70, Grey Jean £35/€55, Black Clutch £20/€33. Range - Gothic Angels.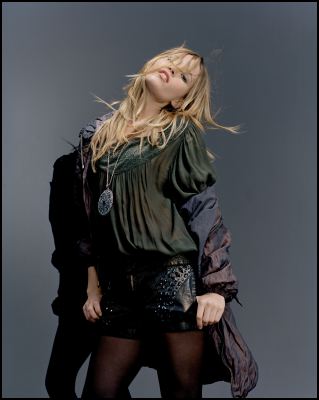 Above - Futuristic studs decorate short hotpants from Miss Selfridge Autumn/Winter 2007.
Crochet net top £32/€49, Glitter grunge shorts £30/€47, Metallic parka £60/€99. Range - Glitter Grunge.
On the next Miss Selfridge page much of the range of party dresses belong to the collection called Glitter Grunge, as does the dress below.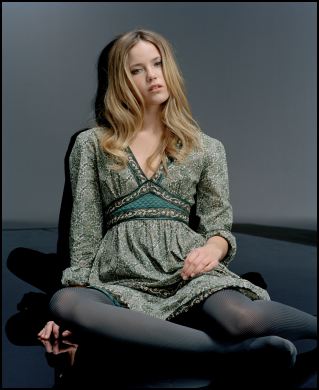 Empire line dresses have been hot sellers everywhere in 2007. This lovely braided decorated dress has drawn from many influences including 60s and 70s styling. It features recent folkloric decorative braid elements and of course this dress is in one of the most popular newer green tones. You are reading an original fashion article by Pauline Weston Thomas at www.fashion-era.com ©
Miss Selfridge Autumn/Winter 2007 - Green mix quilt print dress £38/€62. Range - Glitter grunge.
You can see a wide range of Miss Selfridge dresses on the next page which look at Miss Selfridge evening and informal dresses.
These are the key new casual fashion trends from Miss Selfridge for Fashion Trends Autumn 2007, Winter 2008.
See also the main page on Wardrobe tips AW 07/08 - Also Coat Fashions - Colour Moodboards
Special thanks to David of prshots with all images on this page courtesy of Miss Selfridge/Arcadia Autumn winter 2007 range.
Date added 9 October 2007 - Ref:P646
If you like this page then please share it with your friends
---
For more information on ladies and teens fashion trends go to:-
Jewellery Trends 2007
* AW (Autumn Winter)
Archived Sections
Custom Search
About Fashion-Era.com
Fashion-Era.com looks at women's costume and fashion history and analyses the mood of an era. Changes in technology, leisure, work, cultural and moral values. Homelife and politics also contribute to lifestyle trends, which in turn influence the clothes we wear. These are the changes that make any era of society special in relation to the study of the costume of a period.

Fashion-Era.com can take no responsibility for any information on the site which may cause you error, loss or costs incurred from use of the information and links either directly or indirectly. This site is owned, designed, written and developed by author: Pauline Thomas and Guy Thomas. This site is designed to be viewed in 1024 X 768 or higher.
ALL RIGHTS RESERVED. Fashion-era.com reserves the right to add or delete information, graphics and links. Copyright © 2001-2014 on all content, text and images in Fashion-era.com. Images and text in this website may not be used on other websites.
Before you write to me for costume/fashion help or information please, please consult the extensive sitemap which lists all our pages. If you still cannot find the answer after searching the site, then before you email me, please consider if you are prepared to make a donation to the website.
Donations
Reader's donations help this site flourish, in particular donations encourage me to write more articles on fashion history as well as current trends. PayPal allows anyone with a credit card to donate easily and securely. You may donate any sum you feel appropriate.