Latest Fashion Trends for Fall 2007 & Winter 2008
Halter Yoke Neckline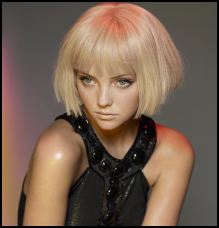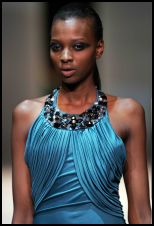 This season, one fashion that is clearly dominant in every range of eveningwear is the cutaway halter neckline. Mostly the halter is set on a circular yoke, either with a wide or narrow band.
A good example of this autumn's halter neck style, is this photograph left of a Dorothy Perkins black Lurex dress with beaded halter neckline €28/€44. This teal dress right shown by Ir Cortazar (for SS07) has a cleverly cut circular halter yoke that neatly tapers to the back neck.
The common factor among the many halter dress styles that exist, is that the shoulder and top armhole is cut into the dress bodice, exposing much of the shoulder line and the hollow of the arm. Often, but not always, it reveals some of the bust. The fashion focus of any halter style is always on the shoulder bone/scapula and highlights the arms.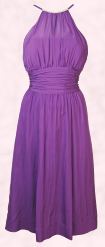 Many halter neck tops end in a stand collar, others plunge deeply showing the cleavage, perhaps combined with a keyhole or split front bodice. Generally the halter ties at the nape of the neck, when the flesh of the back is revealed. Any closure band may also button to a perfect fit, or be a noose like strap that comes from the front bodice.
Right - Monsoon Christmas Collection 2007, Purple Amelia Dress - £95/€150 - In Store November.
The variations on halter neck dresses are endless, but all reveal the shoulders and are cut to elongate the arms. Many halter neck dresses are based on a narrow bound yoke as in the purple Monsoon brand dress above or on a faced turned yoke. The very narrow circular band style is more of a casing than a yoke and is whisper fine.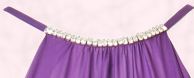 However the majority of teen tops and dresses shown on this page utilise the faced yoke and are very modest compared to how revealing this style has been in previous decades. A few have much more cutaway armholes than others. But this autumn many follow the lines shown in these teen tunic dress looks below, they are from the Autumn/Winter 2007 Internacionale range.
The grey-mix teen tunic top features a much more cutaway and more inset circular yoke band than the white tunic top and from this minor variation it's easier to see the relationship with other halter styles.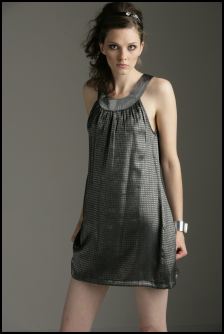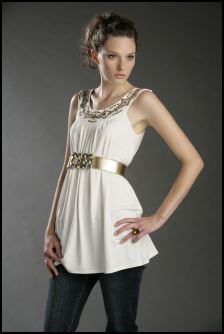 Left - Internacionale Autumn/Winter 2007 Grey Mix Dress £15 and Alice Band £2.50.
Left - White Top £12, Belt £6, Jeans £14 and Topaz ring £2.50.
Choose your halter top style carefully dependant on whether or not you wish to wear a bra. If you need support check out the ranges of bras at Rigby and Peller, Figleaves, Bravissimo or Marks and Spencer. This garment is not a style to make a show of bra straps, whether as a faux pas or intentionally. The whole point of the style is to elongate the arm.
You are reading an original fashion trends article by Pauline Weston Thomas at www.fashion-era.com ©
‡‡
This season the cutaway yoke style comes in every length from cropped top, mini tunic dress, to knee length dress, tea dresses at calf length, through to full evening maxi dress. The severity of the cutaway armscye (arm hole) just depends on the effect the designer wishes to achieve. In these 3 examples each garment progressively cuts a bit more fabric away at the armscye.
No woman feels her wardrobe is complete without a little black dress and here we have 3 lengths to choose from in the circular yoke halter cutaway style. Take your pick from - Mini tunic length, below knee and maxi floor length.
Near Left - Black top with gold coin detail around neckline £30 €47 and from Dorothy Perkins October 2007.
Centre - Dorothy Perkins Autumn Winter 2007 - Black Lurex dress with beaded halter neckline €28/€44, is also modelled by Heather Marks at the top of the page.
See more of Heather on the Dorothy Perkins page.
Far Right - Monsoon Autumn Winter 2007 - Sienna Dress with cutaway halter neck and back in black - £135/€210 and in store from October.
As you can see from the lovely halter neck examples on this page, the circular yoke is a perfect place to add embroidery, use contrast fabric, or develop as an area to be CRYSTALLIZED™ with embellishment.
Swarovski crystal is the preferred bead of choice of top designers and quality clothing manufacturers.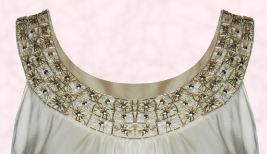 This neatly faced halter yoke style can have just a minimal amount of cutaway armscye such as this white top left, so that it verges on being a sleeveless smock top. In practical terms an under yolk makes this a much easier style to wear than a fully cutaway halter. You can buy into the trend without over exposure.
The width of the yoke band neckline also dictates the volume of embellishment. Generally the narrower the casing band to set the bodice on, then the more arm and shoulder line revealed.
Above right and left top from Monsoon - Charlize Beaded 100% Silk Satin Top, Price: £55.00. The Monsoon dry clean only top is Code: 12995041 in Ivory. It is a very pretty top and makes me feel like being transported to a Grecian island.
§
Metallic Shimmer Dresses
For several seasons metallic and shimmering looks have been the hallmark of winter evening wear. The fashion trend has been so strong that metallic effects have infiltrated into daywear too.
Metallics work right through silvers, gunmetal greys, gold, brass and now copper bronzed tones. This gold tunic yoke halter top and the gold halter roll neck dress shown right, are both from Dorothy Perkins.
Near right -Dorothy Perkins Autumn Winter 2007 -Gold Roman neckline top £25/€40.
Far right - Dorothy Perkins Most Wanted October 2007 - Gold Lurex tunic dress £25 €40.
It's not just gold that's in the shops, but also every other metal. This Principles silver modestly cutaway armhole dress below left, is covered in circle spangles. Principles Autumn Winter 2007 main collection - Silver lace circles dress £69/€110.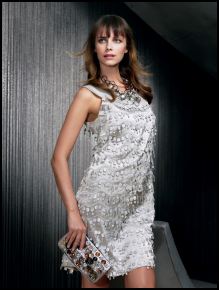 This copper brown dress above left is another lovely dress from the Principles main collection. It is beautifully decorated on the cutaway yoke. Principles Autumn Winter 2007 - main collection - Gold warrior neck dress £75/€115. Note how these styles elongate the arms.
Principles UK Stockist telephone number for both items is 0870 122 8802.
You are reading an original fashion trends article by Pauline Weston Thomas at www.fashion-era.com ©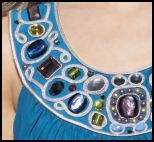 If you are person who must have colour, then you really will be spoilt for choice with this style. Every range seems to have catered for the silhouette details of this fashion trend.
The stunning teal blue cutaway smock tent dress is from Debenhams. This neckline detail left, shows the stones and braiding on the embellished yoke.
Teal blue is a colour that has grown from strength to strength. Along with purple, brown, gold and green it very much marks itself as one of the hues favoured in the late noughties.
Debenhams Autumn/Winter 2007 Womenswear - Butterfly by Matthew Williamson limited edition embellished tunic, Star by Julien MacDonald silver box clutch £20/€31, Vicenza silver bangle, Nine West platforms.
These then, are the some of the evening fashion clothes from Dorothy Perkins, Principles, Monsoon, Internacionale and Debenhams for Fashion Trends Autumn 2007, Winter 2008.
‡
Halter top dresses were very popular throughout the 1960s and into the 1970s; here you can see me as a teenager to the right, wearing a black cutaway halter dress. Incidentally, it's the hairstyle that dates the photos.
My Wallis black halter dress was silk chiffon and had long streamers trailing down from the back neck. It was one of those favourite reliable little black dresses and I wore it regularly over a period of several years until sadly it showed wear. Long ties are frequently used in halter styles as they enable an individual to achieve a secure fit.

On the left is a photograph of my elder sister wearing a floral halter neckline maxi dress I sewed for her. It was made from blue roses on black a Rose and Hubble fabric of the 1970s.
This style was a take off of the white halter dresses designed by Halston.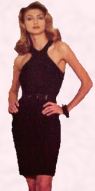 The cut was the same line of dresses originally worn by film stars Jean Harlow and the silver screen dancer, Ginger Rogers.
The difference between my sister's halter dress and mine is that her dress was backless. Many of you will only have worn the style as a bikini top.
All the dress pattern manufacturers produced great halter styles.
This more recent black halter dress, right, is from a Ralph Lauren Vogue designer pattern. It is another example of a halter style showing how endless the variety of halter arrangements can be. It is worth seeking vintage patterns just for the variety of dress styles that come to your attention.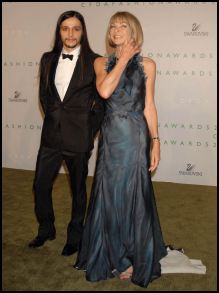 A final thought - cutaway areas in fashion clothing demand either a young body or a very toned body. Whilst my sister and I may have worn a halter dresses as teenagers neither of us would consider wearing this style now, without a cover up. Too many women over 40 have chicken wing flaps on upper top arms.
You'd need the tennis toned arms of Anna Wintour to get away with this look. I have to say she looks great in this photograph left and taken at the Swarovski Fashion Awards. This is a case of a woman knowing that her arms are one of her good features and so she has chosen to focus on them.
Unless your arms are in tip top shape and you are devoting time to their preservation, in the main forget this style. You may be able to artfully camouflage the area with a suitable wrap or other cover up, but the whole point of this style is to show great arms.
You are reading an original fashion trends article by Pauline Weston Thomas at www.fashion-era.com ©
Latest Maxi Halter Styles 2010
See also the main page on Wardrobe tips AW 07/08 - Also Coat Fashions - Colour Moodboards
Special thanks to prshots with most images on this page courtesy of Dorothy Perkins, Internacionale, Principles, Monsoon, Debenhams, Autumn/Winter 2007 ranges. Anna Wintour and Ir Cortazar teal dress images both courtesy of Swarovski,
Date added 12 October 2007 - Ref:P650.
If you like this page then please share it with your friends
---
For more information on ladies and teens fashion trends go to:-
Jewellery Trends 2007
* AW (Autumn Winter)
Archived Sections
Custom Search
About Fashion-Era.com
Fashion-Era.com looks at women's costume and fashion history and analyses the mood of an era. Changes in technology, leisure, work, cultural and moral values. Homelife and politics also contribute to lifestyle trends, which in turn influence the clothes we wear. These are the changes that make any era of society special in relation to the study of the costume of a period.

Fashion-Era.com can take no responsibility for any information on the site which may cause you error, loss or costs incurred from use of the information and links either directly or indirectly. This site is owned, designed, written and developed by author: Pauline Thomas and Guy Thomas. This site is designed to be viewed in 1024 X 768 or higher.
ALL RIGHTS RESERVED. Fashion-era.com reserves the right to add or delete information, graphics and links. Copyright © 2001-2014 on all content, text and images in Fashion-era.com. Images and text in this website may not be used on other websites.
Before you write to me for costume/fashion help or information please, please consult the extensive sitemap which lists all our pages. If you still cannot find the answer after searching the site, then before you email me, please consider if you are prepared to make a donation to the website.
Donations
Reader's donations help this site flourish, in particular donations encourage me to write more articles on fashion history as well as current trends. PayPal allows anyone with a credit card to donate easily and securely. You may donate any sum you feel appropriate.