Teen Fashion Trends for Fall 2007 & Winter 2008
Latest Topshop Fashion for Autumn
Topshop Fashion Trends
Topshop have some great fashion styles on offer this Autumn 2007/Winter 2008. Take a look at the great styles in these photographs which will delight younger girls. The Topshop girl is youthful in outlook, not just in age. If you are over a certain age, it does not mean these items are not for you, but that you must be more selective about your choices. There is cut off point where some styles look best on the young. Further down this page you will note the Celia Birtwell influenced Topshop items and some great new teen fashion looks for the Topshop girl.
For key looks in hot trends always check out Topshop. You are reading an original fashion article by Pauline Weston Thomas at www.fashion-era.com ©
Scroll for 16 great images all courtesy of Topshop/Arcadia.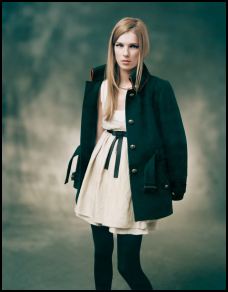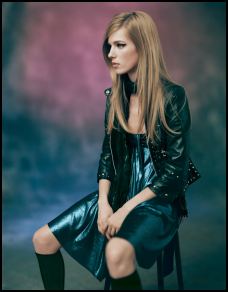 What adorable party dresses. Younger Topshop girls will love these dresses. Dress them up or down, but make the look your own with clever styling and the latest accessories or jewellery.
Above Left - Cream chiffon empire line dress with black tie £40/€60. Black military piped coat £80/€120, black opaque tights £6/€9.
Right - Blue metallic bandeau dress with sweetheart neckline £35/€52, black leather studded biker jacket £110/€63, black modal rib knee high socks £6/€9. Both looks are from Topshop Autumn/Winter 2007.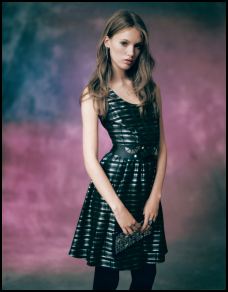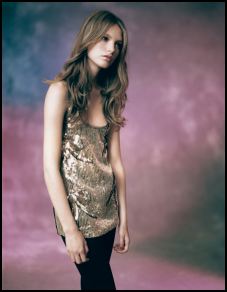 Some Topshop girls just can't see themselves in a dress. For those who can't adapt to dresses, then this sequin tunic and leggings will keep you feeling in the party mood for the Christmas and New Year festivities.
Above Left - Oyster and black checked chiffon prom dress £55/€80, black leather pyramid stud clutch bag £18/€26, black metal plate cinched belt £28/€40.
Right - Bow sequin Vest £40. Both looks are from Topshop Autumn/Winter 2007. See more on sequin dress fashion for 2009/10
‡‡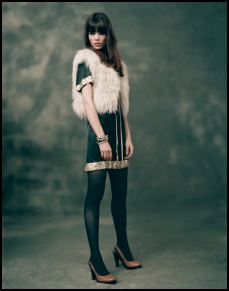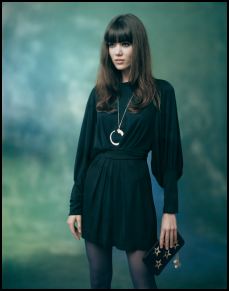 Left - Black shift dress with sequin £60/88, cream Shearling gilet £75/€110.
Right - Dark green batwing dress £70/€104, Gold star studded clutch bag £15/€22, navy blue opaque tights £4/€6. Both looks are from Topshop Autumn/Winter 2007.
Topshop are high street leaders and they are helping revive the beautiful prints of the 1960s. Topshop have launched a small number of limited edition pieces with lovely prints by Celia Birtwell the famous 60's print designer. The fabric prints are in the style of Birtwell's signature hand-drawn prints that she created for Ossie Clark. Two of the designs are shown just below.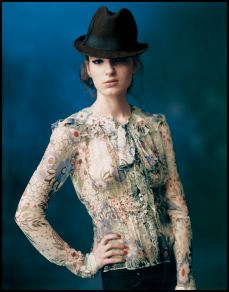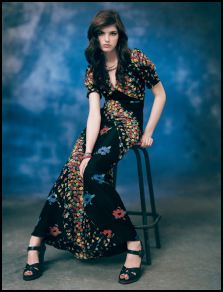 Left - White floral Celia Birtwell blouse £48/€70.
Right - Black floral Celia Birtwell maxi dress £60/€88, black leather wedge sandal £90/€133.
Both from Topshop Autumn/Winter 2007.
The argument for wide leg trousers or skinny trousers never stops. Nothing makes a woman look more out of date than wearing the wrong trouser style. But when Topshop stock both skinnies and wider leg styles, you know you are safe to wear either. Thank goodness I hear you sigh. Some girls and women can wear skinnies, but just as many look better in wider leg pants. Take your pick. I especially like these Topshop wide leg jeans below. If they are as well cut as the famous skinny Baxter jeans, then they will soon fly out of Topshop's stores. Team them with one of the latest belts on offer in high streets.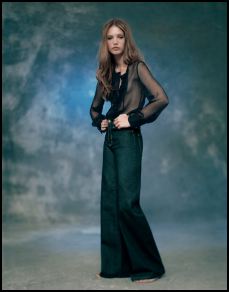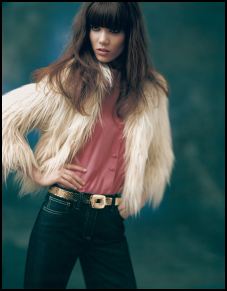 Left - Charcoal chiffon frill blouse £35/€52, Indigo wide leg 'Mel' jean £40/€60.
Right - Cream cropped Shearling jacket, £65/€96, sherbet pink frill blouse £28/€40, Indigo wide leg Mel jean £40/€60, Gold snake effect metal belt £30/€45. Both looks are from Topshop Autumn/Winter 2007.
§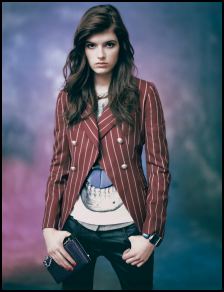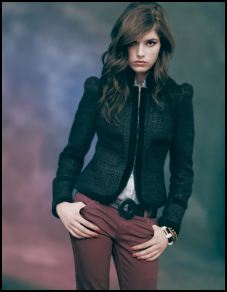 That military look simply will not go away. I love this striped jacket which reminds me of the style of military wear jacket one might see in a production of the opera Tosca. Very dramatic, very Napoleonic and very fashionable for any Topshop girl.
Left - Maroon self stripe 'Boating' blazer £55/€82, purple glitter clutch bag £20/€30, white skull print T £24/€35, black wet look jean £40/€60.
Right - Black velvet puff sleeve jacket £65/€96, Claret skinny jean £40/€60, black skinny leather belt £22/€32. Both looks are from Topshop Autumn/Winter 2007/8.
.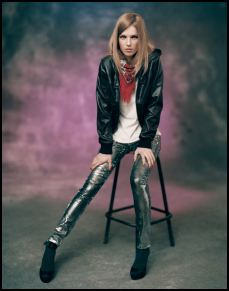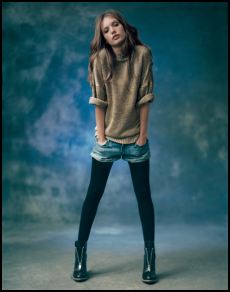 Topshop lovers are sure to be fans of short hotpants. For those who can't bear to abandon their shorts this winter, the choice of skinny leggings at Topshop is huge. If you seek metallic or bright skinny leggings, rush there now, or shop at their online website
Left - Black hooded leather jacket £100/€150, Red and cream printed neck scarf £15/€22, white cotton-T £15/€22, Black leather ankle boots £90/€135, black metallic sequinned jean £60/€90.
Right - Gold oversized jumper £50/€74, washed blue 'Lizzie' hotpants £22/€32, charcoal zip down boots-unique £120/€177. Both looks are from Topshop Autumn/Winter 2007/8.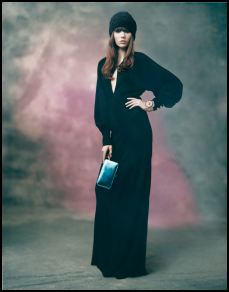 Left - Multi-coloured flame sequin vest £55/€80, Black opaque tights £6/€9
Right - Black lattice knit beanie £12/€18, black batwing dress with key hole neckline £55/€81, metallic blue foil clutch £18/€27. Both outfits are from Topshop Autumn/Winter 2007.
Header image shown at the top of this page - Cream cropped Shearling jacket, £65/€96, sherbet pink frill blouse £28/€40, Indigo wide leg Mel jean £40/€60, Gold snake effect metal belt £30/€45 all from Topshop Autumn/Winter 2007.
Isn't it wonderful to live in an era when you can just as comfortably wear a short mini dress as a maxi dress a shown above. Fashion always comes full circle and manufactures and retailers are wise enough to realise that with so many shapes and sizes we need plenty of options when we go shopping. Topshop is first inline to offer its young customer base the latest fashion trend options. But it also realises that older women sneak into their stores mid week, browsing the rails for a little number to mix in with their regular wardrobe. This is not surprising, since Topshop has been around for over 4 decades. Many customers have shopped in Topshop all their adult life. This season they have many lovely pieces to delight you.
These are the key new fashion trends from Topshop for Fashion Trends Autumn 2007, Winter 2008. You are reading an original fashion trends article by Pauline Weston Thomas at www.fashion-era.com ©
See also the main page on Wardrobe tips AW 07/08 - Also Coat Fashions - Colour Moodboards
Special thanks to David of prshots with all images on this page courtesy of Topshop/Arcadia Autumn winter 2007 range.
Date added 9 October 2007 - Ref:P645
If you like this page then please share it with your friends
---
For more information on ladies and teens fashion trends go to:-
Jewellery Trends 2007
* AW (Autumn Winter)
Archived Sections
Custom Search
About Fashion-Era.com
Fashion-Era.com looks at women's costume and fashion history and analyses the mood of an era. Changes in technology, leisure, work, cultural and moral values. Homelife and politics also contribute to lifestyle trends, which in turn influence the clothes we wear. These are the changes that make any era of society special in relation to the study of the costume of a period.

Fashion-Era.com can take no responsibility for any information on the site which may cause you error, loss or costs incurred from use of the information and links either directly or indirectly. This site is owned, designed, written and developed by author: Pauline Thomas and Guy Thomas. This site is designed to be viewed in 1024 X 768 or higher.
ALL RIGHTS RESERVED. Fashion-era.com reserves the right to add or delete information, graphics and links. Copyright © 2001-2014 on all content, text and images in Fashion-era.com. Images and text in this website may not be used on other websites.
Before you write to me for costume/fashion help or information please, please consult the extensive sitemap which lists all our pages. If you still cannot find the answer after searching the site, then before you email me, please consider if you are prepared to make a donation to the website.
Donations
Reader's donations help this site flourish, in particular donations encourage me to write more articles on fashion history as well as current trends. PayPal allows anyone with a credit card to donate easily and securely. You may donate any sum you feel appropriate.