Fashion Colour 2009
Key Trends for Spring & Summer
2009 is awash with the colour of bold brights and lively hues; the result is to make a dull gloomy economy seem brighter, even when optimism is low. Like the sixties, the eighties were littered with large canvases of the boldest and brightest colours. Then the sombre dark urban looks of the nineties reduced the fashion colour palette to a diet of black, navy, camel or taupe. What a relief it was earlier in this decade to see colour re-emerge and bring back variety to a woman's wardrobe, lighting her face, enabling her to make the best of herself.
Whilst some designer opted for soft pastels for Spring 2009 fashion others, including Sinah Stanic, selected the boldest of vibrant brights including Fuchsia Red a top colour for Spring Summer 2009. This glorious statement making, asymmetric Sinah Stanic designer dress is available at Harvey Nichols. See more bold brights on the main Spring 2009 Looks page.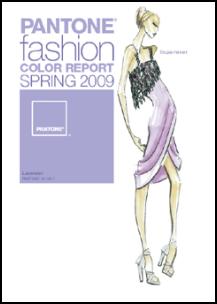 My top tip for forward looking outfits in fashion colours for 2009 is to either choose colour blocking with daring striking hues, or opt for more subtle monochrome looks of black and white/cream. The monochrome scheme is the perfect solution to those who will never step out of their comfort zone of black, faded black and greige.
In all areas of lifestyle products companies produce colour cards for designers and manufacturers to work with. For 45 years Pantone, has been the world's colour authority offering precision colour charts that mean the same thing to supplier and buyer even if they are working in different continents.
If you want accuracy with your colours for any industry requirement, then Pantone is the service that provides a world recognised system of colour charts. Referencing Pantone colours will ensure accuracy and consistency when manufacturers create their commodities. Pantone colour directions are a reliable guide to the colours we will see in the next year. Left - Pantone's Spring 2009 fashion colour report, available from the Pantone website. Press information is courtesy of www.pantone.com/spring2009.
Colour fashions evolve from season to season, and the autumn of 2008 saw blue and purple rise to the forefront of fashion. Each season, Pantone surveys the designers of New York Fashion Week to collect feedback on prominent collection colours, colour inspiration and colour philosophy. Blue was clearly a winner with both Pantone's Palace Blue and Lavender the hot blue favourites for 2009.

According to the Pantone Press Release for Spring Colour 2009, blue and purple lead the top 10 hues for spring 2009. The fashion palette includes pops of vibrant colour which represent the optimism of new life that comes with the spring season. This is combined with sophisticated neutrals and a spectrum of fresh greens.
Pantone list their top 10 spring '09 fashion colours as:

Palace Blue, Lavender,
Super Lemon, Dark Citron,
Vibrant Green, Lucite Green,
Salmon Rose, Fuchsia Red
Rose Dust and Slate Gray
To the eight brights, Pantone add neutrals Rose Dust and Slate Gray. Neutrals are always necessary to add contrast and impact to these vivid and stronger colours. Left - The colours of Spring Summer 2009 shown here all in one garment. Stills Maxi Dress and available from John Lewis stores.
Above Right - The colours Pantone favour for Spring 2009.
This is an original review of the Pantone fashion colours for 2009. Written by Pauline Weston Thomas for www.fashion-era.com ©. Extra information courtesy of Pantone.
‡‡
One of the favourite colours among fashion designers for spring 2009 was blue, especially, Palace Blue.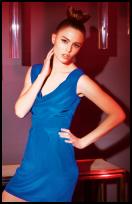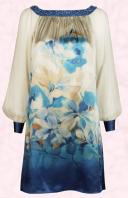 Aquascutum for example showed almost their whole spring 2009 collection using blues ranging from soft blue through to a rich navy.
Left - Shaded blue trouser suit Aquascutum Spring Summer 2009 Collection.
Blue Lapis tunic Dress High Summer 2009 - June Monsoon High Summer 2009 - Occasion wear.
Blue Olga Dress £65/€110 (Ιire) Spring/Summer 2009 Fusion - April - Monsoon Spring/Summer 2009.
Lavender - Key Fashion Colour for 2009
Purple has been with us for several years, but just as the seasons change, so the purple of Fall 08 moves to a lighter softer, more summery hue of lavender blue in the Spring of 09.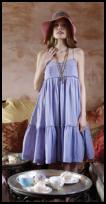 Left - In nature, fresh lavender is at its best in June and July at the height of summer in the northern hemisphere.
Lavender blue is a colour trend that suits most nationalities from fairest blonde to darkest brunette.
This colour looks just as great in unsophisticated clothes as crisp haute couture designer pieces. The tiered sun dress far right shows several tones of lavender from softest pale lavender to deeper lavender. It is perfect for lazy days, the beach and summer relaxing.
Left - Lavender tiered Hippy Sundress £89 and from Plumo.
Right - Celine coat dress in the most wonderful true lavender tone.
Multi Colours - Fashion Trends for Spring 2009
One simple but stylish look is a tunic style shift dress, teamed with colourful tights or dressed down when worn over jeans this is a versatile choice for any occasion. Who would not feel oh so girly in this delicate wisp of a dress?
Near Right - Beaded Floral Dress £85 - Asos.com Womenswear Spring/Summer 2009 Evening Dresses.
Delicate beading covers this dress with one of summer's most fashionable motifs - the stylized rose. The colours used in this dress feature several of the Pantone Spring 2009 hues such as Soft Rose, Lucite Green, Fuchsia and Lavender. The base fabric appears to be the neutral Rose Dust colour.
Above Far Right - Observe the detailed section of tambour embroidery beading from the same evening dress by Asos.com. Both the texture and colour in this dress create an embellishment of the most pretty and delicate feminine nature. Asos.com has grown in strength as customers demand designer goods as well as lower cost celebrity copy garments.
When I visited asos.com in early 2009 they were offering over 500 different dresses to select from with prices ranging from £25 to £340, creating a market for every budget.
This is an original review of the Pantone Colour Trends Spring Summer 2009 alongside 2009 comparative high street fashion buys and written for www.fashion-era.com © by Pauline Weston Thomas. Some information courtesy of Pantone.
§
Pantone's Rose Dust is not your average beige, and breaks away from the typical neutral colours associated with spring by adding dimension with subtle rose undertones.

This rose dust drop waist dress left trimmed with black fringe is a typical colour combination for this hue. The dress far left is by Alberta Ferretti and from Harvey Nichols Spring Summer 2009 Designer Collections.
The high street version near left is from Joy Spring summer 2009 Fashion Collection. Joy have 20 retail units in Britain and in May 2009 will launch a new website called joythestore.com.
Shoes also get the black trim treatment and this high heeled pale pink bar court shoe is from Schuh. What a wonderfully modern update on the traditional bar shoe. It's the colour that makes it look so very now. Above Right - Schuh Aries Bar Court, in pale pink £53.62, also available in black fabric. Schuh - Spring Summer 2009 Collection - High Heels.
Short cardigans, like the one right, are ideal for summer. They can be worn buttoned up as the main event, like a sweater over jeans; alternatively, they could be added as a light layer for warmth and cover-up for a cool night.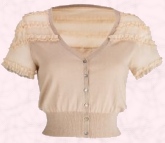 This ruffle-insert cardigan is a cost cutter at just £18 and is also from Littlewoods Direct Spring Summer 2009. Rose dust is a wonderful neutral colour that will mix and match with a wide range of summer outfits.
The high street shops also have pretty clutch bags which go with this ensemble. I was particularly taken with a sleek and cute bag featuring reptilian leather grainy looks.
Below left - J by Jasper Conran £25/€39 from Designers at Debenhams Spring/Summer 2009 Women's Accessories.
Centre - Clutch with gold clasp £17 from Littlewoods Direct Spring Summer 2009 Accessories.
Below Right - The bow purse bag is from Miss Selfridge Spring Sumer 2009 Accessory Collections.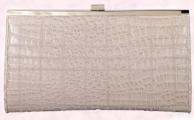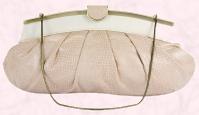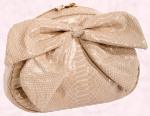 The yellow-green family is strong in the Pantone Spring 2009 palette. As yellow continues to make its mark on the world of fashion, tangy Super Lemon brings a fun, optimistic outlook to the Pantone palette.
Left - This gorgeous cocktail dress was shown at Dior's fashion show for spring 2009.
The high street soon followed suit and you will find a range of lemon and yellow dresses to suit your budget. These gorgeous gowns right are two of the most glamorous short evening dresses, and they are on offer at affordable prices. All you need now is a cocktail party to take on the world!
Centre Right - Another perfect take on the super lemon look with the luxury that only the sheen of satin can give. The halter neckline is similar to that of the Dior dress left and the bow is positively statement making! Centre Right - Lustrous Satin Super Lemon Dress £75 from Warehouse Spring Summer 2009 Collection.
Above Far Right -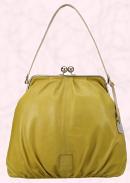 The colour of this asos.com dress is naturally celeb inspired, and thus is hot on trend, but so is that one shoulder asymmetric styling and that deep flounced shoulder frill ruffle and the soft puffball skirt. The Origami Asymmetric Dress £65 is from www.asos.com Spring Summer 2009 evening dresses. Origami styling and hoiked* areas in garments have been a growing trend the past two seasons. As sleeves and shoulders gain even more volume, and focal point interest, then this easily becomes a style to buy into now.
Even accessories get the bold statement colour treatment from the high street. Think bold brights for summer 2009 with a handbag like this one from Betty Jackson. Look no further than the Designers at Debenhams collections for catwalk inspired trendy colours.
Betty Jackson - 'Black' collection handbag in super lemon, £60/€93 and from the Spring/Summer 2009 Women's Accessories Bags Designers at Debenhams range.
Hoik* To lift up wildly. Also spelt hoicked.
This is an original review of the fashion colours for 2009. Written by Pauline Weston Thomas for www.fashion-era.com ©. Extra information courtesy of Pantone.
‡
The Greens - Fashion Colours 2009
Pantone's Super Lemon merges wonderfully into Dark Citron, and all the greens that Pantone offer perpetuate the idea of freshness and renewal.
Read more about Michelle Obama's choice of this colouration for the President's Inauguration day outfit on the 2009 Spring Trends Main page.
Pantone's Dark Citron, is a citrus-inspired green, offering an element of sophistication to the mix of three greens, each with their own distinct personality.
Above Left - Citron Colours.
Above Centre - Shoes from Asda.
Above Right - Green prom dress with floral detail from TK Maxx from £24.99/€28.48. Spring Summer 09 Dresses at TK Maxx.

Above Left - Principles Spring Summer 2009 - Neutral sheen boyfriend jacket £89.00/€140, Green silk Habotai skirt £55.00/€85, Cream organza blouse £55.00/€85, Pewter metallic snake and stones clutch £32.00/€49, Glam large buckle belt £32.00/€49, all from Principles Spring Summer 2009.
Above Right - Grecian maxi asymmetric shoulder dress £55.00 - Per Una Collection Spring Summer 2009 at Marks & Spencer.
Left - A clear view of Pantone's Super Lemon, Dark Citron, Vibrant Green and Lucite Green Tones. More information on these green Spring 2009 colours is available at www.pantone.com/spring2009.

Pantone's Vibrant Green, is the quintessential spring hue of revitalization. And in these occasion garments the spring garden has moved onto the pieces.
Monsoon Spring/Summer 2009 have captured all the best greens in their one should asymmetric dress from their Spring 2009 Originals Collection.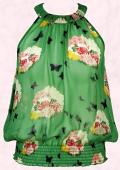 It is a beautiful blend of all the rich vibrant colours of summer.
Right - Monsoon Spring/Summer 2009 Originals Lele Greens Cocktail Dress with one shoulder styling - £160/€271.
Near Right - Matalan also have this rich green blouse with a halter neck. Matalan Blouses - Be Beau butterfly & swallow print top £14 - Spring summer 2009 - Women at Matalan.
This is an original review of the Pantone green fashion colours for 2009. Written by Pauline Weston Thomas for www.fashion-era.com ©. Extra information courtesy of Pantone.
Pantone's reflective Lucite Green is a clean, clear more subtle green tone.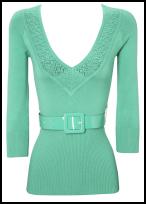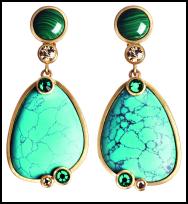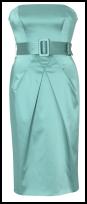 Left - Tropical Palm - Jane Norman Aqua Top - Spring Summer 2009.
Centre Left - Drop Earrings by Dior.
Centre Right - Miss Selfridge Party Dress Spring Summer 2009.
Far Right - March Monsoon Spring/Summer 2009 - Jade Attie Dress £160/€271 (Eire)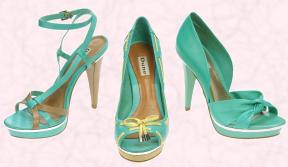 Above Centre - Shoe selection from Dune Spring/Summer 2009- Ladies & Accessories.
Left - Strut £85/€115, Centre - Scintillate £85/€115, Right - Sky £90/€120. All by Dune.
Coloured shoes have a true 1980s vibe - get yours at stores like Dune or Mode in Pelle.
-------v6-------
But it's not just coloured shoes that have the 1980s colour edge, fuchsia and all the related nuances of this blued pink is back with a vengeance.
With its blue undertones, Pantone's cool Fuchsia Red is a real show-stopper, adding a sense of elegance to the palette. It is a colour which is perfect for clothing, accessories as well as lipstick and nail polish selections.
The fuchsia beaded clutch shown right, marries several tones making it a good bag for mixing and matching against all the many pink versions of this colour.
Right - Butterfly by Matthew Williamson £25/€39 Spring/Summer 2009 Women's Accessories- bags Debenhams.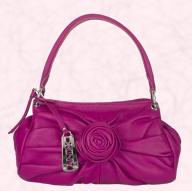 Roses and beading feature heavily in Summer 2009 fashion and this fuchsia bag by DKNY is just one of many rose bags in shops now. Boden also do a lovely textured rose covered bag in several bold bright colours.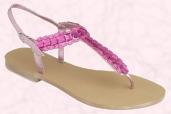 Other accessories where fuchsia is a great pick include belts, where it will quickly jazz up a neutral outfit, or help tie together several bright colours. Gladiator sandals a hot style of last and this year take on an exotic touch when beaded with fuchsia pink crystals.
Near Right - Linea Gladiator Pink Sandals at House of Fraser.
Far right - Fuchsia DKNY bag at House of Fraser.
Below Right - Jane Norman Leather covered cross keeper buckle belt, £20 Spring Summer 2009 - Lady Vamp Collection .
Above Right - Fexton (Pink) Patent Ballerina £45 Spring/Summer 2009 at Moda in Pelle.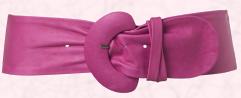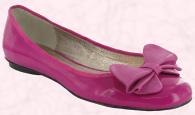 Below Left - Marrianne (Pink) - £85 €103 Buckle Detail Gladiator Moda in Pelle Spring/Summer 2009.
Below Centre - New Look Sandals £40 from the New look Spring/Summer 2009 Collection (Accessories).
Below Right - Shoe by Dior Spring Summer 2009.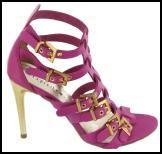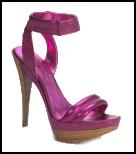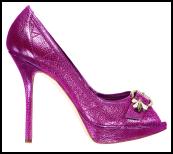 Different fabrics, and especially leather materials, each give fuchsia a different look.
Below Far Left - Harvey Nichols - Fuchsia cut out strappy dress by Galliano.
Below Centre - Fuchsia Pink flower print halter neck swimsuit incorporating many shades of fuchsia, £38 from Linea Womenswear & Accessories Spring Summer 2009 at House of Fraser.
Below Far Right - Jane Norman SS09 Collection Sequin trim oversized dress, £35 Spring Summer 2009 - Lady Vamp.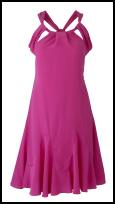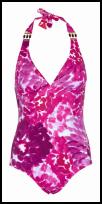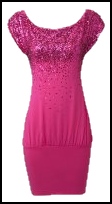 This is an original review of the Pantone red fashion colours for 2009. Written by Pauline Weston Thomas for www.fashion-era.com ©. Extra information courtesy of Pantone.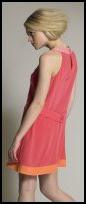 Salmon Rose is an enlivening fashion colour for spring 2009, see how it also conveys an optimistic outlook. The subtlest of oranges, Salmon Rose is a very pretty colour, flattering to most complexions and is beautiful with a summer glow.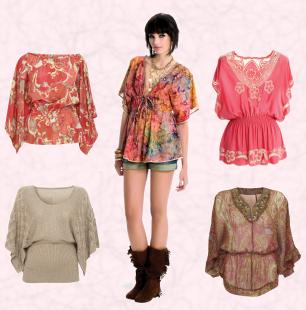 Colour blocking is a growing fashion trend, and this short shift dress far right, blocks three harmonious colours. The result is far less shocking, and much more wearable than some random-mix, high-contrast paint box versions.
Left - New Look Limited Edition shift dress £35, Spring/Summer 2009 Collection.
Easy cut loose Kaftan style tops are the summer's must-have. Note how some of the volume is pulled in either at waist or under the bust creating an empire-line top. Draped off-the-shoulder sleeves give an eighties touch of styling.
Image right :-
Top Right - Cut out with lace braid top £38/€49 from Miss Selfridge Spring Summer 2009 and featuring the delicious salmon rose. Centre model wears a similar shaped Kaftan top from Miss Selfridge, but one covered with every colour of Spring 2009 in a Batik print.
The three other tops are all from Wallis Spring Summer 2009 collection. They show directional lines of the relaxed kimono and Kaftan silhouette in knitwear and tops, a feminine contrast to the long lines of boyfriend cardigans and jackets.
Top Left - Patterned Kaftan top - Wallis Spring Summer 09.
Bottom left -Wallis Spring Summer 09 - Metallic fine knit jumper £45/€70.
Bottom right - Exotic Tribal Paisley Beaded Blouse £40/€60 - Wallis Spring Summer 09 Paisley beaded blouse.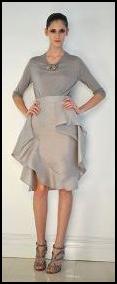 Cool Slate Gray is a nuanced neutral with bluish-green undertones. This neutral is terrific when paired with any of the other nine colours in the Pantone report. Alternatively, you could pair with softer pastels based on dilutions of the colour. It is an expensive looking colour, but check before you buy it that the colour really lifts your skin rather than drags it down.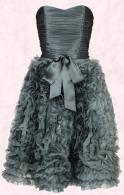 Left - Warehouse Gloss - Dress £45/€70, Belt £30/€45, Shoes £75/€115.
Near Left - Originals Indria Prom Dress £200/€339 Spring/Summer 2009 - February Monsoon Spring/Summer 2009.
Softer versions of this gray are shown right in the Valentine outfit available from Harvey Nichols Spring Summer 2009 Collection. Hoik up your skirts girls for the origami ruffle hoiked skirt is top trend style for 2009 fashionistas.
This is an original review of the Pantone Colour Trends Spring Summer 2009 alongside 2009 comparative high street fashion buys and written for www.fashion-era.com © by Pauline Weston Thomas. Some information courtesy of Pantone.
Visit the www.pantone.com/spring2009 for a detailed colour report.
Copyright of images courtesy of prshots, Pantone, Harvey Nichols, Swarovski, Celine, Aquascutum, Miss Selfridge, Oasis, New Look, Debenhams, Littlewoods, Accessorize Monsoon, Matalan, House of Fraser, Mode in Pelle, John Lewis, Dune, Dior, Jane Norman, Joy, Plumo, ASOS, Warehouse, Asda and Matalan.
Date added 4 March 2009 - Ref:P.713.
If you like this page then please share it with your friends
---
--Link--
For more information on ladies and teens fashion trends go to:-
* AW (Autumn Winter)
Archived Sections
Custom Search
About Fashion-Era.com
Fashion-Era.com looks at women's costume and fashion history and analyses the mood of an era. Changes in technology, leisure, work, cultural and moral values. Homelife and politics also contribute to lifestyle trends, which in turn influence the clothes we wear. These are the changes that make any era of society special in relation to the study of the costume of a period.

Fashion-Era.com can take no responsibility for any information on the site which may cause you error, loss or costs incurred from use of the information and links either directly or indirectly. This site is owned, designed, written and developed by author: Pauline Thomas and Guy Thomas. This site is designed to be viewed in 1024 X 768 or higher.
ALL RIGHTS RESERVED. Fashion-era.com reserves the right to add or delete information, graphics and links. Copyright © 2001-2014 on all content, text and images in Fashion-era.com. Images and text in this website may not be used on other websites.
Before you write to me for costume/fashion help or information please, please consult the extensive sitemap which lists all our pages. If you still cannot find the answer after searching the site, then before you email me, please consider if you are prepared to make a donation to the website.
Donations
Reader's donations help this site flourish, in particular donations encourage me to write more articles on fashion history as well as current trends. PayPal allows anyone with a credit card to donate easily and securely. You may donate any sum you feel appropriate.