Trouser Alternatives - The Fashion Jumpsuit, Playsuits and Shorts
Latest Fashion Trends for Spring & Summer 2009
As the noughties decade comes to an end, several important changes are occurring in ladies trousers. Pants are reinventing themselves as the fashion jumpsuit.
Spring 2009 sees a major fashion trend in the form of the jumpsuit or playsuit.
Students of fashion history are always intrigued how styles of a previous generation are recreated in a new form. What we are seeing in 2009 is a fashion trend for trousers to join up with tops, the result is the retro all-in-one jumpsuit, flying suit or playsuit.
However, these latest jumpsuits are much more stylish than their predecessors. Indeed, it is because of the popularity of the jumpsuit in the high street that this page is dedicated to picking out the most important elements of fashion trends for all-in-one jumpsuits.
For 2009 narrow trouser legs have risen above ankle. High waist bands and peg-top carrot shaping means what was lost at the ankle has been taken care of above waist.

Looking at the big fashion picture, the new trouser fashions are still too new to compete with the current importance of the dress. However, at least one pair of new style pants is beginning to live side-by-side with the dresses in a woman's wardrobe.
Body-Con Jumpsuits
The new trend started when top designers such as Alexander McQueen showed jumpsuits. McQueen presented both these glamour girl body-con jumpsuits, shown above left, at his spring summer 2009 runway show.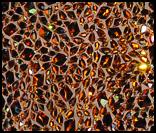 The fabric McQueen designed with has been Swarovski CRYSTALLIZED. What this means is that the jumpsuit material has been embedded with luxury crystal pieces that glimmer in a way that only top notch Austrian crystal can. The result takes the jumpsuit into the realm of exotic evening wear.
We mere mortals may favour something more down to earth, but each one of us can admire the figure-defining cut of both these jumpsuits which are most reminiscent of knitted lace jumpsuits circa 1971.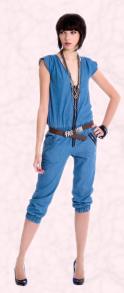 The nearest you may find in the shops at this early stage of fashion development is a garment such as this body-con halter black jumpsuit from Oasis above right - Details TBC. You are reading an original spring 2009 trouser and jumpsuit fashion trends article by Pauline Weston Thomas at www.fashion-era.com ©.
‡‡
Jumpsuits were an enormously popular fashion trend of the late 60s/early 1970s, and then again in the 1980s as flying suits. Each time the classic colours for jumpsuits were initially black or white, with white jumpsuits often being halter neck. Think Halston, think Studio 54. As the fashion progresses so fabric prints, or two tone colours, always come into play. In the late 60s vivid Pucci colourways and jazzy op-art prints were a memorable sight.
This season amid many black, navy or grey styles you will find plain bold bright colours such as the Santorini blue Miss Selfridge jumpsuit/playsuit right. Another line in jumpsuits is satins and printed patterned fabrics, especially floral fabrics with ditsy and dotty prints.
So let's see what the high street and a few designers have to offer. Whether or not this jumpsuit fashion trend will make it into the annals of costume history will depend on whether you the public decide to adopt this fashion big time.
But face it, the jumpsuit is probably one fashion garment which was not in your wardrobe last year, so credit crunch or not, it may make sense to buy at least one version to suit your shape. A girl has to wear something, so why not make it fashionable?
The four fashion jumpsuits left are all from UK high street retailers, they also all sell online. Each illustrates how the jumpsuit trouser legs can be wide, cuffed, or narrow. You will also see variation in length from, floor hugging, cut offs, play suits, knee length or three quarter length. So this can be a fashion suited to both short and tall girls, although shorter women should avoid harem lines.
Above Jumpsuit Details:-
First Left Above - Wallis Spring Summer 09, Navy halter jumpsuit £60/€95.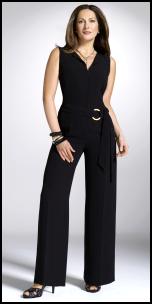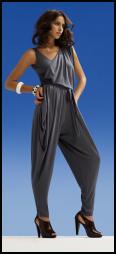 Above Second Left - Marks & Spencer Spring Summer 2009. Black Portfolio Jumpsuit £55 - Due 3rd Feb and shown also immediate right on a model. This is stunning and figure enhancing, it really shows those curves.
Above Centre Right - Dorothy Perkins SS 09, Mink satin jumpsuit with cuffed ankles, £40/€60.
Near Right - Dorothy Perkins Spring Summer 09. Charcoal shoulder-drape jumpsuit £40/€60, also shown on the model left.
Don't be put off jumpsuits when you see a shapeless mass on the hanger in a store. These are garments which need bodies to fill them, and heels that stride out, only then will the jumpsuit burst into life.
A fashionable jumpsuit has the advantage of meeting evening/cocktail/occasion wear half way, and may well be the solution for those moments when you have no idea what to wear. Like the dress, jumpsuits are an easy to wear all-in-one fashion, but if carefully chosen, have the advantage of being able to be glamorous whilst enabling the wearer to pursue more active pursuits discreetly.
If you are worried about your back view there are many long line cardigans and trophy jackets that could ensure the viability of this look. The sleek jumpsuit below from Marks and Spencer has classic elements and looks well cut.

Note trends within this line up of fashion jumpsuits, moving from full wide trousers, to reigning in that fullness with cuffs; and toward the peg-top trouser/dhoti harem line with narrow tapering to the ankle.
The jumpsuit certainly has the support of retailers, but does the 2009 version have the support of women yet? Time will tell. This will be an interesting trend to follow as we decide if it is a true trend or a retail fad. You are reading an original spring 2009 retro jumpsuits fashion trends article by Pauline Weston Thomas at www.fashion-era.com ©
§
Somewhere between the sophisticated jumpsuit and the 1970s retro jumpsuit, is the softer fashion playsuit. What we see here is a more fun version and which can be cropped or designed as a shorts playsuit. Above Right - Jumpsuit - Warehouse Cares Recycled Silk Jumpsuit - Spring Summer 2009.
Warehouse introduced a range of organic jersey pieces last year as the initial launch of Warehouse Cares. The new recycled silk collection is the next stage of the Warehouse Cares project bringing high quality and directional fashion with the focus on production, fabrics and the environment.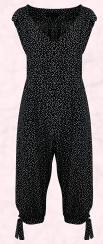 The new collection is made from recycled silk fabrics; this technique involves removing the old colour, then re-spinning the fabrics into new silks. Warehouse Cares in-house team then produce clean-cut designs with a modern touch. The jumpsuit and camisole have ruffle fronts to add verve, and epitomise the desire for this season to have style with a unique fresh look.
These black playsuits are fun, comfortable, relaxed and easy-to-wear - all perfect for younger women who can get away with looking cute.
Right - River Island SS 2009 star print black jumpsuit.
Near Left - Dorothy Perkins Spring Summer 09 - Printed playsuit £35 €55.
Fashion rules remind us that the closer the style a new jumpsuit is to one you may have worn in the 1980s (or before), the more you should reassess the fad as a viable fashion for you Sometimes you have to know when to give in gracefully, however good your legs may be. You know who you are... Do remember that old saying - mutton dressed as lamb. No amount of Botox will prevent a recurrence of the 1771 truism!
Short playsuits can show ultra sophistication especially when they are like this plain silken aqua tailored playsuit and the floral print halter version.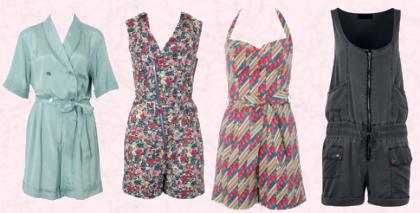 These short playsuits, below and above, show you how the style can be as formal or informal as you wish. From sleek, semi-tailored, aqua satin to everyday sporty cargo looks; through to a playsuit with natty velour kangaroo pockets.
Above:-
Left - Asos aquamarine jumpsuit - To be confirmed.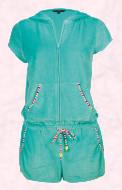 Centre Left - ASOS.com Womenswear Spring/Summer 2009 - Floral Jumpsuit £35
Centre Right - www.asos.com Floral playsuit - TBC.
Far Right - Dorothy Perkins Spring Summer 09 - Charcoal zip-thru playsuit £40 €60.
In the picture above, the third sun playsuit has a distinctive thirties film star appearance. Team it with the latest sunglasses and you could have stepped out of a Hollywood movie.
Near Right - Oasis satin playsuit - Oasis Spring Summer 2009 - TBC.
Far Right - This playsuit by Jasper Conran with a stretch towel velour fabric would be perfect for a lounging around a beach or pool situation. It is from the J Jeans by Jasper Conran Swimwear at Debenhams range - J Jumpsuit £25/€39 - Debenhams Spring/Summer 2009.
‡
The white shorts shown left are from Benetton, and as such are a standard item in the wardrobe of many women.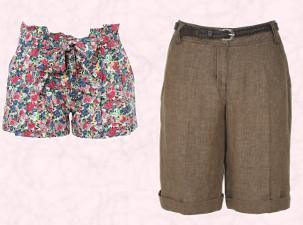 Ever since the 1950s film South Pacific, neat white shorts have been a summer winner with women everywhere, especially where they show off toned legs at sea resorts.
For 2009 shorts can be South Pacific or Bermuda long. Any length is acceptable, but newer looks involve the use of floral fabric or baggy full harem styling.
The floral shorts centre are from asos.com.
ASOS - Ditsy Floral Shorts £25.
If you want to wear shorts but seek a more formal look, try these taupe tailored Bermuda style fashion shorts by George at Asda, they look just the ticket to take you through a day at work and play after.
Many people like to shop online from websites that also send out catalogues. In UK Boden is very popular with women of a wide age range because their garments are quality led. One feature I appreciate is that their website allows users to comment on sizing - good or bad - which, in turn, enables others to gauge a garment before they place an order.
Boden does casual looks that still manage to retain some smartness, and here are two quite differently put together shorts outfits below. The Boden Chino shorts left cost £29 and the longer shorts right cost £35.
If you like to order certain basics from a small company like Boden, (as I do) then take time in this year of the credit crunch to support these favourite retailers, as a result both you and they will benefit when we come out of the recession - as we surely must.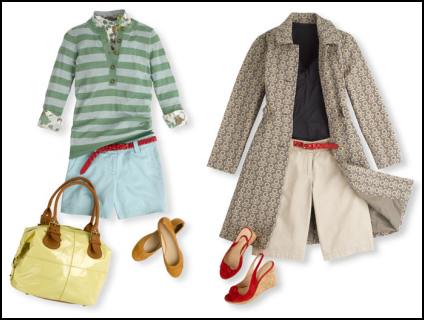 And you can even shop from UK Boden if you live overseas. They say on their website :- 'Just order online at our www.boden.co.uk website, call us on +44 208 328 7000 or fax us on +44 208 328 7001. Boden charge everything in UK pounds, so you may want to work out the exchange rate. It's also worth bearing in mind that local import duties may be payable on receipt of goods.'
This page has been about alternatives to styles of pants or trousers. It has assessed the new 2009 jumpsuit fashion trend, playsuits and summer shorts. Looks just like a year when you are spoilt for bifurcated choice. Mrs Bloomer would be so proud.
You have been reading an original Spring Summer Fashion Jumpsuits Trends 2009 article by Pauline Weston Thomas at www.fashion-era.com ©
Copyright of images courtesy of prshots, Swarovski, Oasis, Dorothy Perkins, Wallis, Miss Selfridge, New Look, Debenhams, River Island, Marks & Spencer, Benetton, Boden, ASOS, Warehouse. Header jumpsuit image is from Marks and Spencer - Portfolio jumpsuit £55.
Date added 24 January 2009 - Ref: P.710.
If you like this page then please share it with your friends
---
--Link--
For more information on ladies and teens fashion trends go to:-
* AW (Autumn Winter)
Archived Sections
Custom Search
About Fashion-Era.com
Fashion-Era.com looks at women's costume and fashion history and analyses the mood of an era. Changes in technology, leisure, work, cultural and moral values. Homelife and politics also contribute to lifestyle trends, which in turn influence the clothes we wear. These are the changes that make any era of society special in relation to the study of the costume of a period.

Fashion-Era.com can take no responsibility for any information on the site which may cause you error, loss or costs incurred from use of the information and links either directly or indirectly. This site is owned, designed, written and developed by author: Pauline Thomas and Guy Thomas. This site is designed to be viewed in 1024 X 768 or higher.
ALL RIGHTS RESERVED. Fashion-era.com reserves the right to add or delete information, graphics and links. Copyright © 2001-2014 on all content, text and images in Fashion-era.com. Images and text in this website may not be used on other websites.
Before you write to me for costume/fashion help or information please, please consult the extensive sitemap which lists all our pages. If you still cannot find the answer after searching the site, then before you email me, please consider if you are prepared to make a donation to the website.
Donations
Reader's donations help this site flourish, in particular donations encourage me to write more articles on fashion history as well as current trends. PayPal allows anyone with a credit card to donate easily and securely. You may donate any sum you feel appropriate.