Exotic Tribal Influences on Fashion Trends for Summer 2009
This page is about exotic tribal influences in fashion. This trend has been popular through the noughties decade, and emerges in a newer form each season. Ethnic inspired fashion designs had a huge following when the line was called Boho, but now this has morphed into a style which has evolved into world fashion tribal decoration style.
This year all the high street shops have items that are tribal based, but one of the best places for an instant fix on fashion tribal decoration is a visit to Accessorize/Monsoon. You can find Monsoon and Accessorize online or in most UK city high streets.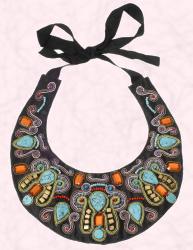 This Monsoon campaign fashion shot above right marries east with west where the main elements combine traditional decoration and global world touches. Exotic Indian Ocean and Japanes looks vie with Pueblo or Navajo Indian patterns.
Full details of image above right - All items from Accessorize Spring / Summer 2009. Tulum chandelier earrings £9/€15.50, Deco crest necklace £14/€24, Pebble thong necklace £10/€17, Snake & turquoise necklace £8/€13.50, Bead flower necklace set (x2) £8/€13.50, Folk print chiffon Kaftan £35/€59, Thread wrapped bangle set (x6) £7/€12, Indian bangle set (x12) £4/€7.
Far Right - Tribal decoration necklace Accessorize - High Summer 2009 Collection
You are reading an original article about how fashion tribal decorations influence fashions in the USA and Europe for 2009. Author Pauline Weston Thomas at www.fashion-era.com Copyright 2009 ©
World tribal fashions recreate the exotic touches found in eastern and far eastern fabrics and weaves. Such ideas use colours such as hot pinks, aquamarine, rust and black with woven and metallic borders. They conjure up innovative contrasts with wispy exotic silken looks set against homespun artisan features.
Colour combinations utilise traditional schemes that include semi precious stone colours of turquoise and coral, garnet and earth tones.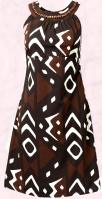 Cleverly, these overtones often get mixed with American Indian or Mexican influences and the audacity of African prints intended to compete with a hot burning sun. Suddenly the items are the embodiment of the global melting pot and the result is a dramatic and innovative often carefree, but sometimes sophisticated style.
Right - Tribal print dress chocolate/cream shift dress from Oli, £39 Cat: 79B 210 B9A - Oli Spring Summer 2009.
Left - Kerala bandeau dress £25/€42, Flower fringed bag £40/€68,Sanguine floral earrings £4/€7, Mosaic paisley square scarf £15/€25.50, Trinket floral necklace £14/€24, Designer flower ring £15/€25.50, Kashmiri painted bangle £6/€10, Plain wooden bangle £5/€8.50, Kashmiri painted bangle set (x2) £8/€13.50, Tash friendship bracelet set (x5) £8/€13.50.
The Monsoon fashion retailer name has always been seen in the UK as a name that stands for fashion which is a bit different and ethnic inspired. This summer 2009 season is no different, and their collections traverse the textiles found in the Indian deserts of Rajasthan, to the romance of Eastern Europe folkloric roses.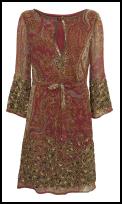 Along the way the fashion is influenced by tribal decorations found in the foothills of Guatemala and also swirling paisley cornucopias.
Even further afield, Monsoon takes inspiration from modern Japan and Polynesia to create a kaleidoscope of bold colour and pattern. As always their collection is ultra-feminine and this season moves through world cultures and continents using colour, texture and print for maximum effect. Their versions encompass Asian Safari and African influences and textiles from Japan.
Other high street retailers like Wallis and stores Marks and Spencer, House of Fraser and NEXT also have pieces which capture the tribal zeitgeist.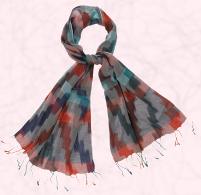 Left - Rajasthan inspired paisley beaded tunic with world tribal decoration £77/€120 - Wallis Spring Summer 09.
‡‡
The word 'ikat' is derived from the Malay word 'mengikat', meaning to bind or tie and was used in tie-dye techniques. It can also be used as a woven pattern. Generally ikat patterns are of vibrant colour.
It's not just ikat, zig zag or exotic frond like fern patterns that feature, this Monsoon tunic centre plays on the use of the sun-catcher circle motif so familiar in ethnic work.
Above Right - Fringed stole scarf from Accessorize Spring Summer 2009. Dakota multi Navajo Ikat Stole £18 (€30.5 Eire).
The Wallis tunic dress left is also heavily textured with metallic discs.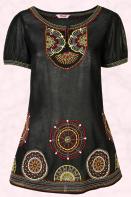 Meanwhile, this Kaftan fantasy print dress, near right by Orion London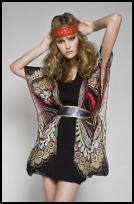 , plays on colour in a similar way to that used in American Indian pieces.
Right - Adana Top £45 / €76 Monsoon Spring/Summer 2009 - Main Range. Centre - Orion London - Fantasy Dress, spring trend 2009.
The colourations of exotic tribal fashion are varied, but each is recognisable and falls within the related looks shown on this page. You will notice the similarities of earth tones, dirty rust reds, ochre, black and turquoise as well as the softer pinks and aquamarines.
You are reading an original article about how exotic tribal decorations are influencing fashions in the USA and Europe for 2009. Author Pauline Weston Thomas at www.fashion-era.com Copyright 2009 ©
World Tribal style often combines forms of folkloric craftwork by playing on graphic iconography associated with 'One World'.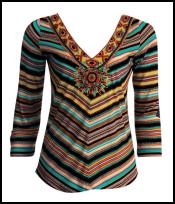 The original concept of 'One World' fashion was to showcase traditional costume from every continent in the World.
In this instance African, American Indian, Eastern and east European (Romance) patterns all blend creating the symbolism of motifs and colours that comprise this fashion trend. Earthy tones such as those found in natural leathers always look correct against other colours.
The world tribal fashion look frequently exaggerates ikat, stripe and grid based mosaic designs, bizarre stylised motifs, fringe, braid and earth tones.
These two examples of garments illustrate Native American influences in a more everyday way than the dreamier examples above. The latter exhibits greater homage to the eastern exoticism of Thailand or India.
Left - ASOS.com - Ric-Rac Trim Full Skirt £34.26 and also available in petite.
Above Right - NEXT Spring Summer 2009 - Womenswear - Wigwam Embellished Top £25/€36.
You are reading an original article about how 'One World' fashion influence designs in the USA and Europe. Author Pauline Weston Thomas at www.fashion-era.com Copyright 2009 ©
§
This tribal theme also lends itself to easily constructed peasant style dresses, which are perfect for the beach and casual days. Such dresses are made from tiers of mosaic grids, border prints or naive stripe fabric designs.
The dresses illustrated here feature earthy rust tones of brick red clays and yellow ochre sands of the desert.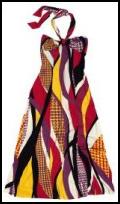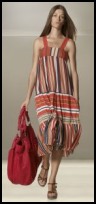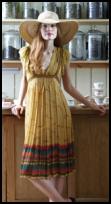 These simple styles left are also very easy for the dressmaker or crafter to make.
Left - Two dresses from Benetton's Spring Summer 2009 Collection. The dress far right has an African feel to the print.
Near Right - Border prints are especially effective when used to make empire line dresses. This yellow border print dress and Santorini hat is from the Plumo Summer 2009 Collection.
Far Right - Aztec mosaic pattern dress T69 4631 £39.50 - In Marks & Spencer store from April 2009. The blue/gold/black dress uses variety of scale within the border print to create areas of interest at bodice and hem level.
You are reading an original article about exotic tribal influences in 'One World fashions for 2009, author Pauline Weston Thomas at www.fashion-era.com Copyright 2009 ©
Accessories offer the greatest scope for exploiting the many differences and craft skills between nations. Shoes, bags, bangles, necklaces and scarves all get the One World treatment and beads embellish all these tribal accessories.
Turquoise stones, fake or real, get tribal fashion production moving through south-western looks to artefacts of pure tribal fantasy. Mammoth dress rings and necklace collars raid a costume history as far ranging as the Mid-West to Egypt. The fringe is exotic and used in leather goods, garments and also earrings like these below left. But with these tribal accessories the colour story is similar and never veers from strong, bold and statement making pieces.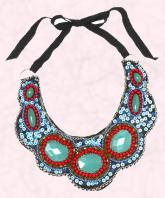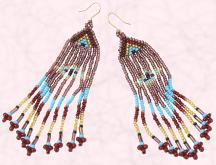 Left - Embellished stone disc ring £12. 18 Euros - Navajo collection - Freedom at Topshop
Centre - Tribal decoration Navajo embellished collar £40 from Freedom at Topshop.
Right - Dakota multi Pocahontas Earrings £8 (€13.5 Eire) Accessorize Spring Summer 2009.
Shisha mirror work can be found on folksy bags, or metal discs are the alternative and used in the necklace bib collars below. Such pieces have Afghan/Balinese overtones. This bib shaped seed bead necklace, and oval teardrop earrings, centre below, feature softer contrast colours instead of the stronger orange/coral and turquoise tones shown above.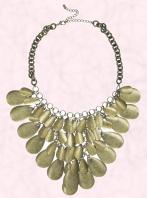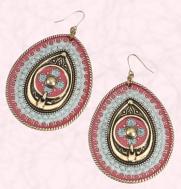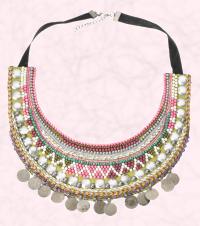 Left - New Look - Necklace £6 Spring/Summer 2009 Collection (Accessories).
Centre and Right - Earrings and Bib Necklace from Accessorize Spring Summer 2009 Fashion Collection.
Feathers adorn bags, necklaces and earrings.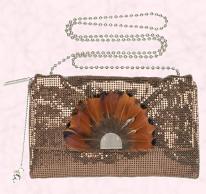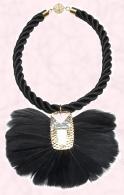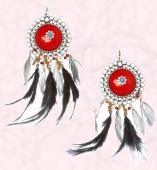 Left - Feather trimmed bag - House of Fraser.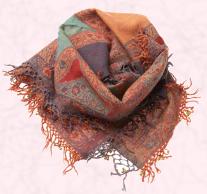 Centre - Feather necklace - House of Fraser.
Right - Navajo feather drop earrings £20. 30 Euros - Freedom at Topshop.
Fringe is just as abundant with scarves and leather wear being the easiest item for adornment. Fabric scarves are perfect ways of making just a small acknowledgement of this fashion trend.
Left - Scarf - From a selection at House of Fraser.
‡
The folkloric themes of the last season has combined with ikat and zig zag mosaic patterns to create fresh lively shoes and footwear designs ripe with rich embellishment and colours that sing. The key to wearing footwear like this is not to overdo the rest of your outfit. These sandals and shoes are statement making pieces in themselves.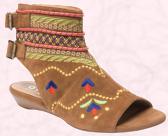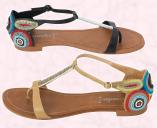 Left - Helga Sandal Boot £55 at Office - Spring Summer 2009 Ladies Collection.
Centre - Accessorize Spring Summer 2009 Dakota multi Navajo Sandal £35 (€59 Eire).
Right - Matalan Footwear - Cairo beaded platform £22 SS09.
You are reading an original article about tribal accessories in 2009 fashion. Author Pauline Weston Thomas at www.fashion-era.com Copyright 2009 ©
Below - Accessorize Spring Summer 2009 - Left to Right - Flower tassel bag £40/€68, Summer folk bag £30/€51, Boho across body bag £34/€58, Flower fringed bag £40/€68, Drawstring pouch bag £25/€42 (Eire).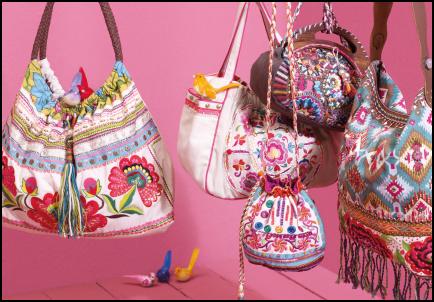 One of the fastest ways to add 'One World' tribal elements to your wardrobe is to buy a decorated bag.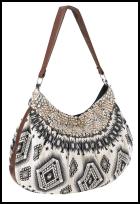 Tribal decorated bags make great accessories; furthermore, they can be any one of an infinite number of styles moving through folkloric and florals, to mosaic and ikat patterns.
Fringe is a popular finish on leather bags, but on cloth bags, braids and beads are used to create vibrant works of art. These bags mix folkloric embroidery, print or appliquι, wood, plaiting, beading, and fringe. And if these vibrant looks are too jazzy for you, consider this monochrome bag in black and white which is a little more subtle.
All of these bags are perfect as summer carry-alls on bright sunshiny day
Right - Accessorize Spring/Summer 2009 Sanguine patterned Dakota Bag £40.
You are reading an original article about world folkloric stylised embroidery, author Pauline Weston Thomas at www.fashion-era.com Copyright 2009 ©
Copyright of images courtesy of prshots, Wallis, Marks & Spencer, Accessorize Monsoon, ASOS.com, House of Fraser, Freedom at Topshop, Plumo, Benetton, NEXT, Orion London.
Date added 3 March 2009 - Ref:P.713.
If you like this page then please share it with your friends
---
--Link--
For more information on ladies and teens fashion trends go to:-
* AW (Autumn Winter)
Archived Sections
Custom Search
About Fashion-Era.com
Fashion-Era.com looks at women's costume and fashion history and analyses the mood of an era. Changes in technology, leisure, work, cultural and moral values. Homelife and politics also contribute to lifestyle trends, which in turn influence the clothes we wear. These are the changes that make any era of society special in relation to the study of the costume of a period.

Fashion-Era.com can take no responsibility for any information on the site which may cause you error, loss or costs incurred from use of the information and links either directly or indirectly. This site is owned, designed, written and developed by author: Pauline Thomas and Guy Thomas. This site is designed to be viewed in 1024 X 768 or higher.
ALL RIGHTS RESERVED. Fashion-era.com reserves the right to add or delete information, graphics and links. Copyright © 2001-2014 on all content, text and images in Fashion-era.com. Images and text in this website may not be used on other websites.
Before you write to me for costume/fashion help or information please, please consult the extensive sitemap which lists all our pages. If you still cannot find the answer after searching the site, then before you email me, please consider if you are prepared to make a donation to the website.
Donations
Reader's donations help this site flourish, in particular donations encourage me to write more articles on fashion history as well as current trends. PayPal allows anyone with a credit card to donate easily and securely. You may donate any sum you feel appropriate.