Key Trousers and Pant Style Fashion Trends for Spring & Summer 2009
Even with world in recession, people still have to wear clothes, so if it's trousers that you are choosing you select a style which suits you. The secret is to tune into the best of trouser fashion whilst keeping an eye on value and quality for money.
At the close of the noughties decade several changes are occurring in the fashion history of ladies trouser wear. Pants are reinventing themselves, although the current styles are still too new to compete with the importance of the dress.
The first trend to note in 2009 sees is the rise of the trouser leg to above ankle. What fabric has been lost at the ankle has been added above waist, with high bands and peg-top carrot shaping. Secondly, trousers have joined up with tops to form the retro all-in-one jumpsuit, flying suit, or playsuit. Because of the high street availability of the jumpsuit in so many different styles I have written a page just about the fashion trend for all-in-one jumpsuits.
2009 is the year of wearing any pant style you fancy. Go retro thrift, or buy new. Whichever option you take will be spot on fashion wise.
The noticeable trend is the return of narrow legs and peg top waists. But these too sit happily beside wide leg trousers.
Skinny jeans and footless tights/hosiery were the forerunner of some of autumn 2008 pant styles with a much slimmer lower leg and often cropped above the ankle. The legs are frequently so narrow that a zip or button fastening aids dressing.
The new narrower pants for 2009 combine several ideas, and variations lend themselves to alterative names, such as carrot top pants, dhoti or harem pants.
Right - River Island Clothing Co. Ltd Spring 2009 -
Fuchsia one shoulder satin top £34.99, Black 'Nicola' three quarter zip detail trouser £34.99, Blue snakeskin 'Whoop' platforms £54.99.
Above Left - Miss Selfridge - Fashion styles for Spring 2009.
A popular 1980s fashion trend was the easy peg top trouser which today returns in several guises.

Right now the peg top is growing as the newest pant style to be seen wearing. Most new slim leg pants have upper fullness or volume usually tapering to a narrow leg or cuff. Some harem pants (shown further down) have great lower volume too.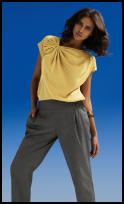 Note how plenty of ankle is on display.
Expect to see plenty of carrot-top trousers, so called not because of their colour, but because they have similar silhouette to a tapering carrot. The peg-top fullness is at the waistline and some trousers can be moderately streamlined. Others drape into extra gathers at ankle or have a low calf tapered finish.
Left - Dorothy Perkins - Buy of the Month using the hottest colour of the year lemon yellow. Dorothy Perkins Spring 2009 - Origami top £28 €44, Grey peg leg trousers £30 €45.
Far Right - Denim homage - Peg Leg Jeans £28, Peep Toe Sling Backs £60, Crop Top £16, Denim Quilted Bag £18 all from Asos.com Spring/Summer 2009 Womenswear Fashion Collection.
You are reading an original article about trousers fashion and pant styles for Spring & Summer 2009 by Pauline Weston Thomas at www.fashion-era.com ©
‡‡
Note how these pants are made in every fabric from denim to lustrous fabrics such as satin. Sometimes these satin versions are called pyjama pants.
Far Left - Flat shot of Littlewoods Carrot trousers.
Far Right - Flat shot of Wallis Peg satin top trousers £35/€55 - Wallis Spring Summer 09.
Centre Left - Rocha - John Rocha cropped leather jacket £190/€294 Star by Julien Macdonald embellished top £35/€54, Satin Ύ trousers £35/€54, Red Herring scarf £15/€23.50, Rocha. John Rocha shoulder bag embellished circle detail £65/€101.
Centre Right - Grey pants from Spring/Summer 2009 Womenswear within Debenhams.
All items by Designers at Debenhams Spring/Summer 2009 Womenswear.
As you can see from the styles illustrated here that the main fashion trend factor is that the leg, from waist to ankle, resembles a carrot in shape.
One step from the carrot style is the dhoti pant, and then the harem pant. Some dhoti pants taper to such tight narrowness they have many buttons to ensure an ankle hugging close fit.
These pants right are from Benetton and look fresh and new in style. These and other even fuller pants available at Benetton and elsewhere owe much to the original rapper styling designed for dance movement and handstands.
Be warned, the lines between these styles are fine. The pair shown right are very moderate in crutch depth, but extra deep dhoti styles are on offer. Just take care you don't step into ranges that owe much resemblance to baggy diaper nappies.
As you can see any width of pant is a fashion hit.
The most important trend within wide trousers is of strong bold colours. Rich bold bright wide pants in pink, blue and Santorini blue or lapis shout 2009 styles of wider leg pants.
Below Far Left - These classic wide black pants right from Hobbs are beautifully cut and an investment wardrobe staple. The monochrome colour scheme is also classy and stylish. That outfit shown can easily take you into the yachting maritime look.
From Wide Leg Trousers to Baggy Harem Styles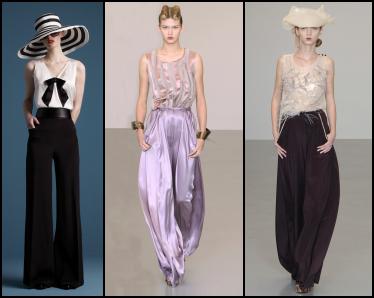 Of course designers and retailers are wise enough to know that tapered pants with peg top waist won't suit every female on the planet.

Fortunately, just as many designers are offering wide leg pants alongside harem pants. They cover a multitude of sins where other styles are less forgiving of bulges.
The more adventurous can opt for harem pant styles like these Roksanda Iilinic pants above centre and right.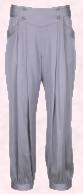 Harem pants are an interesting fashion statement as we reach the twenty-teens decade. Take note that whilst the long leggy models do them justice, this look will drown anyone under 5'3", so be careful if you are a short petite.
Many retailers have their own versions of harem trousers, especially focusing on cropped harem pants with cuffs, and sometimes the manufacturers call them balloon pants.
These shown near right are from Marks and Spencer 2009 Products.
Purple silk Harem Pants - £35, T69 8418, and in store May - June at Marks & Spencer.
Far Right - This playsuit/jumpsuit can only be described as a harem pant jumpsuit. This black star print jumpsuit £29.99 is from River Island Clothing Co. Ltd from their SS09 WW Hero Pieces.
You are reading an original about trousers style and pant fashions for Spring & Summer 2009 by Pauline Weston Thomas at www.fashion-era.com ©.
§
Summer of course also means holidays, and in these relaxed carefree days white pants look wonderful in summer sunshine. White trousers are frequently designed to be very wide legged.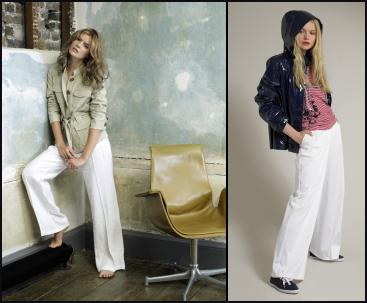 The white wide leg trousers above left are from Phase Eight Spring Summer 2009 Campaign Shots.
Details - Phase Eight - Kay Linen Jacket £75.00 Linen Trousers £50.00.
Right - White trousers by New Look Spring/Summer 2009 Women's Collection - Patent hooded jacket £25, Limited Edition pearl embellished T shirt £28, Limited Edition trousers £25, Navy pumps £10.
Many stores also show pants with high waists set on deep buttoned bands flowing into wide flared legs. Another variation are the pants with turn-ups or button only closures adding a true maritime feel.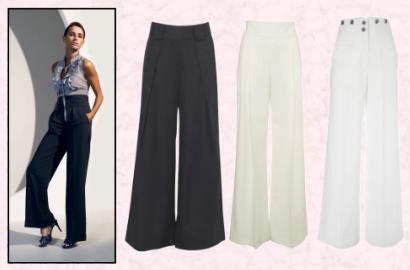 Above:- Far Left/ Centre Left - French Connection SS09 Navy Wide Leg Trousers- £70 Ladieswear Spring 2009.
Centre Right - Wallis Spring Summer 09 - Ivory White wide leg trousers £40/€60.
Far Right - French Connection Ladieswear Spring 2009 White Wide Leg Cotton Trousers - £80.
Blue trousers in any fabric are a summer fashion must-have.
You can opt for denim, like these dark navy denim boot flares from Linea at House of Fraser.
Purple dip dye scarf £25 Linea Weekend, Flower print top £29 Linea Weekend, Indigo crease front jeans £45 by Linea Weekend - House of Fraser Womenswear & Accessories SS09.
Near Left - Boot-cut jeans from Linea Spring Summer 2009 Collection.
But don't forget blue silk, or blue linen trousers, which have a summery feel without the industrial toughness of denim.
Both the high blue trouser suits left are from Aquascutum.
‡
One of the looks for summer is the retro denim theme.
This year you can choose from any jean texture, dark coloured, acid distressed or stone washed denim fabrics with, or without extra Lycra.
You can also select the style from skinny to boyfriend baggies; the ankles can be flared boot leg or cropped or turn ups. All are the right jeans and if peg-top styles suit you, then find denim jeans made up in the carrot pants silhouette too.
If you don't have the patience to distress and shred the jeans yourself, UK high street retailers like Oasis, Benetton's and Miss Selfridge all have versions to suit.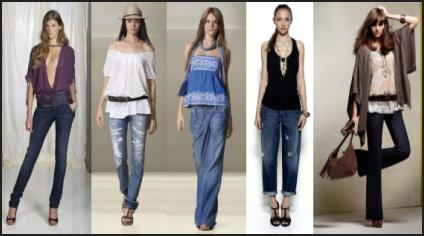 Details Above:- Far Left - TBC. Centre Left - Benetton - Cotton mousseline shirt with boat neckline, Style n: 5BW15QW03, Sizes: XS - L. Delavι denim trousers with vintage effect, Style n: 4D08Z7105, Sizes: 38 - 48.
Centre - Benetton Wide delavι denim trousers with turn-up, Style n: 4F6FZ5324, Poplin cotton empire-style top with print, Style n: 5A1LST024, Sizes: XS - L. Centre Right - Oasis torn jeans - TBC.
Far Right - Dark jeans from Principles Spring Summer 2009 - Taupe tape cardigan £49.00/€79, Ceylon mixed print tunic £49.00/€79, Slim boot cut jeans £39.00/€59, Chocolate suede all over tassel cross body bag £45.00/€69.
DO-IT-YOURSELF denim makes the ultimate credit crunch chic opportunity. Therefore give your imagination full rein and start shredding, bleaching, stonewashing those old jeans. So get trashing that denim.
It is not just jeans that get the denim treatment, but also jumpsuits and shorts make up beautifully in this material. Read more about jumpsuits on the next page.
Both these all in one jumpsuits have 80s flying suit influence.
This blue denim jumpsuit left is from www.asos.com and is hot off the press.
The military influenced natural jumpsuit right is from the value for money store Matalan.
Right - Matalan Papaya linen blend jumpsuit £18 from Matalan SS09.
More conspicuously glamorous jumpsuits, playsuits and shorts are shown on the jumpsuit page and show elements from 50s playsuits and late 60s and 70s jumpsuits.
You have been reading an original article about trousers fashion and pant styles for Spring & Summer 2009 by Pauline Weston Thomas at www.fashion-era.com ©.
Copyright of images courtesy of prshots, Swarovski, Aquascutum, Dorothy Perkins, Wallis, Miss Selfridge, Oasis, New Look, Debenhams, Littlewoods, River Island, Marks & Spencer, Principles, Linea/HOF, Hobbs, Benetton, Monsoon, ASOS, Warehouse, Phase Eight and French Connection.
Date added 24 January 2009 - Ref:P.709.
If you like this page then please share it with your friends
---
--Link--
For more information on ladies and teens fashion trends go to:-
* AW (Autumn Winter)
Archived Sections
Custom Search
About Fashion-Era.com
Fashion-Era.com looks at women's costume and fashion history and analyses the mood of an era. Changes in technology, leisure, work, cultural and moral values. Homelife and politics also contribute to lifestyle trends, which in turn influence the clothes we wear. These are the changes that make any era of society special in relation to the study of the costume of a period.

Fashion-Era.com can take no responsibility for any information on the site which may cause you error, loss or costs incurred from use of the information and links either directly or indirectly. This site is owned, designed, written and developed by author: Pauline Thomas and Guy Thomas. This site is designed to be viewed in 1024 X 768 or higher.
ALL RIGHTS RESERVED. Fashion-era.com reserves the right to add or delete information, graphics and links. Copyright © 2001-2014 on all content, text and images in Fashion-era.com. Images and text in this website may not be used on other websites.
Before you write to me for costume/fashion help or information please, please consult the extensive sitemap which lists all our pages. If you still cannot find the answer after searching the site, then before you email me, please consider if you are prepared to make a donation to the website.
Donations
Reader's donations help this site flourish, in particular donations encourage me to write more articles on fashion history as well as current trends. PayPal allows anyone with a credit card to donate easily and securely. You may donate any sum you feel appropriate.